AboveWater/UnderWater Shetland is a wildlife tour business based in Lerwick. Alan Longmuir and Robbi ShoafEnge pilot a boat, the m.v. Galathea, from Lerwick harbour and show passengers the amazing coastal wildlife and underwater marine life of Shetland with an infectious enthusiasm! We were delighted when Robbi agreed to answer some questions about what they do:
Q. Alan and Robbi – can you tell us a bit about yourselves?
A. Like most Shetlanders, Alan's been playing in boats since he was a wee laddie and is fascinated by the wildlife here, especially the seabirds. He qualified as an engineer and, latterly, worked in the oil industry. He retired early and in 2001 started working as a skipper and nature guide. I'm a trained biologist, also with experience in education and entertainment. I first moved to Shetland in 1990 and was enticed back in 2006, to work alongside Alan as a nature guide and crew.
Alan has a wealth of knowledge about Shetland's nature, geology, history and culture. Since I joined him, he's developed a more dynamic understanding of animal behaviour. I've absorbed some of Alan's 'local knowledge' and seamanship skills and is now also a qualified skipper.
We've been working together more than nine years so we're, in fact, the most experienced marine & nature guide team in Shetland. As a team, we complement each other. With different backgrounds, education and experience, we provide a broad range of understanding and insight to our tours, with both a generalist's and a specialist's approach. As guides and hosts, we've gained a wide reputation for our knowledge, humour, enthusiasm and hospitality.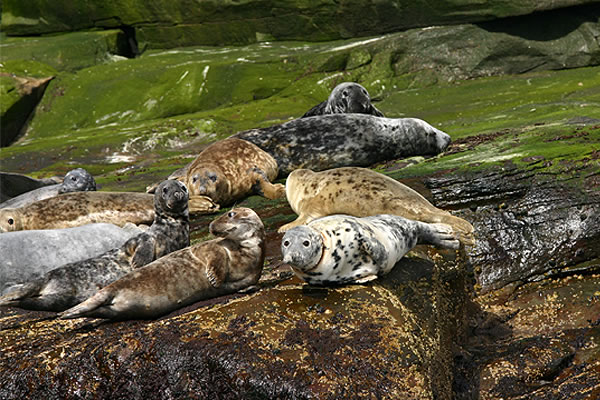 Q. How many tours does AboveWater/UnderWater Shetland offer?
A. Our principal tour is our 3-hour Discovery Wildlife Adventure tour, cruising in sheltered waters around the island of Bressay. During the tour, you'll see seals, seabirds, stunning cliffs and ancient caves; you'll hear about Shetland's history, culture and geology. The exciting 'discovery' is underwater: with our submarine colour video camera, you'll see a wide array of sea life in two different marine habitats, interpreted and explained in detail. If you can't get enough of gannets, take our 3½ hour Noss Cliffs Wildlife tour: even more seabirds and a visit to the gannet colony at the fabulous cliffs of Noss. If you're pressed for time or are a 'timid sailor', try the Essential Short Cruise Special – it's Shetland at a glance! In just 2 hours, you'll get a condensed version of our Discovery tour. Our 'Simmer Dim' Evening Cruise is for adults. Enjoy 2 hours of Shetland's 'simmer dim' – the summer twilight. Relax with drinks & nibbles and music in the stylish saloon of our classic motor yacht, or sit out on our open aft deck for the best views of Shetland's stunning scenery and wildlife.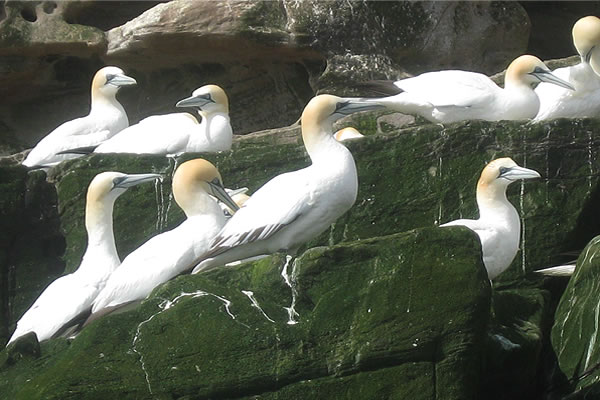 Q. Why are the cliffs of Noss so popular with Gannets?
A. Location, location, location. Nesting on a cliff provides all sorts of advantages: it's easier to get airborne; there are fewer neighbours to fight with; and it's a lot easier for a fledgling to jump directly in the sea than to 'run the gauntlet' past other nesting sites.
Erosion on the east side of Noss resulted in ideal nesting ledges – broad ledges, may with overhangs (quite nice for a fluffy, vulnerable chick during a rainstorm!). Facing east, they get the morning sun…well, maybe that's a bit optimistic in Shetland!
If your food source is in the water, an island is ideal. There are miles and miles of clean, fish-rich waters…all the way to Norway. Like much of Shetland, Noss has both steep-sided cliffs and rocky shores. So there's not just fish around, there's seaweed – good nesting material.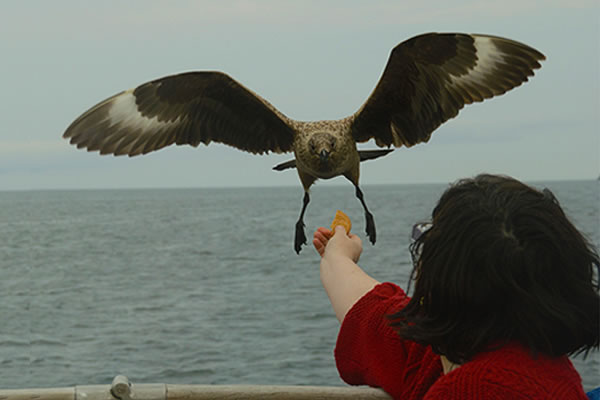 Q. I understand you know Gannet sign language Robbi! Can you explain?
A. I call it 'interpretive communication'. It's a dramatic and dynamic way of presenting animal behaviour. Anyone can simply recite information about gannets – just read Brian Nelson's excellent booklet, The Gannet. But it's far more fun and memorable to see behaviour acted out. I performed mime for many years and it comes naturally to me.
We're less into giving Latin names and statistics ('though we do, if asked) and more into telling people amusing and interesting stories, giving people a bit of an insight into, for example, life as a sea squirt. While I believe scientific accuracy is absolutely fundamental, I like to keep the fun in fundamental: learning can be hugely entertaining.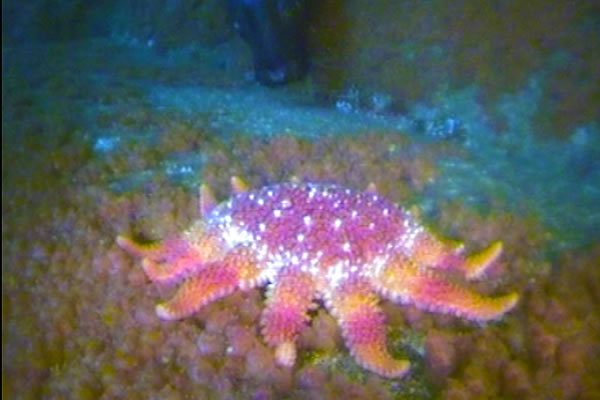 Q. What can you see underwater, and why is the seabed important to Shetland?
A. What surprises most people is the colour. The seas are grey, so you might think that underwater is dull. Not so! The water doesn't reflect blue skies very well because it's constantly churned up. But this – along with strong, warm currents and lots of light in the summer – makes for a fantastic environment for plankton. Where there's plenty of plankton, there's plenty of life: purple starfish; grey seals; orange sponges; pink anemones; yellow corals; blue lobsters; red sea squirts…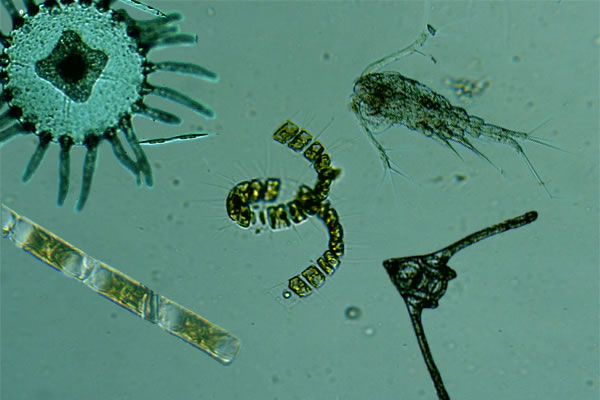 There's a good reason the term 'food chain' was changed to 'food web': everything's connected in an incredibly complex relationship. There's no start or end. The blue whale, a plankton eater, eventually becomes food for plankton. The seabed in coastal areas is crucial to life the world over. If it's destroyed by, say, bottom trawling, a host of plants and animals instantly lose their habitats and die out. The knock-on effects can be immeasurable and generally unpredictable.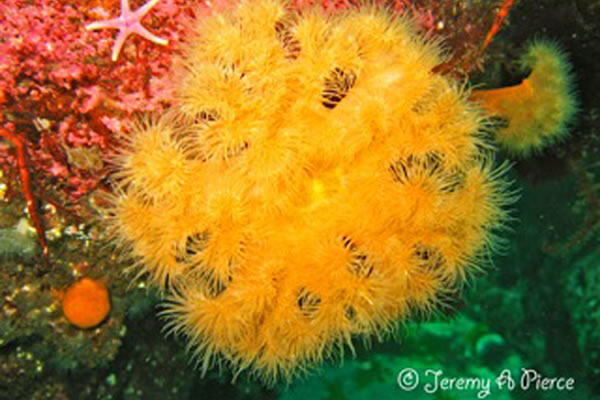 Q. Have you ever seen anything unusual?
A. We sometimes see unusual anatomy: we once saw a common sunstar with 21 arms. Marine animals often have other animals growing on them and that can be strange: there's a spider crab running around with a 'light bulb' sea squirt on its nose!
Animal behaviour can be bizarre. We often see brittle stars on pier legs. Usually you don't see their tiny bodies, just the snake-like arms. But once, popped up on its legs and started spawning. Suddenly, more and more popped out and started spawning – a free-for-all (we blushed).
We've also seen some unusual sites above the water: Alan had the thrill of seeing a harbour seal pup being born. Contrary to popular belief, it's unusual to see whales or dolphins, but we occasionally do. I once saw a young minke whale about 5 metres from the boat. Clearly, its mother disapproved and she slid in between us, to escort away the curious youngster. Alan has been lucky enough to see a basking shark, the second largest fish in the world. And I'm intensely jealous!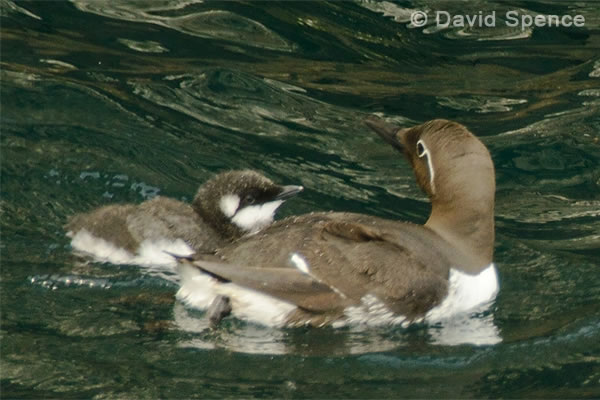 Q. Can you tell us what your favourite animal above water is and what your favourite animal underwater is?
A. Alan's favourite is the common guillemot, the complete all-rounder: it dives to great depths; swims faster than fish; lands effortlessly on a cliff-face; lays 'no-roll' eggs; and over-winters in arctic waters.
I'm partial to the black guillemot. They do everything the guillemot does, but in style: jet black feathers, a snow-white wing patch and scarlet legs. No wonder it's the emblem of the Shetland Bird Club!
Underwater, it's harder to decide. Alan thinks hermit crabs are hilarious, but I know they're vicious when trying to steal another crab's home.
I love the crystal sea slug. It has protrusions, called cerata, tipped with ultramarine blue, but Alan laughs when she describes these as 'sticky-out-bits'. Well, they do stick out!
Can we have one more above/underwater favourite? There's an old grey seal, who I christened 'Charlie', that follows boats around, hoping for a hand out.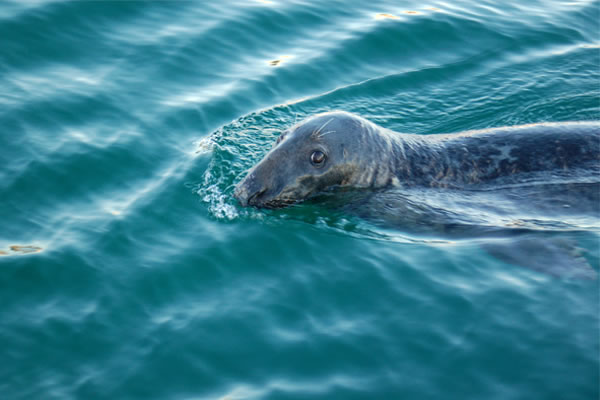 Q. Do you have any concerns about the current environment for bird and marine life?
A. Only climate change. Well, pollution, too, of course, especially plastics. Oh, yes, ocean acidification – that's another major concern. Overfishing and poor bycatch laws. Sorry, do you have a word limit? We could go on for a bit…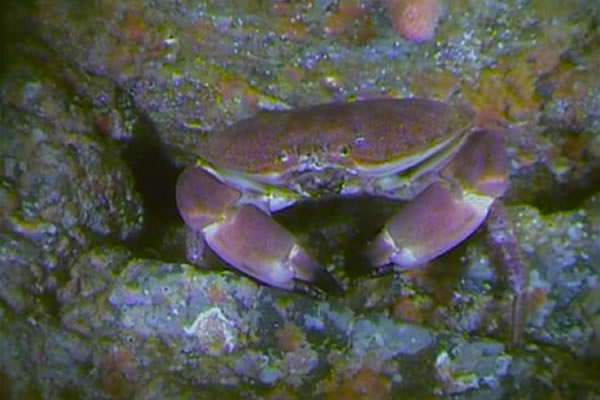 Q. Is there anything that members of the public can do to help?
A. Everyone can contribute, as individuals, to reducing climate change. Campaigning to promote policies that protect the seas is sometimes as simple as signing a letter (see the Marine Conservation Society). Eating responsibly sourced fish and seafood helps. Cutting down the use of plastics and recycling whenever possible is crucial. Don't use anything with microbeads (common in cosmetics and cleaning agents) – they add to the microplastic pollution in the seas. You'd be surprised how many animals eat microplastics, or eat animals that eat them. Like you eating that cod at the chippie!
An excellent book for the layperson is Callum Roberts' Ocean of Life: how our seas are changing. It's a few years old now, but very well written, comprehensive and – believe it or not – optimistic.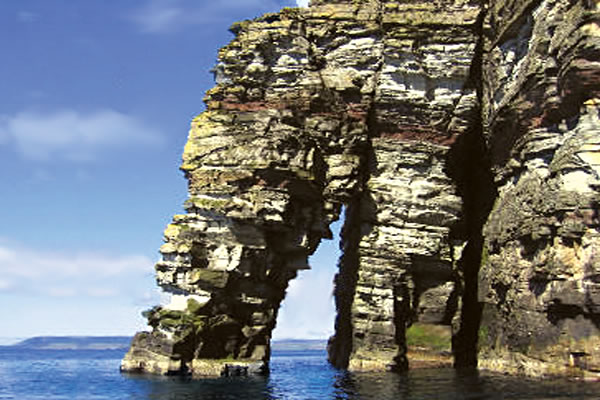 Q. What are the Orkneyman's Cave and the Giant's Leg?
A. The rock forming Bressay is about 370 million years old; the Orkneyman's Cave, on its southwest coast, is not much younger. It's so cavernous that tour boats can tie up in there. It's an ideal spot to use our remote controlled video camera. The walls of the cave are thick with sea life. It's been a favourite site for scuba diving for decades and one of ours, as well.
The Giant's Leg is a stunning set of archways on the coast of Bressay. You can see two arches, but there's actually a third one underwater. On good days we can drive beneath the main arch, which is spectacular – it's like passing beneath the buttresses of Notre Dame cathedral.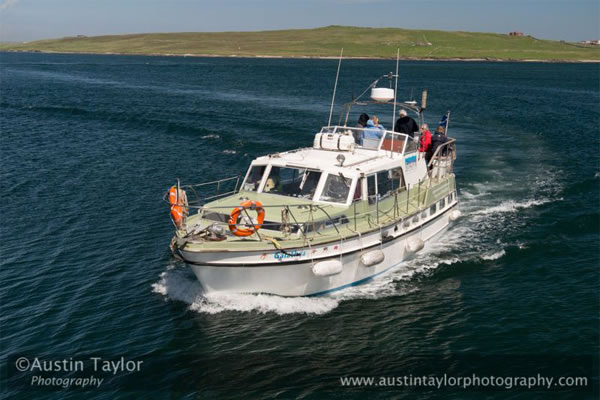 Q. What does the name m.v. Galathea mean?
A. We named our boat 'Galathea' after two things: one, quite perky and pretty; the other, quite serious and scientific.
The Galathea strigosa is a cheeky little squat lobster that often hides in crevices with its long claws hanging out. Sometimes we see it nip out and scuttle along a rockface. This little guy is lots of fun and also quite attractive: bright red-orange with electric blue stripes and eyes.
'Galathea' is also the name of a series of Danish scientific research expeditions which started in 1845, collecting specimens and, later, studying deep sea oceanography. Nowadays they study the climate, weather and marine biology…and maybe look for cheeky squat lobsters!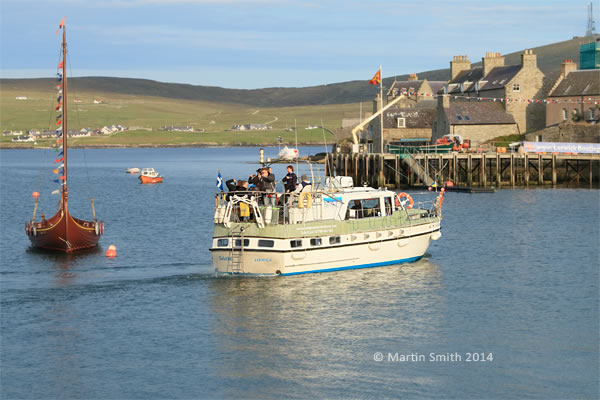 Q.  Can you tell me a bit about the boat itself?
A. The m.v. Galathea is a coastal motor cruiser, built by Broom of Norfolk, renowned for its hull strength and sea-keeping qualities. We have the added security of twin engines. She's been extensively modified for commercial certification and has a comprehensive suite of modern navigation, communications and safety equipment. There's a spacious saloon with extra-large viewing windows and an open after deck with an additional steering position – for those sunny days!
We also adapted her to be our summertime home. So the boat is much cosier and welcoming than typical tour boats. It also means we have more facilities and equipment than standard tour boats, such as a full galley, two toilets and office equipment. It's a good thing I think that looking at the day's plankton videos on the digital microscope is an evening's entertainment!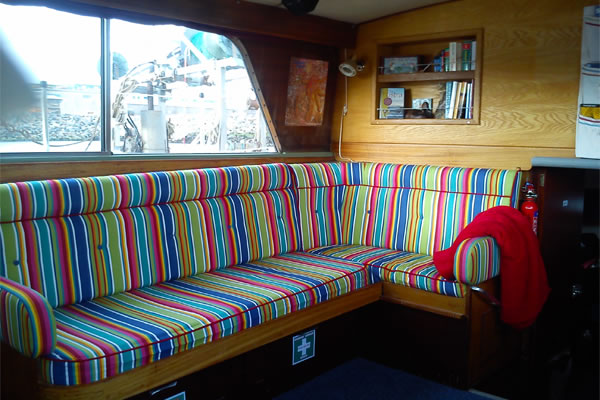 Q.  What's the best thing about your job?
A.  The best thing about our job? The smiles, the laughter, the questions. We love sharing our knowledge, energy and enthusiasm.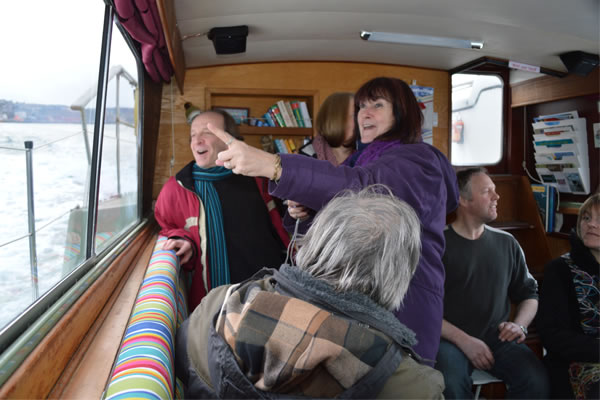 Q.  Do you have any good stories from your tours?
A. Sometimes the animals we see are incredibly funny. They're often misbehaving. We have video of a young female seal 'twerking' (scandalous!) and a male crab pretending he didn't have a tiny female tucked up underneath (waiting to have his wicked way with her!). Sometimes, though, it's as if they're trained. We saw a lovely big sea slug once. I was explaining that tucked up inside were its fluffy gills, and "…if only we could see them,…" At that instant, the slug's beautiful rosette of gill plumes bloomed on its back. Very obliging!
People often come on our tours for special occasions. One couple got married in Shetland and hadn't been back since then – it was their 50th wedding anniversary! Twice we've had people who were trying to overcome a terror of boats. That's when our entertaining presentation really pays off – they were so entranced, they forgot to be scared!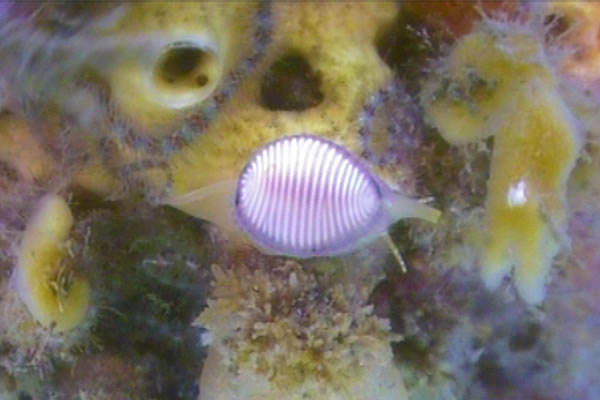 By
Magnus Dixon
Orkney and Shetland enthusiast, family man, loves walks, likes animals, terrible at sports, dire taste in music, great taste in films and tv, eats a little too much for his own good.