Ann Cleeves is the award-winning author of the gripping Shetland mysteries. Her books have been translated into twenty languages and adapted for television – a third series of Shetland has been announced. Her new Shetland novel, Thin Air is due to be released this September and we were delighted when Ann agreed to answer our questions!
Q. What made you choose Shetland as a setting for your crime novels?
A. I came to Shetland one mid-winter. It had snowed, then there was a clear frosty day. The ravens looked very black against the snow. I thought if there was blood too it would make a wonderful first scene. That scene never quite appeared in Raven Black, the first Shetland novel, but it was the start of the story.
Q. What research did you do to capture the Shetland landscape and community so well?
A. I've been visiting Shetland for nearly forty years – I worked for 2 seasons in the Bird Observatory in Fair Isle when I dropped out of university. Now I go back several times a year. My research is chatting to friends and sitting in kitchens drinking tea. A Shetlander always reads the book before it goes to the printer. I still make mistakes though…
Q. Where's your favourite place in Shetland and why?
A. I still love Fair Isle. I know it so well that it feels like coming home. I met my husband there so it has a very special significance.
Q. Where would you send a visitor coming to Shetland for the first time?
A. I'd suggest that they go along to one of the Sunday teas – the fund-raising events held in different community halls throughout the summer. It's a great way to get a flavour of island life and the home-baking is terrific.
Q. How did the character of Jimmy Perez come about?
A. I wanted a central character who was a Shetlander but still felt like an outsider. So I made him a Fair Islander and gave him a Spanish name. There was a Spanish Armada ship – El Gran Grifon – wrecked off the island so it's not completely improbable that one of his ancestors was a Spanish survivor.
Q. Do you have a clear plan for your novels when you start or do they evolve as you write?
A. I never plan a book in advance. I have a first scene or a character or an idea to explore. I approach writing like a reader. I have to write the next chapter to find out what's going to happen next.
Q. Have you ever considered having a character murdered on the ferry?!
A. I haven't but I believe the BBC's scriptwriters are looking at the idea for the next television series!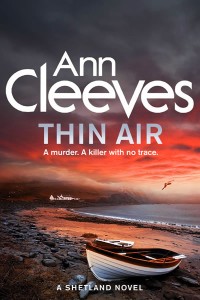 Q. What is 24 Islands in 24 Hours?
A. 24 Islands in 24 Hours is a challenge to promote the amazing work done by libraries. We're trying to run reading events in 24 islands in 24 hours in Orkney and Shetland, ending up in Unst, the UK's most northerly library. We'll be using little planes, the inter-island ferries (and the NorthLink ships) to move around.  We'll be making a murder mystery based in Shetland available to any library in the UK who wants to use it to support us and attract new members.
Q. Can you tell us anything about Thin Air?
A. Thin Air starts with a 'hamefarin' a party to celebrate a marriage when the formal wedding ceremony has taken place in the south.  The idea came from the hamefarin of Steven Robertson, who plays Sandy in the TV show Shetland.  It's midsummer.  A guest from England claims to see the ghost of a young girl and then she disappears…

By
Magnus Dixon
Orkney and Shetland enthusiast, family man, loves walks, likes animals, terrible at sports, dire taste in music, great taste in films and tv, eats a little too much for his own good.