For many people, visiting Shetland to see the Viking-themed fire festival Up Helly Aa is firmly on their bucket list. It's a spectacular event which takes place at the end of January every year. Over 1000 men, led by the spectacularly dressed Viking Jarl's Squad carry flaming torches in a procession around Lerwick. The streetlights are switched off and the sky above the town turns red. The evening culminates when all of the men circle a Viking galley and then throw the torches onto it, setting the beautifully carved vessel ablaze!
If seeing this amazing festival for yourself seems like a difficult thing to achieve then we're pleased to let you know that crossing Up Helly Aa from your bucket list is easier than you think!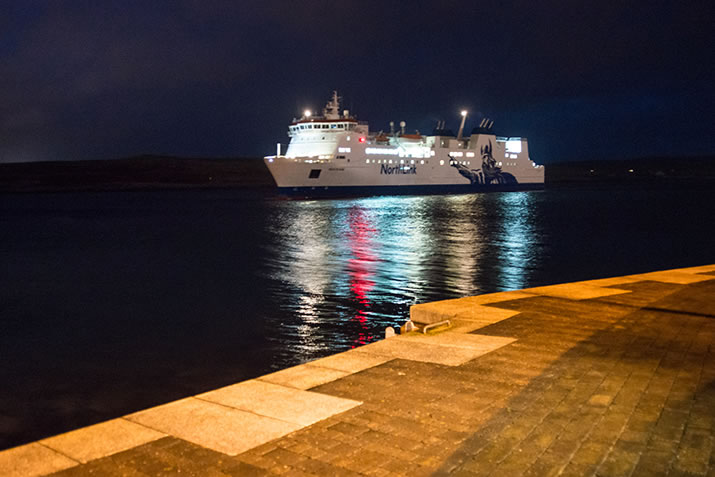 Take the ferry to Shetland
The ferry to Shetland sails from Aberdeen in the North of Scotland and Aberdeen is just a couple of hours from Edinburgh and Glasgow. The journey from Aberdeen to Shetland is an overnight one, which sets sail around teatime (often stopping in the Orkney Islands) and the ferry arrives in Shetland early the following morning. To visit Up Helly Aa you need to be in Shetland for the last Tuesday of January, this year Tuesday 29th January 2019.
As Up Helly Aa takes place in the winter months there is usually plenty of space on board for foot passengers. If you want to book a cabin it's worth doing so in advance to avoid disappointment.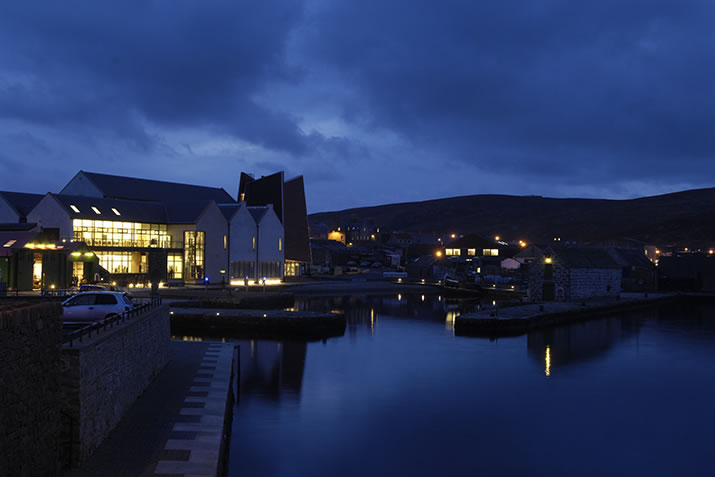 Find Accommodation for your stay
Finding accommodation can be tricky around Up Helly Aa, and some of the more popular establishments in Lerwick are often booked up a year in advance. However there are still beds to be had closer to the event. It's worth trying Shetland Hotels which have plenty of rooms or accommodation establishments outside Lerwick.
Look at our accommodation listings or alternatively visit the Shetland.org website. VisitScotland's iCentre in Lerwick (info@visitshetland.com or 01595 693434) and Sumburgh (sumburgh.information@visitscotland.com or 01950 460905) may also be able to help you find a place to stay during Up Helly Aa.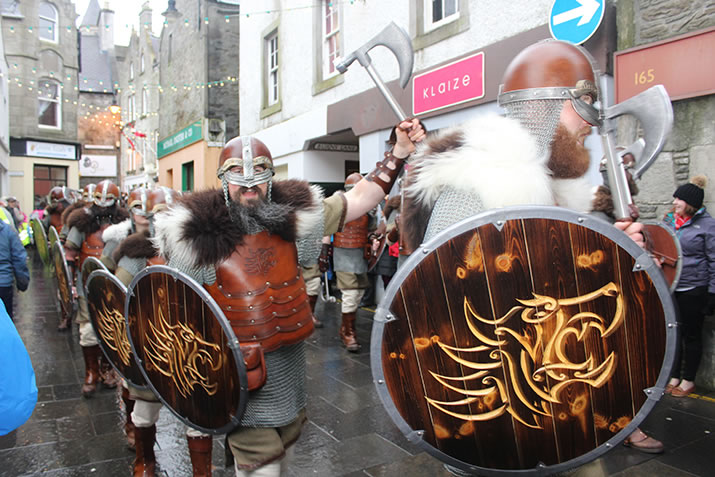 Is a car needed?
Most of the events of Up Helly Aa take place within the town of Lerwick, so if you don't mind a bit of a walk there's no need to take your car. Indeed, as some streets are blocked off for processions having a car can sometimes be more of a hindrance than a help. However, if you wish to explore the Shetland Islands in the days before or after Up Helly Aa, a car is essential. You can take your own on the ferry or hire one on the island.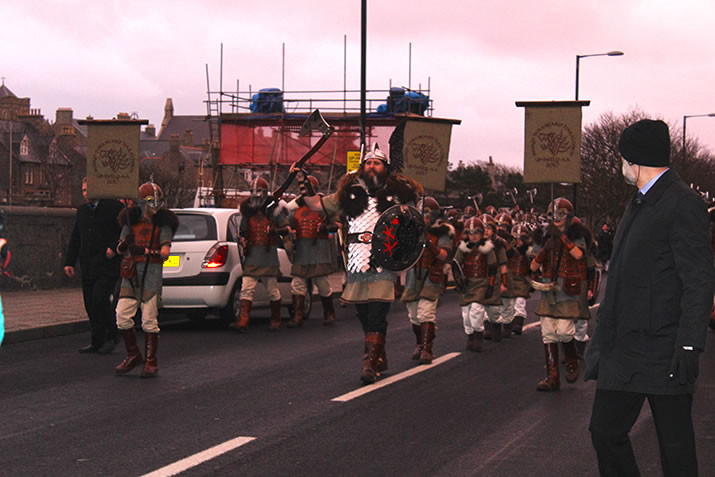 The Morning Parades
On the day of Up Helly Aa there are quite a few events we'd recommend turning up for. There's a morning procession where the Jarl Squad march in their Viking uniform (a tightly-kept secret until this moment). This takes place at 08:30 and the Jarl's Squad march from the Islesburgh Community Centre (though the starting point can vary) to the Royal British Legion. All processions can be watched from the pavement by the public, but please ensure that you don't get in the way!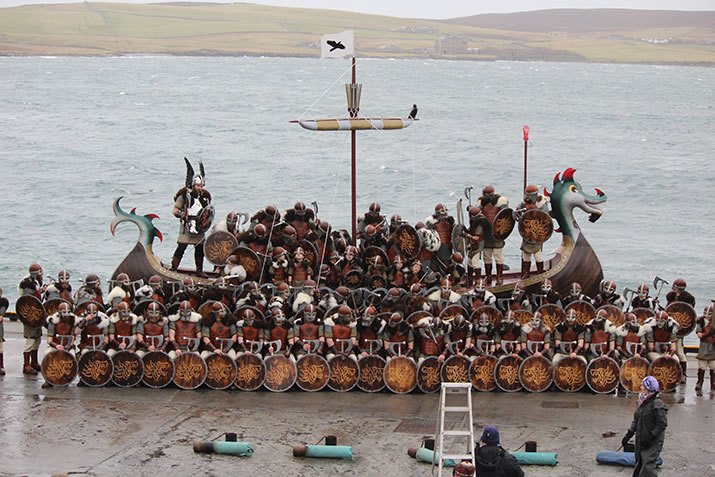 Later in the morning there's another march; from the Lerwick branch of the Royal British Legion to the town centre. This procession takes place at 09:45. The Jarl Squad make their way to the Market Cross and then down to the Bressay Ferry Terminal for a group photo with the Viking Galley. This parade attracts a large crowd so make sure you find a good spot for photos and stick to it!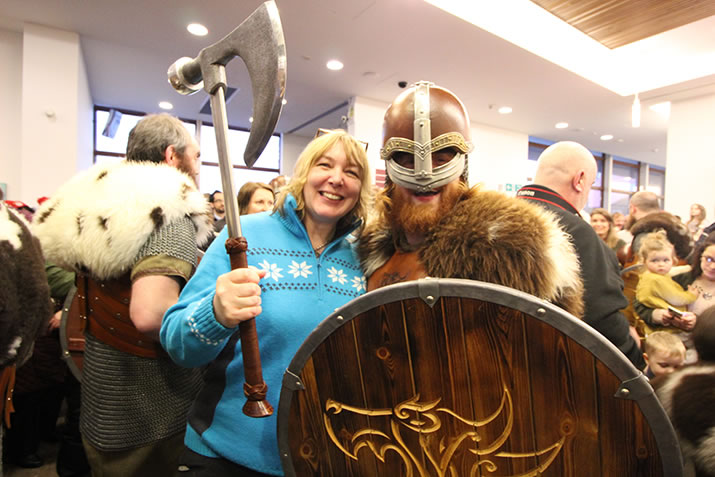 The Shetland Museum
At 15:00 the Jarl Squad will arrive at the Shetland Museum, and this is a great chance to meet and speak to the Vikings. They may even let you take a photo wielding an axe! It's a fine friendly (and free!) event and as it is one of the few Up Helly Aa events that takes place inside it is also dry (we'd recommend you take waterproof gear for Shetland in January). Again the museum can become crowded, so make sure you find a good spot – the Jarl Squad will occupy the middle of the foyer and will sing and dance before mingling with the crowd.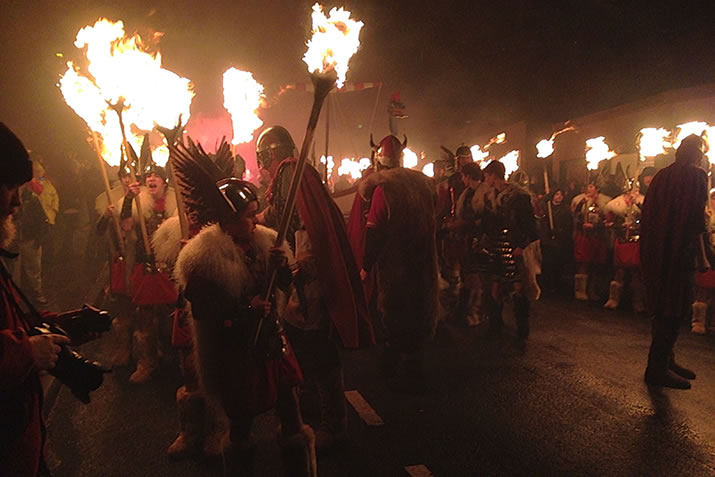 The evening procession
The evening procession begins at 19:30 but the Junior Jarl Squad march to set fire to their galley at 17:30, which is well worth seeing!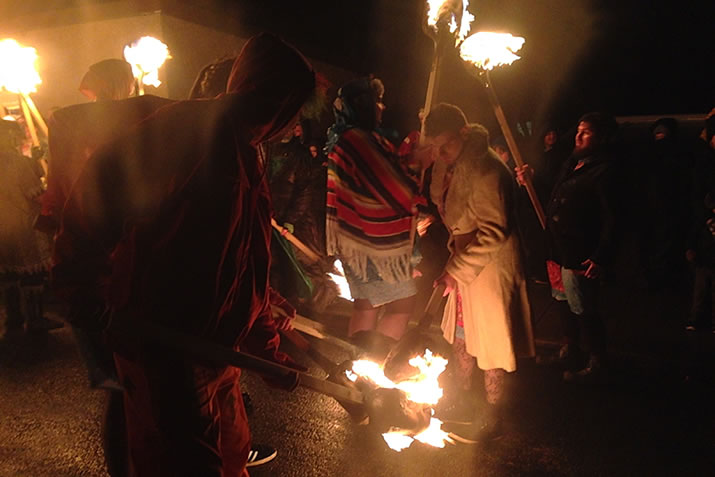 In both cases, the Vikings begin marching with their Galley from Hillhead, eventually pulling it to the burning site within the walls of the King George V playpark. Members of the public aren't allowed inside the playpark, but you can get a great view by finding a space along the perimeter wall and sticking to it.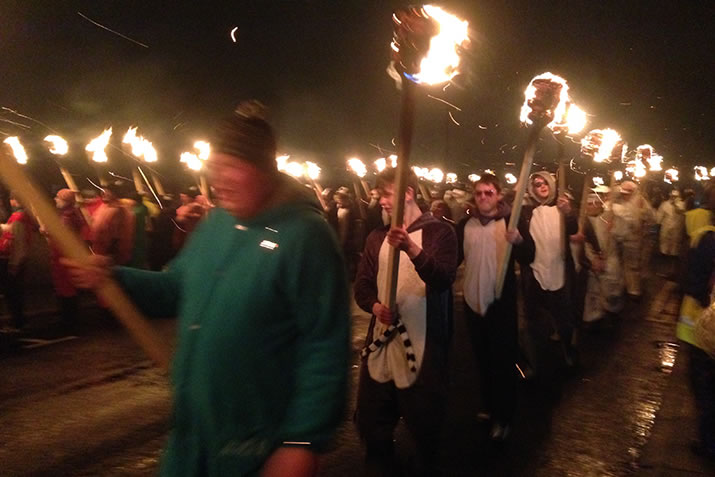 The procession will snake through the streets of Lerwick, and the sight of the Guizers in their fancy dress with their the flaming torches and flying sparks is an impressive one. However, there's a choice to be made; you can either have a great view of the procession or a great view of the Galley burning, but it's unlikely you will have both. If you move away from your space on the playpark perimeter wall you are likely to lose it!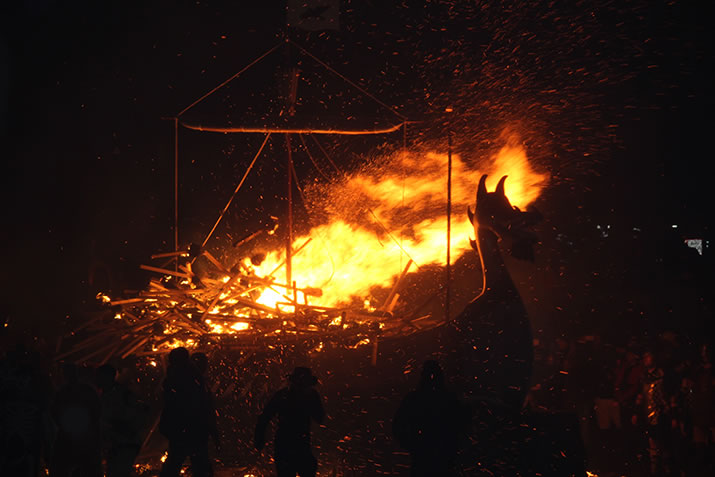 The Galley Burning
The Guizer Jarls will encircle the galley before singing the Up Helly Aa song and setting the galley ablaze. Make sure you stay to watch the inferno; especially when the flames engulf the carved masthead! If you didn't manage to get a good viewing spot at first, wait a while; much of the crowd will rush off to enjoy celebrations in the halls.
For the rest of the evening, the squads of men will visit halls around Lerwick, each performing a dance number or comedy sketch for the audience. This entertainment can run until 08:00 the following morning! The halls are tricky to get tickets for, but we'd recommend looking in the Shetland Times where tickets may be advertised.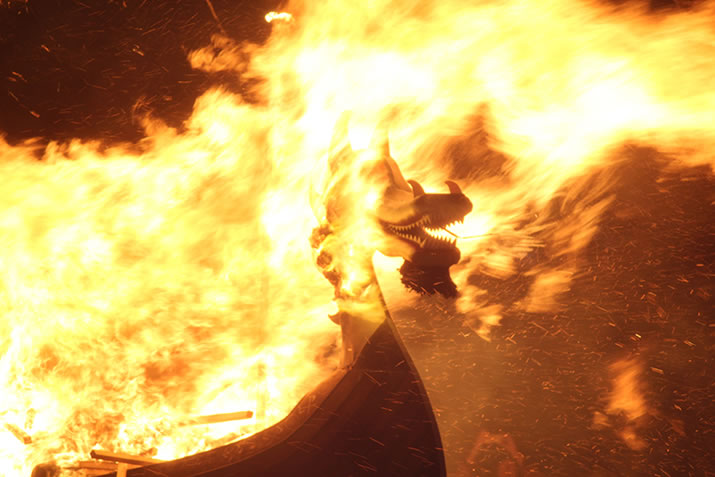 Other hints and tips
Taking photos of Up Helly Aa is difficult because photographers must contend with varying problems – darkness, flaming torches and movement! This will cause your camera's autofocus to pause while it figures out what to do, so we would recommend using manual focus.
We'd recommend using continuous shot mode to take 5 photos at a time (amongst the five images you may have a perfect and non-blurry shot), use the maximum aperture to get a high shutter speed, turn off your flash and use a high ISO setting.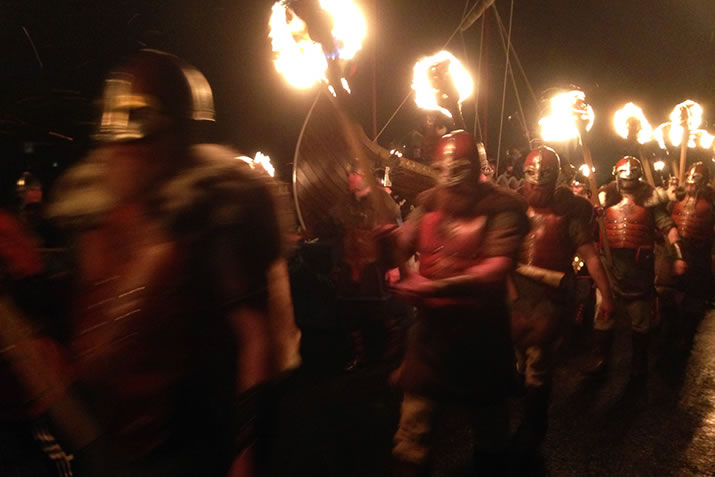 Make sure you wrap up warm! It's worth taking a couple of layers and ensuring that one of the layers is waterproof. Hats and gloves are essential for January in Shetland too. Also be aware that after the galley burning your clothes will smell of smoke. If you intend to visit a hall afterwards it may be worth changing beforehand!
Should you miss Lerwick Up Helly Aa don't despair. There are smaller Viking fire festivals held throughout Shetland during the winter months – click here to see this year's dates. Though these are usually on a smaller scale than the Lerwick event, they make up for this with a strong sense of community spirit and fun!
We hope this guide helps you to cross Up Helly Aa from your bucket list. The chance to see it for yourself really is only a sailing away!
To enter a competition to win a trip to Shetland for Up Helly Aa 2019, please visit the NorthLink Ferries Facebook page!

By
Magnus Dixon
Orkney and Shetland enthusiast, family man, loves walks, likes animals, terrible at sports, dire taste in music, great taste in films and tv, eats a little too much for his own good.