December is a brilliant month to be in Orkney. Though the days may be shorter and the winds a bit stronger, there are warm welcomes to be had in the pubs, restaurants and shops around the island. Orkney is a great place to find the perfect unique keepsake – we highly recommend it as a Christmas shopping destination! There are also many lively events to attend!
On Saturday 2nd December 2017 there's the Scapa Distillery Christmas Fayre. This is a Christmas fayre with local producers and makers selling their wares between 12:00 and 18:00 at the Scapa Distillery. Santa will be there and there will also be a performance from Peedie Breeks!
The Winter Choir & Orkney Camerata Christmas Concert takes place at 19:30 on Sunday 3rd December in St. Magnus Cathedral, and we struggle to think of a better way to get into the festive spirit. This concert of classical music (including Benjamin Britten's cantata St Nicolas and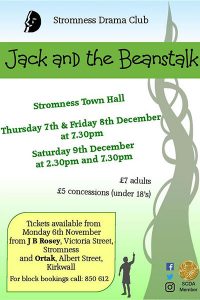 music inspired by the Magnus 900 commemorations) is in aid of the Malawi Music Fund.
Make sure you attend the last Orkney Archaeological Society talk for 2017, which takes place on Monday 4th December 2017 at 19:00 in Orkney College. Entitled Digging in to digital: A summer of photogrammetry in Orkney, Jim Bright's illustrated talk will offer new insights into Orkney's archaeological sites! Entry is free (though donations are welcomed) and there is a Christmas themed raffle too!
The Stromness Drama Club will bring their fun family pantomime Jack and the Beanstalk to the Stromness Town Hall from Thursday 7th to Saturday 9th December 2017. Tickets are available from J B Rosey, Stromness and Ortak, Kirkwall. Expect lots of singing and dancing – and that's just from the cow!
Returning to William Shearer's shop in Kirkwall is a festive treat – Cool Creatures. In previous years, adults and children alike have enjoyed seeing meerkats and raccoons up close, and have had the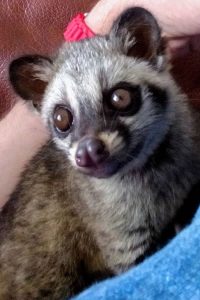 chance to hold snakes, spiders and skunks. This year Cool Creatures returns from Thursday 7th to Monday 11th December and will bring their newest addition, Mango the Asian Palm Civet!
On Friday 8th December 2017, between 13:00 and 17:00 at the Archaeology Institute, Orkney College UHI there will be an 'Archaeology in a Day' Open Day. It's a great chance for those considering studying Archaeology to talk to staff and students!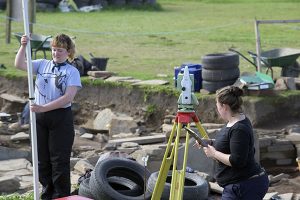 Workshops include examining finds from The Cairns excavation, looking at 4000 year old ceramics and using microscopes to analyse pollen and charcoal unearthed at the Ness of Brodgar.
From 10:00 to 16:00 on Saturday 9th December 2017 there's a Christmas Sale hosted by Orkney Arts and Crafts in the Kirkwall Town Hall. It'll be a great opportunity to fill up your loved ones' Christmas stocking!
There's a great chance to learn how to make your own beautiful Christmas Wreath at the Pickaquoy Centre, Kirkwall. Sandy's Christmas Wreath Making Class takes place between 13:00 and 15:00 on Saturday 9th December 2017. Bring secateurs, gloves and warm clothing! Booking is essential; contact the Pickaquoy Centre for more information.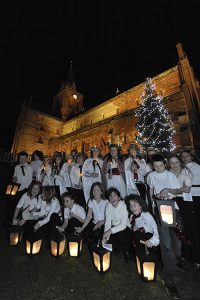 We'd highly recommend taking part in the annual tree lighting ceremony at St Magnus Cathedral for a uplifting reminder as to what Christmas is about! There will be local choirs, children with lanterns, and the lighting of the tree, gifted from Hordaland. The Kirkwall Tree Lighting Ceremony takes place at 17:30 on Saturday 9th December 2017.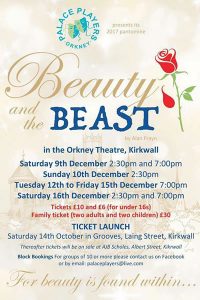 Beauty and the Beast will be this year's pantomime from Palace Players. It'll run from Saturday 9th to Saturday 16th December 2017, with both matinee and evening performances, in the Orkney Theatre in Kirkwall. Tickets are available from AJB Scholes, Kirkwall. Find out more on the Palace Players Facebook page – it would be a beastly mistake to miss it!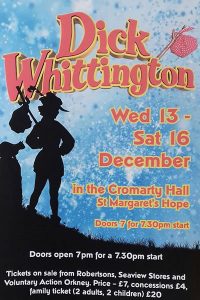 In St Margaret's Hope, Dick Whittington will be looking for streets were paved with gold! This panto will run from Wednesday 13th to Saturday 16th December 2017 starting at 19:30 in the Cromarty Hall. Tickets will be available from Robertson's General Store, St Margaret's Hope, Burray Store and VAO Kirkwall. we're looking forward to seeing Dick Whittington's cat – oh yes we are!
On Saturday 16th December 2017 there will be a "Make it Christmas, Make it Special" Fair in the King Street Halls between 14:30 – 16:30. As well as being a great place to pick up last minute Christmas gifts, this is also a place where you can leave festive treats for the Orkney Foodbank, Orkney Cats Protection and the Loving Homes Dog Rescue so that everyone has a very special Christmas!
Orkney Deaf Children's Society will be holding a ODCS Santa Fun Run around Kirkwall on Sunday 17th December 2017 between 10:45 and 12:00. You can run, jog or walk 2 laps of the town – what better way to keep warm in December? There will be prizes for the best (festive) dressed particpant! Support this great cause by visiting the Orkney Deaf Children's Society Facebook page for more information.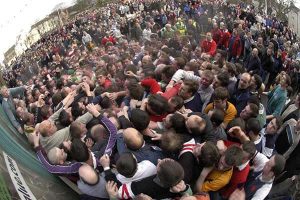 On Christmas Day (and again on New Year's Day) it's the Ba'; a game, not for the faint-hearted, played in the streets of Kirkwall. Two teams, the Uppies and the Doonies must get the ba' to their respective goals, landmarks in the town, by any means! The boy's Ba' begins at 10:00 and the men's Ba' begins at 13:00 on Broad Street. If you're a spectator, be prepared to move quickly out of the way if the ba' gets too close!
In Stromness the traditional Yule Log street game is being resurrected. Those who take part will be divided into Soothenders and Northenders, and the challenge will be set to pull the Yule Log from the Pier Head to the team's goals. The event will take place on 14:00 on Sunday 31st December 2017.
We hope you have an outstanding time in Orkney during the month of December!