When the New Year begins in Orkney it does so noisily! The ships horns sound in Stromness harbour and the bells chime in St Magnus Cathedral to see in the New Year.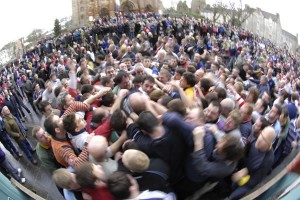 Later on 1st January there is a roar under St Magnus Cathedral as a surge of men, a freak wave of bodies, washes up to meet The Ba, when it is thrown in the air! The ba' then disappears amidst a huddle of men, amongst grappling hands and is held tight against chests, with steam rising from the crowd! Every now and then there will be a breakout from the scrum – when one team rush towards their goal. The Boys Ba will start at 1030 and will be thrown up by Bryan Guthrie. The Men's Ba' begins at 1300 and will be thrown up by Sandy McConnachie.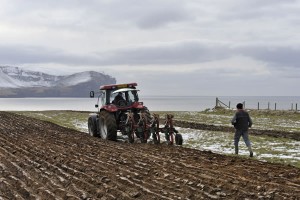 There are other events well worth attending in January. All over Orkney, parish ploughing matches will be held – check the local press for details. On 25th January there are Burns Suppers held throughout the island – again, these are advertised nearer the time in the local press.
In midwinter the Neolithic building Maeshowe has an interesting feature – it is aligned so that the light of the setting sun runs down its long entrance tunnel and shines on the back wall of the tomb. A great video of this can be seen here – http://www.youtube.com/watch?v=9L2UJmetx-Y – but it's well worth attending if you're near Stenness between Mid November and Mid January.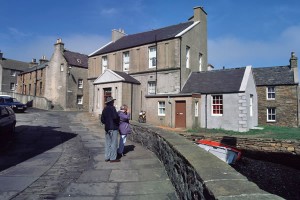 If you're looking for a super place to go to in Orkney in January, why not visit Stromness Museum? The Museum is a waterfront building at the south end of the town which was opened in 1837. The museum has items from the sunken German High Seas Fleet such as a German Imperial flag, spanners, a lifebelt and candlesticks. Other relics from Scapa Flow are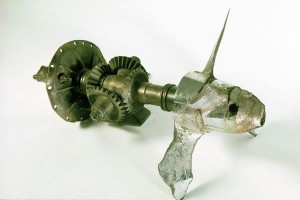 here – including a solid bronze ornamental dolphin/fish-like sea creature from HMS Royal Oak, as well as a propeller from the torpedo which sunk the battleship!
There are also exhibits related the Hudson's Bay Company and the fur trade (blankets, and a Cree beadwork bag) as well as a display featuring renowned arctic explorer John Rae,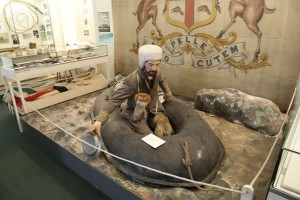 including the Octant and percussion shotgun he used during his expeditions. All aspects of the sea-faring town are covered – there are whales' eardrums sitting next to hairballs from cows' stomachs, and a whale's skull lies beneath a table! An issue of The Stromness News, the newspaper once published in the town, can be viewed, as well as a Rugby cap awarded to Henry Halcro Johnston in 1877. The museum lies across the street from the house where author and poet George Mackay Brown once lived – and one of the exhibits is his rocking chair!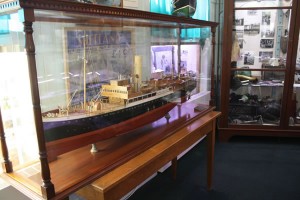 In The Pilot's House you'll see models of ships and ferries, such as the Royal Mail, St Magnus and St Ola, that served Stromness in the past, long before MV Hamnavoe. You'll also find the original lighthouse lens from Hoy Low lighthouse as well as dinner sets from the Northern Lighthouse Board.
In the top floor of the museum you'll find a bird specimen collection brought together by the Orkney Natural History Society, a display of North Ronaldsay sheep, a massive turtle and some amazing fossils (including the backbone of a Plesiosaurus, a fossil seed fern and fossilised sharks' teeth!) We must also mention that there are some great activities for children to enjoy, and that the little gift shop is a super place to buy unique souvenirs.
Stromness Museum is bursting with interesting items to view and is open from 1100 to 1530, Monday to Saturday between October and March. In the summer the Museum is open between 1000 to 1700, 7 days a week.
UPDATE 19/12/13 – Stromness Museum will be holding an open day with FREE ADMISSION on 28th December 2013 between 1100 and 1600. You'll also spot new otters on display downstairs in the Winter Exhibition!