In other island communities January is one of the quietest months of the year, but this is not so in Shetland. The last Tuesday of the month is when Shetland's biggest and most famous event takes place – Up Helly Aa!
This year taking place on Tuesday 28th January 2014, Up Helly Aa has a procession of up to a thousand guizers, the Viking Guizer Jarl and his Jarl Squad, and a Viking longship which is set ablaze! For an idea of what to expect on the night visit http://www.northlinkferries.co.uk/your-holiday/guide-to-shetland/shetland-april-2013/shetland-january-2012/ For the history of Up Helly Aa, please visit http://www.northlinkferries.co.uk/uphellyaa/uphellyaa-info/
Also on Tuesday 28th January make sure you check out Stand Up Helly Aa (comedy) at the Mareel at 9pm and Fiery Sessions (concerts featuring a line-up of excellent traditional musicians) at 12/3pm
Other, smaller fire festivals take place throughout Shetland in January, February and March – these each have their own traditions and are highly recommended – here is a list of dates: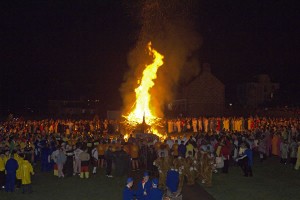 Scalloway – Friday 10th January 2014
Nesting & Girlsta – Friday 7th February 2014
Uyeasound – Friday 14th February 2014
Bressay – Friday 28th February 2014
Cullivoe – Friday 28th February 2014
Norwick – Saturday 1st March 2014
South Mainland – Friday 14th March 2014
Delting – Friday 21st March 2014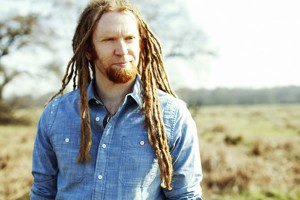 Another event of note in Shetland in January is a concert from the fiery haired, dreadlocked Newton Faulkner at the Mareel on Friday 31st January 2014. With his soulful voice Faulkner is best known for singles 'Dream Catch Me', 'I Need Something' and 'If This is It' and is one of the most engaging and dynamic young, contemporary singer / songwriters on the UK music scene today.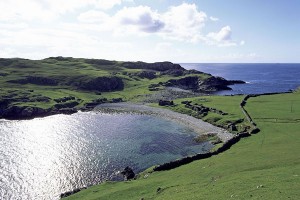 If you're looking for a good place to go in Shetland in January 2014, why not visit Fethaland? Fethaland is located at the north tip of Shetland's mainland and is a beautiful headland with the remains of one of the busiest of the Shetland haaf fishing stations, established during the 15th and 16th centuries.
60 boats operated from Fethaland, and they were sixerens – big open, six-oared wooden vessels, built along traditional Norse lines. Haaf fishing involved spending 2-3 days at sea, sailing forty miles out to the fishing grounds,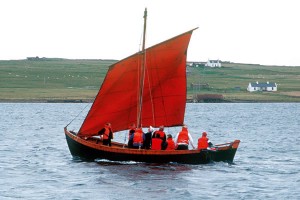 using simple landmarks for navigation, setting 7 miles of lines, hauling them in again and then sailing the 40 miles back. If there was no wind, the 7 man crew rowed the huge distance! The haaf fishing season was short: from June to August – and the men lived in lodges called bods, which can be seen at Fethaland today. The roofs of the bods, made of wood and turf, were removed at the end of the season so they were not damaged by winter storms! The fish were split open and dried on the pebble beach before being exported to the continent.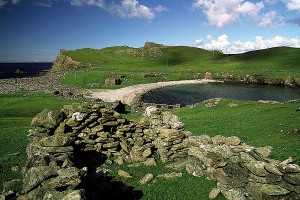 The 20th July 1881 marked the beginning of the end for the Fethaland Fishing station when hurricane force winds caught the fishermen by surprise. The boats that tried to come home were overturned, but those that stayed at their lines survived. In all ten boats foundered and 58 haaf fishermen lost their lives. They left behind 34 widows and 85 orphans. Fethaland became redundant in the twentieth century when a move to larger boats operating from bigger population centres took place.
Also at Fethaland you can see the remains of an Iron Age broch, a large oval Neolithic house and a soapstone quarry that was used in Viking times. The ringmarks left from the carving of viking soapstone bowls still survive in the cliff! Make sure you wrap up warm – we hope you enjoy the sights of Fethaland!