Even during colder times of the year, such as January, a sightseeing tour of the dramatic Shetland landscape is well worth undertaking. There are also a wide range of events to attend!
On Thursday 11th January 2018 there will be The Shetland Accordion and Fiddle Club night at The Shetland Hotel, Lerwick; a chance to hear some fine music from talented local artistes, starting at 19:30.
The Shetland Fire Festivals begin in 2018 with the Scalloway Fire Festival, which takes place on Friday 12th January 2018. In Scalloway, Shetland's former capital, the Viking Jarl's Squad is led by Leslie Setrice. Between 200 and 300 guizers will gather at 19:00 for a torch-lit procession through the village, before setting a Viking Galley alight on the sea at Port Arthur! For more information visit the Scalloway Fire Festival Facebook page!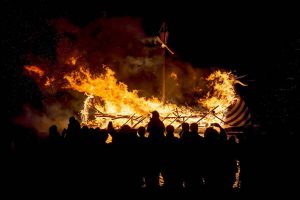 The Shetland Fire Festivals take place on the following dates:
Scalloway Fire Festival – Friday 12th January 2018
Lerwick Up Helly Aa – Tuesday 30th January 2018
Lerwick Junior Up Helly Aa – Tuesday 30th January 2018
Nesting & Girlsta Up Helly Aa – Friday 9th February 2018
Uyeasound Up Helly Aa – Friday 16th February 2018
Northmavine Up Helly Aa – Friday 16th February 2018
Bressay Up Helly Aa – Friday 23rd February 2018
Cullivoe Up Helly Aa – Friday 23rd February 2018
Norwick Up Helly Aa – Saturday 24th February 2018
Walls Junior Up Helly Aa – Friday 10th March 2018
South Mainland Up Helly Aa – Friday 9th March 2018
Delting Up Helly Aa – Friday 16th March 2018
Shetland Arts will host a series of workshops encouraging creativity in 7 – 11 year olds. Creativity Club starts on Saturday 13th January 2018 at
13:00 in the Mareel with a five-week block called 'Creativity Club Animation'. At the end children will have learned filmmaking, 2D and 3D animation, editing, creating soundtracks, and there will be a screening of the films for friends and family! For more information, please visit the Creativity Club webpage.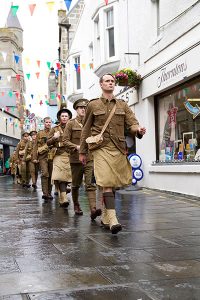 At Bonhoga Gallery there's a fantastic exhibition to mark a centenary since the end of the First World War called 'We're Here Because We're Here'. It celebrates with photographs and film the moment in 2016 when 1400 participants dressed in First World War uniform appeared unexpectedly in a variety of locations . The exhibition runs from Saturday 20th January 2018 to Sunday 18th March 2018. There will also be four films set during the First World War showing at the Mareel; starting with Paths of Glory at 14:00 on Sunday 21st January 2018.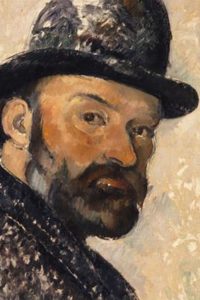 At the Mareel on Sunday 28th January 2018, there will be Exhibition on Screen: Cézanne – Portraits of a Life. This film will focus on the portrait work of Paul Cézanne and will take audiences beyond the exhibition to the places Cézanne lived and worked. The film starts at 11:30; find out more at the Shetland Arts website.
If you're visiting Shetland for Up Helly Aa and would like to hear some traditional music from the isles then head along to the Shetland Hotel in Lerwick on Monday 29th January 2018 at 19:30 for a Pre-Up Helly Aa night featuring local and visiting bands! Visit the The Shetland Accordion and Fiddle Club website for more information.
The biggest event on the Shetland calendar happens at the end of January. Up Helly Aa takes place on Tuesday 30th January 2018, and it's a brilliant event to attend. There are parades to follow in the morning, when you'll see the Viking Jarl's Squad with their Galley and dressed in their armour (the costume design is a well-kept secret until the day).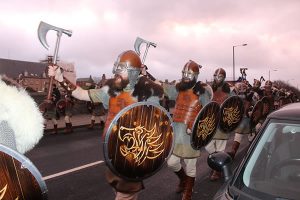 Later on the Jarl's Squad visits schools, hospitals and old folks homes, and you can catch up with them in the Shetland Museum. In the evening the Junior Jarl's Squad have a parade and set fire to their own galley. This is followed by a torch lit procession through Lerwick with a 1000 men who set a beautiful Galley ablaze! For a guide to the day visit our Visitors Guide to Up Helly Aa. Also make sure you take a look at the Fiery Sessions (traditional music) which takes place in the Mareel between 12:00 to 14:00 and 15:00 to 17:00!
We hope you have a fabulous fiery time in Shetland in January 2018!