You'll be pleased to find that there's plenty to do in Shetland, even when visiting the islands in March – here's a rough guide!
Even if you missed Up Helly Aa in January, there are three fire festivals yet to enjoy – these are:
Norwick – Saturday, 1st March 2014
South Mainland – Friday, 14th March 2014
Delting – Friday, 21st March 2014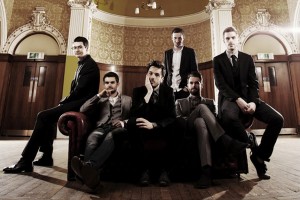 In Mareel, there are some great musical events during March – you'll find something for everyone!
On Friday, 7th March 2014, Roddy Hart and Lonesome Fire will be returning to Shetland. Lonesome Fire have been the house band at Celtic Connections and have been broadcast live on both BBC Radio 2 and Sky Arts. The concert begins at 1930.
On Saturday, 15th March 2014 at Mareel, Leo and Anto (of the Saw Doctors) will be performing as a duo. At 1930 you can see their hugely popular acoustic show for yourself! You'll hear some alternative takes on well-known Saw Doctors songs as well as some less familiar material.
Anyone who knows anything about Shetland will be aware of the strong musical heritage of the islands, and this year, 2014, marks the 70th anniversary of the Shetland Schools' Music Festival. On Sunday 16th March at 1900 the Grand Opening 70th Anniversary Concert will feature local artists who have been previous winners of the festival and will great place to hear the best of Shetland's young musical talent. Other related concerts include the Young Musician Of The Year concert on Wednesday, 19th March at 1900 and The Shetland Schools' Music Festival Gala Concert on Thursday, 20th March 2014 at 1900. All of these concerts take place in the Mareel.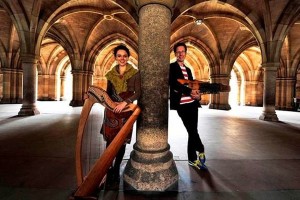 On Sunday 23rd March, Catriona McKay and Olov Johansson will collaborate with a spellbinding concert in the Mareel at 1930. A unique collaboration of Scottish harp and Swedish nyckelharpa, the two harpists combine their experience of different traditions to create a stunning new sound!
Meanwhile at Shetland Museum and archives there are two fascinating art exhibitions running concurrently until 16th March. Fragments showcases the work of Gemma Balfour and Vivian Ross-Smith, who recently graduated from Gray's School of Art. The exhibition explores the fascinating geology of Shetland – more on this later! Models of Mind is an exhibition of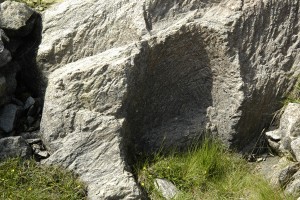 drawings, paintings and prints by Jim Pattison focussing on Neolithic carved stone spheres found on Scotland's islands
If you're looking for interesting places to go in Shetland during March, why not visit Catpund Soapstone mine? This quarry is interesting for both geologists and historians. Located just south of Cunningsburgh you can park on a layby on the right-hand side of the A970. From here you'll spot Catpund burn running down to the layby. Catpund burn is very bonny to visit, and if you follow it up the hill you'll find extensive quarries.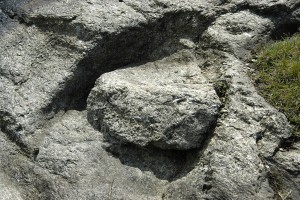 Soapstone or stearite is a soft rock, known as kleber in Shetland, which is related to talc, both of which are found at Catpund. Soapstone can be worked with stone or metal tools to make bowls, utensils, pots, plates, and weights for fishing and looms. When soapstone is put in the fire it becomes hard and heat resistant, and as such it was used in large quantities by Vikings for exporting.
Chisel marks and hollows where bowls had been fashioned and extracted can be seen in the hillside, though many of the quarrying scars are probably now hidden under the turf.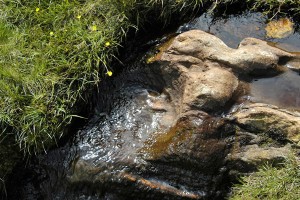 You'll even spot traces of quarrying in the bed of Catpund burn, under the reddish-brown peat water.
This area has been quarried since Neolithic times and the quarry covers a 1km long area, from the shore below the road to the source of Catpund burn on the hill. At Jarlshof, 24km away, steatite bowls were found that match the blank areas found in the rock. To see examples of soapstone artifacts, visit Shetland Museum and Archives in Lerwick.