When in Thurso, NorthLink Ferries caught up with Kate Willis; the friendly and enthusiastic guide and owner of Caithness Wildlife Tours. We asked her about her tour company and about the amazing wildlife, stunning scenery, and ancient sites that you can see when visiting Caithness!
Q. How, when and why did you set up Caithness Wildlife Tours?
A. I started setting up the business in 2015 by building an online presence, with a website and on social media, so it would be easier for people to find me the following tourist season. 2016 was my first full season running both wildlife and sightseeing tours in Caithness. I set up CWT after moving here with my partner, and I was unable to get work but realised that no-one was doing any land-based wildlife tours here – there was a big gap in the tourism market and I thought I could help fill it! With the development of the NC500, there is plenty of potential for the tourism industry to grow in Caithness and by providing tours I can help visitors discover places they might not have otherwise found.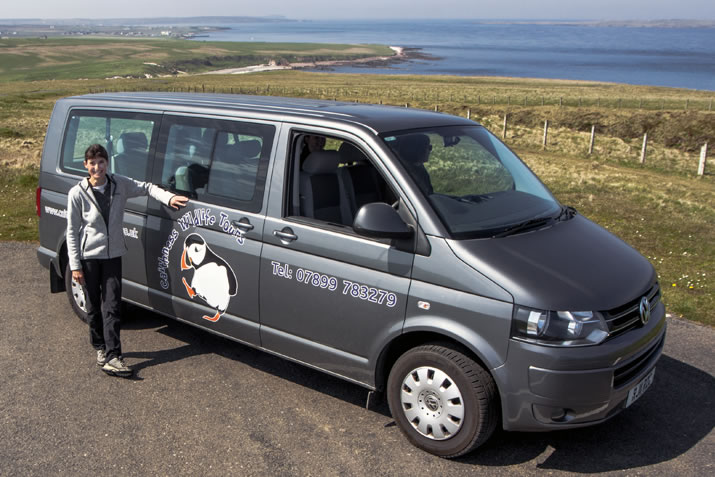 Q. Can you tell us a bit about yourself Kate?
A. I trained as a biologist in New Zealand, and have a PhD in freshwater ecology. I have worked as a marine biologist at research institutes in Scotland, New Zealand, and Tasmania, so I have a good background knowledge of ecological systems. I have always been interested in wildlife and the natural environment, and I am a keen hill walker. I'm a trained Summer Mountain Leader and I have a certificate in Outdoor Emergency First Aid. I'm also a member of the Scottish Ornithologists' Club and the Caithness Biodiversity Group.
We came to Caithness from Tasmania, Australia, so it was a big change in lifestyle and climate. This is the first time I have worked in the tourism industry, so it's all new, but I am really enjoying it, and I get to meet people from all over the world and show them the special wildlife and places in Caithness!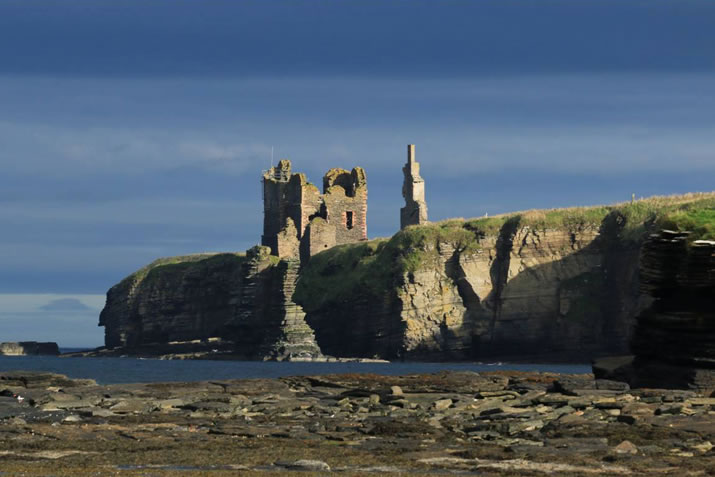 Q. Why do you think Caithness is such a fantastic destination for tourists?
A. Caithness is still a bit off the beaten track so it is not too busy (though the NC500 is bringing more people to the area) and there is plenty of wildlife and historic sites. The region has so much to offer tourists with its amazing wildlife, stunning coastal scenery, and numerous historic sites. All of these can be seen without having to wait in a queue or battle crowds of people! The historic sites are also free to visit, although they can be difficult to find.
Caithness has an amazing number of historic sites but most people don't know this. For example, Camster Cairns are over 5000 years old and are one of the oldest and best preserved Neolithic burial cairns in Scotland. There are also numerous Iron Age brochs, standing stones, and plenty of stunning cliff top castle ruins, such as Castle Sinclair Girnigoe, the seat of the Earls of Caithness, and the only castle in Scotland listed by the World Monuments Fund.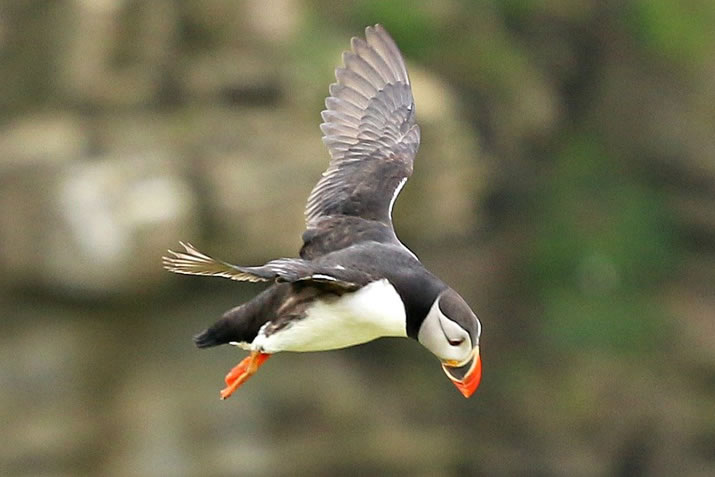 Q. What wildlife can you expect to see in Caithness?
A. Caithness is a bird watchers paradise all year round. In spring and summer, the sea cliffs are teeming with nesting sea birds such as guillemots, razorbills, fulmars, kittiwakes, and of course puffins, everyone's favourite bird. There's even a puffin colony in Caithness that not too many people know about! The bays and sheltered harbours are home to grey and harbour seals, and otters, although they are more elusive.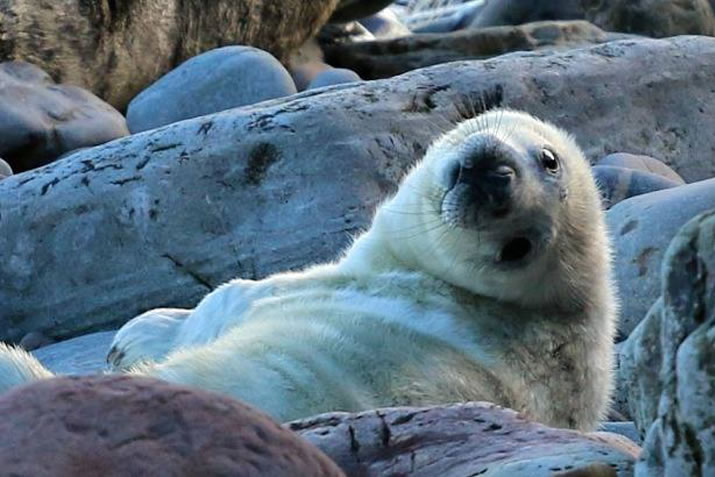 Q. What about in Autumn and Winter?
A. In autumn and winter, many birds overwinter in Caithness after spending the summer breeding further north, such as long tailed sea duck, great northern diver, various geese, waterfowl, and waders. In October and November Grey Seals have their pups on the beaches in Caithness. At the moment I take visitors on tours all year round!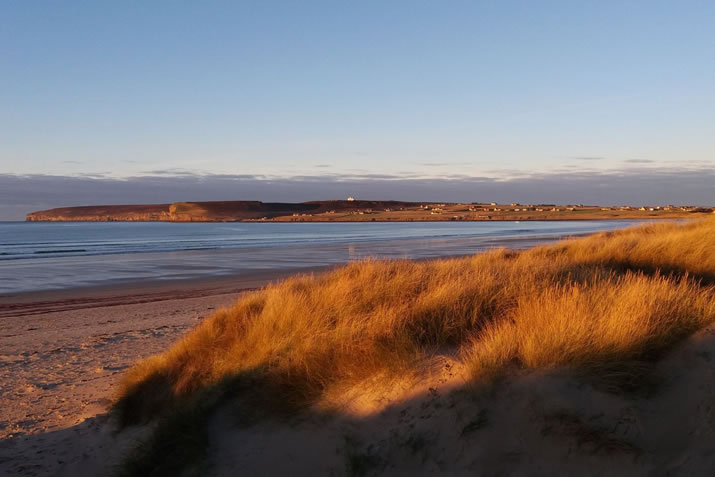 Q. Why do you think that customers think your tours are special?
A. Many of the places I take people to, to see wildlife, are places they probably wouldn't have found on their own, as they are well hidden and difficult to find if you don't know the area (and even if you do!). Tour groups are small (max 6 people) and personalised to suit the customers' interests. I often take couples or smaller groups on tailor-made tours.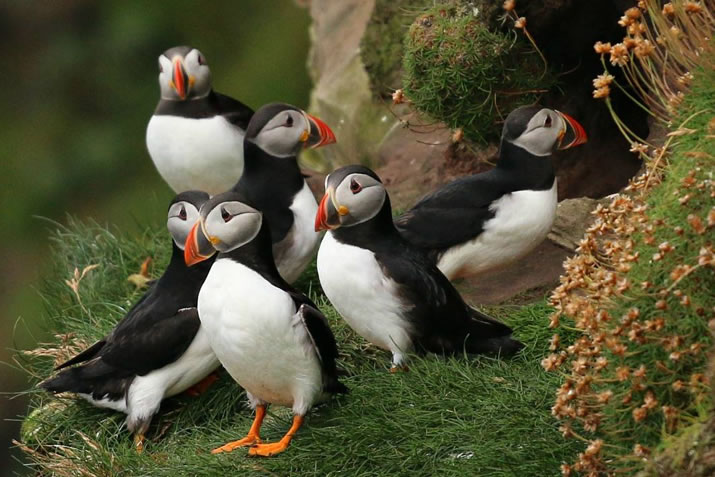 Q. What is your favourite place in Caithness?
A. That's a difficult one, as I have quite a few favourite places – mostly cliff top locations with great views along the coast, and in spring and summer the cliffs are teeming with sea birds. The Caithness puffin colony would have to be one of my favourites though. It's in a beautiful spot, and the puffins are such characters; I can watch them for hours.
Q. Have you had any special wildlife encounters (on a tour) or other highlights that you could tell us about?
A. The puffin tour is always really popular, and a few people I have taken to see puffins have been so happy to finally see them they have cried! It is very rewarding and satisfying to help people realise a dream and make them happy. As the puffin season progresses, some lucky people get to see the pufflings (young puffins) coming out of their burrows as well. Watching Arctic skua dive bombing and chasing kittiwakes over the freshwater lochs at Dunnet Head has to be a highlight too.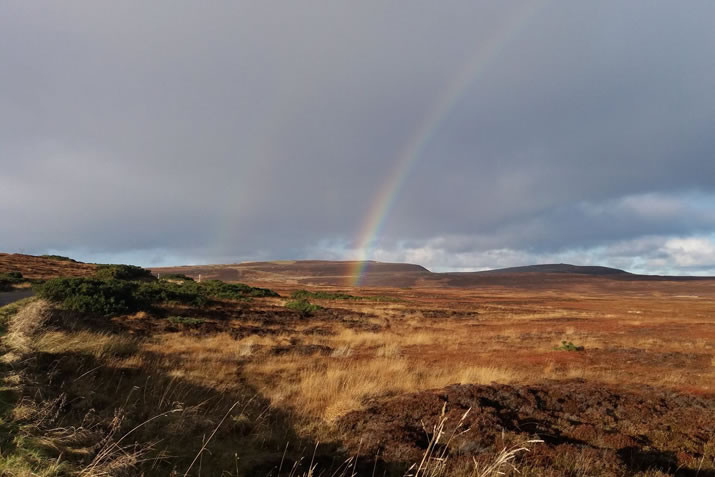 Q. What would you recommend I should take on a tour?
A. It's always a good idea to have warm and waterproof clothing in Scotland, and sturdy shoes for walking over rough or damp ground. I have six pairs of binoculars and a telescope with me to get even closer up views of the wildlife and scenery – but don't forget to bring your camera. All kinds of fitness levels and ages can manage most of my tours.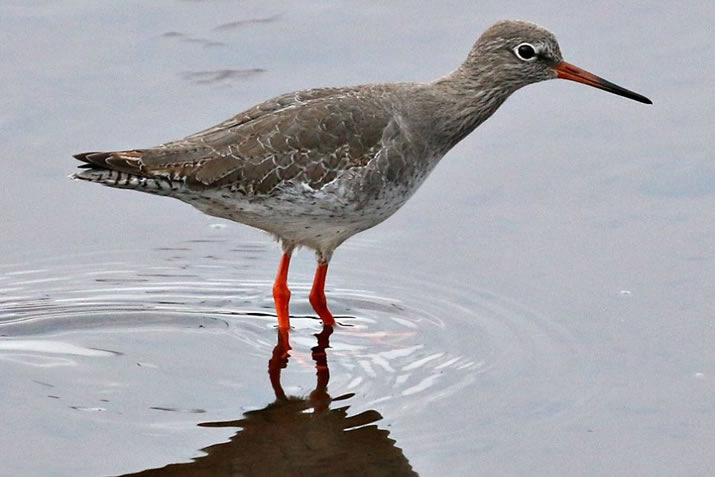 Q. What would you like visitors to take away from a Caithness Wildlife Tour?
A. Lifelong memories and great photos of the amazing coastal scenery and wildlife in Caithness, along with a greater awareness of the amazing diversity of wildlife that we have here in the far north of Scotland, and how important it is that we continue to protect our wilder places and the wildlife that lives there.
There is a huge amount of wildlife, historic sites, standing stones, and burial cairns, as well as amazing scenery, to explore here in Caithness, so I hope that my tours help spread the word about why Caithness is such a great place to visit!
To find out more about our wildlife and sightseeing tours in Caithness visit www.caithnesswildlifetours.co.uk or phone Kate on 07899 783279. You can also follow Caithness Wildlife Tours on Facebook and Twitter (@wildcaithness).

By
Magnus Dixon
Orkney and Shetland enthusiast, family man, loves walks, likes animals, terrible at sports, dire taste in music, great taste in films and tv, eats a little too much for his own good.