NorthLink Ferries on-board shops stock the best of the Shetland and Orkney islands' crafts and produce, with a wide selection of jewellery, knitwear, wines and spirits.
There is an extensive range of books and magazines including many by local writers. Our range of fragrances is very popular and offers excellent value for money on many leading brands when compared to high street prices. View some of our perfumes
Forgotten something? There's a good chance we will stock that last minute travel item in the shop.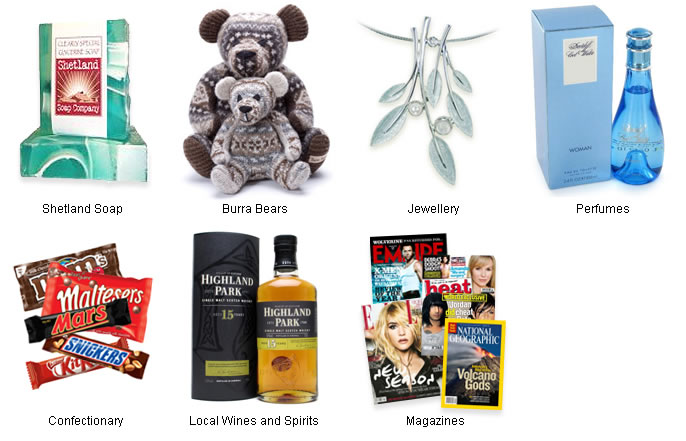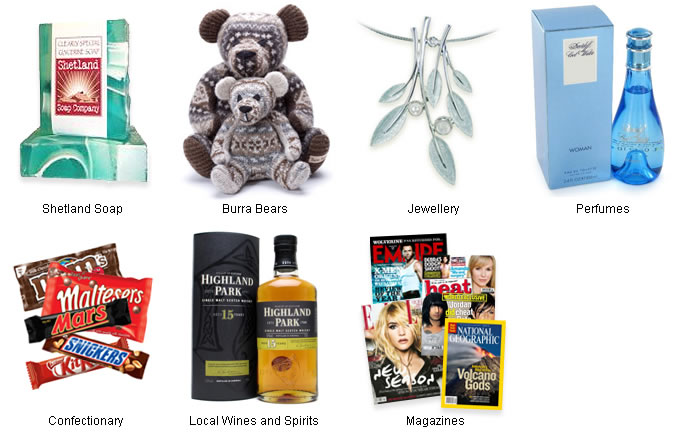 On the Hjaltland and Hrossey, the shop is open from 1600 (Indirect Run) and 1730 (Direct Run) until 2200. The shop is open again in the morning from 0630 until 0800 (Aberdeen arrival) and from 0630 until 0800 (Lerwick arrival).
Can I use credit cards or cheques in the shops and restaurants?
We accept credit and debit cards, including Visa Debit, Mastercard debit and American Express, for payment of bookings at our terminals / offices, over the telephone in our Customer Service Centre and on-board our vessels. We do not currently accept Maestro or Diners Club cards. Purchases above certain amounts will require a telephone call for authorisation; this is no reflection on you and we would ask for your co-operation in this matter. You can use also Sterling cash (GBP) and GBP Traveller's cheques. However, we do not accept personal or business cheques.
Are there shops on the ferries?
Yes, each ship has a branch of 'Northern Isles' shop. These shops offer a wide range of products, including books, magazines, maps and guide books, travel requisites, local jewellery, crafts and knitwear, confectionery, wines and spirits, and a deli counter featuring local produce.
Where do I buy cinema tickets?
On Hjaltland and Hrossey we show the latest release movies up to three times per voyage and tickets can be bought in the Northern Isles shop, priced at £5.00. Children under 16 years of age will be admitted (Film Category permitting) for £3.00. There are also family tickets (2 adults and 2 children) priced at £12. Movies showing are updated every Monday morning on our cinema page