When you think of Orkney, you may think of magical islands, archaeological wonders, rugged coastlines and wide open spaces. If you are an animal-loving family planning to visit Orkney you may even be looking forward to the opportunity to see seals and puffins. Alpacas may be the last animal you would expect to see!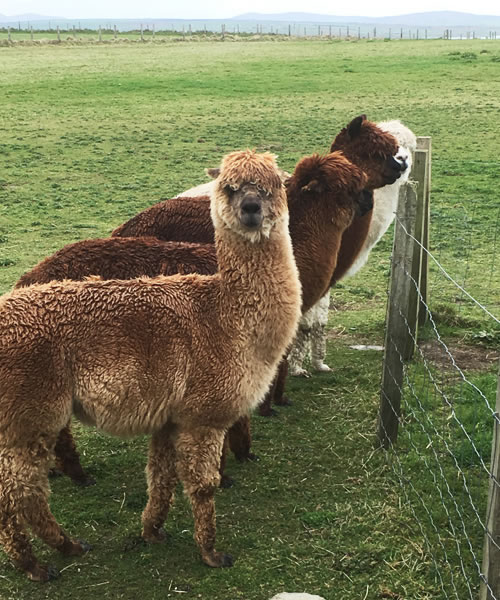 However, we had heard enthusiastic rumblings (or should that be rumplings?) about the Orkney Alpaca farm – called Skate Rumple – located in Deerness, on the Denwick Road, not far from Deerness Stores, and we made a booking to visit!
As we drove up to Skate Rumple farm a chorus of 'aaaw' and 'aaahs' erupted from our group of children (and adults!) as they spotted an array of curiously friendly furry faces!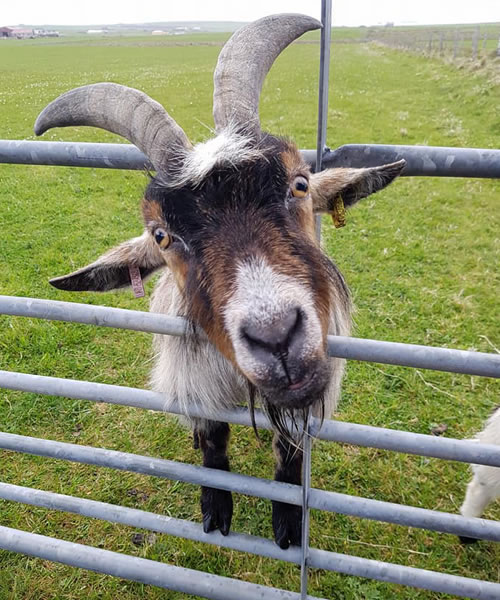 We parked up and got our wellies on. We were greeted by Mandy and Nick – a warm couple who seemed delighted to welcome us to their farm.
It was impossible not to be aware of the curious animals surrounding us in the fields and pens close by. There were many different types of chickens and ducks at our feet, clucking and quacking in a happy chorus. Oddi – a large and very loud goose clearly felt left out and began bossily honking for attention, much to the delight of the kids! Nick gently encouraged him to take his noise elsewhere!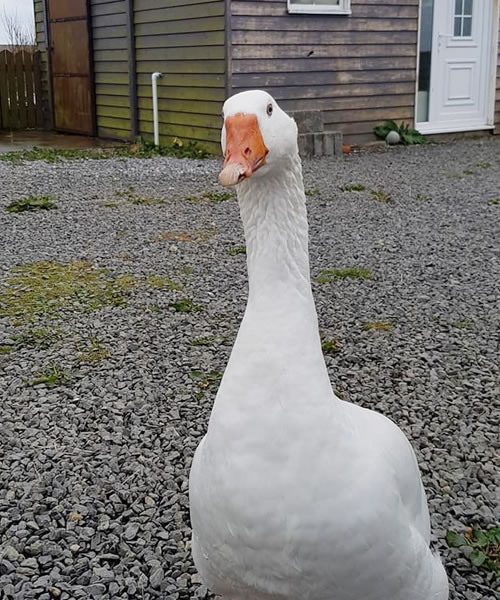 After introductions were made we were taken to meet and feed the Alpacas – Insch, Mungo, Moomin and Gus. They seemed very inquisitive if a little stand offish. We learned later that they had had a disagreement with each other that morning and were still sulking! Though they are naturally cautious they accepted food from us and even let us pet them. These characters were all full of personality!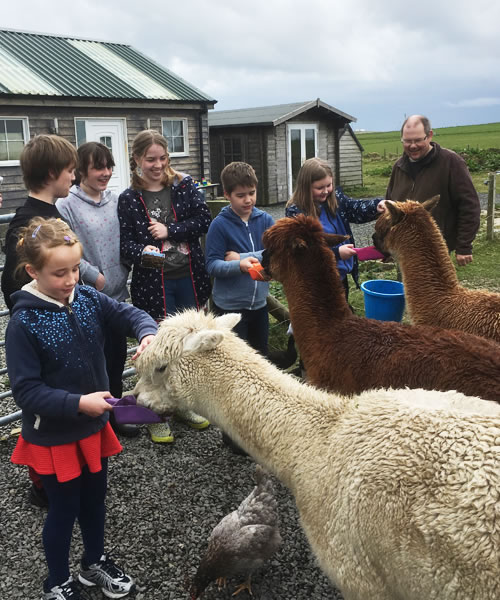 We then made our way across the farm to meet Chutney, Pickle and Ketchup, three boisterous long-haired pigs. They quickly hoovered up all the food offered to them and we all had a go of giving them a good brush which they seemed to enjoy!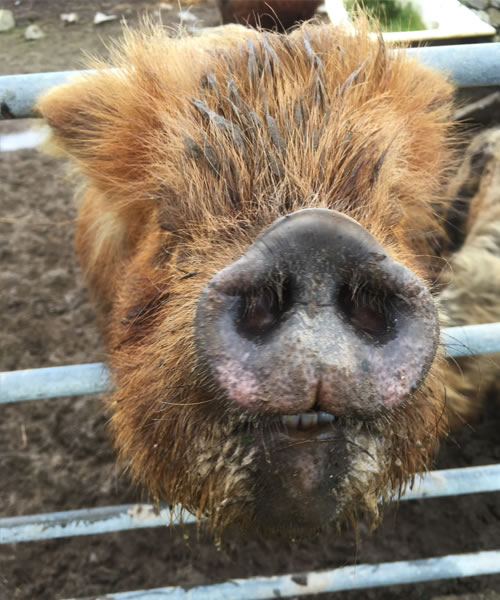 When we made our way back to the main courtyard, the birds scrabbled around us; it was clearly feeding time! Lots of hilarity followed when the children were told that the ducks and hens would gobble seed from their out-stretched hands.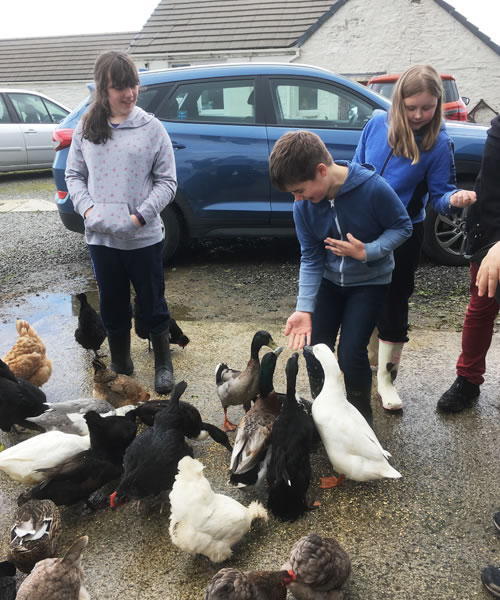 The sky was heavy and it was threatening to rain as we ventured to the fields at the back of the farm buildings. There we were introduced to three lovely North Ronaldsay sheep – they are fed a special diet of seaweed gathered from a beach close by. They also happen to enjoy toast!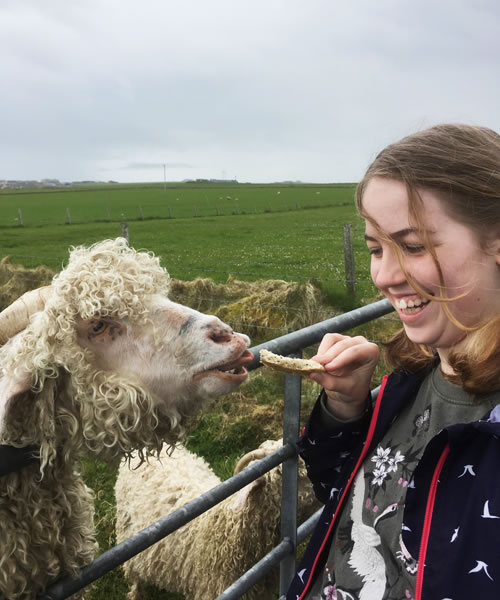 We then met some of the goats, including Pumpkin, Earl and the very handsome Angora Goat Noodles – they were all charming and we were bemused by Noodles who likes to pull silly faces!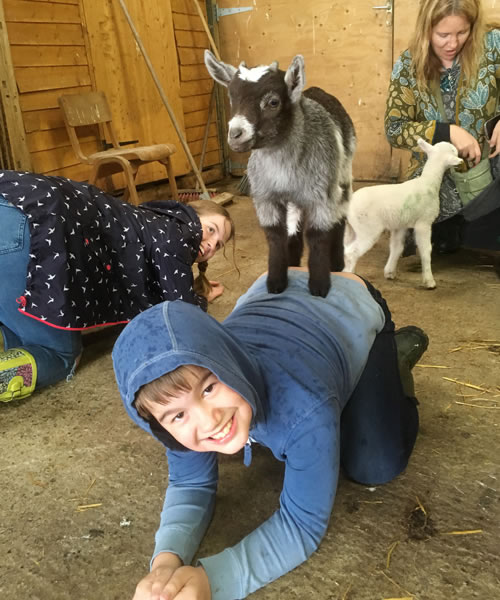 As the rain came on we retreated into a barn where we were greeted by the most adorable selection of baby animals! The baby goats Strudel, Bitzer, Chumley and Zebedee were only weeks old and a bundle of pure energy and delightful chaos. The children would kneel on the ground and were thrilled when the goats jumped on their backs! There was lots of giggling and happy faces.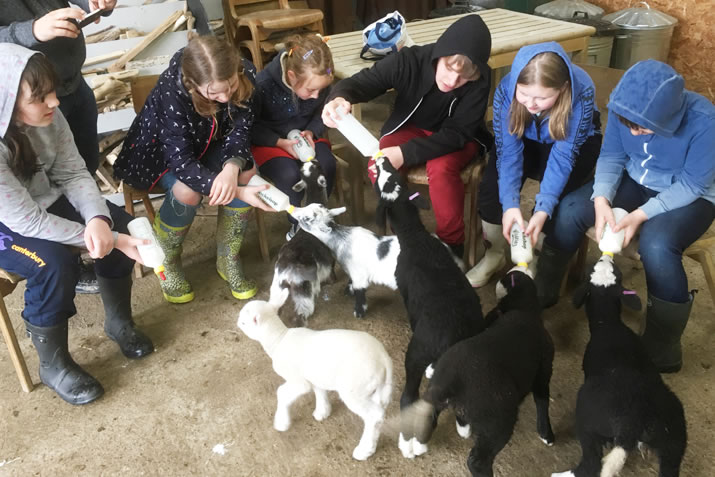 There were also caddy lambs that were just as cute and curious if a little more timid, until the bottles of milk came out!
After spending some time with the goats and caddy lambs we all gave our hands a good wash and were led to a building at the end of the farm. We had no idea of the wonders that would be spread before us as we entered.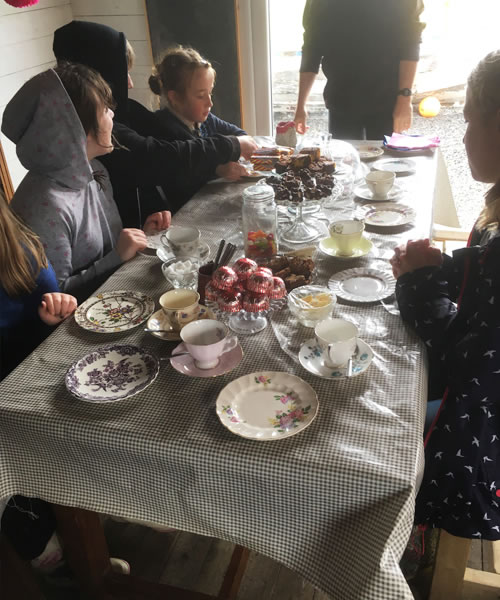 There was a beautifully set table laid out with all manners of home bakes from lemon drizzle cake to tiffin. Here we enjoyed a wonderful high tea. The children made badges (inspired by the farm animals!) and we all browsed the gorgeous items for sale in the shop; a lovely mix of fair trade, handmade and local products. Some have been designed by Ellen who is Mandy and Nick's very talented daughter. There were also beautiful handmade driftwood boats with stained glass sails which had been made by Nick.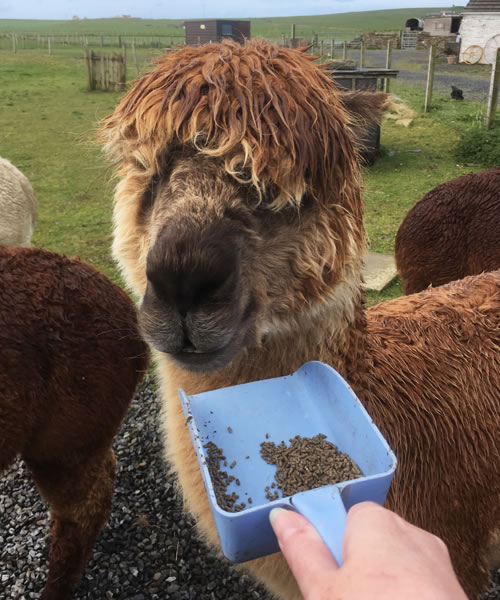 By this time the rain had stopped and the sun was shining again so we all went out to feed the Alpacas again, this time with their special 'teatime' food! They were far more eager this time; Mungo was being a little bossy and tried to sneak some extra food. Insch, though shy to begin with, was very happy to pose for photos!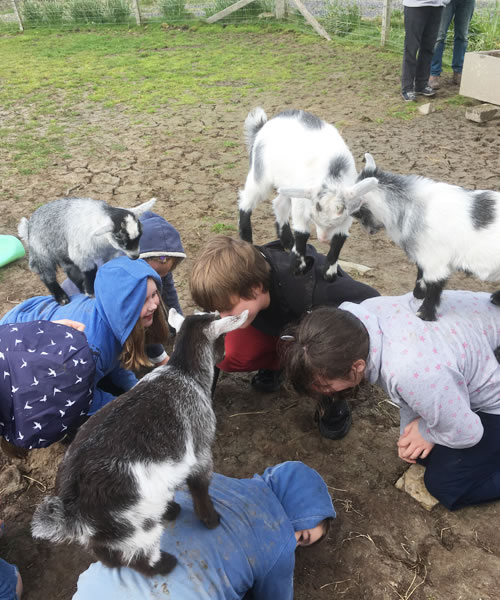 As it was so nice Mandy suggested the goats and caddy lambs (and children) come out to play in the field to burn off some energy, so we had a fun filled half-hour of running, skipping, jumping, climbing, sliding and giggling. It really was a wonderful experience that the children will never forget!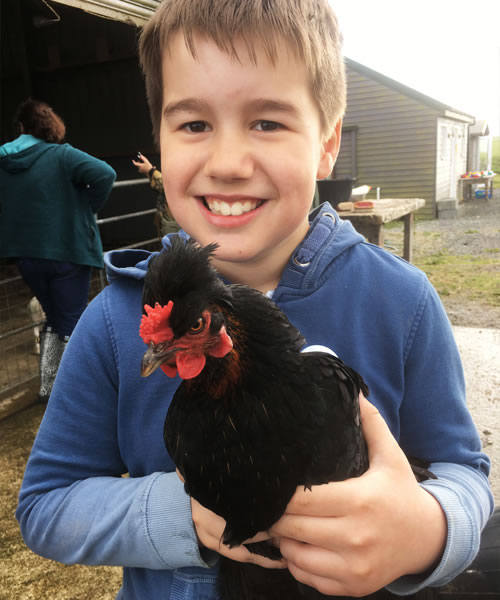 My 9 year old son asked if he would be allowed to hold a chicken – he has always loved chickens!! He was beyond delighted when not only did he get to hold one chicken but three!
When it came to time to say our goodbyes we bustled six muddy but very happy children into our cars. We waved farewell with the definite intention to return to Skate Rumple Alpaca Farm again in the not too distant future. We considered smuggling some of the baby goats home with us but they would have missed their lovely farm too much. We will just have to go back!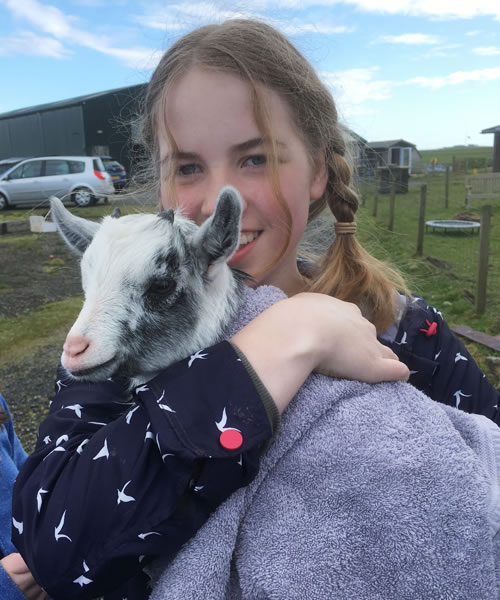 Want to meet an Alpaca? Booking is essential!
Guided Farm Tour: £10.00 per adult – £5.00 per child – Under 3s free
Includes feeding and meeting the animals, coffee and cake. More information here: http://www.orkneyalpacas.co.uk/

By
Victoria Dixon
Orkney and Shetland fanatic, likes to capture life through a lens, loves creating, eclectic taste in music, enjoys being a Mum; would secretly love to be a star of the West End!
Pin it!