February promises to be a super month in Orkney. There are many fantastic winter walks to enjoy, delicious food and drink to sample and plenty of events to attend!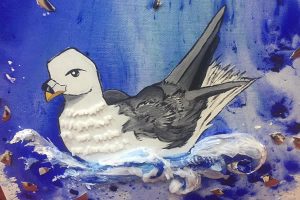 Starting on Thursday 1st February 2018 (and running until Saturday 3rd March 2018) there's an exhibition in the For Art's Sake gallery in Kirkwall. Plastic Fantastic? from Orkney Zerowaste will highlight the problems of dumping plastic by using recycled material to create lovely art!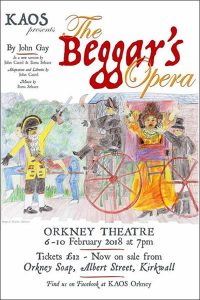 One of the highlights of the year is the production from the Kirkwall Amateur Operatic Society and this year is no exception. The Beggar's Opera by John Gay is a new version created for the Royal Shakespeare Company by John Caird and Ilona Sekacz. Watch it at the The Orkney Theatre, Kirkwall from Tuesday 6th to Saturday 10th February 2018.
The Orkney Native Wildlife Project aims to safeguard Orkney's incredible native wildlife. On Tuesday 6th February 2018 there's a chance to meet the staff and learn more with a drop-in consultation with kids activities taking place at Heilsa Fjold Youth and Community Centre, Sanday between 12:00 and 18:00. This will be followed by a talk and Q&A session between 19:30 and 20:30.
February is really your month if you love Opera. There will be a screening of Royal Opera House Live: Tosca on Wednesday 7th February 2018 at 19:15. Puccini's operatic thriller conjures up a world of political instability and menace and is sung in Italian with English subtitles.
For a night of fantastic music (folk, country and more) head along to The Reel on Broad Street, Kirkwall on Friday 9th February 2018. The evening, entitled Song Night at The Reel, promises a chance to play, sing, or just listen over a drink. Entry to this informal acounstic evening is free, and the night runs from 21:00 to 23:30!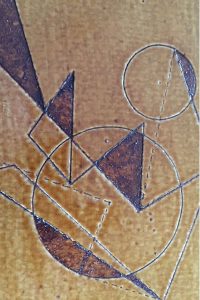 Running from Saturday 10th February until Saturday 10th March 2018, MÓTI is an exhibition in the Pier Arts Centre, Stromness well worth seeing for yourself! The exhibition of drawing comes from members of MÓTI, a group of recent art graduates who have either studied in or returned to Orkney.
A fine Valentines Day treat; a screening of a performance of Twelfth Night by the Royal Shakespeare Company; a tale of unrequited love! Get swept off your feet in the Pickaquoy Centre from 19:00 on Wednesday 14th February 2018.
From 10:00 till 14:00 on Saturday 24th February 2018 there's the Orkney Farmer's Market in the Kirkwall Masonic Hall, Castle Street. Head along to purchase amazing food, drink and crafts from local producers.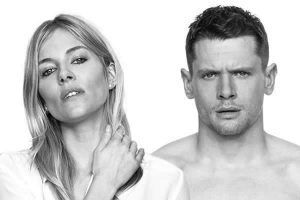 There are two fabulous screenings of West End Productions in the Pickaquoy Centre towards the end of the month. National Theatre Live: Cat on a Hot Tin Roof (pictured), stars Sienna Miller, Jack O'Connell and Colm Meaney, and takes place on Thursday 22nd February 2018 at 19:00. Royal Opera House Live: The Winter's Tale (Ballet) is a tale of love and loss, showing on Wednesday 28th February 2018 at 19:15.
Finally, we'd highly recommend attending the SCDA Orkney District One Act Play Festival which runs between Tuesday 27th February and Friday 2nd March 2018. Drama clubs from around the county perform a one act play and it's a great opportunity to see fine acting talent and enjoy the great Orcadian sense of humour! The SCDA Drama Festival takes place in The Orkney Theatre, Kirkwall, beginning at 19:30.
We hope that you find an event that suits your taste and that you have a super time in Orkney in February 2018!