New Year starts with a bang in Orkney. On Tuesday 1st January 2019 the New Year Day Boys Ba' will take place at 10.00 and the New Year Day Men's Ba' begins at 13.00 under St Magnus Cathedral in Kirkwall. This is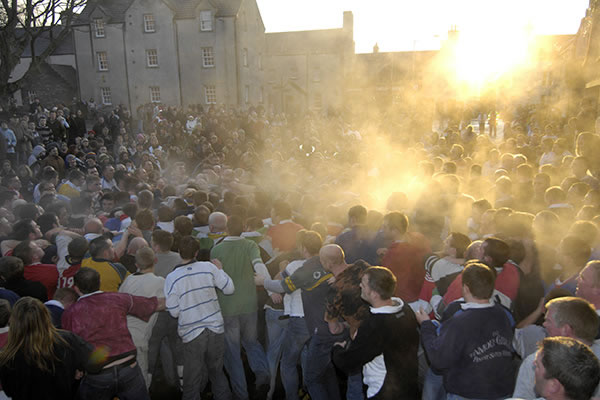 an epic battle between two sides of the town; the Uppies and the Doonies, to gain control of a leather Ba and bring it, by any means, to the team's respective goals. Very often there can be a deadlock, where the Ba is held in a scrum for hours on end. It's certainly an action-packed way to bring in the New Year.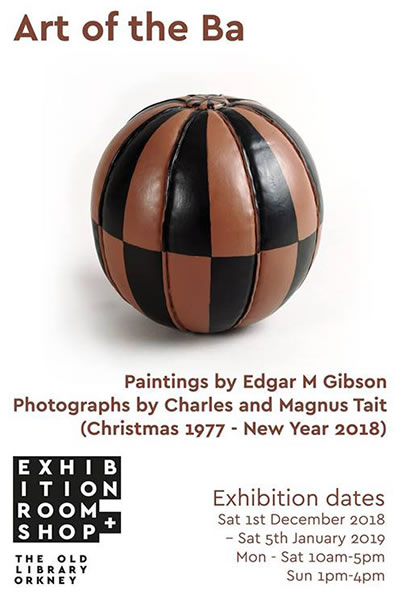 In The Old Library in Kirkwall there's an exhibition celebrating the Ba' featuring the photos of Charles and Magnus Tait and the paintings of Edgar M Gibson. 'Art of The Ba' will run until Saturday 5th January 2019.
There's also a chance to see Christmas art exhibitions throughout Orkney; many of the galleries run festive exhibitions which gather together work from the best of the Orkney artists and makers. The Festive Open exhibition at For Arts Sake, Kirkwall can be seen until Friday 18th January 2019. At the Waterfront Gallery in Stromness, their 'Feast' Christmas exhibition can be seen until mid-February 2019.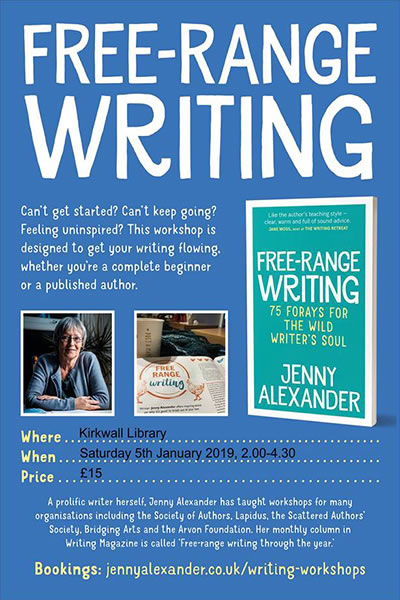 If you're feeling creative at the start of 2019, then Free-Range Writing, hosted by author Jenny Alexander may be for you! It's a chance to write across different genres, which may inspire or surprise you. Open to all writers, beginners or published authors; all you need to take is a notepad, pen and a sense of adventure. Head along to the Orkney Library & Archive from 14.00 until 16.30 on Saturday 5th January 2019.
There are a range of great cinema events taking place in the Pickaquoy Centre, Kirkwall during January 2019. The first takes place on Saturday 5th January 2019 at 19.00 and Sunday 6th January 2019 at 15.00 with showings of André Rieu: 2019 New Year's Concert from Sydney.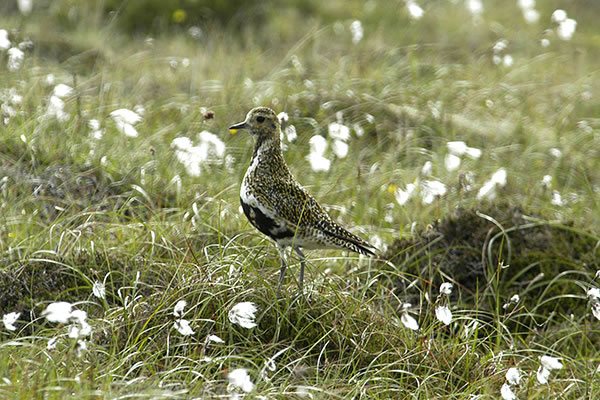 Shake off the New Year cobwebs with a fantastic Winter Wildlife Walk at Brodgar RSPB Orkney. The Warden will help you spot birds such as skylark, twite, lapwing and golden plover. Along the loch shore wildfowl including goldeneye and wigeon can be spotted. This free walk takes place on Sunday 6th January 2019 at 14.00 to 15.30 and starts at the main car park; bring suitable footwear and warm clothing!
There are more cinema events in the Pickaquoy Centre, Kirkwall in January. There's a screening of Charles Dickens' A Christmas Carol on Friday 11th January 2019 at 20.00, starring Simon Callow and directed Tom Cairns – not to be missed! Then on Tuesday 15th January 2019 at 19.00 there's a screening of National Theatre Live: The Tragedy Of King Richard The Second starring Simon Russell Beale.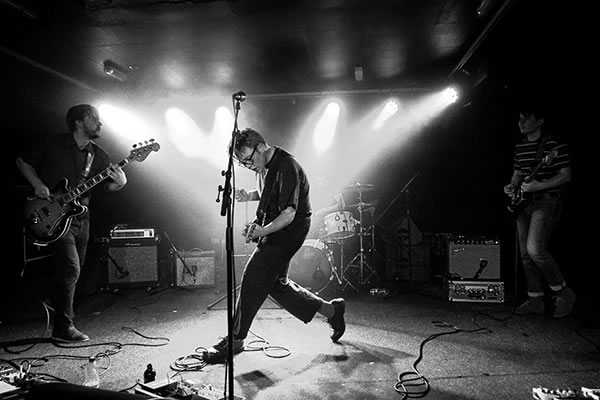 On Sunday 20th January 2019, The Howl & The Hum will be performing in Orkney. Described as combining dark hypnotic pop with post-punk influences, their music nods towards Massive Attack and Portishead. They'll be playing in The Sound Archive, Kirkwall from 19.30 until 22.30.
One more cinema event in the Pickaquoy Centre, Kirkwall is a screening, sung in Russian with English subtitles, of Royal Opera House Live: The Queen Of Spades (Opera). It'll take place on Tuesday 22nd January 2019 at 18.45.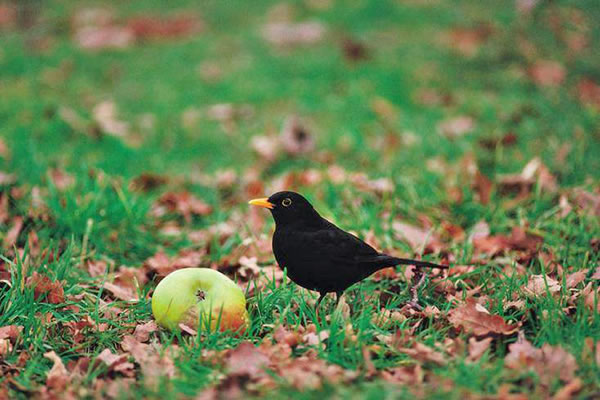 The Big Garden Birdwatch is now in its 40th year, and this is the world's largest garden wildlife survey. In Orkney the Big Garden Birdwatch RSPB Orkney will take place in the CLAN Centre's beautiful garden in Kirkwall. Come along between 12.30 and 14.30 on Saturday 26th January 2019 to count as many birds as you can.
There will be two final special screenings at the Pickaquoy Centre, Kirkwall towards the end of the month. Royal Opera House Live: La Traviata (Opera) is a screening of Richard Eyre's production sung in Italian with English subtitles. It begins at 18.45 on Wednesday 30th January 2019. Then on Thursday 31st January 2019, National Theatre Live: I'm Not Running is an explosive new play by David Hare which begins at 19.00.
We hope you have a fantastic time in Orkney during January 2019.