July is a very fine month to be in Orkney. Most of Orkney's attractions are outdoors, so the pleasant weather that comes with July is welcomed. There are also a great many events to enjoy, inside and outdoors, during the month.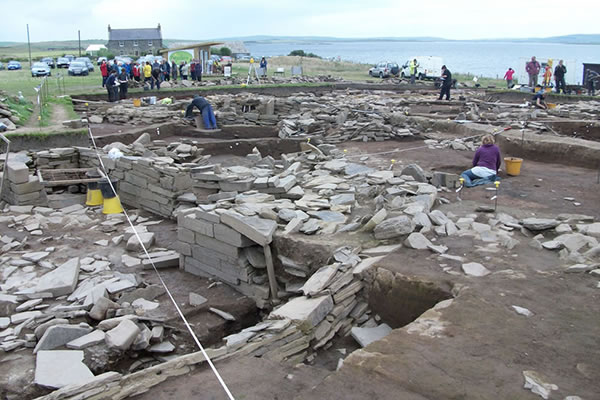 The Ness of Brodgar dig takes place in July and August. The site is uncovered on the 1st July 2019 and the public are welcomed on site from Wednesday 3rd July until Friday 23rd August 2019. Guided tours are available from Monday to Friday at 11.00, 13.00 and 15.00, and on Saturdays and Sundays at 11.00 and 15.00. Please be aware that this is a working archaeological dig, in a field! Find out more about the Ness of Brodgar here!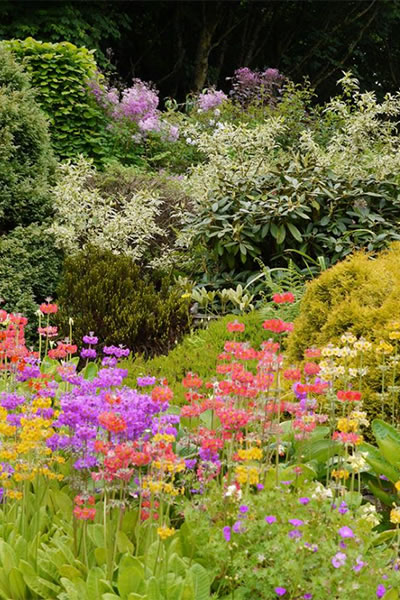 The Orkney Garden Festival runs from 3rd-14th July 2019 and NorthLink Ferries are proud sponsors. There will be 28 open gardens over two weekends and special guests Carole Baxter and Lesley Watson from Beechgrove Garden and Dougal Philip, a judge at the Chelsea Flower Show will be in attendance. Events include Gardeners Question Time, a Festival of Trees (talk), a Chelsea brunch, Drystone Walling Demonstrations, Garden Plants For Scotland (talk), Fruit and Vegetables for Scotland (talk), Island Gardens (talk) and Garden Trails, for which garden passport tickets can be bought in advance. Find out more on the Orkney Garden Festival Facebook page.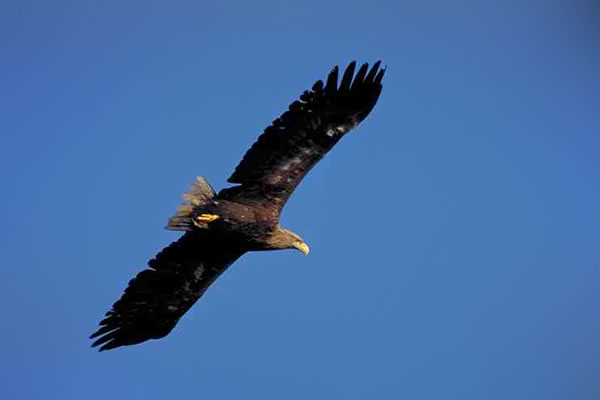 On Friday 5th July 2019, and every Friday till the end of August, Wild Orkney Walks will offer a special evening walk on Hoy to see the magnificent White-Tailed Eagles. The walk will begin by catching the 16.00 ferry from Stromness to Hoy, and Megan, who is part of the RSPB Eaglewatch team, will share her knowledge with you. Wild Orkney Walks will also offer a guided tour of Flotta on Sunday 7th July 2019. Find out more about Wild Orkney Walks here.
On Sunday 7th July 2019; the St Magnus Marathon & 10k is known amongst the running community as a tough challenge. Setting off in Kirkwall under St Magnus Cathedral, the marathon takes runners through the hillsides of Rendall, Evie and Birsay until they reach the finishing line at Birsay Community Hall. Also on the day, there's a 5km "Fun Run", children's entertainment and a ceilidh in the evening. Find out more on the Birsay Community Association's St Magnus Marathon Facebook page.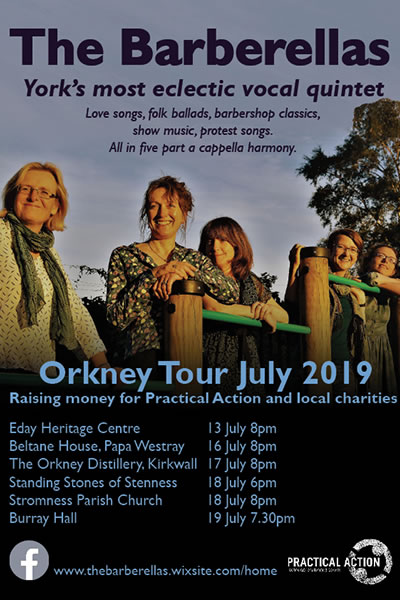 Between Saturday 13th and Friday 19th July 2019 The Barberellas on Tour will be in various locations across Orkney. These five women from York sing a cappella music transcending genre boundaries: love songs, folk, songs from shows and pop music.
They'll be in the Eday Heritage Centre (Saturday 13th July 2019 at 20.00), Beltane House, Papa Westray (Tuesday 16th July 2019 at 20.00), The Orkney Distillery, Kirkwall (Wednesday 17th July 2019 at 20.00), the Standing Stones of Stenness (Thursday 18th July 2019 at 18.00), Stromness Parish Church (Thursday 18th July 2019 at 20.00), Burray Hall (Friday 19th July 2019 at 19.30) and entertaining residential home residents in Kirkwall. Take a look at the Barberellas Facebook page for more details!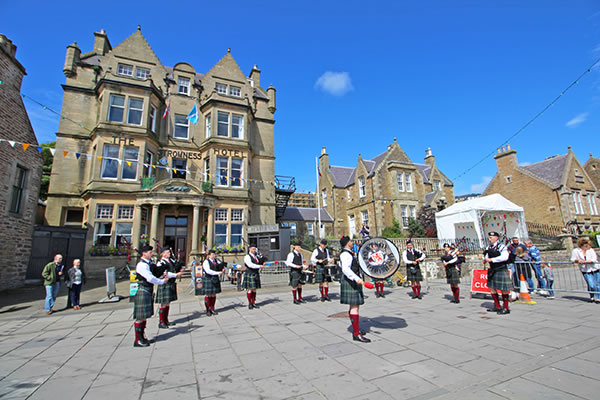 Stromness Shopping Week runs in 2019 between Sunday 21st to Saturday 27th July 2019. The origins of the longest running festival in Orkney are that it was set up to attract shoppers to Stromness after the lean years of World War 2. These days it's a week long festival of fun for all the family! Programmes of events can be purchased (this helps to fund the events) at various Stromness shops.
Events such as the crowning of the Shopping Week Queen, the 10K race, the doughnut eating competition, yard of ale, pet show, pavement artist competition and daft raft race are all in place. In 2019 a new event will see the introduction of a new event; a Mobility Scooter Race! Who will be recognised as the Lewis Hamilton of the electric buggy?!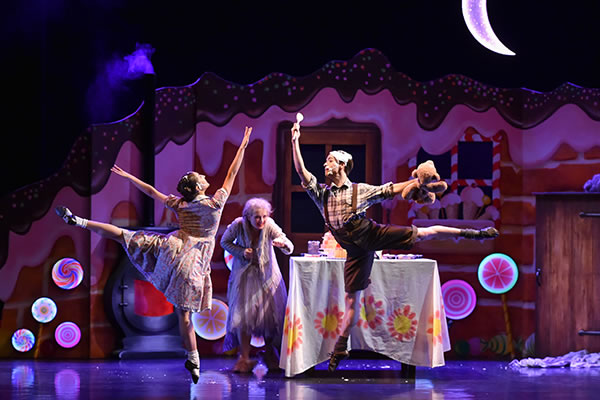 Scottish Ballet: Wee Hansel and Gretel is a fantastic way to introduce young children (ideal for ages 3 to 8) and their families to the magic of ballet. Head along to the Orkney Theatre on Tuesday 23rd July 2019 (11.00 and 13.30) and on Wednesday 24th July 2019 (11.00 and 13.30) and watch out for old ladies who live in gingerbread houses!
Make sure you head along to the Orkney Farmer's Market at the end of the month to see the best of what Orkney's makers have on offer. It'll be on at the Kirkwall Masonic Hall on Castle Street between 10.00 and 14.00 on Saturday 27th July 2019; why not buy lovely crafts or some delicious food and drink?
At the Pickaquoy Centre cinema there are three shows worth seeing in July. National Theatre Live: The Lehman Trilogy is directed by Sam Mendes (Skyfall) and starts at 19.00 on Thursday 25 July 2019. Andre Rieu: 2019 Maastricht Concert: Shall We Dance? is an unforgettable concert, screening at 19.00 on Saturday 27th July 2019 and 15.00 on Sunday 28th July 2019. Royal Shakespeare Company: Measure For Measure is a fantastic contemporary telling of the Shakespeare classic, shown at 19.00 on Wednesday 31st July 2019.
We hope you have a brilliant time with all these Orkney events in July 2019.