May is a super month to be in the Orkney Islands, as well as finer weather you can expect to find a lot of great events to attend!
There are many art exhibitions throughout the month. At the Pier Arts Centre there's Beyond Landscape; a selection of works by artists who say a little more with their landscape paintings. This runs from Saturday 6th April 2019 until Saturday 9th November 2019.
Also at The Pier Arts Centre, Margaret Gardiner – A Life of Giving explores the legacy of one of its founders and runs from Monday 22nd April 2019 until Saturday 9th November 2019. Then Now When also runs during the same period at The Pier Arts Centre, and celebrates 40 years of the gallery.
At For Arts Sake in Kirkwall, make sure you catch the fantastic exhibition from Hayley Warriner – Early Man and the Expression of Self before Saturday 4th May 2019.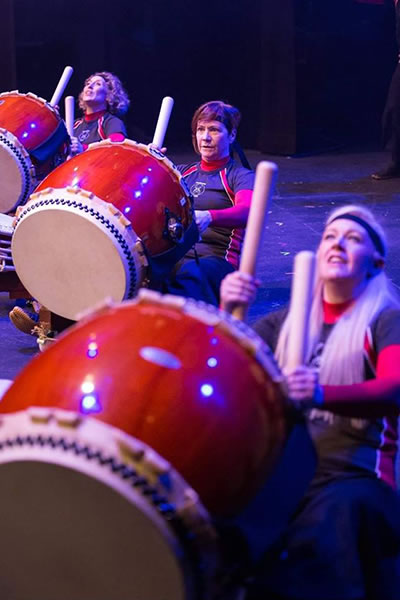 There's a chance to get a taste of a different culture during May, thanks to the Orkney Japan Association and sponsored by NorthLink Ferries. On Thursday 2nd May 2019 in the Stromness Town Hall at 19.00 there will be a spectacular demonstration of Ikebana drums. Then on Saturday 4th May 2019 there will be a Japanese flower arrangement workshop and Children's Ikebana (age 7+) at the King Street Halls from 11:00. Finally on the evening of Saturday 4th May 2019 there will be a Benefit Concert at 19.30 in the Orkney Arts Theatre, Kirkwall. This will include Ikebana from Tsuchigumo Daiko as well as music from Hadhirgaan and Gemma McGregor playing Shakuhachi. It is sure to be a great night out!
On Friday 3rd May 2019 at 20.00 there will be a celebration of Beltane at the Comet Stone, very near to the Ring of Brodgar. This ceremony by Spiritual Orkney is a celebration of Spring and the sacred gift of life and is open to all.
For those who love to keep fit, there's a weekly parkrun in Kirkwall, every Saturday at 09.30, at The Peedie Sea, Kirkwall. Find out more at the parkrun website.
For sports fans, the annual Orkney Rugby Sevens tournament will be held on Saturday 4th May 2019. This full day of rugby entertainment will be held at Orkney Rugby Club's Playing Fields at the Pickaquoy Centre, Kirkwall.
Harry Josephine Giles – Drone is a live jam of sound, visuals and poetry. It's hosted by The Old Library in Kirkwall on Thursday 9th May 2019 at 20.00, and is sure to be a thought-provoking performance.
Sessions and Sail 2019 is a chance to sail from Kirkwall Harbour on Sunday 12th May (until Saturday 18th May 2019) with a crew of musicians, led by Shetland fiddler/songwriter Barry Nisbet. There will be 12 berths available for musicians playing at any level, with an interest in Scottish music, and they'll be visiting islands such as Egilsay, Stronsay, and Westray. Find out more on the Sessions and Sail Facebook page.
An annual highlight of the Orkney events calendar is the Orkney Nature Festival, which runs from Monday 13th to Sunday 19th May 2019. This year, amongst the workshops and guided walks there will be: Filming Wildlife with Raymond Besant, Viking Voyage to Rackwick, an Eaglewatch Open Day, a Snorkelling Safari, Birdsong of Onziebust, Orca Watch at Marwick Head, Sand Art, Try a Dive, Stromness Museum Open Day, and a Stroll about Stronsay. Find out more at the Orkney Nature Festival website.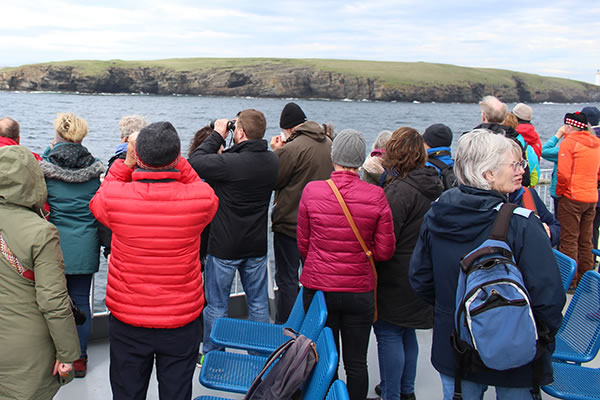 As a finale to the Orkney Nature Festival, there will be a nature cruise on board MV Hamnavoe. NorthLink's ship will sail up the scenic west coast of Orkney, with food, music and drink as part of the ticket price. It's a fantastic day out, raising money for the RSPB, and there's a chance to see some amazing sights. FInd out more on our Nature Festival Cruise page.
There will be a couple of screenings of theatre from London's West End in the Pickaquoy Centre cinema during May. These include:
National Theatre Live: All My Sons; starring Sally Field and Bill Pullman broadcast live from The Old Vic. It'll be on at 19.00 on Tuesday 14th May 2019.
Royal Opera House Live: Within the Golden Hour/Medusa/Flight Pattern (Ballet) comes from three of today's leading choreographers; it'll be shown at 19.15 on Thursday 16th May 2019.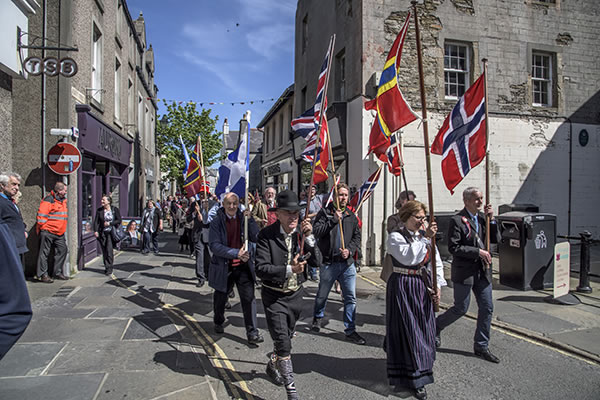 In May, Orkney celebrates its close ties with Norway. The islands were part of Scandinavia until 1468! Norwegian Constitution Day involves a service and concert in St Magnus Cathedral, Kirkwall with Norwegian visitors (dressed in their traditional outfits). Visit the town on Friday 17th May 2019 for a lovely celebration of Orcadian heritage.
The Orkney Folk Festival runs from Thursday 23rd May to Sunday 26th May 2017 and it's a fun and friendly festival, (mostly) based in the town of Stromness. Head along to one of the superb concerts or just pop into a Stromness pup to hear a traditional tune or two. The 2019 Line Up includes: The Aim Family, Andy Taylor, Banyan, Belt Hid Oot!, Benedict Morris with Pablo Lafuente & Conal McDonagh, The Brewers, broken david, Bruce Mainland, Cara Dillon, The Chair, Còig, Dermot Byrne, Éamonn Coyne & John Doyle, The Driftwood Cowboys, Four Men and a Dog, Frank Keenan and Login's Well, Gnoss,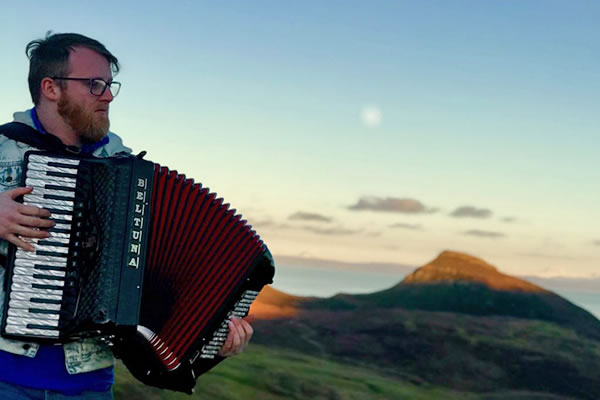 Hadhirgaan, Heisk, Hullion, Jamie Anderson (pictured), Jenny Keldie and Brian Cromarty, Jim Malcolm, Jo Philby, Julie Fowlis, Kate Fletcher and Corwen Broch, Kathleen MacInnes, Kinnaris Quintet, Kirkwall City Pipe Band, Laeverick, Lau, Lyra, Malinky, The Michael Harcus Family, Orkney Accordion and Fiddle Club, Orkney Strathspey and Reel Society, Orkney Traditional Music Project, Peter Wood Shetland Dance Band, The Poozies, The Revellers, Ruach, Ryan Young and Jenn Butterworth, Saltfishforty, Sarah Jane Gibbon and Emma Grieve, Scott Gardiner, Skeldro, Son Yambu, Spirit of Orkney, Stromness RBL Pipe Band, Teebro, Tom Ashman, West Mainland Strathspey & Reel Society and The Wrigley Sisters.
The Orkney Folk Festival is proudly sponsored by NorthLink Ferries.
At the Orkney College Lecture Theatre on Thursday 23rd May 2019 there will be a look at the use of smart technologies in the tourism industry from Professor Simon Rogerson (De Montfort University). Guest Lecture: Tourism Technology runs from 10:00 to 12:00.
For a chance to buy a range of food, drink and crafts from local producers head to the monthly Orkney Farmer's Market in the Kirkwall Masonic Hall, Castle Street, running from 10.00 until 14.00 on Saturday 25th May 2019.
If you're digging around for a great event at the end of the month, why not attend the Orkney Archaeology Society talk from Dan Lee (ORCA) and Scott Timpany (UHI Archaeology Institute) on Tuesday 28th May 2019? Entitled: Discovering Hidden Kirkwall: results of the Kirkwall Townscape Heritage Initiative Archaeology Programme 2016-7, it begins at 19.30 in the St Magnus Centre, Kirkwall (following an AGM at 18.45).
Viking Feast on the Beach is a chance to enjoy Viking food cooked over an open wood fire, play Viking games, learn Viking crafts and skills and listen to stories of Viking Orkney. It'll be held from 18.00 to 20.00 at Scapa Beach, Kirkwall on Friday 31st May, 14th June, 28th June, 12th July, 26th July, 9th August and 23rd August 2019. Book in advance on the 'Brodgar' website.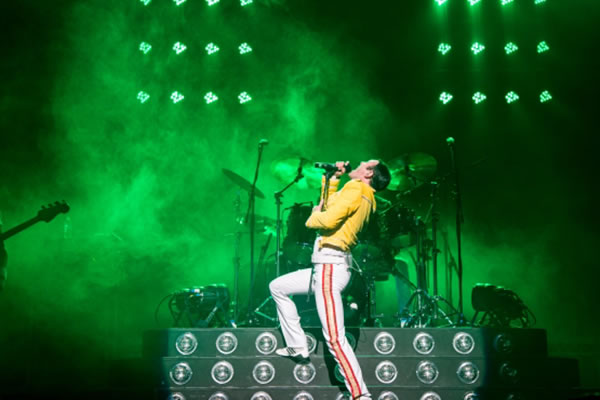 We think you'll go 'Radio Ga Ga' for the last event we've picked from May! In the Pickaquoy Centre, Kirkwall there will be One Night of Queen – Performed by Gary Mullen and the Works. Since winning ITV's "Stars In Their Eyes" Live Grand Final, Gary has performed throughout the world to sell-out audiences, and now brings his sensational show to Orkney! The Show Must Go On, from 19.30 on 31st May 2019.
We hope you have a memorable month of May in Orkney!