November is usually a quieter month in terms of events in Orkney. Though the nights are long and the weather cold, folk in Orkney know how to occupy a winter night or two! There are plenty of events on this month to keep you occupied!
Early in November to mark the centenary of the armistice, a film which combines imagery with beautiful hand drawn illustration and draws inspiration from Orkney's wartime heritage, will be projected onto the exterior of St Magnus Cathedral. Make sure you catch this lovely piece of artwork, which runs in a loop between 17:00 and 20:00 each evening between Thursday 1st and Sunday 11th November 2018 – Armistice Day.
The Film Focus Festival 2018 offers a packed programme of events and screenings, celebrating film in Orkney from Thursday 1st to Saturday 24th November 2018. Over 24 days, a wide range of films will be shown across 25 venues and 16 islands, with the help of Screen Machine, with something in the schedule for everyone. Find out more at the Film Focus 2018 website and catch a premiere or two!
Though Hallowe'en has passed there will still be some spooky events to attend in November. Head along to the Old Library in Kirkwall on Friday 2nd November 2018 from 18:00 to 21:00 and celebrate Day of the Dead with a delicious Mexican-inspired meal. Tickets cost £30 and include admission to The Sound Archive Hallowe'en Ball from 21:00. The 2nd annual Hallowe'en Ball at The Sound Archive is for those over the age of 18 and has optional fancy dress and music from the Stereo Lobsters. It promises to be a fun ghostly gathering!
For younger folk there is a spooky Storytelling at Cottascarth hosted by RSPB Orkney on Saturday 3rd November 2018 between 16:00 and 18:00. Visit the haunted hide on the moor for an evening of terrifying tales and frightening fun. Enjoy a spooky story, face-painting, creepy crafts, and dooking-for-apples. Tea, coffee and Hallowe'en treats will be provided. Coming in costume is highly encouraged! Call 01856 850176 or email orkney@rspb.org.uk to reserve a place.
The Kirkwall Bonfire Night and Fireworks Display hosted by Orkney Rotary Club takes place at the Peedie Sea on Saturday 3rd November 2018 at 19:00. It's the biggest community bonfire and fireworks display in Orkney and features music from the Kirkwall City Pipe Band. Fireworks will start at approximately 19:15 and there is a collection for local charities. Please note: Pets and the use of sparklers are not permitted. PLEASE NOTE: THIS EVENT HAS BEEN POSTPONED DUE TO ADVERSE WEATHER CONDITIONS.
In Stromness, the community bonfire takes place at Coplands Dock car park at 19:00 on Monday 5th November 2018. The Stromness Bonfire Night also has a Pop competition beforehand, which will be judged at 18:30. It'll be a fantastic night out for all the family.
If you fancy listening to some 'Viking Metal', then head along to the Sound Archive, Kirkwall on Saturday, 3rd November 2018 from 22:00 to 01:00 to hear The Revellers perform. Combining fiddle, mandolin and tenor banjo with rock music has proven to be a successful formula for the Shetland supergroup; they are one of the most entertaining bands in the North!
Also at the Sound Archive, Kirkwall on the following evening, Sunday 4th November 2018, Talisk, will be performing. Winners of the 2017 Folk Band of the Year at the MG Alba Scots Trad Music Awards, and a 2015 BBC Radio 2 Folk Award, making sure you catch their pyrotechnic set between 19:30 and 22:30.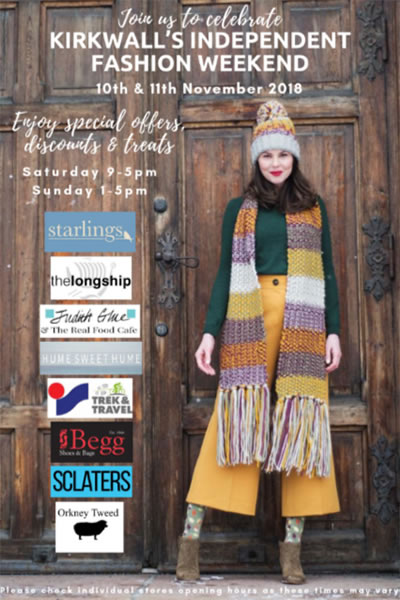 If you enjoy shopping and love fashion then don't miss Kirkwall's Independent Fashion Weekend which takes place on Saturday 10th (from 09:00 to 17:00) and Sunday 11th November 2018 (from 13:00 to 17:00) in Kirkwall Town Centre. Enjoy special offers, discounts and treats and please check individual stores as their opening hours may vary.
On Sunday, 11th November 2018 Pages of the Sea will mark 100 years since Armistice. This event from the National Theatre of Scotland in partnership with Orkney Islands Council and filmmaker Danny Boyle is a unique moment to say goodbye, to the millions of men and women who left these shores during the war, many never to return.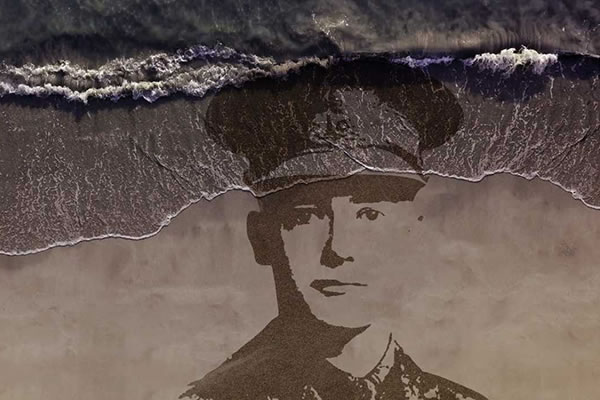 At Scapa Beach, Orkney from 15:30 to 16:30, a large-scale portrait of a First World War casualty will emerge from the sand. And then, as the tide rises, it will be washed away. A poem by Carol Ann Duffy will also be read by individuals, families and communities on the day.
As part of a series of events marking the centenary of Orcadian film maker and poet Margaret Tait's birth, there will be an evening of poetry readings and a selection of film screenings at the Pier Arts Centre on Sunday 11th November 2018 on 19:30 between 21:00. The poems will be read by those who knew him and the films will be chosen by Peter Todd, one of Margaret Tait's friends. For more information visit the Margeret Tait 100 website.
If you'd like to find out what the RSPB Scotland's Orkney team have been up to this year then head along to the King Street Halls, Kirkwall for 'Orkney to Antipodes – a wildlife journey' on Thursday 15th November 2018 between 19:30 to 21:30. Find out about Hoy's two white-tailed eagle chicks and more, all are welcome, admission is free, refreshments will be provided and a short RSPB Local Group AGM will take place at the beginning of the meeting.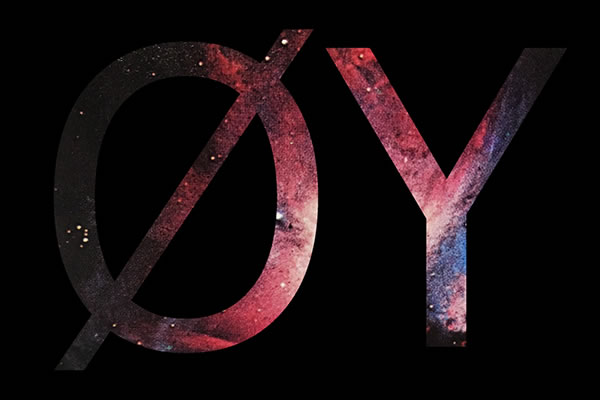 From Friday 16th to Sunday 18th November 2018 the unique and exciting ØY Festival will bring together a range of artists and performers in the recently refurbished Kelp Store on the island of Papa Westray. Find out more about the Festival at the ØY Festival website, which is titled Space Station ØY and imagines islanders as future pioneers of far and distant planets, in live performances of music, space walks, workshops, exhibition, screenings, and a deep space disco!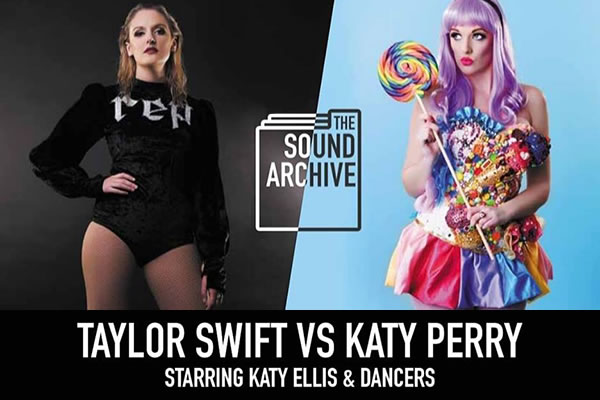 A special special under 18s event in support of Year of Young People 2018, there will be a Taylor Swift and Katy Perry Tribute at The Sound Archive, Kirkwall on Saturday 17th November 2018 from 18:00 to 20:00. We'll expect to hear a 'Roar' as young fans 'Shake It Off!' to a fantastic show.
Also for young folk, and particularly Harry Potter fans, at 13:00, 15:00 and 16.30 on Sunday 18th November 2018 The Old Library will host a Wizard's Tea Party in Archive Coffee! Dress as your favourite character or get your face painted there. Children under 8 must be accompanied by an adult for each of the three tea parties which last 90 minutes. Tickets are on sale in Grooves. Tell your favourite Witches, Wizards and Muggles!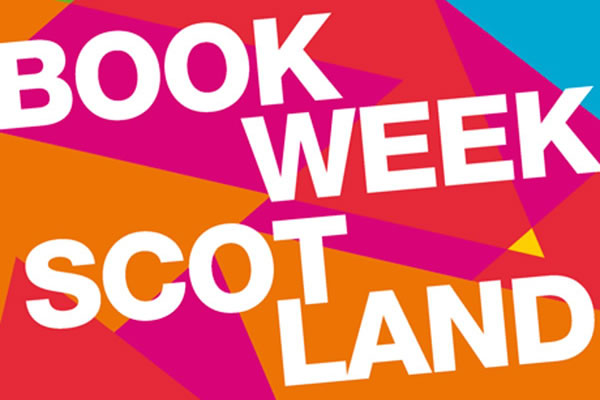 Orkney will be celebrating Book Week Scotland between Monday 19th and Saturday 24th November 2018 with a number of exciting activities planned around this year's theme of 'Rebel'. Organised by the Scottish Book Trust, find out more on their website!
Make sure you head along to the Orkney Farmer's Market on Saturday 24th November 2018 between 10:00 and 14:00 in the Kirkwall Masonic Hall on Castle Street. You may find a tasty treats or unique gift that's a peedie bit different for Christmas!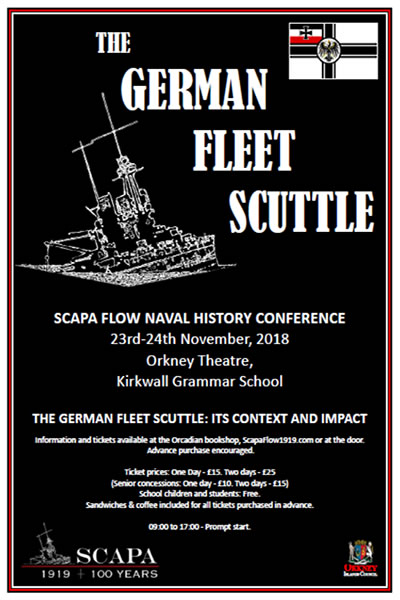 At the Orkney Theatre in Kirkwall Grammar School there's a Scapa Flow Naval History Conference between Friday 23rd and Saturday 24th November 2018. Entitled The German Fleet Scuttle: It's Context and Impact, the conference will run from 09:00 to 17:00 and tickets include sandwiches and coffee! The conference promises to be fascinating indeed!
On Saturday 24th November 2018 from 19:30 to 23:00, one of the foremost traditional singers in Scotland, Siobhan Miller will be performing at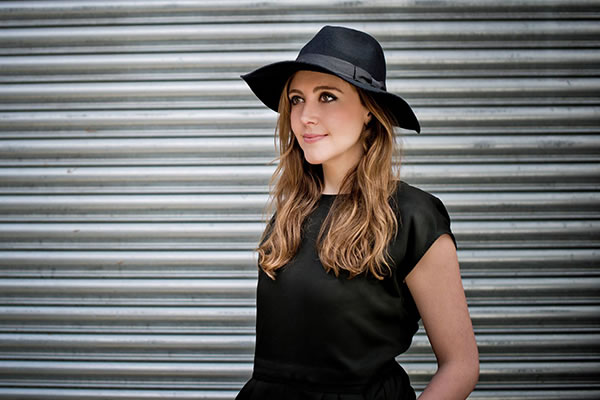 The Sound Archive, Kirkwall. Her soulful and stirring singing won her the 2018 BBC Radio 2 Folk Award for Best Traditional Track, and she has also been voted Scots Singer of the Year three times!
There are a number of live screenings of theatre, ballet, opera, and pop concerts at the Phoenix Cinema at the Pickaquoy Centre in Kirkwall this month. Visit the Pickaquoy Centre website for a taste of stadium and West End events in the far North!
Finally, if you're looking for interesting art exhibitions to go to during November we'd recommend the following:
Pier Arts Centre, Stromness: Voice and Vision; the Poetry and Art of W.S. Graham from Saturday 22nd September 2018 to Saturday 10th November 2018.
Pier Arts Centre, Stromness: Barbara Rae: The Northwest Passage from Saturday 22nd September 2018 to Saturday 10th November 2018.
For Arts Sake, Kirkwall: All the Waters in the World: Laura Johnston (pictured) between 27th October and 17th November 2018.
For Arts Sake, Kirkwall: Annual Festive Open Exhibition from Thursday 22nd November 2018 to Friday 18th January 2019.
Pier Arts Centre, Stromness: Annual Open Exhibition from Saturday 24th November 2018 to Saturday 22nd December 2018.
Waterfront Gallery, Stromness: Annual Festive Open Exhibition; dates tbc
We hope you have a brilliant November in Orkney!