April is a great month to visit Shetland. With winter past, sites such as Jarlshof open their visitor centres to the public. The seabird cliffs begin to team with squabbling birds and sea pinks begin to bloom on the coastal fringes of Shetland. There are many great events to attend in Shetland during April and we've picked a few of our favourites:
Running throughout Summer 2019, Bonhoga Gallery in Weisdale is celebrating craft and its role in Shetland's culture and economy with three showcase exhibitions entitled Shetland Made 2019. Local designers in the first Shetland Made (from Saturday 30th March to Sunday 19th May 2019) include Jayne Kelly, Joan Fraser, Yala, Sharon McGeady and Morwenna Garrick.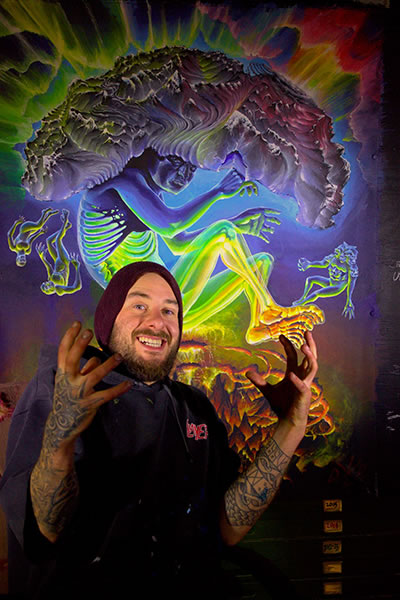 In Da Gadderie in the Shetland Museum & Archives, Lerwick, Gods & Monsters by Shetland artist Dirk Robertson is an exhibition based on the vivid and gruesome imagery found in the Viking story of creation. It'll be running from Sunday 31st March to Saturday 4th May 2019.
On Friday 5th April 2019, in The String Cafe Bar in Lerwick there will be a Stand Up Open Mic Night starting at 19.30. Hosted by Marjolein Robertson, fresh off the stage from performing at the Glasgow International Comedy Festival, it's a great setting for supporting emerging comedy talent in Shetland.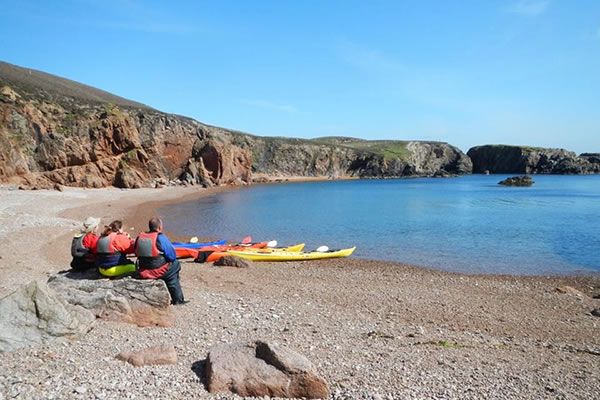 Peerie Paddle for MRI. We sCAN do it is a sponsored Kayak for the MRI scanner appeal. 40 NHS staff will paddle from Bridge End Burra and finishing at Scalloway Boating Club; come along to Bridge End Burra and the Scalloway Boating Club from 08.00 on Saturday 6th April 2019 to show your support and cheer them on!
You couldn't really ask for a more scenic 5km walk / jog / run than the island of Bressay! Starting at 09.30, the Bressay parkrun will be on Saturday 6th April 2019, and will take place every Saturday, with a 09.00 ferry from Lerwick.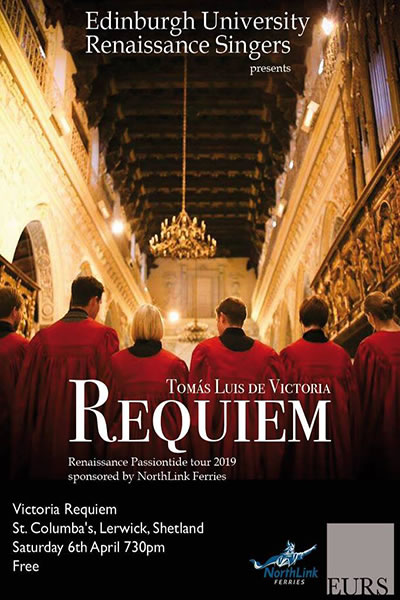 Edinburgh University Renaissance Singers are made up of students, staff and other Edinburgh residents. They'll be performing in St Columba's Church, Lerwick on Saturday 6th April 2019 at 19.30. Sponsored by NorthLink ferries, they will be performing the beautiful Tomás Luis De Victoria: Requiem. Tickets are free.
There's a fantastic night of music and dancing from local musicians presented by The Shetland Country Music Club starting at 21.00 on Saturday 6th April 2019. Peter Hutchison Band with Friends Concert takes place in The Shetland Hotel and tickets are available at High Level Music or on the door.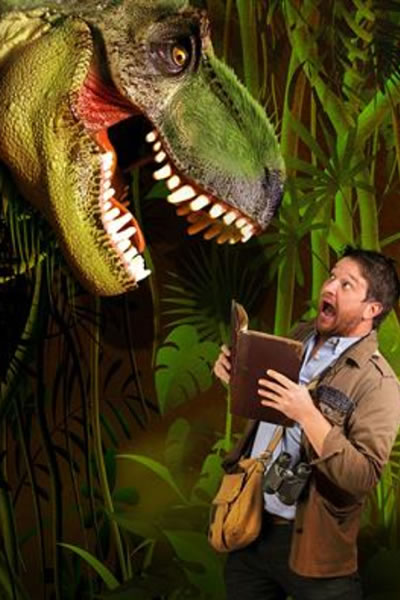 So You Think You Know About Dinosaurs is the hit stage show starring dinosaur aficionado Dr Ben Garrod. This interactive, educational and highly entertaining show should help you tell an Allosaurus from a Spinosaurus; head along to the Mareel, Lerwick on Sunday 7th April 2019 at 12.30 for a fun day out!
There's a two hour theatre workshop for over 16s in the Islesburgh Community Centre, Drama Room at 14.30 on Saturday 13th April 2019. Exploring Character in Creative Storytelling will help actors explore how to portray different characters in performance. Visit the ALICE Theatre Project Facebook page to book your space!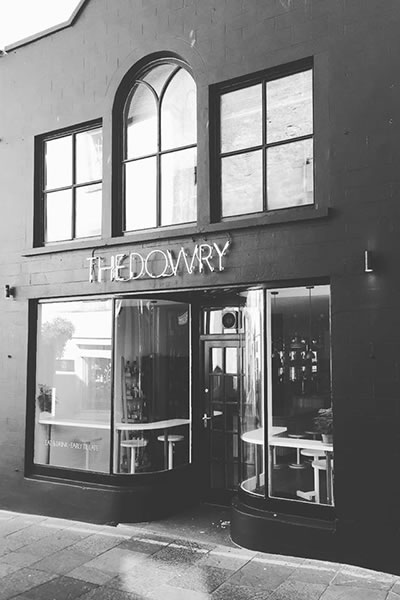 Ladies Who Lunch is a fun fundraiser for Alzheimer Scotland at 13.00 on Sunday 14th April 2019 in the Dowry, Lerwick. The price (£35) includes bubbly, drinks and 4 course taster menu. There will also be music, raffles, an auction and more. Tickets are available from Lerwick Dementia Resource Centre, Market Street.
In the Mareel Cinema, Lerwick at 14.30 on Sunday 14th April 2019, there's a chance to see The Merry Widow from The Australian Ballet, captured live at the Sydney Opera House. Come along to see a sumptuous and lively tale live from the other side of the planet!
If you are aged between 8 and 26 years then come along to Room 16 in the Islesburgh Community Centre, where the drive to find Young Ambassadors for Shetland is being launched. If you'd like to make a real difference to the community, head there on Wednesday 17th April 2019 at 18.00 to find out more!
Shetland Unplugged is an eclectic evening of original music and verse from Shetland musical artists, poets and songwriters. Head along to the Mareel Cafe Bar at 18.00 on Saturday 20th April 2019; there will be exposure online and you never know what opportunities the night might bring!
Chain Gang Live are a fantastic Fleetwood Mac Covers Band. Make sure you Go Your Own Way to the Scalloway Boating Club at 21.00 on Sat 20th April 2019 for this fantastic fundraiser for MacMillan Nurse Cancer Support Shetland. Pay at the door.
At the Sandwick Social Club at 21.00 on Saturday 20th April 2019 there's a superb Rack n Ruin Gig to help raise funds for Alzheimer Scotland – Shetland Branch. Come along and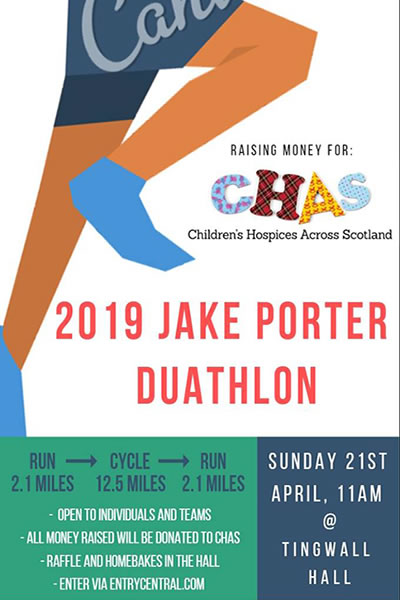 dance the night away – over 18's only.
Jake Porter Duathlon is a charity duathlon; come and have a go at a run-cycle-run, either individually or in teams. Starting at 11.00 on Sunday 21st April 2019 in the Tingwall Hall, competitors will raise money for CHAS (Children Hospices Across Scotland). Find out more and register to participate on the Entry Central website.
The Shetland Young Fiddler of the Year Competition is a chance to see the hot new traditional music stars of tomorrow. It'll take place in the Mareel and the public are welcome to drop along the event to listen to performances on Friday 26th and Saturday 27th April 2019. The prize-winner's concert will take place at 19.30 on Saturday 27th April 2019; and tickets are available at Shetland Arts Box Office.
For those who love Shetland, Da Voar Redd Up is a must-attend event. This annual Spring Clean of Shetland's great outdoors takes place on Saturday 27th and Sunday 28th April 2019 and is the UK's most successful community litter pick. Shetland's beaches, coastlines and roadsides are cleared of litter after the winter, making them beautiful again for all to enjoy! Find out more on the Shetland Amenity Trust website.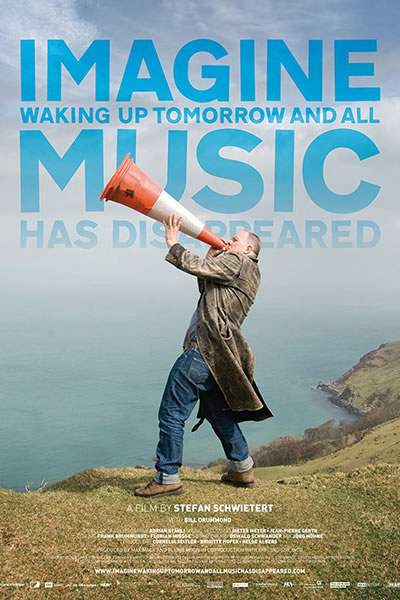 Archaeology of Shetland's Unique Small Boats is a day focused on the maritime archaeology of the isles led by Shetland boat expert Dr Marc Chivers, archaeologist Dr Esther Renwick, and museum curator, Dr Ian Tait. It costs £40 and begins at 10.00 in the Shetland Museum & Archives, Lerwick on Saturday 27th April 2019.
Bill Drummond, avant-garde musician and Scottish artist, best known for his work with 80s electronic band the KLF, will present the only screening in 2019 of the award-winning film "Imagine Waking Up Tomorrow And All Music Has Disappeared". Starting at 16.00 on Sunday 28th April 2019 in the Baltasound Hall, Unst, Bill will also give a post-film 'performance' lecture, and give the audience a chance to listen to a recording of Fair Isle's Inge Thomson singing the Unst Boat Song. Make sure you don't miss this unique event on the lovely island of Unst!
We hope you have a brilliant time in Shetland during the month of April.