June is one of the finest months to be in Shetland. It's a month when Shetland's amazing coastal scenery can be admired in the fine weather. However there are also a great many super events to discover! These include fine art exhibitions:
ShetlandMade2 is a rolling exhibition of work from local artists and designers at the Bonhoga Gallery. From Monday 27th May to Sunday 14th July 2019 the work of Helen Robertson, Margaret Hamilton, Julia Downing, Rosalynn Fraser, Bill Brown and Gill Bridle will be available to be admired from 10.30 till 17.00 (Monday to Saturday) and 11.00 till 17.00 (Sunday).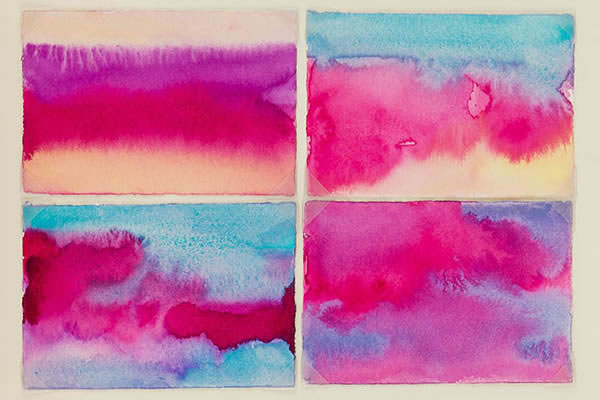 Dazzled by Linda Newington is an exhibition of paintings, prints and watercolours in Da Gadderie, Shetland Museum & Archives from 11th May until 15th Jun 2019
Beyond Bonhoga: Sixteen explores what it is like to be sixteen years old now. Photographer Craig Easton has captured images from Shetland and across the UK which can be seen outside from Saturday 1st to Sunday 30th June 2019, on the hoarding surrounding the new Hjaltland Housing development on King Harald Street in Lerwick.
In Quendale Mill there's a seasonal exhibition of Shetland Birds and Wildflowers. Make sure you don't miss it when you make your summer trip to this fascinating historic mill!
At the Unst Heritage Centre on Saturday 1st June 2019, the Archaeology of Shetland's Unique Small Boats is a day exploring the origins, development, and use of Shetland's small open boats. This hands-on workshop will be led by Shetland boat expert Dr Marc Chivers and archaeologist Dr Esther Renwick. Find out more at the Moder Dy website.
If you enjoy keeping fit, make sure you joining the Bressay Parkrun on Saturday 1st June 2019 for a 5km walk / jog / run in a beautiful setting.
Head along to St Ninian's Isle sand at Bigton on Saturday 1st June 2019 for the SWRA Rowing Regatta followed by a beach party with live music. There will be food, a sand castle competition, and beer tent and everyone is welcome to what is sure to be a great day out.
On Sunday 2nd June 2019, the Aith Lifeboat Gala Open Day is sure to be a fun filled day for all the family. There will be an opening parade with the lifeboat crew and a selection of Shetland Jarl Squads. This will be followed with an Annual pie eating championship with the Jarl Squads and crew battling it out for the cup! There will also be stalls, RNLI souvenirs, ice cream, crew auctions, a Lifeboat demonstration, a bouncy castle, face painting and teas in the hall.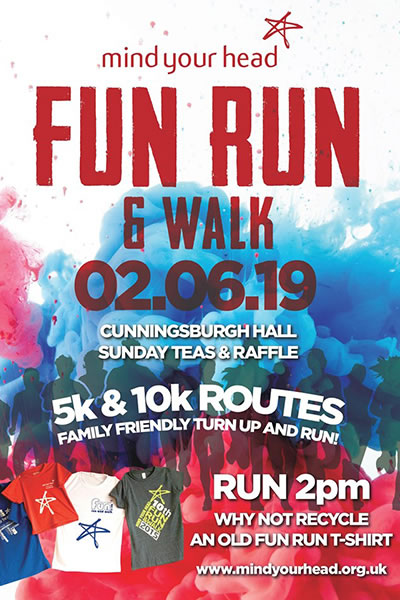 The Mind Your Head Fun Run & Walk is a friendly 5km or 10km event at Cunningsburgh for a worthy cause; promoting mental health in a positive way. It'll take place at 14.00 on Sunday 2nd June 2019. Teas and home bakes will be available in the hall.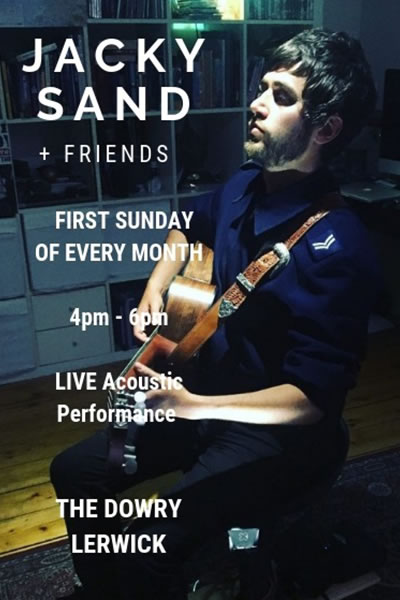 There will be a live acoustic performance with Shetland singer / songwriter Jacky Sand & Friends at 16.00 (till 18.00) on Sunday 2nd June 2019 in The Dowry, Lerwick.
In the Islesburgh Community Centre, Shetland Showcase 2019 is a weekly live showcase of local traditional music and beautiful local-made crafts on Monday nights. It'll begin at 19.00 and feature Fjanna on Monday 3rd June 2019, Heritage Fiddlers on Monday 10th June 2019, Bryan Gear and Violet Tulloch on Monday 17th June 2019, and Brian Morrison and Friends on Monday 24th June 2019.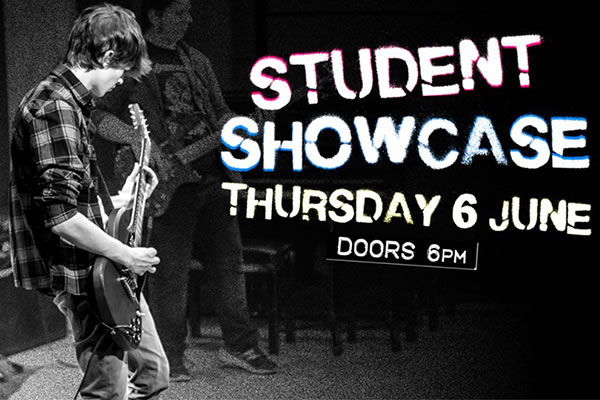 Shetland College/UHI music and film Student Showcase on Thursday 6th Jun 2019 in the Mareel Cinema and auditorium is a screening of student films in cinema one, followed by a musical showcase in the auditorium. It's sure to be a great representation of up and coming talent!
Dynamic Orcadian Folk Duo Douglas Montgomery (fiddle / viola) and Brian Cromarty (songs / guitar / mandola) make up Saltfishforty and they'll be playing in Shetland in June.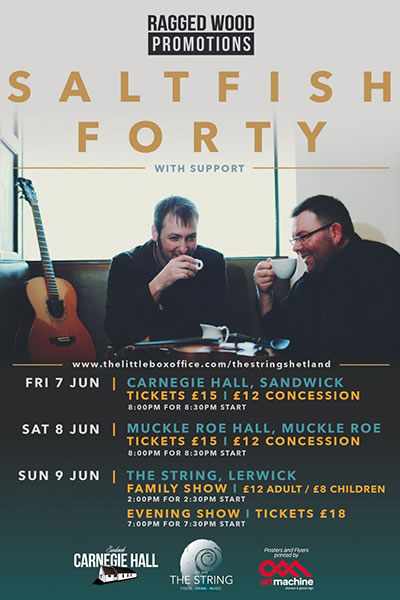 Catch Saltfishforty live at Carnegie Hall, Sandwick on Friday 7th June 2019 from 20.30, in Muckle Roe Hall on Saturday 8th June 2019 at 20.30, at The String on Sunday 9th June 2019 at 14.30 for a family concert and again at The String for an evening concert at 19.30.
For a fabulous day out, the Lerwick Lifeboat Open Day is on Saturday 8th June 2019 on Victoria Pier with tents, stalls, homebakes and a BBQ to raise funds for the RNLI's Lerwick Lifeboat. NorthLink will do their bit, with a RNLI cruise around Bressay with a lifeboat demonstration. This runs from 14.00 until 16.00, and tickets can be bought now! Find out more on the NorthLink website!
On Saturday 8th June 2019, Lerwick Brass Band, Full Swing and Loose Ends will be bringing the music of a bygone era to Sound Public Hall. Big Band Ball is a charity fundraiser for Alzheimer Scotland, and you can either listen or dance to the fabulous music. Ticket price includes canapes and Prosecco.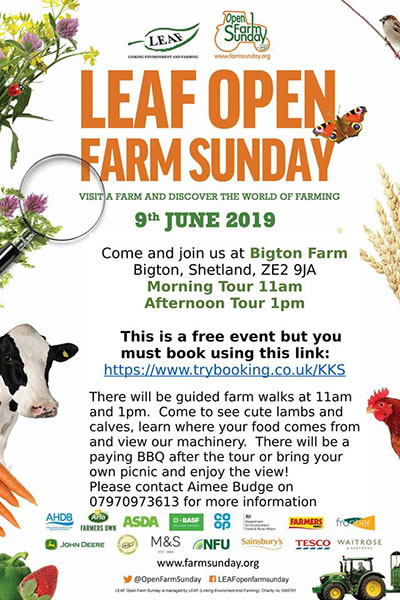 Leaf Open Farm Sunday is a tour of a Bigton Farm on Sunday 9th June 2019. Come along to see cute lambs and calves; it's free (though booking is essential) with guided farm walks at 11.00 and 13.00. There's also a paying BBQ or bring your own picnic and enjoy the view!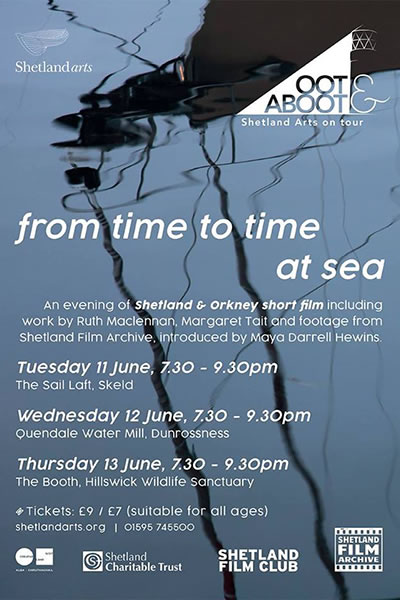 From Time to Time at Sea is an evening of short film from Shetland and Orkney, featuring artists Ruth Maclennan and Margaret Tait and footage from the Shetland Film Archive presented by Maya Darrell Hewins. It starts at 19.30 on Tuesday 11th June 2019; drift along to The Sail Laft, Skeld to see it!
To promote their recent album 'Midnight and Closedown' multi-award winning folk trio Lau will be visiting Shetland for a performance in the Mareel at 19.30 on Thursday 13th June 2019. It'll be a full evening of Lau with no support. The first set will see them perform music from their 5 previous albums while the second set will be a complete performance of their current album.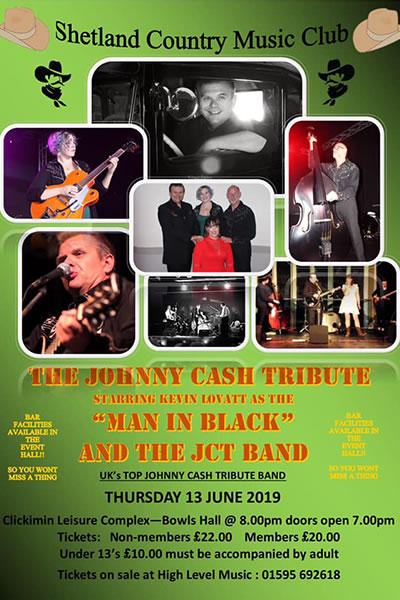 The Johnny Cash Tribute band will be performing in Shetland at 20.00 on Thursday 13th June 2019. Frontman Kevin Lovatt is said to sound "more like Johnny Cash than Johnny Cash". Walk the line to the Clickimin Leisure Complex Bowls Hall for a great evening of music brought to you by the Shetland Country Music Club.
Shetland Library, in partnership with the Shetland Family History Society, will be hosting a talk by Captain Jack Isbester who has recently published a book about his grandfather entitled 'Hard Down! Hard Down! The Life and Times of Captain John Isbester from Shetland'. Head along to the Shetland Library at 19.00 on Friday 14th June 2019 to hear tales about amazing adventures at sea!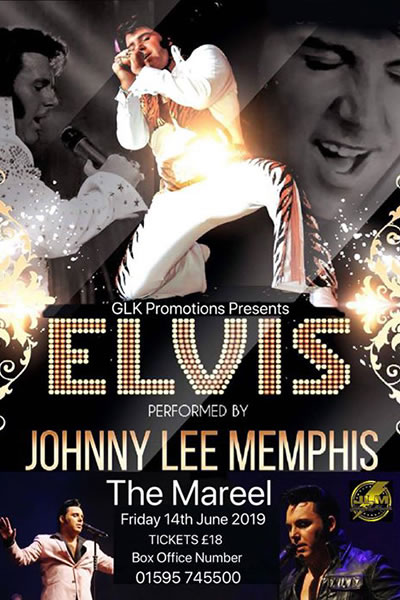 On Friday 14th June 2019 at 19.30 there's a spectacular Elvis Tribute by Johnny Lee Memphis, featuring authentic costumes; make sure you don't miss this show at the Mareel or you'll be checking in to Heartbreak Hotel!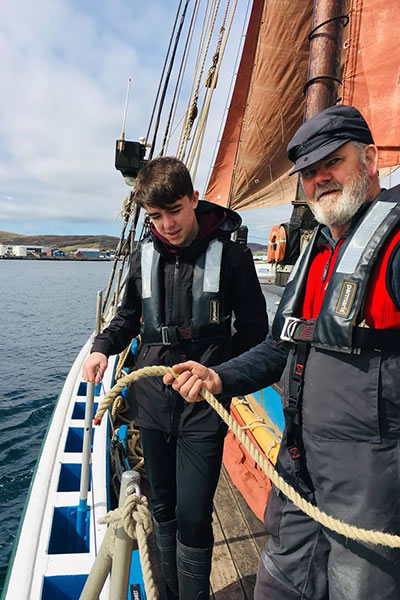 There's an Orkney to Shetland trip on board the 118 year old sailing vessel the Swan in June. Experiencing this journey during Simmer Dim will be a once in a lifetime experience. As part of the crew you'll be expected to muck in during the journey which departs Stromness in Orkney on Saturday 15th June 2019 and arrives in Lerwick on Sunday 23rd June 2019; find out more at The Swan website.
The Lerwick Midsummer Carnival takes place on Saturday 15th June 2019 at 18.30; come along to see a fantastic parade of floats and foot collectors, the Jarl Squad and galley, the fire engine, coastguards and much more! Later that evening in The Royal British Legion Lerwick there will be dancing and live music from The Bashies at 21.00.
If you'd like to hear some fantastic traditional music from local artistes head along to The Garrison Theatre at 19.30 on Wed 19th Jun 2019 for the Shetland Accordion & Fiddle Club Summer Concert.
We love the Simmer Dim Rally. This friendly and fun event attracts a great group of folk; 300 bikers from all around the UK arrive to experience the beauty of Shetland and the Shetland Islanders' great sense of fun! The Rally takes places from Thursday 20th to Sunday 23rd June 2019, so make sure you give a wave when you hear the roar of motorbikes around Shetland on these dates!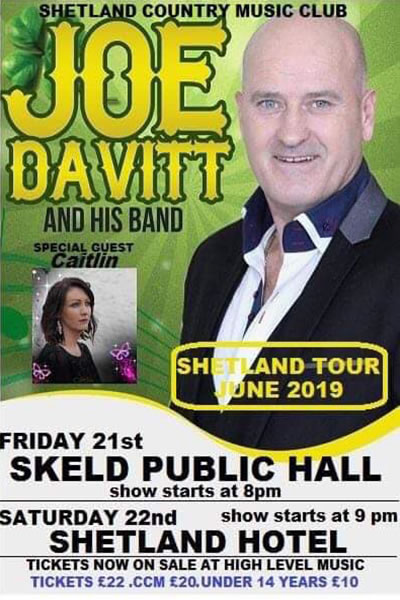 At 20.00 on Friday 21st June 2019, Joe Davitt and his band with special guest Caitlin will be playing in Skeld Public Hall. Shetland Country Music Club are delighted to welcome these Irish music sensations to these shores. Tickets are available from High Level Music.
The Shetland Sands Charity Ball is a fine night of champagne, with a three course meal, and dancing to the Peter Wood Dance Band in the Lerwick Town Hall. There will also a raffle with some excellent prizes to be won. Sands is a stillbirth and neonatal death charity which provides support to bereaved parents. The event will take place on Saturday 22nd June 2019 (start time tbc).
First Foot Soldiers Midsummer Spree is a performance from one of Shetland's most in-demand live acts. First Foot Soldiers will be playing a range of classic rock and pop songs in the Mareel at 21.30 on Saturday 22nd June 2019.
The Annual North Sea yachting challenge, the Bergen to Shetland Races will take place on Wednesday 26th June 2019, with between 40 to 60 yachts arriving in Lerwick from Thursday 27th to Saturday 29th June 2019. The race yachts will return on Saturday 29th June 2019 and the cruising yachts will leave Lerwick on Sunday 30th June 2019, so make sure you head along with your camera to see them before they set sail!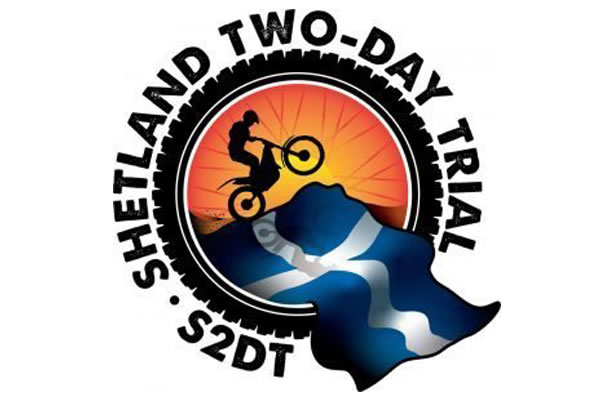 The Shetland 2 Day Trial Motorcycle Competition is the first ever National Trial to be hosted by a Shetland venue. Over 100 competitors will tackle an eight to nine mile off-road course in West Burrafirth and spectators to this amazing event are very welcome! It'll take place on – Sat 29th Jun – Sun 30th Jun 2019; find out more on the S2DT 2019 Facebook page.
For a fun day for all the family, make sure you join the Lerwick Gala 2019 in Gilbertson Park from 12.00 to 16.00 on Saturday 29th June 2019 organised by the 1st/ 2nd Lerwick Sea Scouts Group. There will be pony rides, fun stalls, prizes to win, inflatables, a BBQ, teas, a raffle, candy floss, an appearance from The Junior Jarl Squad and a performance from The Lerwick Brass Band!
We hope you have a fantastic time in Shetland in June 2019.