If you are planning a trip to Aberdeen and enjoy exploring new areas, then it is worth taking a stroll through Footdee.
The name is actually derived from St Fittick, the patron saint of gardeners, who is believed to have landed at nearby Nigg Bay in the 7th century.
This hidden gem is one of the most unique communities in Scotland, tucked away just off the Beach Esplanade.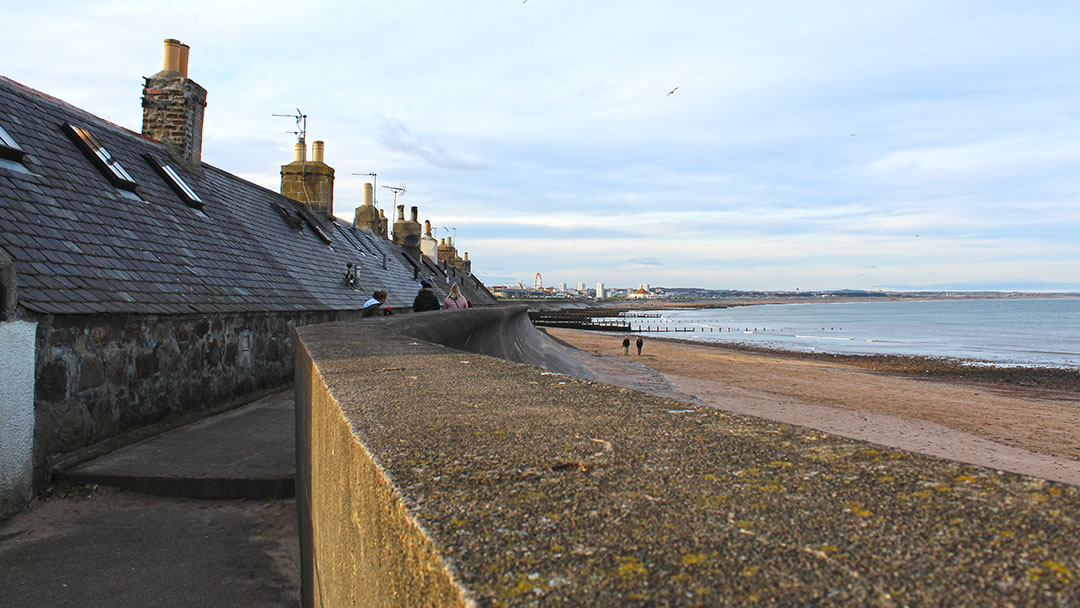 Footdee, or Fittie as it is pronounced locally, is a small fishing village at the mouth of the harbour, half a mile (1 km) east of the city centre. It can be spotted from NorthLink's ships MV Hjaltland and MV Hrossey on the journey in and out of Aberdeen harbour. However, it's well worth taking the time to visit Footdee as wandering through the village is a bit like stepping back in time!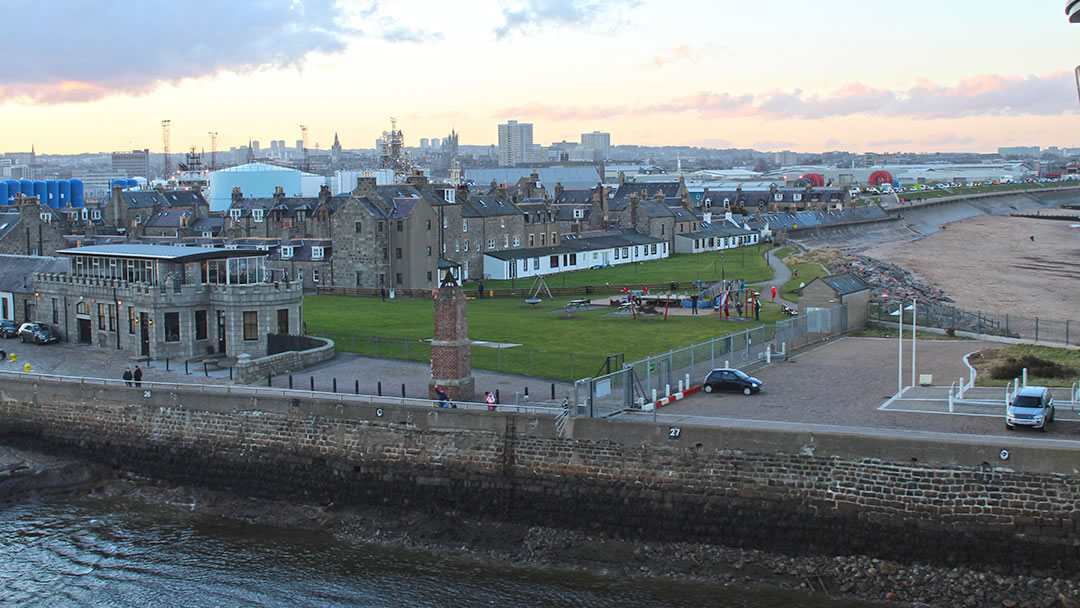 You could be forgiven for thinking the name of the village comes from its location at the 'foot of the Dee'. However, the name is actually derived from St Fittick, the patron saint of gardeners, who is believed to have landed at nearby Nigg Bay in the 7th century.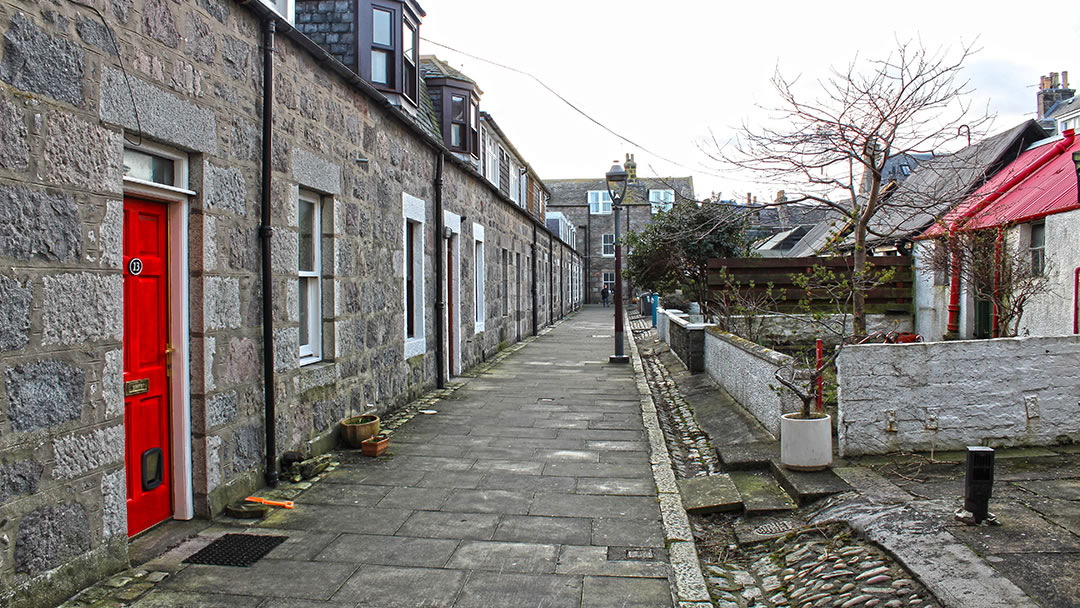 The narrow cobbled streets here are surrounded on every side by small houses with charming gardens huddled in squares, all with their backs to the sea to protect them from the wild storms that can roar along this coastline.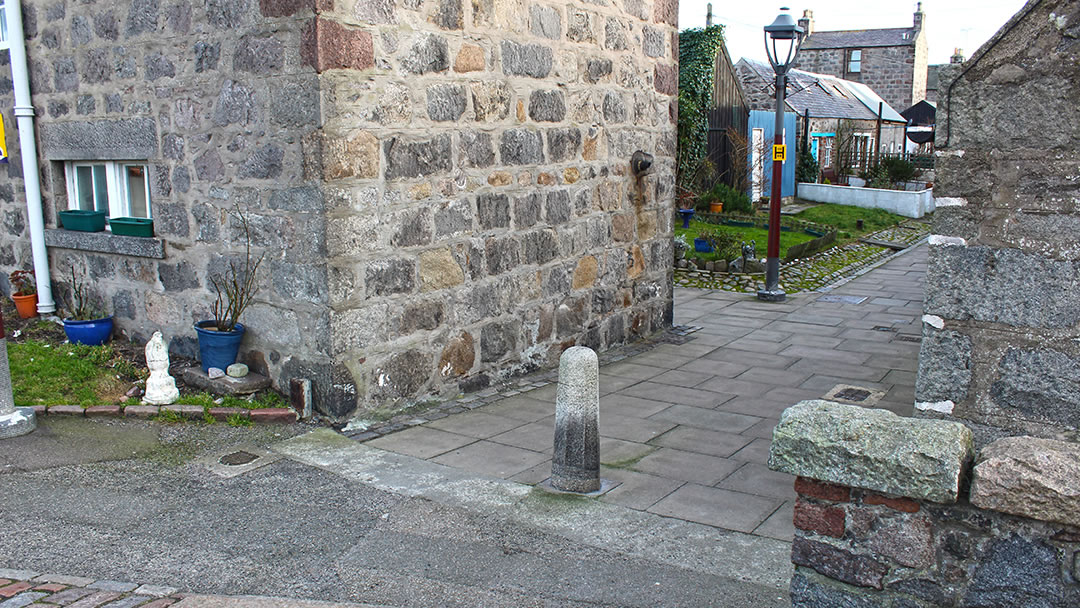 The village dates back to medieval times and back then Futty, as it was known, was a remote fishing village of tightly grouped houses and jetties built up around St Clement's Church (which was founded in 1498), on the north side of the River Dee estuary. On the other side of the River Dee estuary there was a similar fishing village; Old Torry.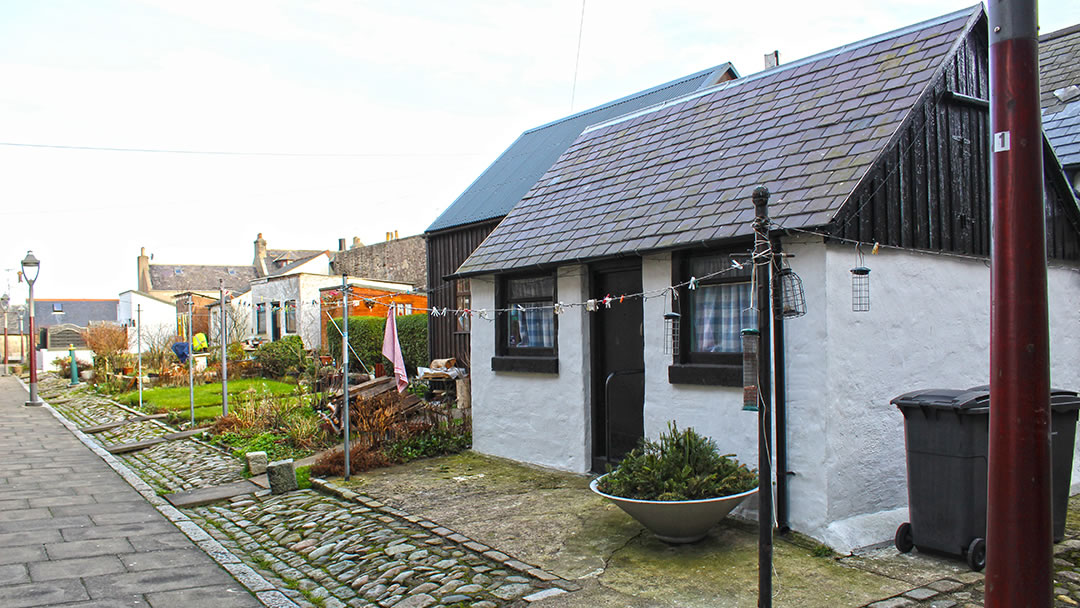 In 1809, John Smith, then Superintendent of the Town's Public Works laid out a housing development to re-house Aberdeen's local fishing community in the area now known as Footdee. Smith would go on to become one of Aberdeen's key Architects.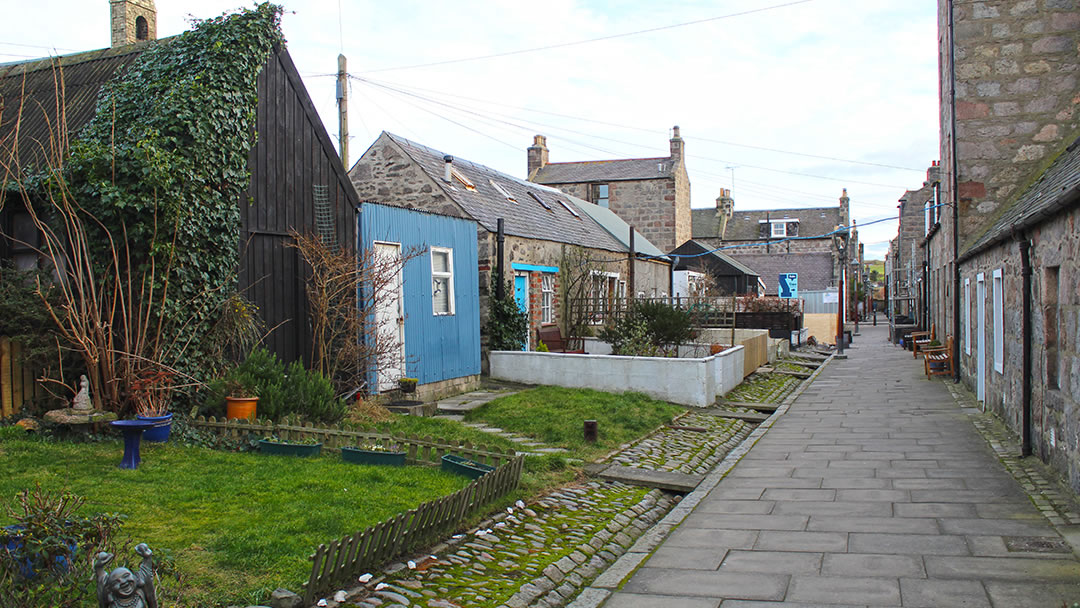 Initially 28 single-storey thatched houses were built and laid out in uniform rows, and this was called 'Fish Town'. 'Footdee' referred to the larger area from St. Clement's Church to 'Fish Town', but this soon became the name to refer to all the houses, with 'Fish Town' becoming forgotten.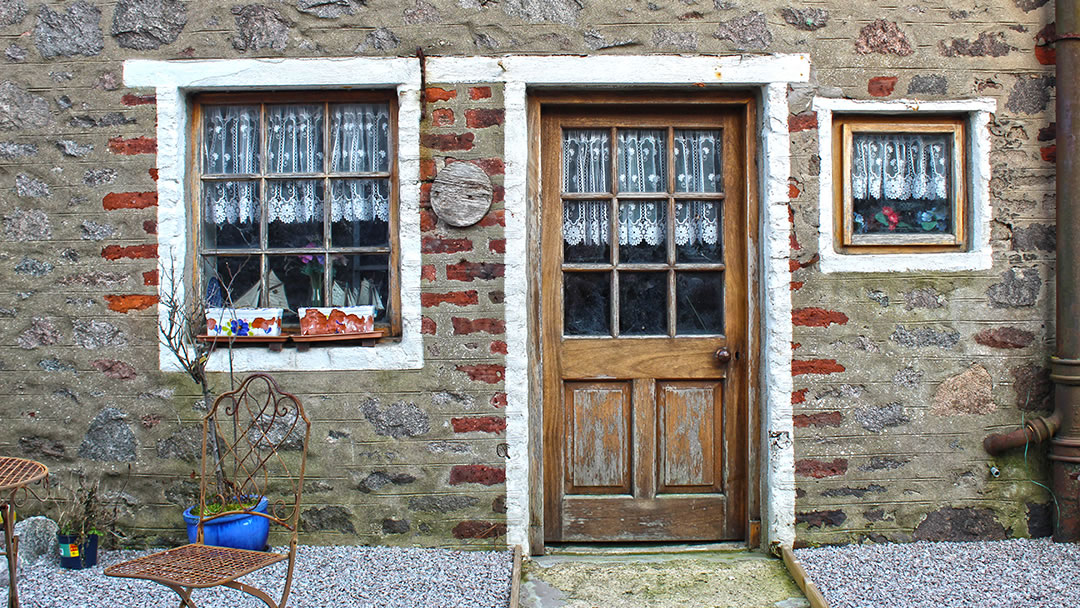 Initially there was a suggestion that the houses would have 2 storeys but the fishermen refused to live upstairs for superstitious reasons and because it would have been inconvenient for them to drag their long lines and baskets up a flight of stairs! They also refused to have anything other than an earthen floor in their houses, again for superstitious reasons and because it would have been impossible for them to have kept a wooden floor clean.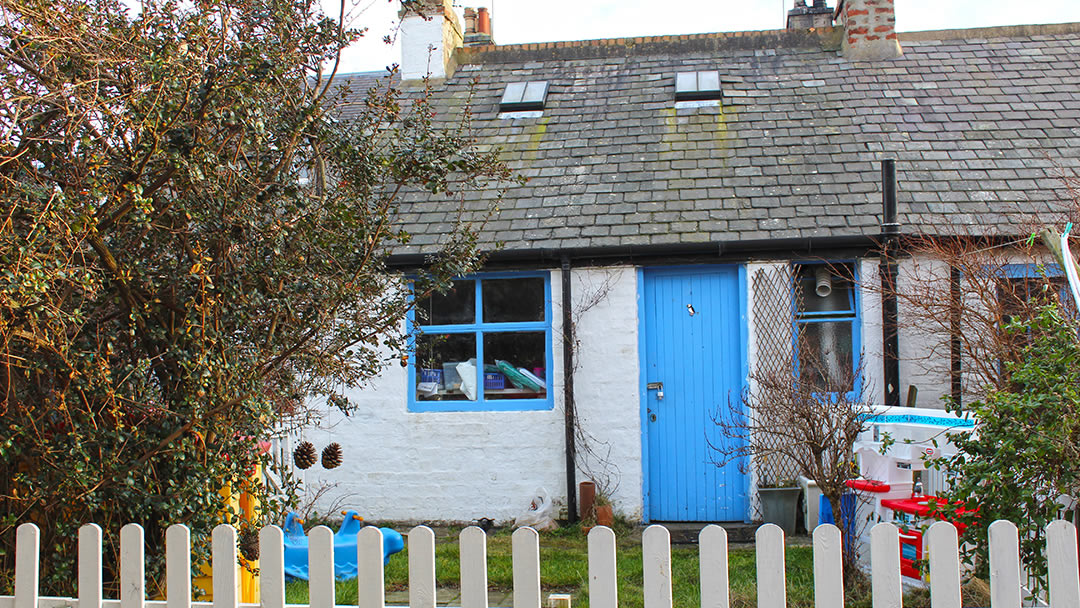 Extra housing areas were added in 1837 and in 1855. William Smith (who was the son of John and the architect responsible for Balmoral Castle) added entrances to Footdee and additional storeys to some of the buildings in the 1870s. This eased the overcrowding which had happened after an influx of fishing families from other less prosperous areas. Presently in Footdee there are over 80 homes.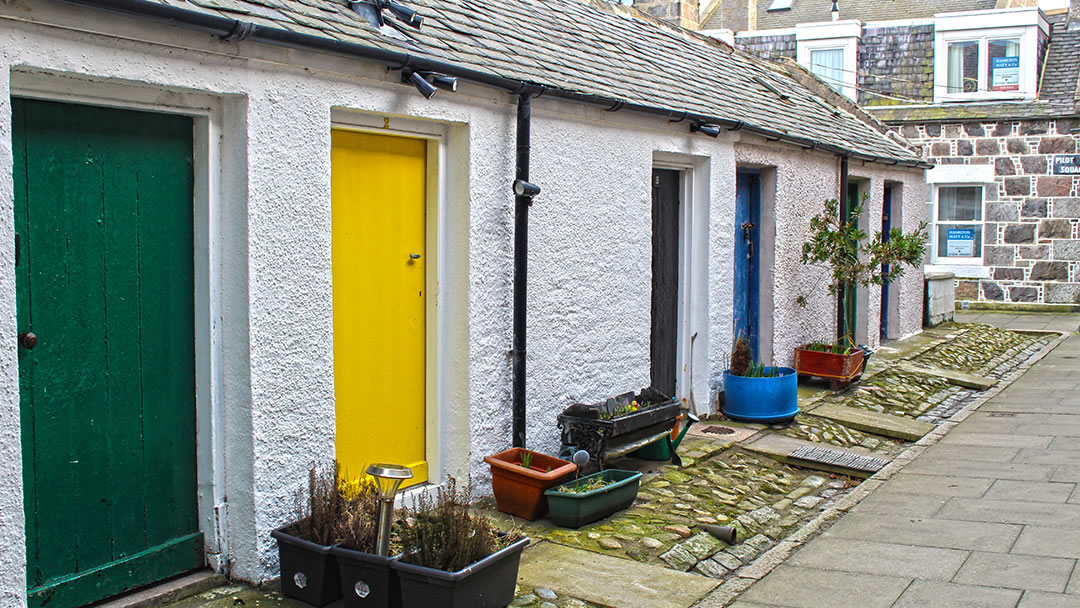 Many of the homes at Footdee look similar because they were all built to the same dimensions. However in 1880 when the Town Council started selling the dwellings to their occupiers, some individual touches began to be made.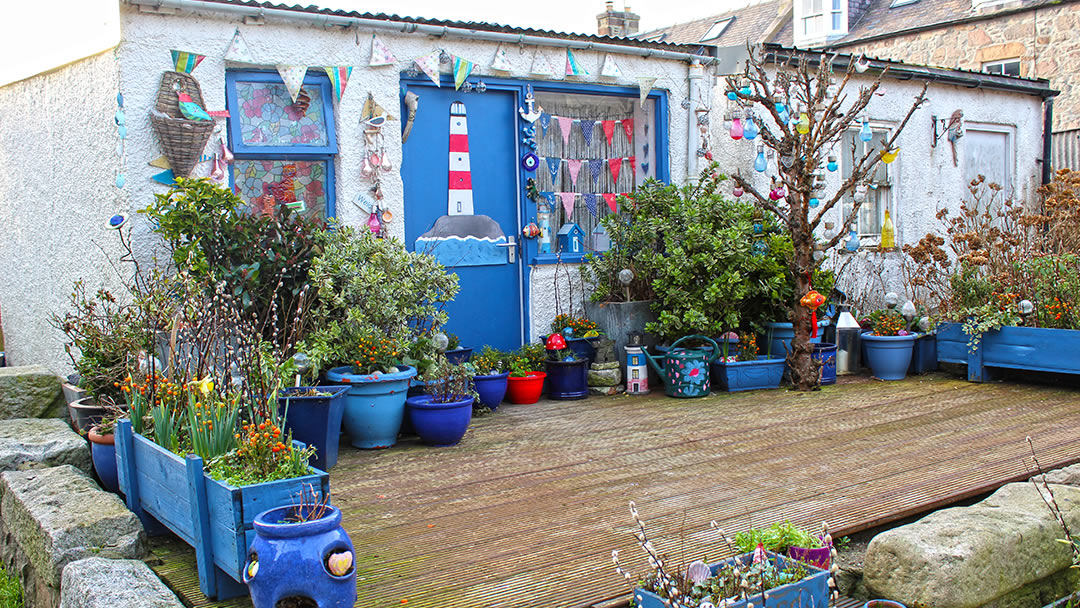 Amongst these were the individual touches made to the sheds. During the 19th century, 'tarry sheds' were added to the squares opposite each dwelling in Footdee. These were originally created using drift wood and other found materials, but have since been rebuilt in a number of different ways.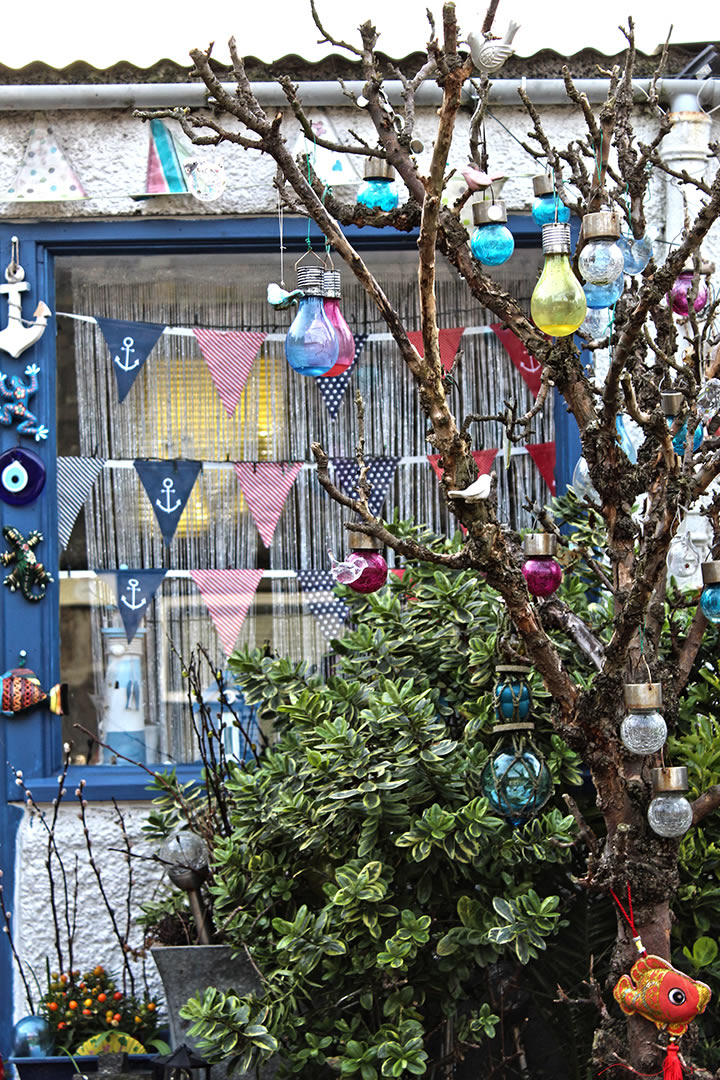 This really adds to the charm of the area. The quirky touches added to each dwelling and more so the sheds opposite bring this quaint little corner of Aberdeen to life. Bright colours, driftwood and imaginative decorations are all on display. You'll spot maritime objects including buoys, nets, life rings, model boats, fishermen and glass fishing weights decorating the facings of sheds and the front of the houses here.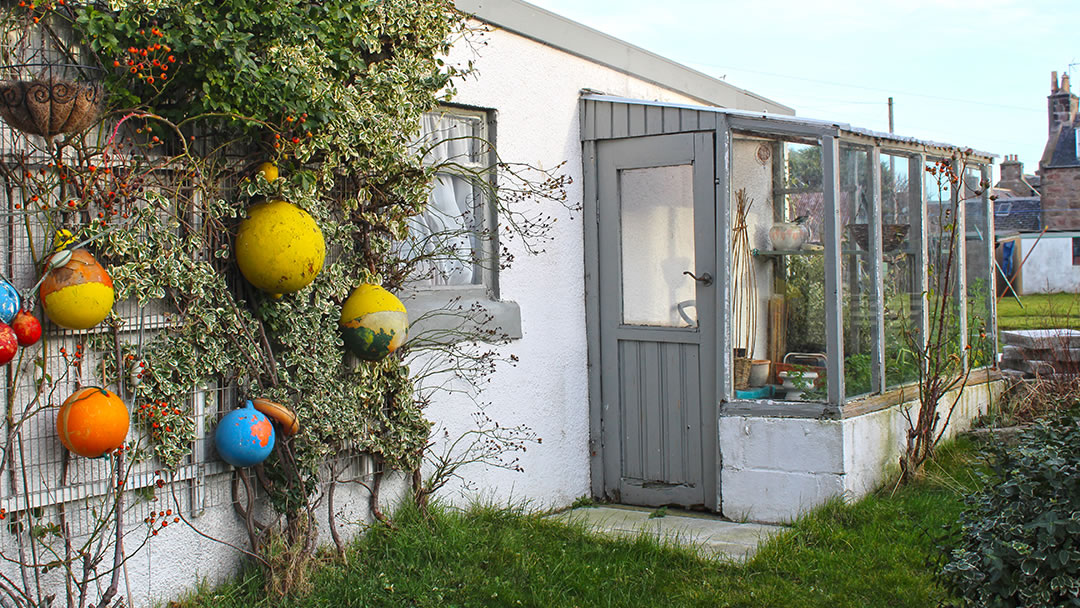 Some of these are bizarre, some are artistic and some are humorous; but the end result is an eccentric mix of uniquely creative structures. Upon our visit, we were left with the impression that this was a highly artistic community. We also wondered about the purpose of the sheds; were they for storage, used as barbecue areas or were they man caves?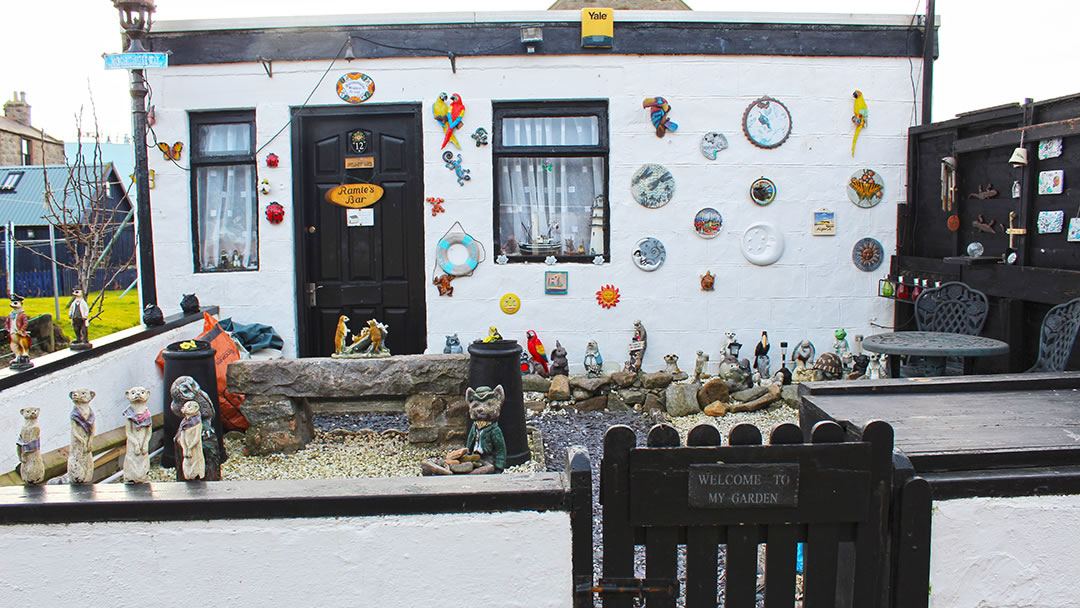 We can only imagine how Footdee transforms with the seasons as there are flowerpots and small beautifully maintained garden spaces everywhere. We even spotted spring bulbs coming to life in a bath tub!
There's a nearby children's play park which is also very distinctive. Children can enjoy rocking seals and playing in a real fishing boat.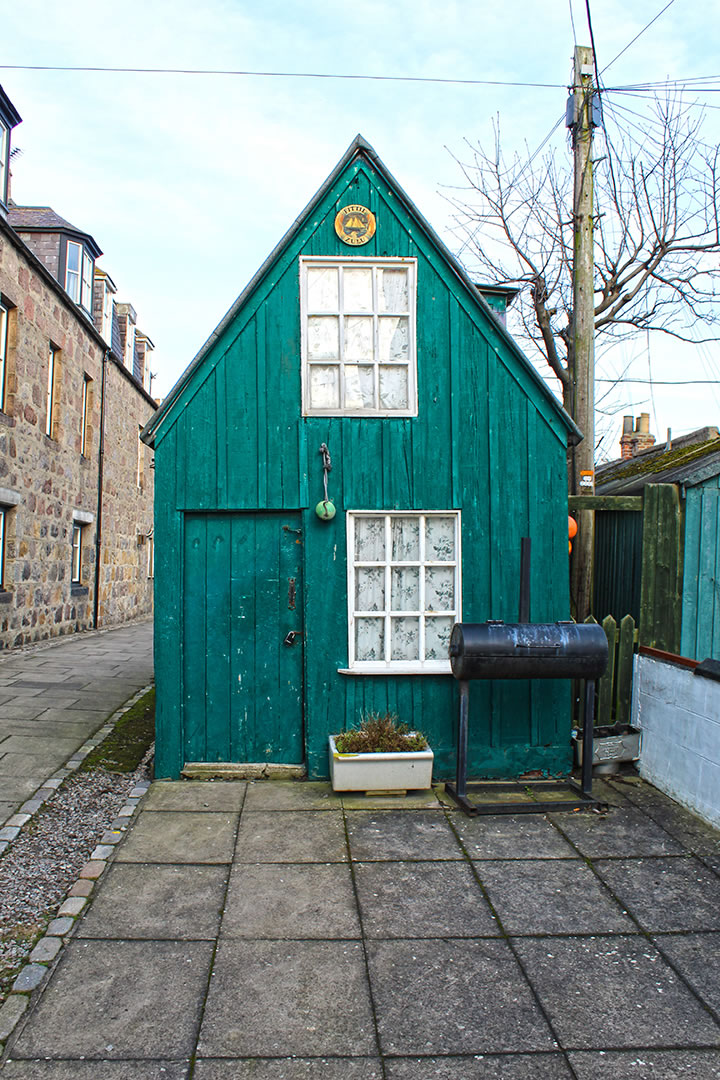 One final note of interest is the public toilet at Footdee which was that up until the mid-twentieth century was a unisex latrine. Users were separated by chest high partitions. Ladies and gents would sit next to one another, and would spark up a conversation whilst going through their motions! These were hard working folk with no pretensions.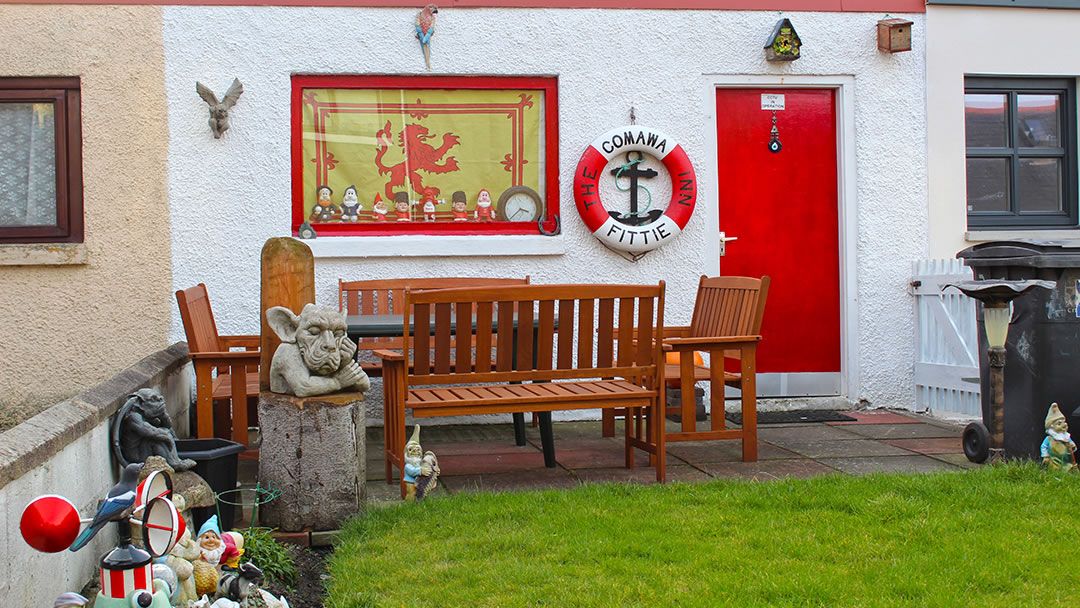 Footdee is now a Conservation Area where properties are all individually listed as being good examples of traditional early 19th century, North East of Scotland fisher's cottages. Properties in Footdee are now highly sought after!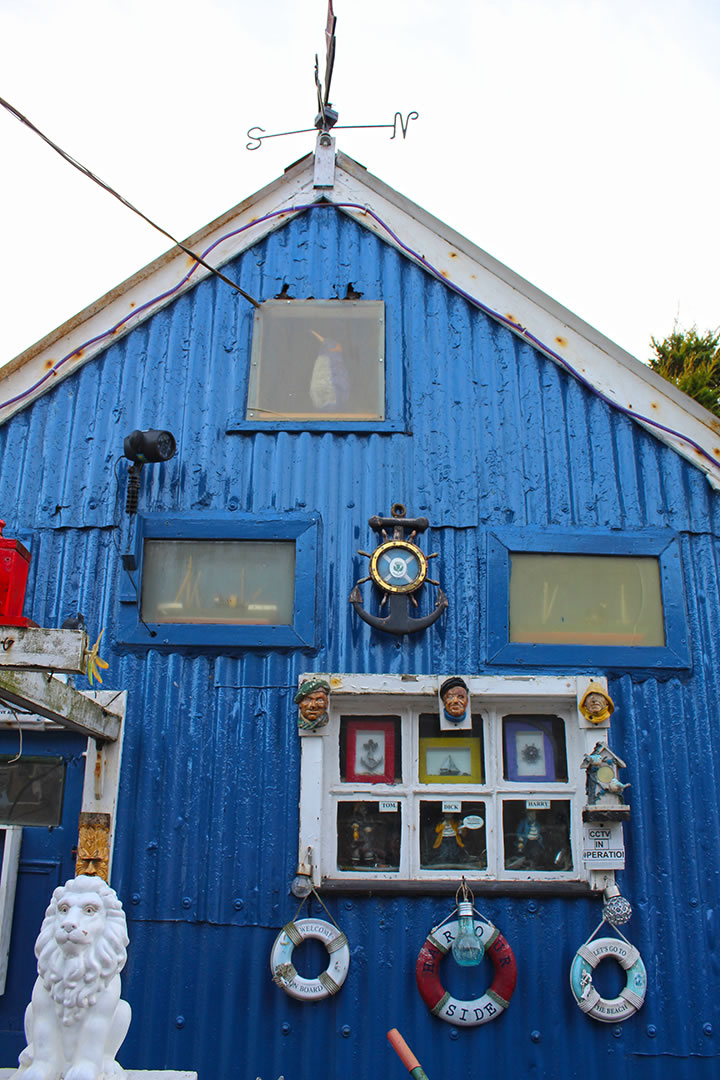 The fishing village on the opposite side of the harbour, Old Torry, was not as fortunate as Footdee. In 1971, the 350 residents of Old Torry had to leave their homes when the area was demolished to make room for an upgraded Aberdeen harbour.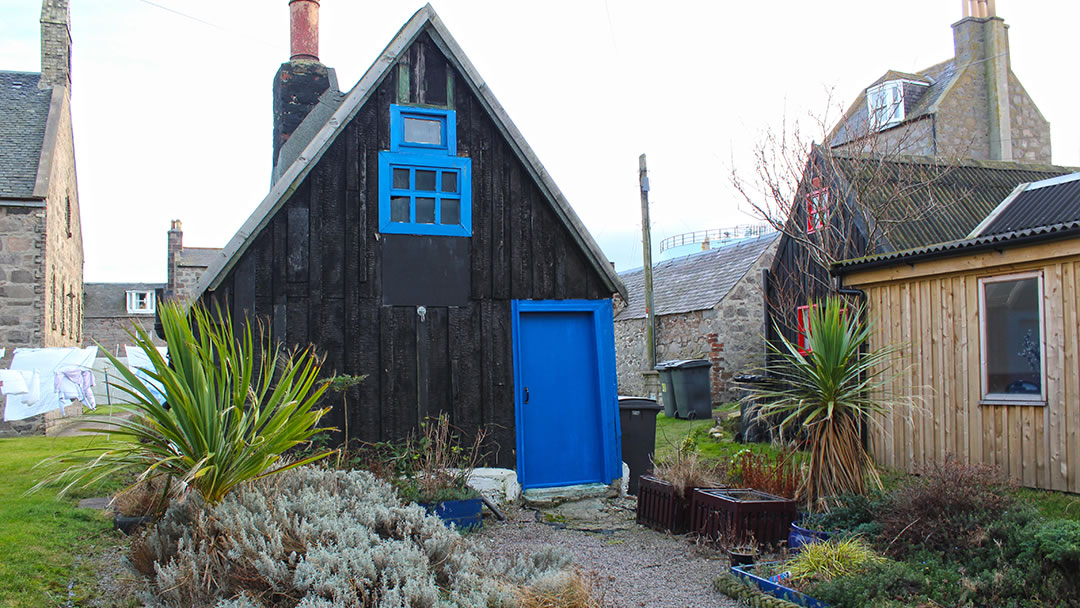 If you are in Aberdeen this quaint little area really is worth a visit. There are surprises around every corner in Footdee, so be sure to bring your camera!

By
Victoria Dixon
Orkney and Shetland fanatic, likes to capture life through a lens, loves creating, eclectic taste in music, enjoys being a Mum; would secretly love to be a star of the West End!
Pin it!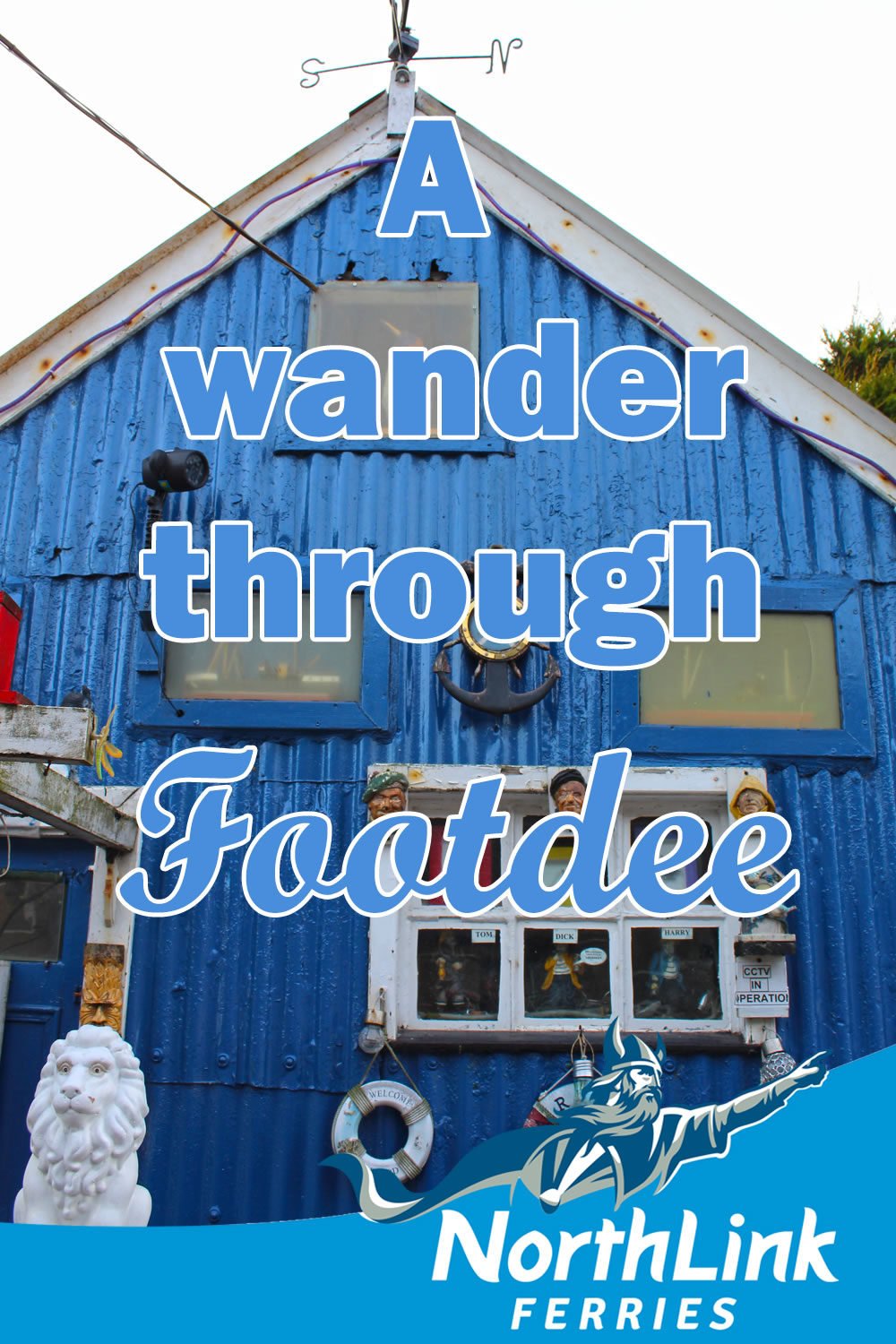 Header image: Footdee in Aberdeen photo © Copyright Victoria Dixon