When travelling on the MV Hamnavoe from Scrabster, Stromness is one of the first sights you will see of Orkney.
Restricted in space because of the hill, Brinkies Brae behind it, Stromness is a distinctive fishing town with houses and jetties bustling along it's waterfront and a narrow flagstone paved shopping street running though it.
It is a peaceful place to wander through, with sea glitter on the walls.

George Mackay Brown, A Guide to the Orkney Islands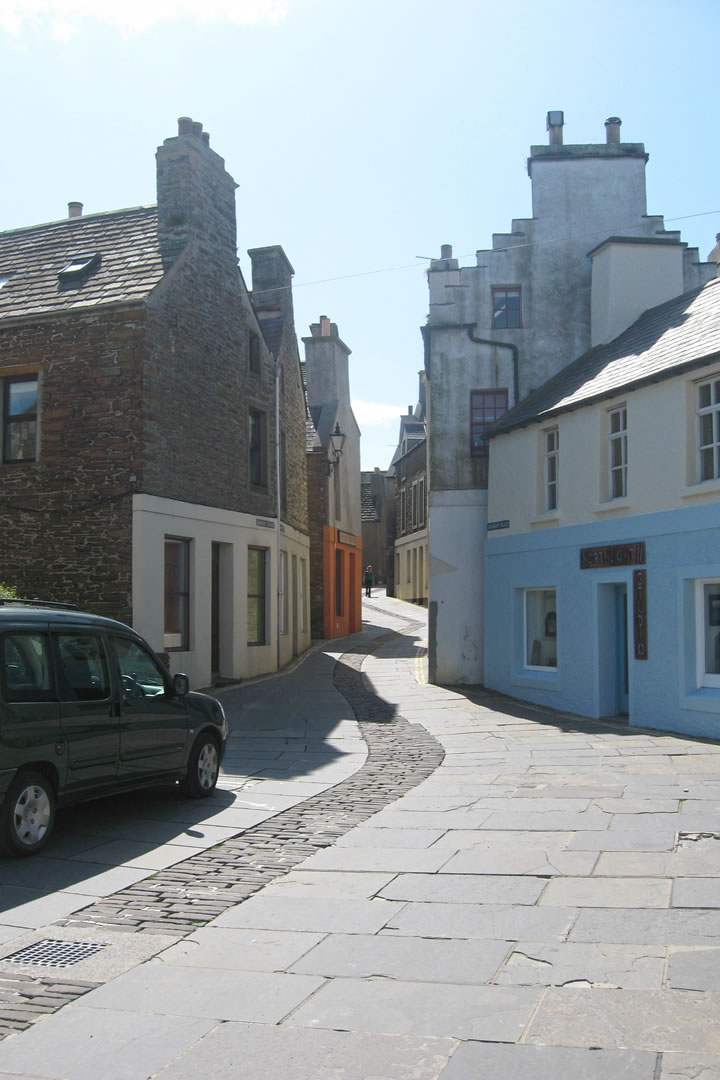 There are restaurants, pubs and shops to visit, as well as a Golf Course, Museum, Swimming Pool and Library.
Stromness was home to Orcadian poet George Mackay Brown, whose poetry can be seen throughout the MV Hamnavoe.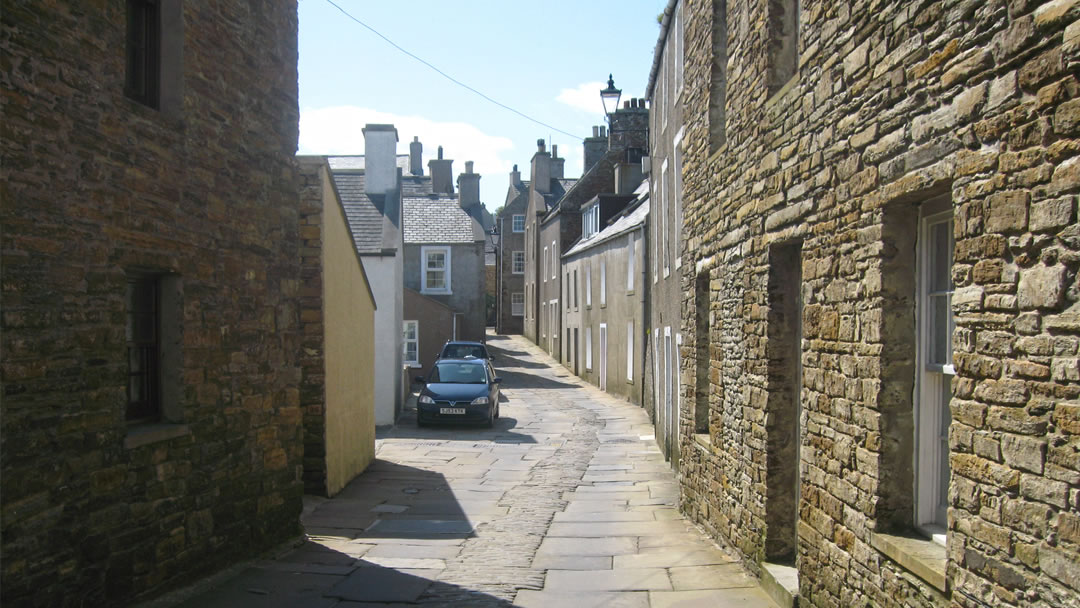 Sites worth a visit include:
Stromness Ferry Terminal – where the MV Hamnavoe docks. The NorthLink Ferries vessel travels to and from Scrabster on the mainland of Scotland up to six times a day.
Pier Arts Centre – once the Hudson's Bay Company agency and store, the Pier Arts Centre, situated on the waterfront is now one of the finest collections of art in Scotland. It was recently renovated and extended in 2007.
Stromness Library – A super and compact library which contains books of Orkney interest, the latest bestsellers and more. Internet access is available here.
Stromness Museum – a fine collection in the south of the town – covering Orkney history, wartime Scapa Flow, the Hudson's Bay Company and Orcadian wildlife and birdlife.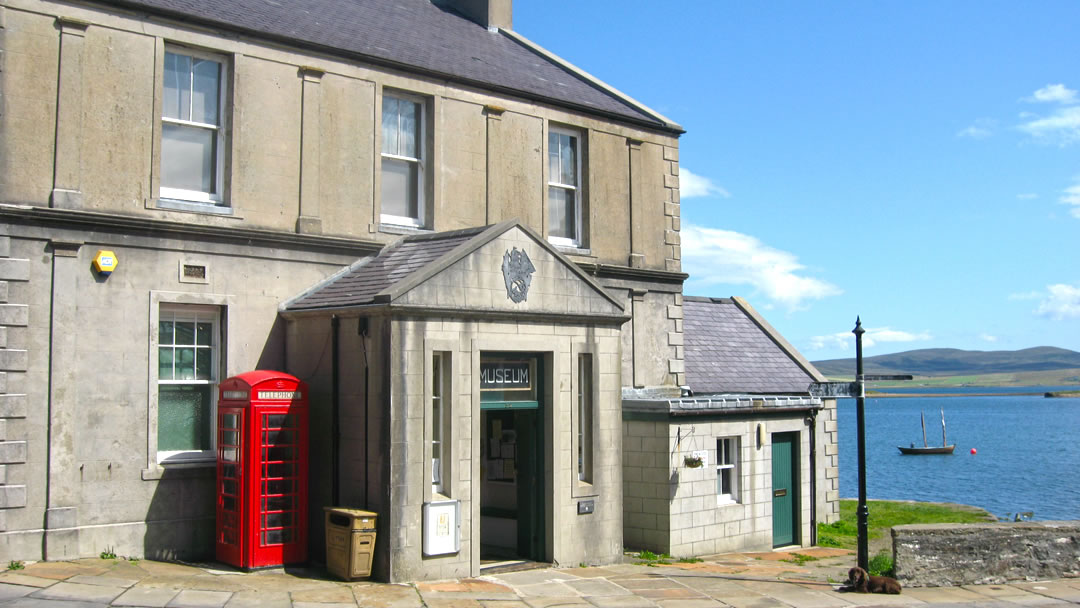 Logins Well – situated at the South End of Stromness, Login's Well is now disused but used to supply the south end of the town and visiting ships with water.
George Mackay Brown Memorial Garden – a garden dedicated to George Mackay Brown – Orkney's poet who lived in Stromness. Extracts of his poetry can be read aboard the MV Hamnavoe.
Stromness Golf Course – a magnificent hilly 18-hole golf course situated next to the sea. the Stromness Golf Course has superb views of Hoy and has a friendly clubhouse to relax in afterwards.
Stromness Pool and Fitness Suite – located in the North End of the town, the Stromness Swimming Pool also contains a jacuzzi, a sauna and steam room and a fitness suite.
Point of Ness Caravan and Camp Site – located at the edge of Stromness with magnificent views of the bay, the Point of Ness Caravan and Camping site has plenty of facilities to offer the visitor and is a short walk into the town.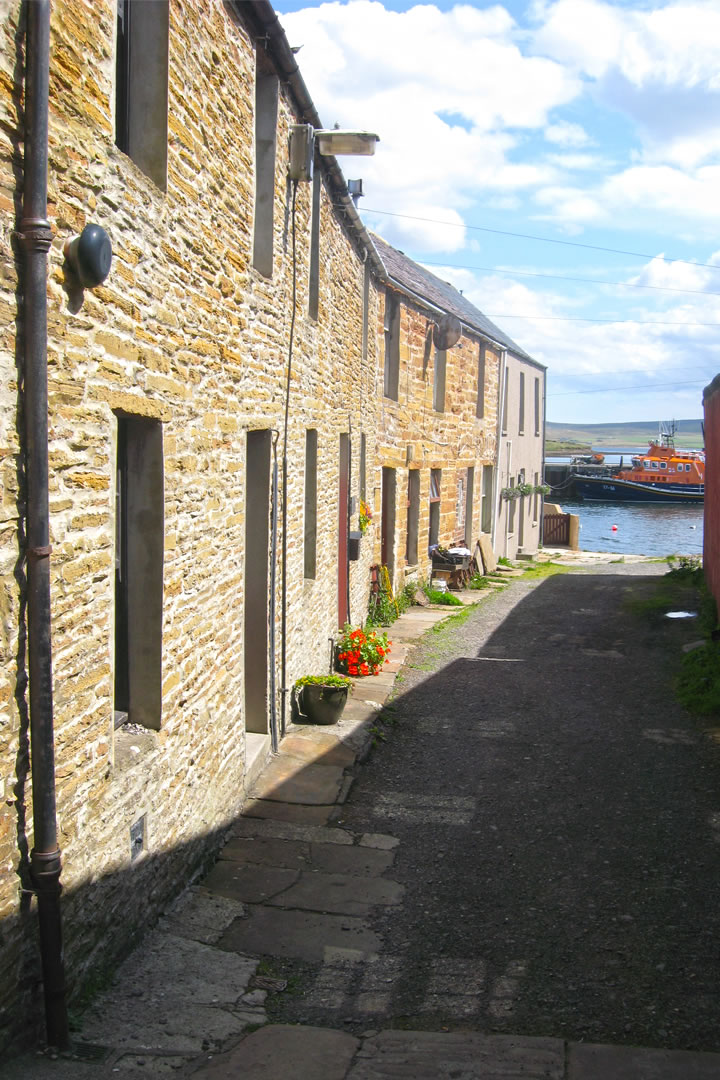 Top tips
The nearby beach Warebeth, which can be reached by walking along the coast from the Point of Ness is well worth a visit.
Travellers on the first sailing from Stromness to Scrabster can stay overnight on the MV Hamnavoe – ensuring a good night's sleep, with breakfast included in the price, waking in time for arrival in Scrabster.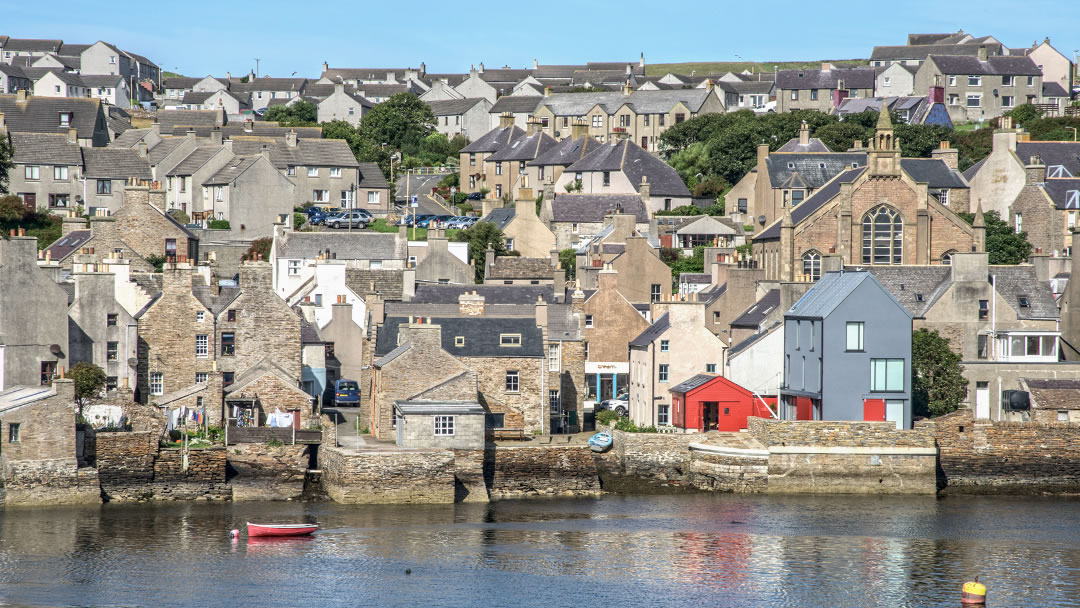 GMB words reproduced by permission of the Estate of George Mackay Brown.
Header image: Stromness, the harbour in Orkney where MV Hamnavoe docks photo © Copyright Charles Tait