The East Mainland of Orkney is quite different from the West Mainland, consisting mostly of low lying farmland – however there are lovely beaches and seabird cliffs to be found, as well as playgrounds and shops.
A tall stone finger reaches into the sky: the Covenanter's Memorial. The field to the left is littered with grazing cows, black and white. Somewhere behind a bird sings thinly. Half an hour ago a plane flew over slowly, like a soft moth in the haze, drifting towards Grimsetter.


George Mackay Brown, Under Brinkies Brae
Orkneys main airport is in the East Mainland and it is linked via The Churchill Barriers to some of Orkney's southern isles.
The parishes in the East Mainland are: Tankerness, Holm, Deerness.
Sites worth a visit include:
The Gloup – a collapsed sea cave, the chasm at The Gloup is an impressive sight found in Deerness.
Mull Head – a cliff side nature reserve in Deerness which is a great walk starting at The Gloup – the low cliffs here are great for seal spotting and bird watching.
The Brough of Deerness – continuing the walk from The Gloup, you will reach a large, grassy cliff with an ascending path, standing alone. This must be climbed with care. At the top, can be found the remains of a Norse settlement.
Covenanters Memorial – a poignant memorial to 250 political prisoners drowned when their ship sank in the 19th Century.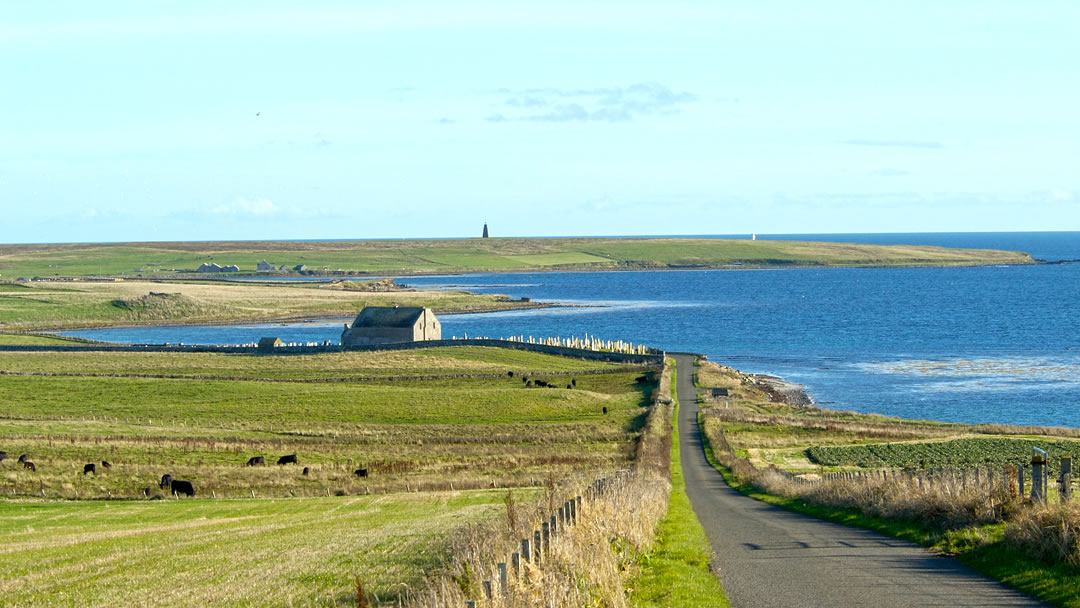 Mine Howe – enjoying fame since appearing on the Time Team television programme, Mine Howe is a mysterious Iron Age structure, where the visitor descends 29 steps underground into a small chamber.
St Mary's – a lovely village which looks out over Holm Sound to the south isles connected by the Churchill barriers.
Copinsay – a wedge shaped island teaming with bird life. Copinsay rises from the sea towards an impressive cliff and lighthouse. Copinsay can be reached by boat by arrangement.
Top tips
The East Mainland is home to some of Orkney's loveliest beaches – explore Dingieshowe – a sandy isthmus which connects Deerness to the rest of the Orkney mainland. The sand dunes found there are beautiful and great for children!
Great care must be taken at the cliffs near the Gloup. However, if you would like to see the Gloup from a completely different angle, you can enter the Gloup from the sea in a small boat. Boat hire is available by arrangement.
GMB words reproduced by permission of the Estate of George Mackay Brown.