The Broch of Gurness is an Iron Age settlement which began sometime between 500 and 200BC.
The centre of the settlement features a broch; which is a massive circular tower with thick walls.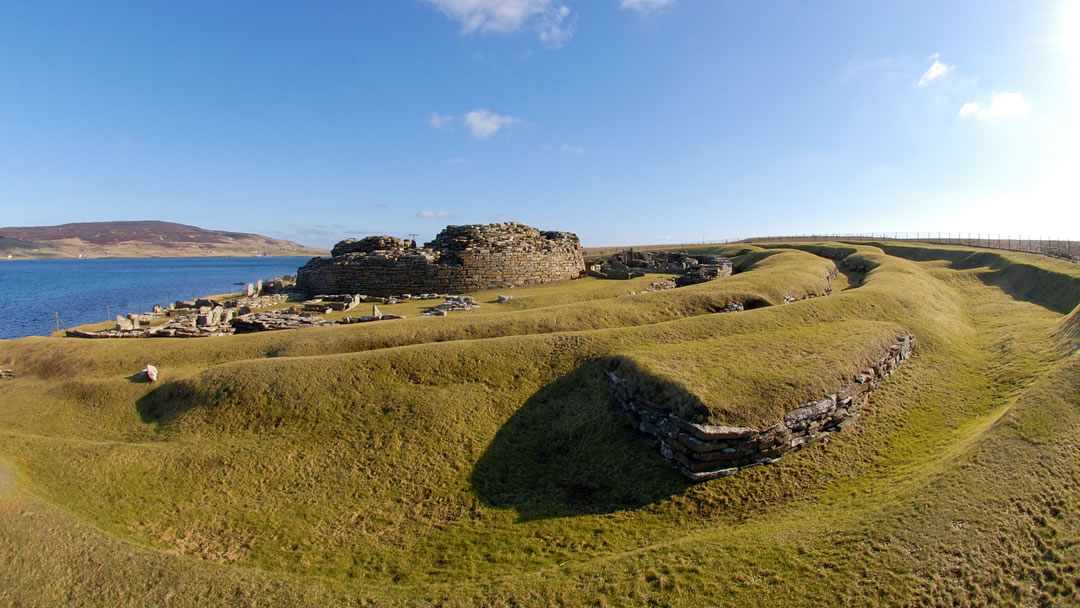 This was likely 10 metres tall at one point and had an internal diameter of 20 metres.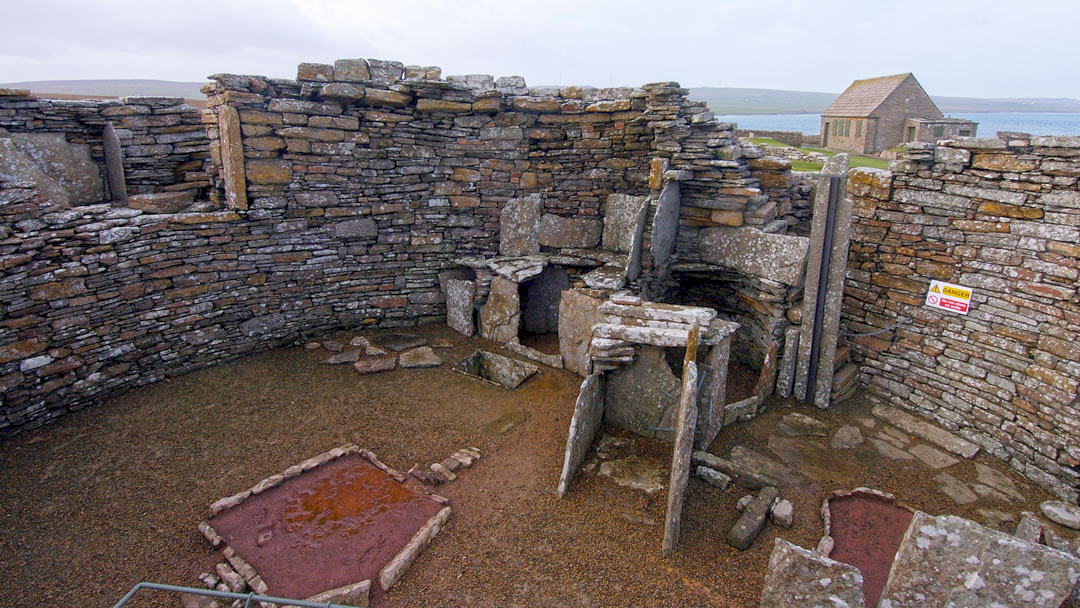 The interior of the broch is separated into different sections by slabs; it has drystone walls and stone-floored galleries in between, accessed by steps. There are some steps inside the tower, which suggests that there was a second floor at one point.
The Broch of Gurness has two hearths and a subterranean cistern with steps leading to it which possibly had some sort of religious significance if not actually just being a well.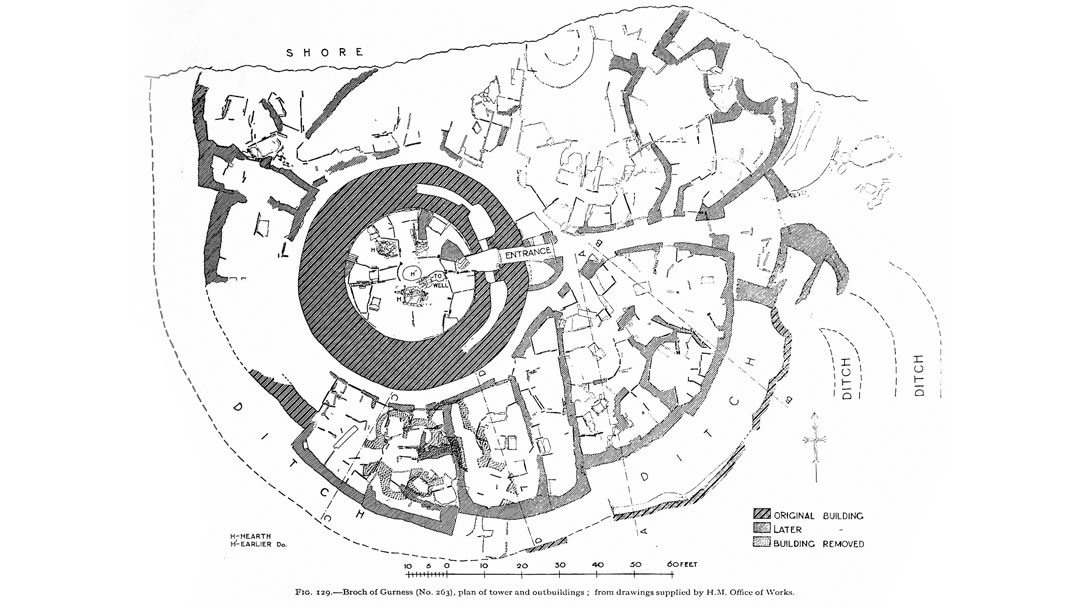 The site is surrounded by three ditches cut out of rock; remains of several small stone houses with small yards and sheds can be seen between the inner ditch and the tower. These small buildings were built after the broch and made up a significant settlement. Unlike many other brochs, which stood alone, the settlement at The Broch of Gurness had a population of about 40 people.
The central building of The Broch of Gurness was likely home to an important family from the community as it is the largest building in the settlement although there is debate to this theory, as some believe that it was potentially used in a defensive manner instead.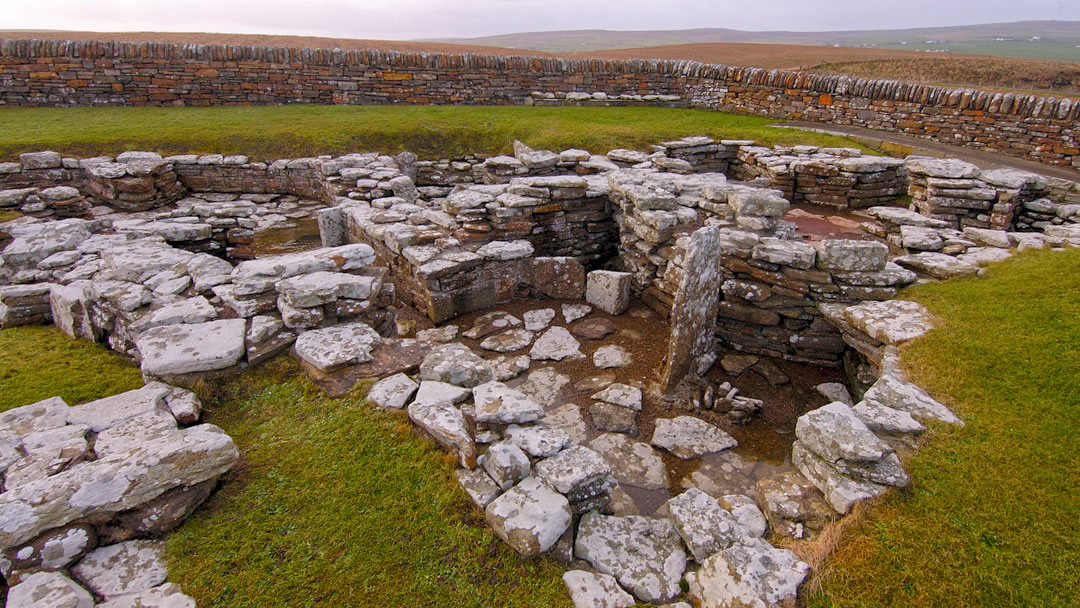 This particular stretch of coast between the Mainland and the Island of Rousay had an amazing 11 brochs, including one at Midhowe on Rousay and one below Burgar Hill. The area was important at the time as the sea provided transportation and food.
A few Roman container pieces dating back to 60AD have been found on the site, leading to speculation as to how or why they are there.
The broch was abandoned in 100AD for unknown reasons and the ditches were filled in. By the 5th century, The Broch of Gurness was no longer in use and some of the stones were reused to build smaller buildings on top of the older buildings.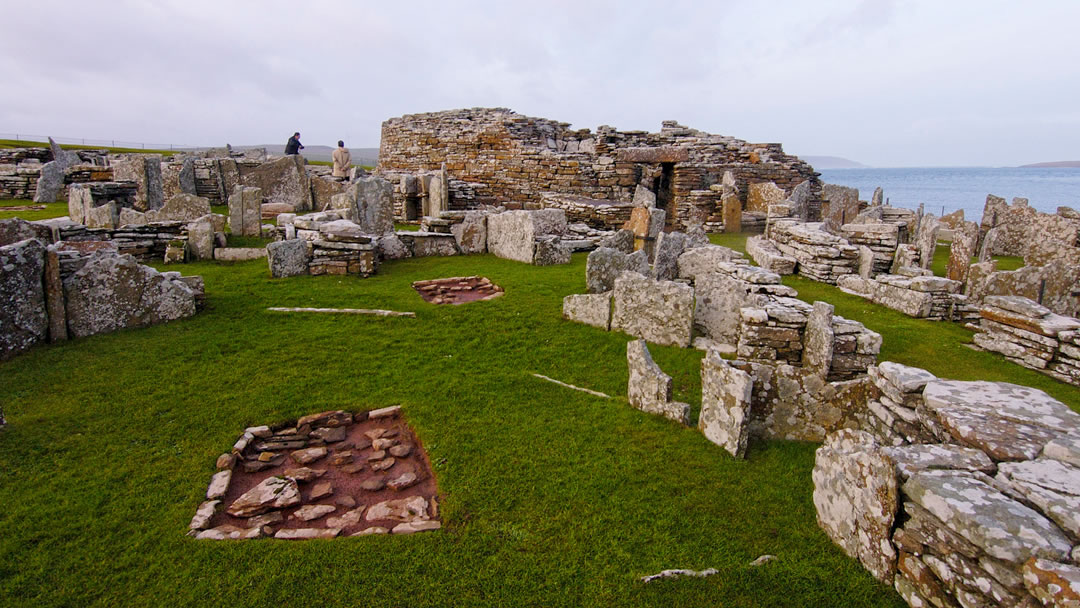 The site was used as a farm until the 8th Century. In the 9th Century, a Norse woman was buried in a stone-lined grave with bronze brooches and a sickle made from iron. Other evidence suggests Norse men were buried there too, meaning the place potentially had some Norse significance as well.
The ruined settlement was discovered in 1929 by poet Robert Rendall who happened to sketching on top of a grass covered mound which lay on top of the ruins.
Header image: The Broch of Gurness in Orkney photo © Copyright Charles Tait