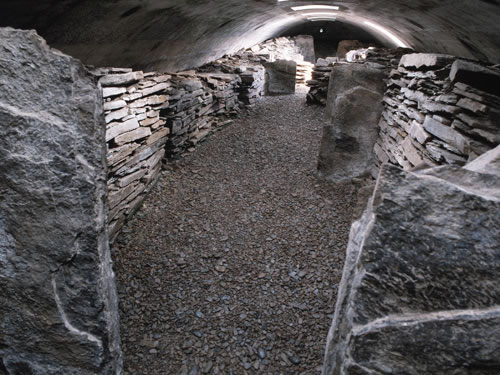 These three islands can be reached by ferry from Tingwall in the north-west mainland of Orkney. Rousay is a large round island with a large hill in the centre. It is an archaeologist's paradise – sometimes described as Egypt of the North – because it is littered with cairns.
Egilsay is much smaller, and is known in the Orkneyinga Saga as the island in which St Magnus was martyred. Wyre, smaller still, also features in the Orkneyinga Saga with its Norse castle built by Kolbein Hruga.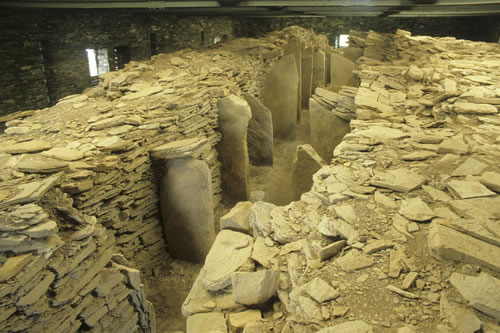 Sites in Rousay worth a visit include:
Midhowe cairn and broch – the largest stalled cairn in Orkney, Midhowe contained 25 bodies and is now housed by a building, specially built around the structure. Outside, can be found the impressive Midhowe broch, a tall defensive Iron Age structure.
Blackhammar and Yarso Cairn, and Taversoe Tuick – small chambered cairns like these can be found at regular intervals along the Rousay roadsides. These are tombs from Neolithic times.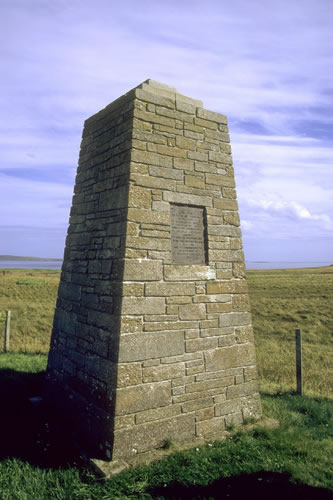 Sites in Egilsay worth a visit include:
St Magnus Church – a distinctive church with a tall round tower, the St Magnus Church was dedicated to the murdered Orkney Earl Magnus. Earl Magnus shared his Earldom of Orkney with his cousin, Earl Haakon, which caused fighting throughout the islands and eventually, Magnus' martyrdom.
The Cenotaph – a stone pillar marking the place where St Magnus was killed in 1117
Sites in Wyre worth a visit include:
Cubbie Roo's Castle – built in the 12th century by Kolbein Hruga (a powerful warrior from the Orkneyinga Saga) Cubbie Roo's Castle is one of the earliest castles in Scotland and one of the best preserved.
Top tips
A circular island with sites of interest dotted evenly along the road, Rousay is an ideal destination for cyclists. Bikes can be taken on the ferry from Tingwall for a small fee or can be hired on the island.
Hen Harriers, Red throated divers, Merlin and Peregrine are amongst the birdlife and the illusive Primula Scotica amongst the plant-life which can be found in Trumland RSPB reserve. A walk here also offers fantastic views of the North Isles.
For more information about Rousay please visit www.discoverrousay.co.uk