St Nicholas' Round Church, also known as the Round Kirk of Orphir, was built by Earl Hakon Paulson on his return from Jerusalem in about 1122 AD, next to his drinking hall at the Bu in Orphir. The apse is all that now remains of the only surviving round church from this time in Scotland.
During the eighteenth century, two thirds of the stone was used to build a new church that was later demolished; this explains why not very much remains of the Orphir Round Church.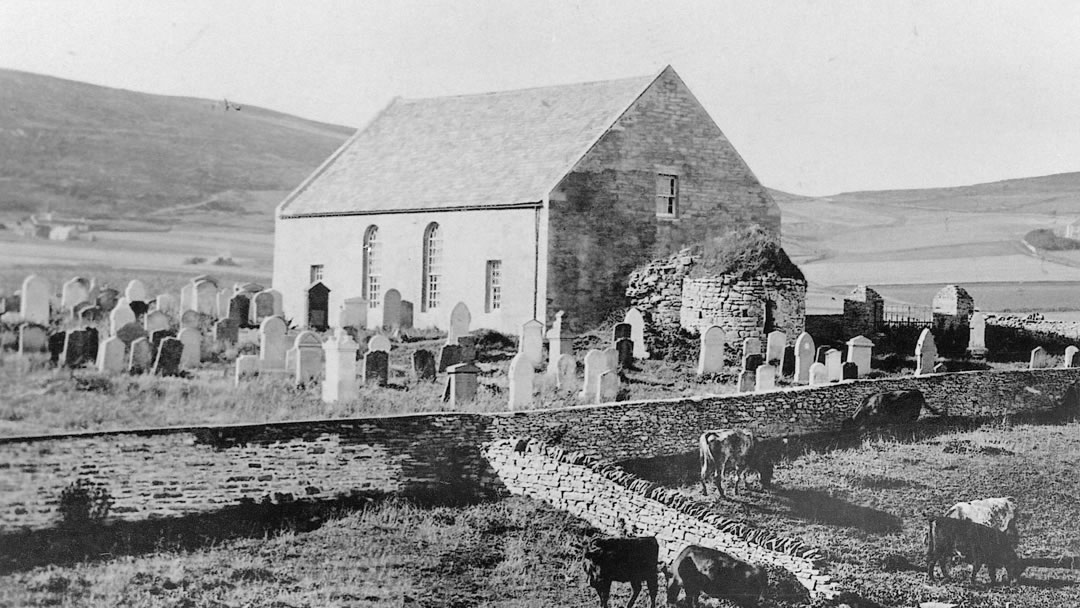 The Round Kirk is said to be modelled after the Church of the Holy Sepulchre in Jerusalem as this is where Earl Paulson was most inspired.
The 'drinking hall' next to the Round Kirk of Orphir, in 1136, was the murder scene of Sveinn Brestrope according to the Orkneyinga Saga.
The Orkneyinga saga is invaluable to Orkney, as it presents a medieval interpretation of the first conquest of Orkney by Norway (Vikings) and offers a fascinating insight into the island's Viking history. It describes gruelling events, such as murders, deaths, battles, in places familiar to Orcadians today.
Outside the kirkyard that contains the Orphir Round Church, there is a car park and the Orkney Islands Council Saga Centre. It's a great place to learn more about the Orkneyinga saga and its significance in the creation of the Orphir Round Church. It is open at all times for all ages and free to enter. Inside there is a 17 minute presentation about Orkney's Viking history. There is also a nice stony beach beyond the kirkyard. The Round Kirk of Orphir is a 9 mile or an 18 minute drive from Stromness, located close to the Houton ferry terminal.
The Orphir Round Church is a remarkable monument and a fascinating part of Orcadian history.