As its name suggests, Sanday is a North Isle famous for its beaches. A large but low-lying island, Sanday is particularly worth a visit in the summer when there are wildflowers, birdlife and pleasant weather to enjoy the sandy bays. Seals and birds enjoy Sanday's coastline.
Nowhere in the world, I suppose, is the sky so dominant as in this place.
I would like very much to be in Sanday on a starry winter night. The sky and the beaches.
The tide ebbs far out, leaving immense tawny stretches of sand.
The first Norsemen had no difficulty in giving Sanday a name.

George Mackay Brown, Under Brinkies Brae
Sanday is also an island which saw plenty of Viking activity (the light soil would have been easy farmland to work) and the Viking boat recently found at Scar was an exciting find.
Sites worth a visit include:
Quoyness Chambered Cairn – a maeshowe-type cairn from 3000BC with a tall roof. It can be found on the peninsula of Elness, close to Kettletoft.
Kettletoft Village – Sanday's main town where restaurants, bars and shops can be found.
Loth – where the boat from Kirkwall to Sanday arrives and departs. Loth is 8 miles from Kettletoft.
Start Point Lighthouse – an impressive lighthouse with very distinctive vertical black stripes (which distinguish it from the North Ronaldsay lighthouses horizontal red stripes). As much of Sanday is very low-lying, it is an important lighthouse to steer sailors away from Sanday's rocks. Start Island can only be accessed at low tide and can be found in the north east of Sanday.
Top tips
Sanday has two Golf Course – the 9-hole course run by Sanday Golf Course (to the east of Lady) and the 1 hole course "Peedie Golf Course" (close to the school) which is Scotland's shortest at 57 yards. Visitors by arrangement only.
In the north of the island can be found Ortie, an abandoned 19th Century village (when the kelp boom ended) which once housed more than 60 people. The houses are arranged in a long straight line.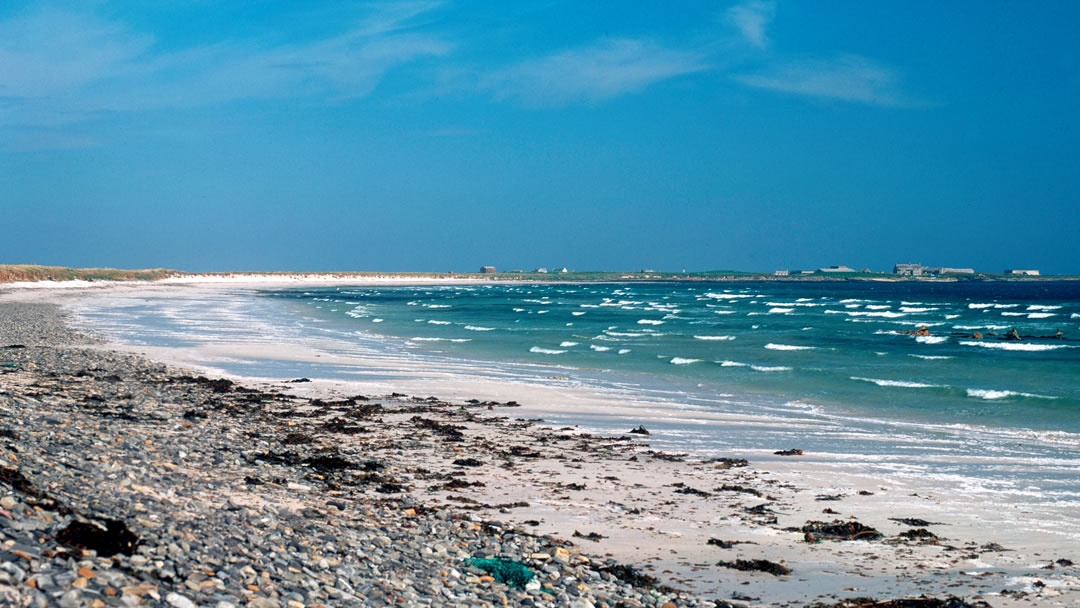 GMB words reproduced by permission of the Estate of George Mackay Brown.