To celebrate the Scotland's Year of Stories we're asking passengers to share a Shetland or Orkney holiday tip for other travellers!
Share your story…
Top tips,
Favourite places,
Best experience,
Hidden gems,
Food to try,
Animals to see,
Biggest surprise,
Islands to explore,
Magical moments
When you are next aboard a NorthLink ship, you can help yourself to a complimentary postcard, on which you can write a favourite place or experience, foods to try, your biggest surprise, or a brilliant island to explore.
Post the card in post-boxes located at the reception desk on board and we will share the most helpful tips below!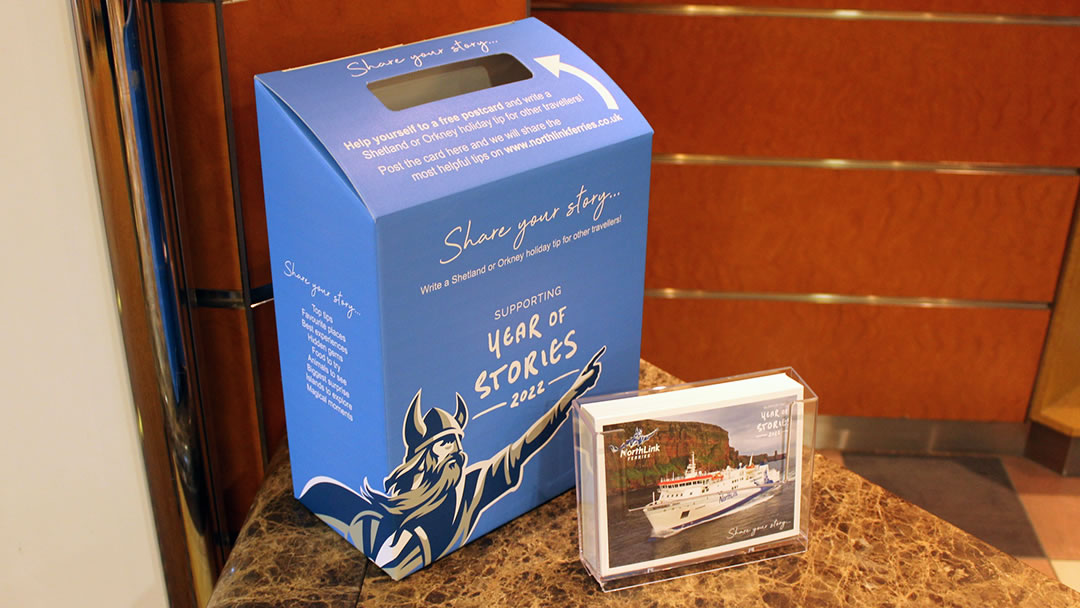 ---
I would recommend going to St Ninian's Isle, Eshaness and Papa Stour. I would also recommend visiting the capital of Shetland, Lerwick. There is a shopping street and I would recommend eating at the cafe called Fjara. Good food and sea views.
Edith
---
Island Deli do wonderful, delicious, beautiful lunch boxes, sandwiches, cakes etc. I think they are based in Brae but deliver anywhere in Shetland.
---
Best ferry trip. Magnus' Lounge is incredible. Smooth ride to Lerwick and back.
Susan
---
Pack appropriate clothes to visit Orkney and wear them!
Go out and about despite the weather.
Buy and eat local produce – its tasty!
Take every opportunity to chat with Orcadians – their tongue is lovely to listen to.
Breathe in the fresh air.
Soak up the scenery. The green fields. The lovely beaches.
The ancient history is amazing.
The wartime history is so interesting.
The Hamnavoe ferry is fab.
5 stars for the Merkister staff!
5 stars for the Sheila Fleet staff!
Orkney is not twee or quaint – its authentic and real – enjoy it. I love it.
Hazel
---
Our holiday tip for the ferry trip:
We suggest you buy a deck of cards at the shop on the NorthLink ferry. If you're by yourself play patience and if you're with someone enjoy a game together. Don't know any card games? Use the free wifi to learn one!
Love from Hannah and Rosemary
---
If you go to Skara Brae, book ahead as its booking only and gets full quickly!
---
Our first time on Shetland.
Enjoyed a 'Sunday Tea' – look out for posters telling you where they are in the village halls. Locals are friendly.
On World Nature day we went up to Sumburgh Head Ligthhouse.
Hermaness Nature Reserve on Unst not to be missed.
Julie and Kev
---
I live in Orkney. Where else, in a community of 22,000 could I have a hospital, airport, cathedral, schools, restaurants, theatres, cinema, shops, museums, beaches, cliffs and wild, wild moors within 15 minutes of home?
P.S. And good neighbours.
Richard
---
A very pampered journey – executive room, Magnus' Lounge. The holiday starts here! Comfy bed, great shower. Absolutely worth the money if it can fit into your budget. Pleasant hard working people and the best website for planning the trip beyond the ferry. Thank you everyone!
Chanah
---
Go to St Ninian's beach, Minn beach, Eshaness cliffs and lighthouse, Skaw beach in Unst, the Knab in Shetland is fab too,
Stevie and Stacey
---
Dear Future Traveller
Hope you'll have an amazing journey! I'd highly recommend to take a drive along the mainland of Shetland to see all the beautiful islands and birds! Sumburgh Head is a great spot for that 🙂 Rerwick beach is great! St Ninian's Isle, where you can walk across to the isle on foot on low tide! ❤ Have fun!
Love Marie and Blair
---
Came with a lovely coach firm and I had a brilliant holiday on Shetland. saw lots of birds I'd not seen before. A very interesting place.
---
We must remember NorthLink Ferries for our next trip. Amazing fish and chips, Magnus Lounge is a must. Cabins the best!
Faith
---
We visited Shetland and had a great time. Beautiful scenery and lovely friendly people. NorthLink ferry staff were exceptionally friendly and made our journey so relaxing. I would definitely recommend visiting Shetland.
Jayne
---
What a Wonderful Scottish adventure. The scenery has been lovely, the wildlife wonderful but what makes a holiday unforgettable is the people you encounter on the journey. Very welcoming, warm, and friendly. Good grub too!! 🙂
Barbara
---
Loved our Scottish dream tour and all the stones, brochs and puffins ❤
Debbie
---
Great way to test your core muscles – walking on the ferry.
---
I first brought my daughter to Orkney when she was 8. It's not Disneyland (thank goodness) – you do have to work a bit harder with an 8 year old, but the rewards are immense. She's 42 now and still loves Orkney. The grandchildren are beginning their induction.
Richard
---
Dear Unknown Friend
I suggest you visit Westray – try the Bay of Tofts, try Fitty Hill and the path up there, try Grobust!
---
My tip for Orkney is to visit The Pier Art Gallery in Stromness. It is a hidden gem – Ben Nicholson, Barbara Hepworth and more. Also Barony Mill where beremeal and flour is milled. Isla, the young woman who guides you around the mill is a fountain of knowledge and an absolute delight 🙂
---
My general tip would be to take your time! There is much to see and enjoy and in many ways we have had the greatest pleasure walking. Breath in the sweet, sweet air, smell the sea and enjoy the blue sky.
The walk across to St Ninian's Isle was amazing. There was blue, clear sea and a pleasant walk around the island. And the walk at Hermaness on Unst was another highlight for me. Enjoy.
---
We travelled as a group of friends – 21 in total – to Shetland and Orkney. The ferry system is amazing – safe, effective, clean, nice food. We appreciated the staff as well.
---
My tip for visiting Shetland is to give yourself plenty of time to explore Yell. The ferry is only 20 minutes from mainland Shetland. You can explore the coastline and places of interest as you travel to the top of the island – if you are catching another ferry to Unst. Or, even better, stay on Yell 🙂 ❤
---
My Orkney tip would be a day trip to the west side of the island. Skara Brae is an exceptionally humbling experience for the hubris of 21st century living. Take lunch at either the visitor centre there or make a short drive to Orkney Brewery. Then book a visit and tour at the Barony Mill. Find out about a 5,000 year old grain that is milled without use of any electricity! Enjoy being in Orkney.
---
My first visit to Shetland and what a delight it was. Beautiful scenery, great hospitality, and friendly people. travelling via NorthLink Ferries enhanced the journey. Altogether a great place to visit.
Nigel
---
You do not go to Orkney for the weather, much more to offer, take a selection of clothes suitable for layering as weather is changeable. ENJOY.
Mary