The Standing Stones of Stenness
The Standing Stones of Stenness is a Neolithic monument built between 5,400 and 4,500 years ago on the mainland of Orkney. They stand before a stream between the seawater Loch of Stenness and the freshwater Loch of Harray.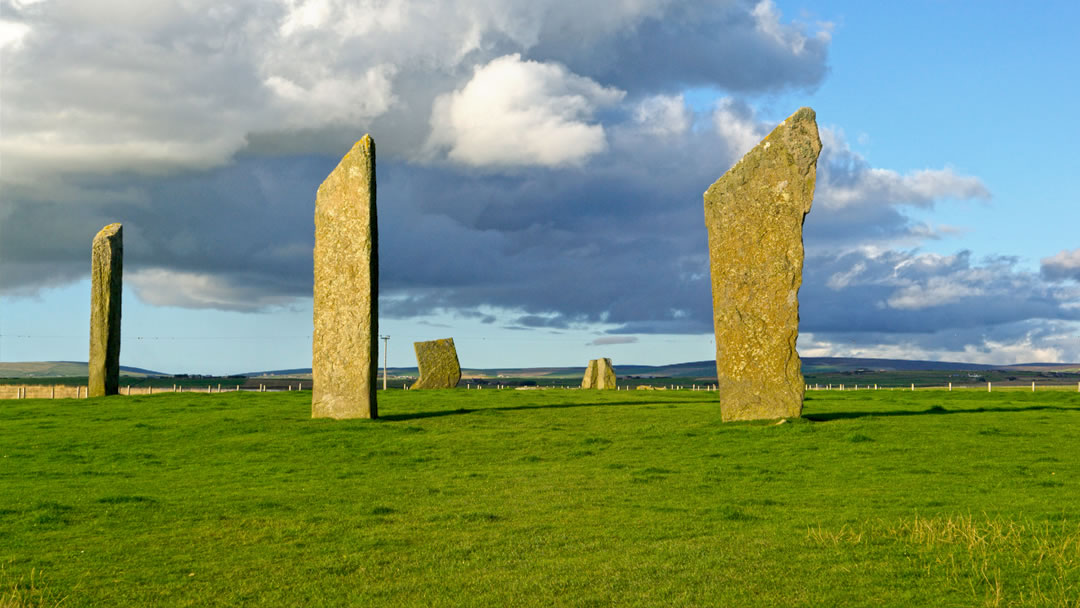 The stream is now bridged, but at one time was crossed by a stepping stone causeway. Across the stream, the Ring of Brodgar lies 3/4 mile away and Maeshowe chambered cairn lies 3/4 mile to the east, suggesting that this area had particular importance. The name, Stenness, comes from Old Norse meaning stone headland.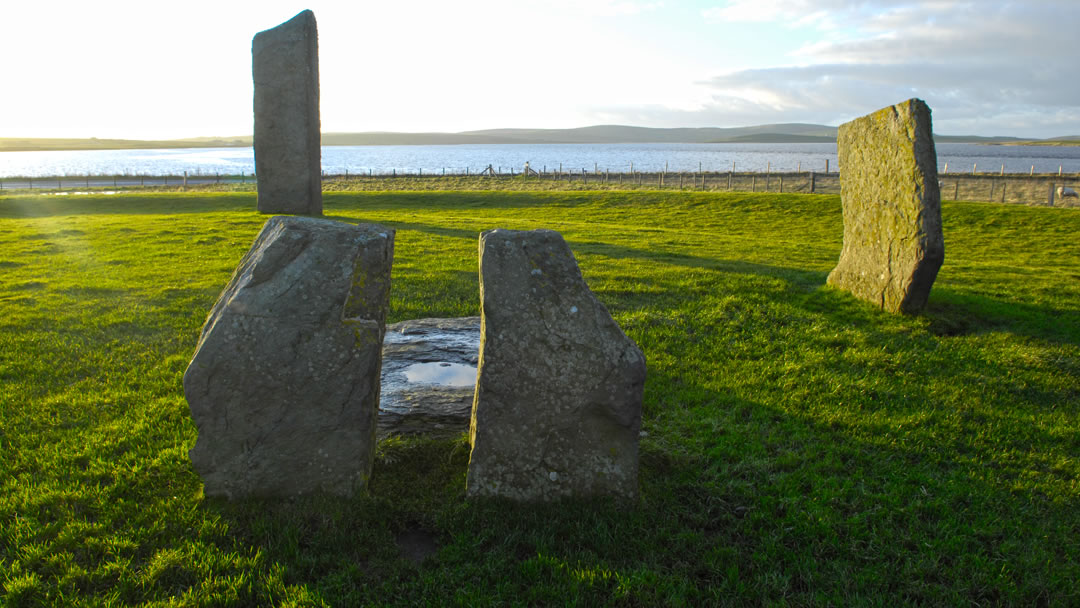 The stones themselves are very impressive – there are 4, each 30cm thick and up to 5m high. These were part of a stone circle of 12 stones, which were laid out on a levelled platform surrounded by a substantial ditch thought to be 4m wide and 2.3m deep. Though the ditch no longer remains, this was a considerable physical obstacle around the circle of standing stones. The only way into and out of the circle was via a single causeway facing the Neolithic Barnhouse Settlement.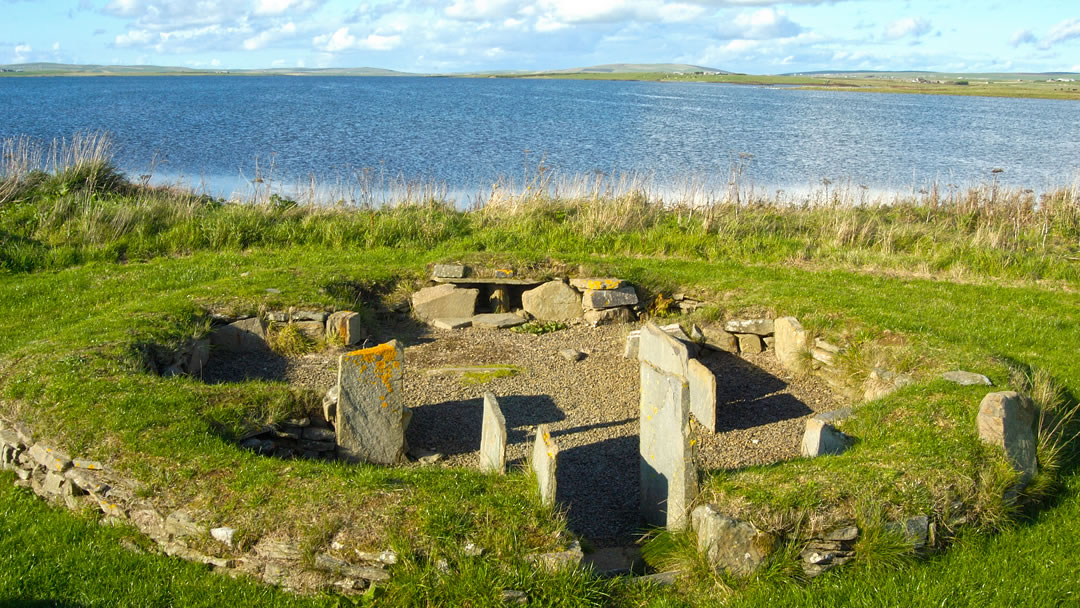 Why the Standing Stones of Stenness were erected is still a mystery. Our best guess as to their function is that they were involved in activities and ceremonies celebrating the relationship between living and past communities.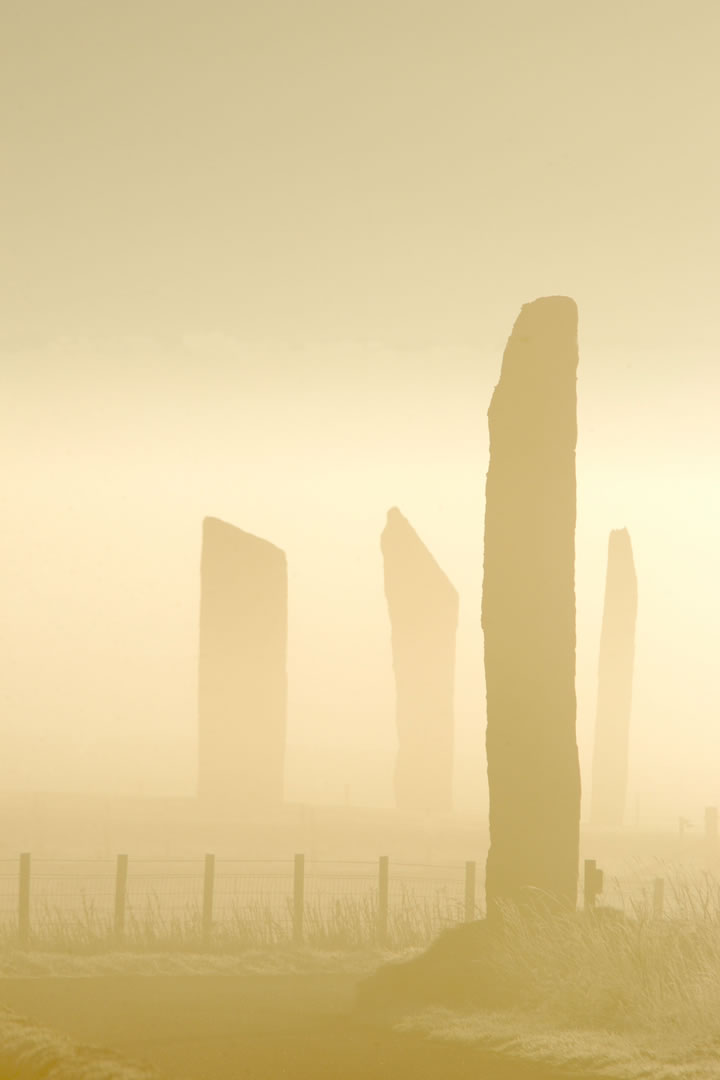 In the centre of the circle are smaller stones where cremated bone, charcoal and pottery were found, and animal bones were found in the ditch. The pottery links the monument to Skara Brae and Maeshowe and informs us that Neolithic visitors cooked and ate plenty of food at the site.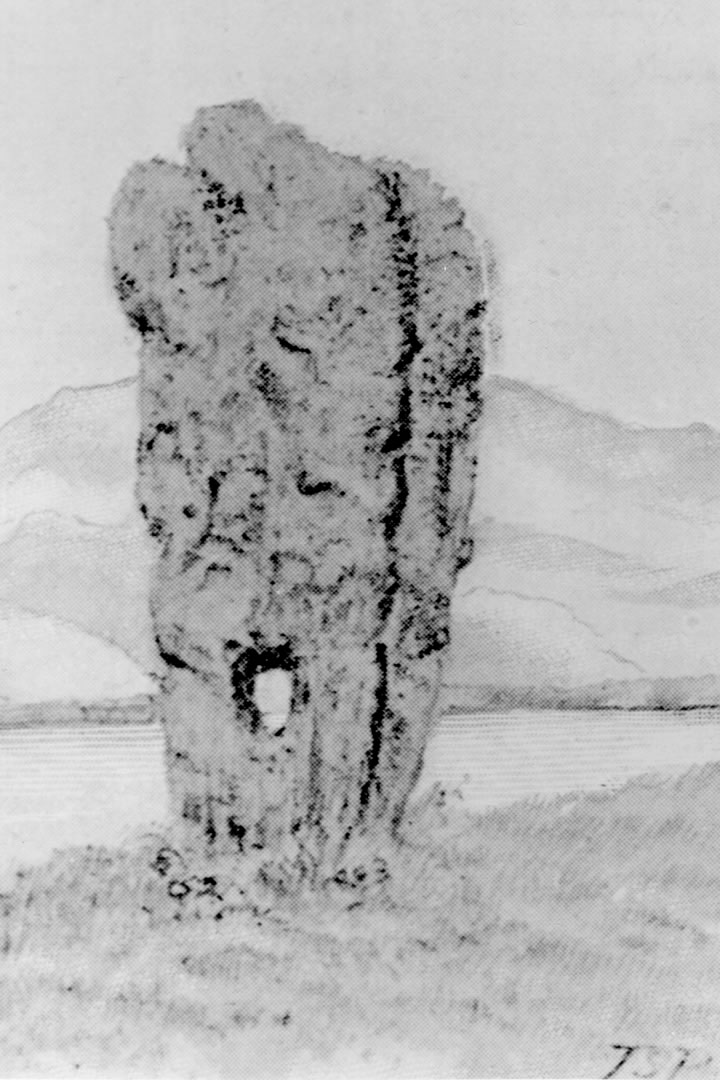 Traditions lingered through the ages – even in the 18th century the site was linked with rituals, then relating to Norse gods. One stone, known as the "Odin Stone" had a circular hole which was used by local couples for plighting engagements by holding hands through the gap. It was also associated with other ceremonies and believed to have magical power.
In December 1814 Captain W. Mackay, a farmer who owned land close to the stones, decided to remove them on the grounds that local people were trespassing and disturbing his land by using the stones in rituals. He started in December 1814 by smashing the Odin Stone. This caused outrage and he was stopped after destroying one other stone and toppling another.
The toppled stone was re-erected in 1906. Today, the Standing Stones of Stenness remain a popular visitors attraction and remind us that even neolithic man could carry out tremendous feats of engineering!
Header image: The Standing Stones of Stenness at sunset in Orkney photo © Copyright Charles Tait