Sumburgh Head is a 100m high cliff located at the southern tip of the Shetland Mainland. It is a jagged rocky spur, and at the top, is Sumburgh Head lighthouse, which was built in 1819 by Robert Stevenson.
Cars can reach halfway up to the top of Sumburgh Head and there is a car park at the midway point. The rest of the distance to the lighthouse must be taken by foot, and the path is steep but safe.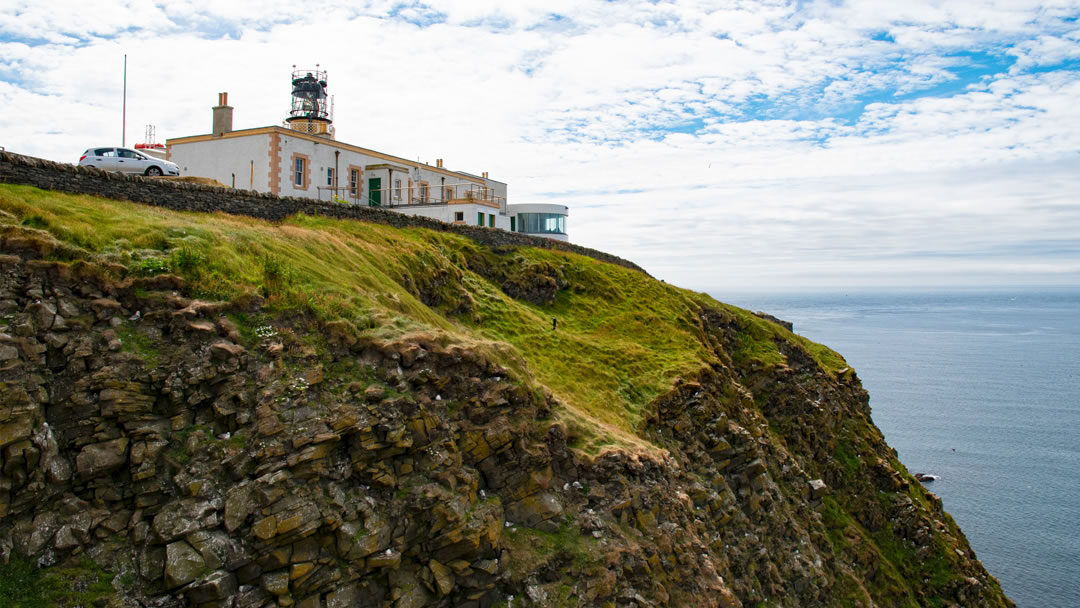 Sumburgh Head is an ideal cliff to take children birdwatching, as there is a high stone dyke at either side of the path. By peering over the dyke, children can see puffins and many other seabirds whilst remaining far from the cliff edge. The area itself is an RSPB nature reserve, and a puffin webcam from Sumburgh Head is installed every summer.
The Old Norse name was Dunrøstar høfdi, it means "The Head onto the Thunderous Noise", referring to the noise of Sumburgh Roost. Sumburgh Roost is an area of sea off the south of Shetland where two tidal streams meet with dramatic results. The tidal stream at Sumburgh Roost can be seen as a a thin silver band of small breaking waves south of Sumburgh Head. The abundance of fish here make Sumburgh Head a popular viewing point for whales and dolphins.
Sumburgh Airport lies immediately to the north of the head, and is Shetland's main airport. Visitors to Sumburgh Head can often catch the impressive sight, from the cliffs, of low flying planes coming in to land at Sunburgh Airport. The road to Sumburgh Head also passes over one of the runways at Sumburgh Airport, and a crossing system has been devised to keep traffic away from landing aircraft!
One mile north of Sumburgh Head is the settlement of Grutness, which is the terminus of the Shetland Mainland to Fair Isle ferry service. Other sites of interest near Sumburgh Head include the archaeological site of Jarlshof, a series of settlements dating from the neolithic period, the iron age, and viking times. The Iron Age Broch and Village, Old Scatness (which was discovered during the construction of the airport access road) is also nearby and is well worth a visit.