We are happy to accommodate pets on our ferries to Orkney and Shetland. Animals can either travel in your vehicle, with you in a pet-friendly cabin or in one of our pre-booked kennels.
Things to know when travelling with NorthLink Ferries
Pets don't require a boarding pass and travel free of charge*
Pet-friendly cabins and kennels should be booked in advance.
When on Serco NorthLink Ferries property pets should be kept on a lead.
Only support dogs are permitted in the ship's internal public areas.
It is the passenger's responsibility to clean up after their pet (you may need to bring some cleaning utensils).

* Additional charges and supplements do apply for pet-friendly cabins and kennels
Passenger Checklist
Bowls to allow your pet to drink/eat.
A blanket/basket for your pet to sleep in, something familiar for them.
Any toys you think are suitable.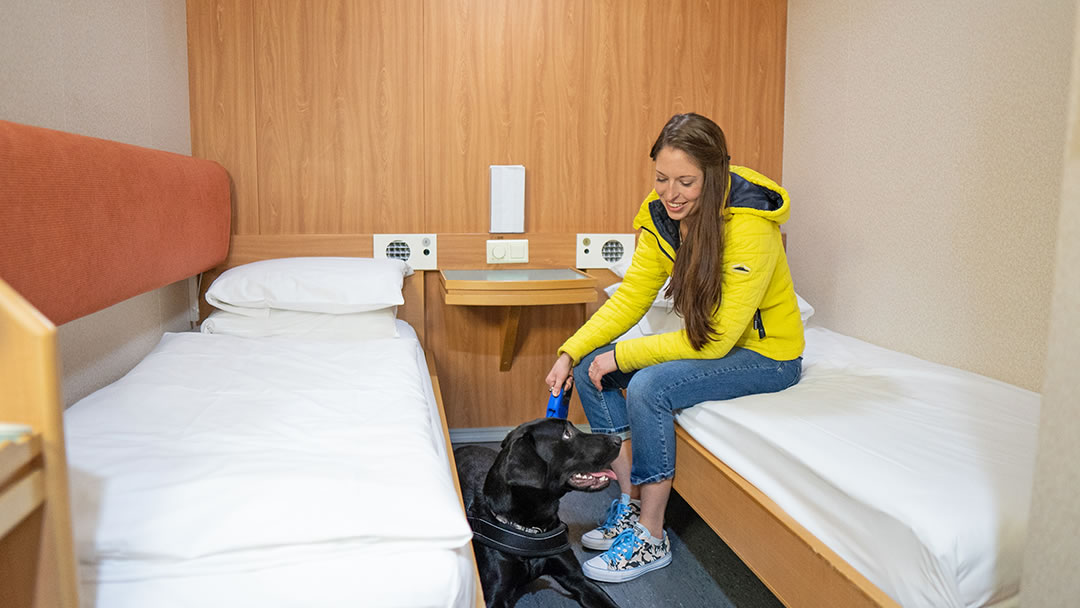 Pet Friendly Cabins
NorthLink passenger vessels now have pet-friendly cabins available. These cabins retain the same high standards of comfort as NorthLink's suite of other cabin types, having:
Side-by-side lower twin beds.
An en-suite toilet and shower.
Tea and coffee making facilities.
Vinyl floor coverings instead of carpet.
A water bowl.
A NorthLink dog treat from 'Wow Dog'.
Passengers are advised to bring their own bedding for their pets. It is expected that pets will remain on cabin floors and that any mess is cleaned up. A deep clean will be carried out in each pet-friendly cabin each day. The pet-friendly cabins available on each ship are:
Inside 2 berth pet-friendly cabin (MV Hamnavoe, MV Hjaltland and MV Hrossey)
Outside 2 berth pet-friendly cabin (MV Hjaltland and MV Hrossey)
Inside 4 berth pet-friendly cabin (MV Hjaltland and MV Hrossey)
Passengers can walk their dogs on the outer deck which, on Hjaltland and Hrossey, must be reached via the aft staircase and not via the passenger areas. On Hamnavoe, passengers will need to take the main stairs. Due to food hygiene regulations, pets are not allowed in food service areas.
As well as the pet friendly cabin charge, there is a £15 supplement for each pet staying within the cabin. Please note, only one animal can be booked online. Please pay for additional animals at the port.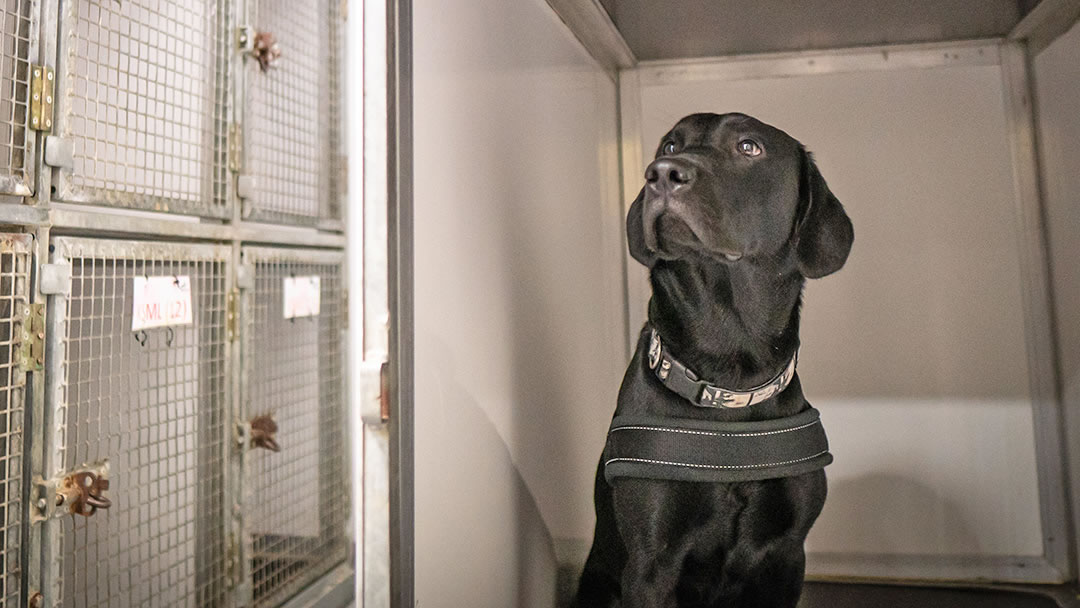 Kennels
Kennel facilities are available on all NorthLink passenger vessels and are located off the car deck.
Kennels are heated and ventilated and water is provided for your pet to have a drink during the journey.
Kennels come in the following sizes:

Large (800mm wide x 1400mm depth x 1000mm height)
Small (500mm width x 700mm depth x 600mm height)

Passengers with more than one pet can have their animals share a kennel if they wish.
It is the passenger's responsibility to clean up after their pet (you may need to bring some cleaning utensils).
It is the passenger's responsibility to deliver and collect their pets from the kennels.
Foot passengers wishing to put their furry friend in the kennel facilities should report to the reception desk on Deck 5. From there you will be escorted to the kennels by a member of staff.
Vehicle passengers using the kennel facilities should take their pet to the kennel upon boarding. Please ask a crew member on the car deck for directions.
Leaving your pet in your vehicle
An alternative option is to leave your pet in familiar surroundings, in your vehicle, provided it is suitably ventilated. Once boarded pets must remain in the vehicle and pets cannot be exercised on the car deck.
We do request that passengers leaving pets in their vehicle consider the length of the journey and are aware that there is no unaccompanied access to the car deck during the voyage.
Access to kennels and the car deck
During the 90-minute journey on MV Hamnavoe there is no access to the kennels or car deck during sailings. Pets may stay in vehicles, a pre-booked kennel or on the outer deck but must not be left unattended while on the outer deck.
On MV Hjaltland and MV Hrossey, access to the kennels and car deck is restricted and passengers must be accompanied by a member of crew. Contact the reception desk on Deck 5 should you wish to see or exercise your pet on the outer deck, and please be aware that crew may not always be available.
Unaccompanied Animals
A customer collecting or leaving an animal in NorthLink kennels should report to the ferry terminal check in, where they will then be escorted on board. Unaccompanied Animals are free of charge but a kennel cost will apply. Please see the passenger checklist at the top of the page for guidance on what to provide.