The South Isles of Hoy and Flotta are dramatic and distinctive islands compared to the other green Orkney Islands.
Another road branches westwards into utter desolation, a place of kestrels and peatbogs. After five miles the road ends abruptly at a glimpse of sea. The dark hills are still all around, but they hold in their scarred hands a green valley. This is Rackwick, Orkney's jewel.

George Mackay Brown, An Orkney Tapestry
Hoy (from the Norse 'High Island') has a dramatic moorland landscape with tall heather-covered hills (Ward Hill is the tallest in Orkney), stunning beaches and awe-inspiring cliff scenery, whilst Flotta is strewn with wartime buildings, and is the site of the Flotta Oil Terminal, which has dominated its landscape since the 1970s when North Sea Oil production began.
Sites in Hoy worth a visit include:
The Old Man of Hoy – is a 137m seastack which can be seen from the Scrabster to Stromness Ferry, MV Hamnavoe or even closer after an hour and a half walk from the valley of Rackwick. Many climbers scale The Old Man every year.
St Johns Head – is the highest vertical cliff face in Britain at 351m. The first climb of this imposing cliff took 6 days and it can be seen during the NorthLink Pentland Firth crossing.
Rackwick – a once abandoned valley with a sand and giant pebble beach. Many Orcadians have built holiday houses in Rackwick because it is peaceful and beautiful.
The Dwarfie Stane – a Neolithic burial chamber found off the road to Rackwick which was tirelessly carved out of a giant rock. It is the only tomb of its kind in the UK.
Longhope Lifeboat Museum – the old Lifeboat Station at Brims which contains the lifeboat which served between 1933 and 1962, now tells the history of Hoy's sea rescues and tragedies.
Lyness War Museum – a comprehensive and fascinating museum, one of the finest in Orkney, dedicated to the wartime history of Scapa Flow.
Martello Towers – a Napoleonic Gun Battery and Towers mounted by canons, built to guard merchant ships from marauding American Privateers.
Between the oil wells of the North Sea and the tanks of Flotta stretch unseen, the vast veins and arteries of the new technology. Tankers bigger than some of the islands come and go between Scapa Flow and the refineries and oil-hungry nations near and remote.

George Mackay Brown, Portrait of Orkney
Sites in Flotta worth a visit include:
Flotta Oil Terminal – started production in 1976 and has since processed 10% of Britain's Oil Output. Though not accessible to the public, the Oil Terminal dominates Flotta, and massive oil tankers can be seen almost daily, anchored in Scapa Flow.
Buchanan Battery – a tall coastal defense building with a gun emplacement from WW2.
Stanger Head – another coastal defense battery from WW2, which had two guns to defend the entrance to Scapa Flow. Stanger Head is also known as a good spot for shore fishing.
Top tips
When walking in North Hoy, always stick to the footpaths to avoid being divebombed by Arctic Skuas (Bonxies.) If you do find yourself being dive-bombed, which can be frightening, remember that it is rare that humans are actually struck, and that by holding an item of clothing or stick above your head, the birds will be discouraged from swooping too low!
When walking to the Old Man of Hoy from Rackwick, allow yourself three hours for the trip there and back.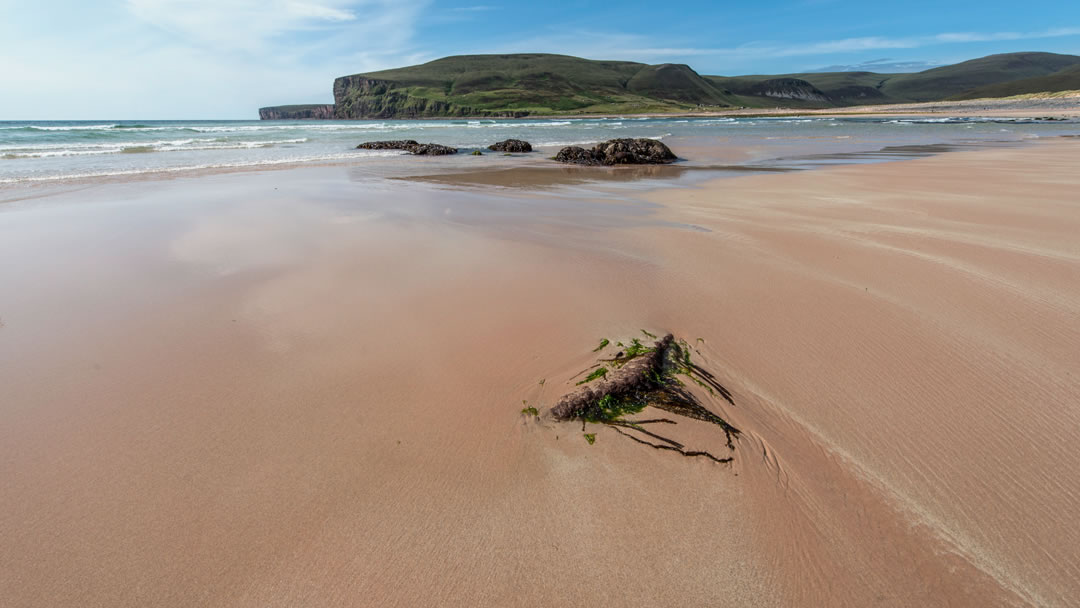 GMB words reproduced by permission of the Estate of George Mackay Brown.