The road to Sandness at the tip of Da Wastside, is a single track one, running through hilly moorland, and darting round the many small lochs found there.
Walls village or Waas as it is known in Shetland is nested round an old harbour, which hosts a regatta every year.
Sandness itself is low and fertile with brochs, cairns and Norse ruins.
Walls is a low attractive village, with lots of brochs (signifying its importance 2,000 years ago) In the 19th Century, Walls was a centre for fish curing. Today it is still an important port, for fishing vessels, the leisure sailors who use the marina and for the ferry service to Foula.
The walk from Walls to Sandness is superb – the low cliffs have numerous caves and sheltered bays to explore.
Sites of interest include:
St Margaret's Kirk – a now disused kirk (built in 1792) with a well maintained graveyard, St Margaret's Kirk also offers views of the seascapes to the North, including views of Papa Stour. The Papil Stone, with it's distinctive markings was found in St Margaret's Kirk, and though drawings of it remain, the stone itself mysteriously vanished.
Huxter – the site of a broch, and three horizontal water mills – Norwegian clack mills (also known as Click Mills) – a similar one can be found in the West Mainland of Orkney.
Vaila Sound – The island of Vaila shelters Walls from the sea, and it is now inhabited by only one family. On the island of Vaila can be found Vaila Hall – an extremely impressive building (the largest house in Shetland) which is currently undergoing restoration. Looking out to Vaila Sound from Walls provides excellent views.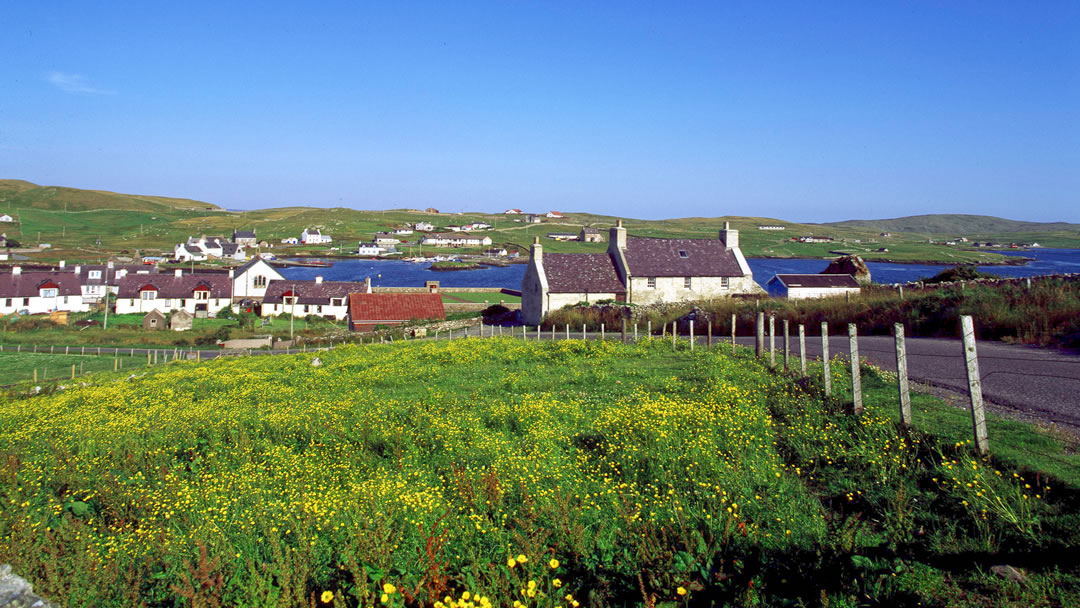 Walls village – or Waas as it is known in Shetland is nested round an old harbour, and though quieter than it once was, the community is still active, hosting a regatta every year amongst other events. In Walls can be found a swimming pool, community hall, school, shop, garage, health centre and a magnificent bakery.
Top tips
During the summer, several village halls in Da Westside offer Sunday teas. These are terrific value with mouth-watering home-baking and a friendly atmosphere.
The single track road to Walls is very well maintained, but drivers need to watch out for Shetland ponies wandering across the road in the same way sheep do elsewhere.