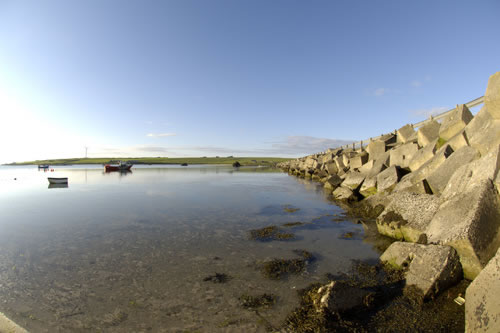 The Churchill Barriers are a series of four causeways linking the Orkney Mainland to the islands of Lamb Holm, Glimps Holm, Burray and South Ronaldsay with a total length of 1.5 miles. They were built in 1940 as naval defences following the sinking of The Royal Oak, but now serve as road links, carrying the A961 road from Kirkwall to Burwick.
In 1914 the Royal Navy's Grand Fleet moved to Scapa Flow as it was one of the largest sheltered harbours in the world and was ideally located to take on a German Fleet based in the Baltic. The narrow passages between the five islands on the eastern side of Scapa Flow were defended by sinking blockships. At the start of WWII further blockships were sunk and submarine nets were deployed, but proved inadequate.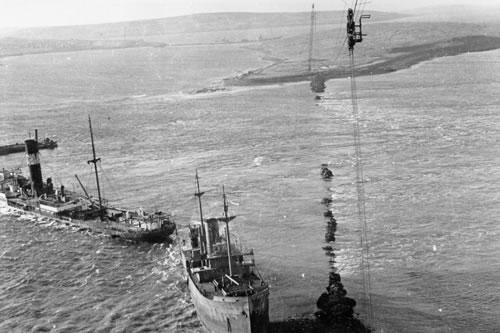 On 14 October 1939, the German U-Boat, U-47, made it's way past the blockships at high tide and torpedoed HMS Royal Oak which was lying at anchor in Scapa Flow. 833 members of the Royal Oak's crew were killed. Within a month, Winston Churchill visited Orkney and ordered that work begin on the construction of four permanent barriers.
To form the bases over 250,000 tons of broken rock were dropped from overhead cableways into waters up to 59 feet deep. The bases were then covered with 66,000 concrete blocks in five-tonne and ten-tonne sizes. The five-ton blocks were laid on the core, and the ten-tonne blocks were arranged on the sides in a random pattern to act as wave-breaks.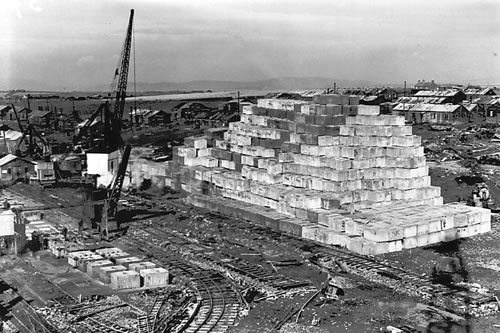 Material was quarried on Orkney, and concrete blocks were cast on an industrial scale on the islands before being brought to the cableways by a network of railways.
Much of the 2,000 strong labour force was provided by over 1300 Italian prisoners of war. The prisoners were divided between three camps, 700 in two camps on Burray and 600 at Camp 60 on Lamb Holm. These men also contructed The Italian Chapel.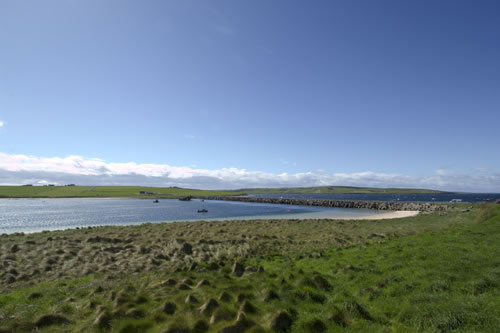 As the use of POW labour for War Effort works is prohibited under the Geneva Convention, the works were justified as 'improvements to communications' to the southern Orkney Islands.
The work began in May 1940 and was completed by September 1944. The Churchill Barriers were formally opened by the first Lord of the Admiralty on 12th May 1945, four days after the end of World War II in Europe.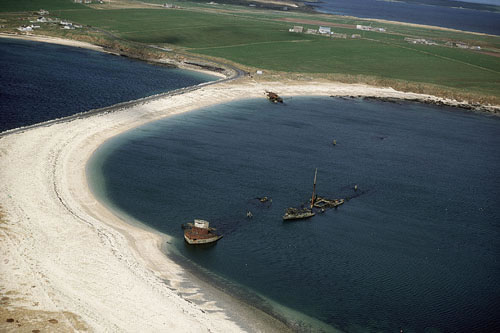 The lasting role of the Chruchill Barriers has not been as a defence for Scapa Flow, but as a series of causeways linking the five islands together. The roads crossing them have been improved over the years and Barrier No 4, no longer looks artificial. Over the years dunes have accumulated on the eastern side to form a lovely sandy beach and as a result Burray and South Ronaldsay are no longer really separate islands.