Scrabster Ferry Terminal, Queen Elizabeth Pier, Scrabster, Caithness, KW14 7UW, United Kingdom
What3Words: Scrabster Ferry Terminal ///arose.drops.shock
What3Words: Scrabster vehicle check-in ///volcano.handrail.grove
Scrabster Ferry Terminal is located in Scrabster on the North coast of Scotland, 1½ miles from Thurso, 22½ miles from Wick and 112 miles from Inverness.
For those who prefer a shorter sailing time of just 90 minutes the Scrabster – Stromness route is ideal. Many people wish to take advantage of the spectacular views of the Old Man of Hoy, and St John's Head, which can only be seen on this route.
Before travelling please remember to check the Service Update webpage.
Scrabster Car, Bus, Ferry, and Airport Connections
Car
Follow the A9 to and from Inverness. The journey is approximately 115 miles and takes around 2 hours 30 minutes. When travelling as a foot passenger please note the location of long stay parking supplied by Scrabster Harbour trust, luggage and passengers can be dropped off at the terminal prior to parking.
Bus
The X99 bus from Inverness to Scrabster takes just under 4 hours. The X99 or 82 bus journey from Thurso to Scrabster takes 5 minutes. All bus services from Inverness are operated by Stagecoach and some stop at the Ferry Terminal in Scrabster, while others stop 1½ miles from the Terminal, in the centre of Thurso.
Train
The Far North Railway Line from Inverness to Thurso takes just under 4 hours. Thurso train station is situated 2 miles from Scrabster – around a 6 minute drive.
IMPORTANT: Train passengers are advised to prebook Scrabster taxi travel for ferry connections, due to the restricted bus timetable between Scrabster and Thurso.
Airport
The nearest airports are Wick-John O'Groats (with services to Edinburgh and Aberdeen) which is located 23½ miles from Scrabster. Inverness Airport is located 120 miles away and offers flights across the UK and Europe.
For more detail, please visit Scrabster Travel Connections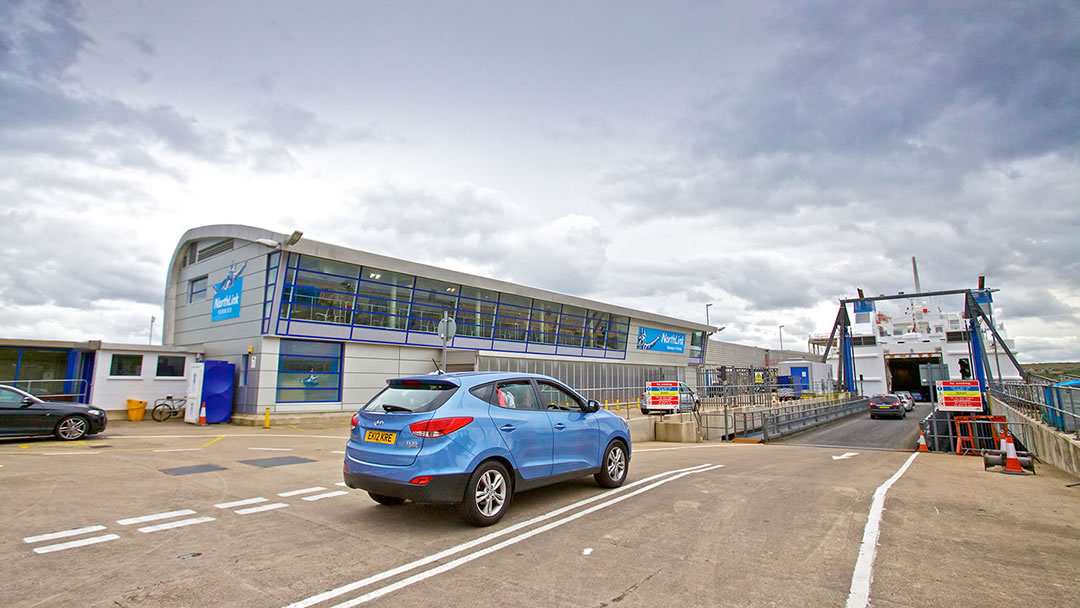 Scrabster Terminal Facilities
Ticket Sales and Enquiries.
Hot Drinks Vending Machine.
Toilet.
Accessible Toilet.
Accessible Entry.
Scrabster Ferry Terminal Accessibility information
Parking at Scrabster
This venue does not have its own car park, however the following are available nearby the terminal:
Long Stay (Pay):
Operated by Scrabster Harbour Trust, who can be contacted on +44 (0) 1847 892779. The cost is £10 for 1 to 14 days. Tokens can be purchased for cash only from the NorthLink vehicle terminal on your return. The long stay car park is situated 400m from the passenger terminal so please allow ten minutes to walk back.
Short Stay (Free of Charge):
Limited shared parking including disabled spaces at the end of the building.
Please note there is no left luggage facility. Bags are left at owner's risk.
Checking in at Scrabster
Foot passengers are required to check in at the foot passenger terminal situated at the ferry berth on the new pier. Passengers arriving at the old pier should allow appropriate time to make their way to the foot passenger check-in terminal on the new pier (some 800m distance) no later than 30 minutes prior to published departure time. Car drivers are recommended to check in at least one hour prior to departure.
Check-in closes 30 minutes prior to departure.
Scrabster Ferry Terminal Opening Hours
| | | |
| --- | --- | --- |
| Monday | 07:15 - 09:00 | 17:00 - 19:00 |
| Tuesday | 07:15 - 09:00 | 17:00 - 19:00 |
| Wednesday | 07:15 - 09:00 | 17:00 - 19:00 |
| Thursday | 07:15 - 09:00 | 17:00 - 19:00 |
| Friday | 07:15 - 09:00 | 17:00 - 19:00 |
| Saturday | 10:00 - 12:00 | 17:00 - 19:00 |
| Sunday | 10:00 - 12:00 | 17:00 - 19:00 |
Streetview tour of the Scrabster Terminal
Greener travel – Electric charging infrastructure
Visit the Zap-map website or download the app to view electric charge points in the locality.
Greener travel – Active Travel
Transport Scotland is committed to increasing levels of cycling and walking for transport and leisure. It goes without saying that walking and cycling benefits an individual's physical health, but it also provides wider mental health and wellbeing benefits, reduces environmental impacts and helps to keep people's transport costs down.
Transport Scotland is committed to making it easier for everyone to incorporate active travel choices into their daily routines and Serco NorthLink Ferries shares this vision.
Why not take advantage of walking and cycling options more often?
A storage stand for 8 cycles is available outside the terminal building as well as a bike repair stand with tools.
Cycling maps are available:
https://www.cycle-route.com/routes/Caithness_and_Sutherland-Routes-112.html
https://www.highland.gov.uk/downloads/download/199/core_paths_in_caithness
Thurso Cycling Trails:
https://www.mapmyride.com/gb/thurso-sct/
Greener travel – Car-sharing
Why not consider sharing your car journeys with people on similar routes / times? This helps to save money and improve our local air quality and wellbeing.
Header image: MV Hamnavoe leaving Scrabster sailing to Orkney viewed from the air photo © Copyright Karen Munro