Queen Elizabeth Pier, Scrabster, Caithness, KW14 7UT, United Kingdom
Scrabster Ferry Terminal is located in Scrabster on the North coast of Scotland, 1½ miles from Thurso, 22½ miles from Wick and 112 miles from Inverness.
For those who prefer a shorter sailing time of just 90 minutes the Scrabster – Stromness route is ideal. Many people wish to take advantage of the spectacular views of the Old Man of Hoy, and St John's Head, which can only be seen on this route.
Scrabster Terminal Facilities
Ticket Sales and Enquiries
Hot Drink Machine
Disabled Access
Disabled Toilet
Scrabster Ferry Terminal Accessibility information
Parking at Scrabster
The long stay car park in Scrabster is operated by Scrabster Harbour Trust who can be contacted on +44 (0) 1847 892779. The cost is £10 for 1 to 14 days. Tokens can be purchased for cash only from the NorthLink vehicle terminal on your return. The long stay car park is situated 400m from the passenger terminal so please allow five to ten minutes to walk back.
Please note there is no left luggage facility. Bags are left at owner's risk.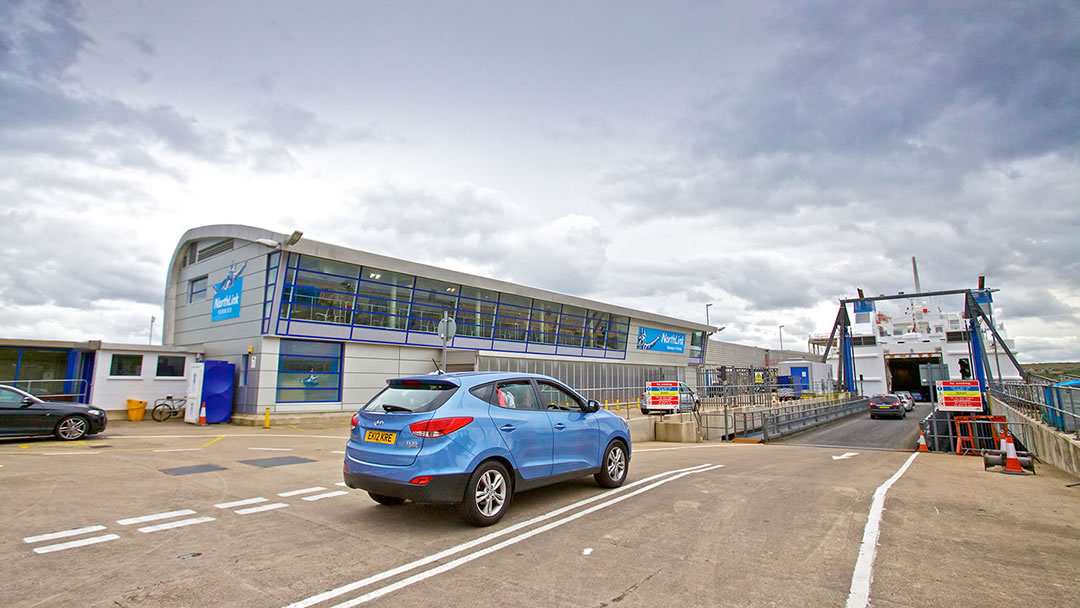 Checking in at Scrabster
Foot passengers are required to check in at the foot passenger terminal situated at the ferry berth on the new pier. Passengers arriving at the old pier should allow appropriate time to make their way to the foot passenger check-in terminal on the new pier (some 800m distance) no later than 30 minutes prior to published departure time. Car drivers are recommended to check in at least one hour prior to departure.
Final check-in is 30 minutes prior to departure.
Scrabster Ferry Terminal Opening Hours
| | | | |
| --- | --- | --- | --- |
| Monday | 07:15 - 08:45 | 11:15 - 13:15 | 17:00 - 19:00 |
| Tuesday | 07:15 - 08:45 | 11:15 - 13:15 | 17:00 - 19:00 |
| Wednesday | 07:15 - 08:45 | 11:15 - 13:15 | 17:00 - 19:00 |
| Thursday | 07:15 - 08:45 | 11:15 - 13:15 | 17:00 - 19:00 |
| Friday | 07:15 - 08:45 | 11:15 - 13:15 | 17:00 - 19:00 |
| Saturday | 07:15 - 08:45 | 11:15 - 13:15 | 17:00 - 19:00 |
| Sunday | 10:00 - 12:00 | | 17:00 - 19:00 |
Streetview tour of the Scrabster Terminal
Scrabster aerial photo © Karen Munro