Jamieson's Quay, Aberdeen, AB11 5NP, United Kingdom
Aberdeen Ferry Terminal is located within the historic city of Aberdeen on the North East coast of Scotland. The port is a very convenient port of departure, being located just 125 miles from Edinburgh and 145 miles from Glasgow. Aberdeen is served well by all forms of public transport.
Aberdeen Ferry Terminal Facilities
Ticket Sales and Enquiries
Payphone
Hot and Cold Drinks Vending Machines
Left luggage
Lift
Disabled Access
Disabled Toilet
Aberdeen Ferry Terminal Accessibility information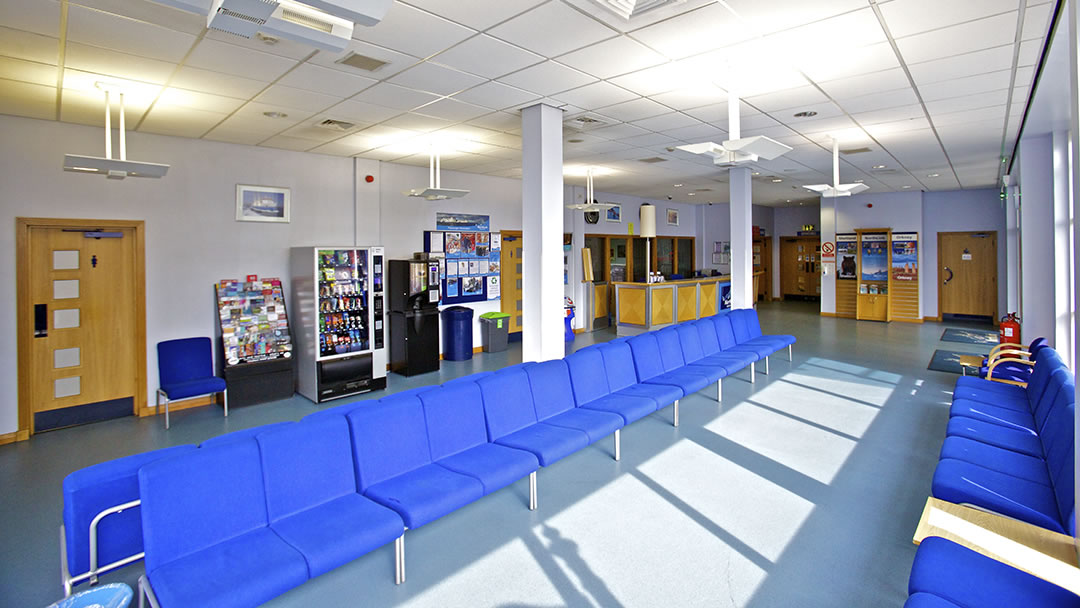 Luggage
The left luggage facility is available to passengers who are booked for the same day's sailing from 08:00 up until 2 hrs 15 mins before departure.
Luggage must be labelled for the onward voyage (e.g. Kirkwall or Lerwick).
It is the responsibility of passengers to transfer their own luggage from the left luggage facility to the luggage trolleys. All items of baggage are left at the owners risk and maybe subject to searching if regulations require.
Parking at Aberdeen Ferry Terminal
Car parking (hourly/daily rates apply) is available nearby the Aberdeen Terminal at
The car park at Commercial Quay is operated by Aberdeen Harbour Board. Parking is allowed for a maximum of 72hrs.
Union Square (www.unionsquareaberdeen.com/parking) which is 3 minutes away. This is surface parking for standard parking bay size vehicles, with no height restriction.
NCP Ship Row (tel: 07867 500780) which is 15 minutes away. There is a height restriction of 1.9m. A discount is available to NorthLink Ferries passengers with a validated NCP ticket (tickets are validated on return in the NorthLink Ferries Terminal Aberdeen and prices are £9 for each of the first 3 days and £6 for each day after that.) Please note: This discount is subject to change by NCP without notice.
Parking for oversized vehicles / vehicles with tows is available at Aberdeen Beach Boulevard and Esplanade.
Shopmobility Aberdeen in Union Square have a wide range of mobility items for people to use in Aberdeen. Visit the Shopmobility website for more information. The charity can deliver and collect to and from the NorthLink Aberdeen Terminal.
In the morning
Only the driver needs to come down to the car deck (when called) to remove the vehicle from the ship. Passengers are welcome to stay onboard until 9.30am (last orders for breakfast is 9am) and can leave by the passenger walkway, if they prefer.
Drivers may return to the ship after moving their vehicles – go into the passenger terminal and through the walkway, and show your boarding card to security.
There is a bus stop just outside the Aberdeen Ferry Terminal for the 727 Jet Bus service to Aberdeen Airport. The service will operate at the following times:
Monday to Friday
– 07:42 Leaves NorthLink Aberdeen terminal / 08:34 Arrives Aberdeen Airport
– 14:55 Leaves Aberdeen Airport / 15:27 Arrives NorthLink Aberdeen Terminal
Saturday & Sunday
– 07:20 Leaves NorthLink Aberdeen terminal / 08:02 Arrives Aberdeen Airport
– 15:20 Leaves Aberdeen Airport / 15:51 Arrives NorthLink Aberdeen Terminal
Please be aware that the Jet Bus also calls in more regularly at nearby Union Square. For more details about this daily service please view the 727 Jet Bus timetable here.
Aberdeen Terminal Breakfast Parking
Please note that we now have a designated parking area for those passengers wishing to return to the ship for breakfast.
Please enter and exit spaces via lane 10. Thank you.
Checking in at Aberdeen
As the Aberdeen terminal is in the city centre, passengers should allow sufficient time if arriving by car. Check-in at Aberdeen Ferry Terminal commences two hours prior to departure. Car drivers are recommended to check in at least one hour prior to departure.
Final check-in is 30 minutes prior to departure.
Aberdeen Ferry Terminal Opening Hours
Monday
06:45 - 19:00
Tuesday
06:45 - 17:00
Tuesday *
06:45 - 19:00
Wednesday
06:45 - 19:00
Thursday
06:45 - 17:00
Friday
06:45 - 19:00
Saturday
06:45 - 17:00
Sunday
06:45 - 17:00
* 19:00 closing from 1st Jan - 31st Mar, and 1st Nov - 31st Dec.
Streetview tour of the Aberdeen Terminal