NorthLink's passenger ferries to Shetland and Orkney provide easy access and a full range of facilities for those with accessibility requirements.
These include cabins, lifts, Changing Places toilets, and removable seats in restaurants to allow wheelchair access. Please view the Company Accessibility Policy here or contact us to request a copy of our Inclusive Travel Guide.
You can also access a range of accessibility tools to view this website!
If you have any requirements during your journey, our staff will be delighted to assist to help make your sailing as easy and comfortable as possible.
Accessible cabins for passenger with a disability
MV Hjaltland and MV Hrossey have four accessible cabins. Three (two standard and one premium cabin) are designed to allow ease of access and sleeps two, whilst the fourth is fitted with a hoist and sleeps three.
MV Hamnaove has two accessible cabins. One is a standard accessible cabin which sleeps 3 and one is fitted with a hoist and sleeps two.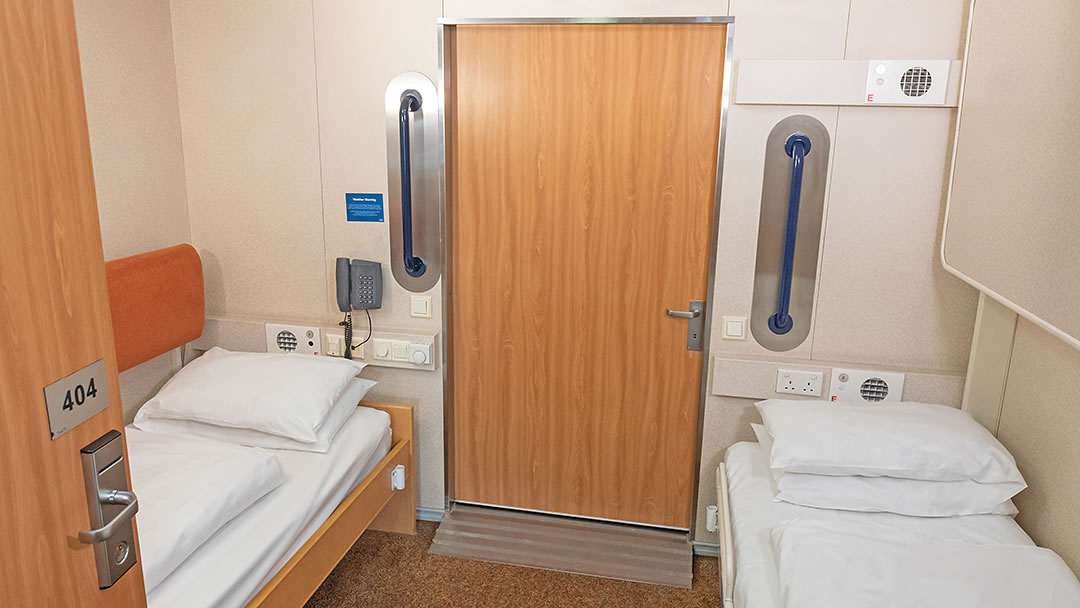 All beds in accessible cabins (apart from the drop-down berth) are at normal height. Accessible cabins have wide access electrically operated doors and sinks at the correct height. Toilets are fitted with the required rails and handles. Each cabin is equipped with a waterproof seat which can be wheeled into the shower and toilet.
If required passengers can also take oxygen bottles on board.
Accessible cabins can be booked by phoning 0800 111 4422, emailing [email protected], visiting an office or online. Simply switch on the 'Please show accessible cabins' button on the 'accommodation' selection screen.
Changing Places
All three passenger vessels are equipped with Changing Places facilities. The MV Hjaltland and MV Hrossey facilities are on Deck 6 and the MV Hamnavoe facility is located on Deck 5.
Boarding assistance for passenger with a disability
Staff are on hand to assist passengers either through the terminal or from the car deck with a wheelchair if required. Walkways make it possible to use a motorised wheelchair from terminal to ship. If you intend to use the lift from the car deck we recommend that you notify us in advance so that a parking space next to the lift can be reserved for you.
Let us know how we can assist you with the WelcoMe
Customers with specific accessibility needs can effortlessly improve their experience at NorthLink Ferries with WelcoMe, a disability aware customer service platform.
WelcoMe is available through any web browser at https://www.wel-co.me/visitors and allows you to easily communicate the specific assistance you might require when travelling with NorthLink Ferries.
This helps NorthLink staff know how best to support you and ensures that we provide the best service possible, tailored to your individual needs.
Facilities in the Terminal
NorthLink Ferries have detailed descriptions of the facilities available in each terminal. Please visit the links below to find out more:
Header image: The Changing Places toilet on board NorthLink ships photo © Copyright Colin Keldie