Up Helly Aa is the biggest of the fire festivals that take place in the winter months in Shetland. This Viking themed fire festival takes place in Lerwick on the last Tuesday of January – this year Tuesday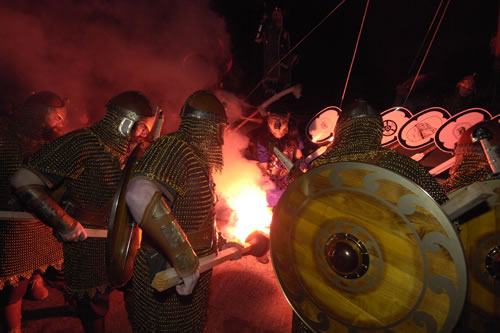 28th January 2020. The day involves a series of marches and visitations and in the evening is the most famous part – the torch-lit procession and Galley burning.
At 18:50, the men, known as Guizers (because they are in disguise), will gather to receive their torches. On the stroke of 19:30, a rocket fired into the sky is the signal for them to light up their torches. Then the blazing procession begins, with almost a thousand men marching, led by a large squad of Vikings; the Jarl Squad. The Jarl Squad march, pulling a Viking Galley with their leader – the Guizer Jarl – standing on top. When the Galley reaches the burning site, the torchbearers form a circle round it and sing the traditional Up Helly Aa song. Another rocket is fired and the Guizer Jarl leaves the ship. A bugle call sounds, and the torches are hurled into the galley! The burning galley and the flames in the January winds are quite as sight to see!
Up Helly Aa Live 2020

We are proud to sponsor the Up Helly Aa live webcam for eight consecutive year in partnership with Promote Shetland Welcome to the live stream of this evenings Up Helly Aa - you can also view the webcast on our website here: https://www.northlinkferries.co.uk/uphellyaa/ #Shetland #YCW2020 #ScotSpirit #OnlyInScotland #UpHellyAa2020 #UpHellyAa VisitScotland #FireFestival #ProudSponsors Shetland Webcams

Posted by NorthLink Ferries on Tuesday, January 28, 2020
Dates for all Shetland Fire festivals are as follows –
Scalloway Fire Festival – Friday 10th January 2020 (second Friday of January)
Lerwick Up Helly Aa – Tuesday 28th January 2020 (Last Tuesday of January)
Lerwick Junior Up Helly Aa – Tuesday 28th January 2020 (Last Tuesday of January)
Nesting & Girlsta Up Helly Aa – Friday 7th February 2020 (10 days after Lerwick festival)
Uyeasound Up Helly Aa – Friday 14th February 2020 (Usually Second Friday of February)
Northmavine Up Helly Aa – Friday 21st February 2020 (Third Friday of February)
Bressay Up Helly Aa – Friday 28th February 2020 (Last Friday of February)
Cullivoe Up Helly Aa – Friday 28th February 2020 (Last Friday of February)
Norwick Up Helly Aa – Saturday 29th February 2020 (Last Saturday of February)
Walls Junior Up Helly Aa – Friday 6th March 2020 (First Friday of March)
South Mainland Up Helly Aa – Friday 12th March 2021 (Second Friday of March)

Cancelled for 2020

Delting Up Helly Aa – Friday 30th October 2020

(Usually Third Friday of March but postponed until October in 2020)