There are several ways to travel to Orkney and Shetland with NorthLink Ferries.
Scrabster to Stromness
The MV Hamnavoe travels from Scrabster at the very north of Mainland Scotland to Stromness in the Orkney islands. This ferry sails up to 6 times a day with the journey only taking 90 minutes and is the only ferry that sails past the iconic Old Man of Hoy. This famous seastack is usually the first landmark visitors can tick off their bucket list.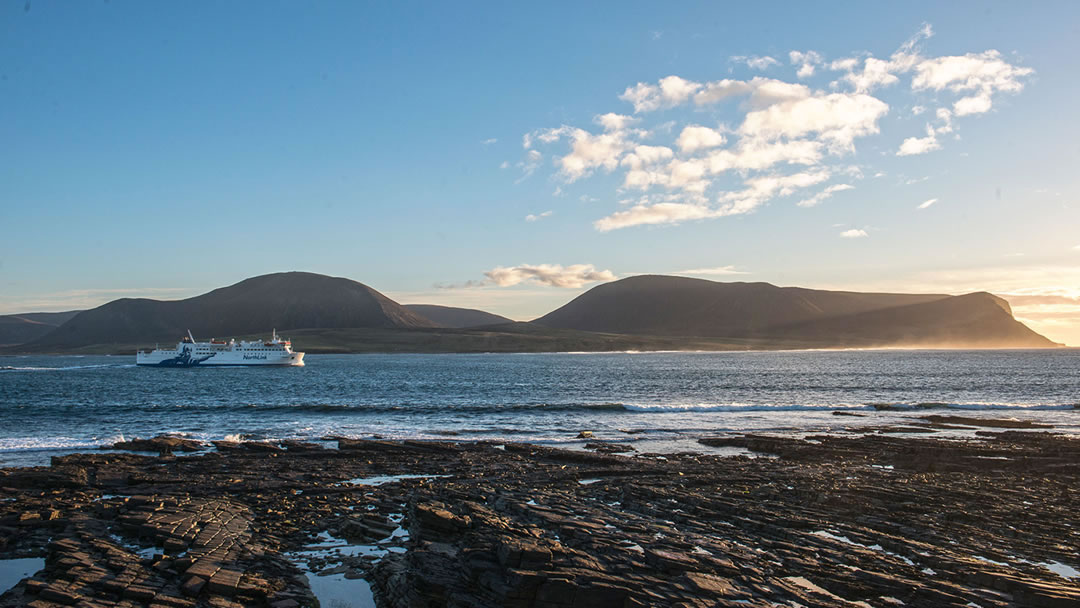 The first sailing of the day is from Stromness to Scrabster and the final sailing is from Scrabster to Stromness at 19:00. MV Hamnavoe docks in Stromness overnight and on the final night of your holiday, you can sleep on board the ship before taking the first morning sailing to Scrabster.
To reach Scrabster the A9 is the road to take. Take the A9 from Inverness and you'll view stunning scenery from mountains in the Highlands, the flat, desolate terrain of the Flow Country and the beautiful coastal scenery of the North East. When you reach Thurso, follow the signposts through the town to the ferry at Scrabster.
Aberdeen to Lerwick
Getting to the Northern Isles has never been easier with nightly sailings to Shetland from Aberdeen every evening on board the MV Hrossey and MV Hjaltland. Every night, one ship travels from Aberdeen to the Lerwick while the other ship sails from Lerwick to Aberdeen. One ship will sail directly whilst the other stops off every night at Hatston in Orkney.
The Aberdeen terminal is conveniently located at Jamieson's Quay, in the heart of the city. It's directly over the road from Union Square Shopping Centre, a five-minute walk from the bus and train stations as well as a ten-minute walk from Union Street.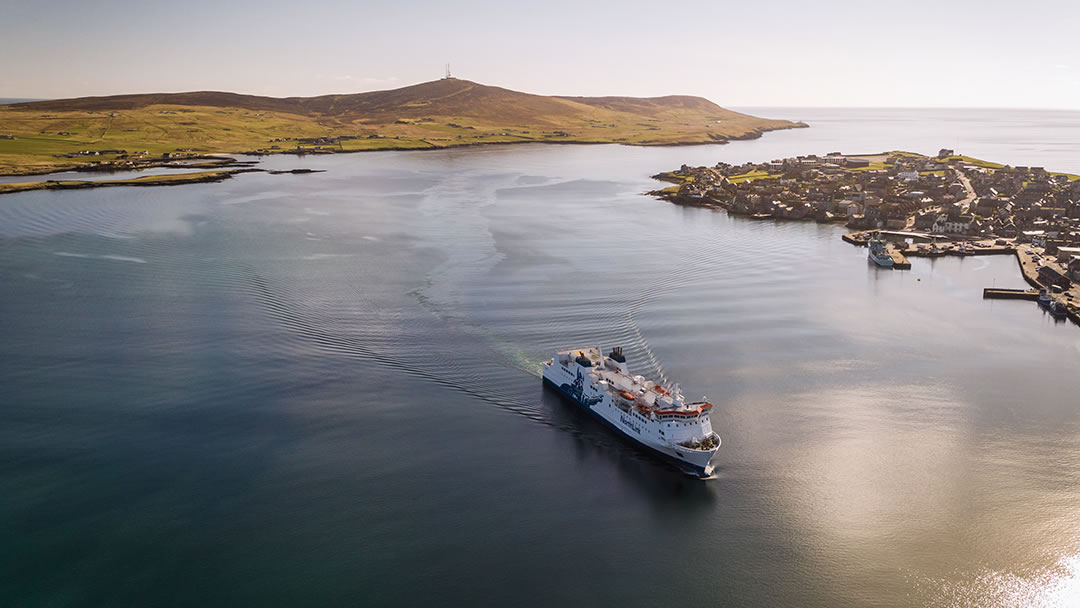 Aberdeen to Kirkwall / Kirkwall to Lerwick
In addition to the MV Hamnavoe you can sail to Orkney from Aberdeen via the MV Hrossey and MV Hjaltland. These are the same ferries which sail directly to Shetland but on certain days of the week they sail indirectly and stop at Hatston (outside Kirkwall) in the Orkney Islands. Departing Aberdeen at 1700 they stop in Hatston at 2300, before continuing northwards to Shetland again at 2345.
The ferry travels from Aberdeen to Kirkwall (and then from Kirkwall to Lerwick) on a Tuesday (not in winter), Thursday, Saturday and Sunday night.
The ferry sails from Lerwick to Kirkwall (and then from Kirkwall to Aberdeen) on a Monday (not in winter), Wednesday, and Friday night.
If you were interested in visiting both island groups then perhaps travelling from Aberdeen to Lerwick, then Lerwick to Hatston, and finally Stromness to Scrabster, may be a great way to see everything!
If you're looking for more information on the islands then please visit the Your Holiday page.
Distances by road (in miles)
| | | | | | | | |
| --- | --- | --- | --- | --- | --- | --- | --- |
| | Aberdeen | Edinburgh | Glasgow | Inverness | Kyle of Lochalsh | Perth | Scrabster |
| Aberdeen | - | 127 | 145 | 104 | 182 | 88 | 216 |
| Edinburgh | 127 | - | 46 | 156 | 201 | 45 | 268 |
| Glasgow | 145 | 46 | - | 169 | 175 | 59 | 281 |
| Inverness | 104 | 156 | 169 | - | 78 | 113 | 115 |
| Kyle of Lochalsh | 182 | 201 | 175 | 78 | - | 157 | 193 |
| Perth | 88 | 45 | 59 | 113 | 157 | - | 225 |
| Scrabster | 216 | 268 | 281 | 115 | 193 | 225 | - |
Distances by sea (in miles)
Aberdeen to Kirkwall is 154 miles
Kirkwall to Lerwick is 115 miles
Aberdeen to Lerwick is 216 miles
Scrabster to Stromness is 30 miles
Header image: NorthLink Ferries routes from the Scottish Mainland to Shetland and Orkney photo © Copyright Simon Price