Exploring Caithness with Above and Beyond Tours
NorthLink Ferries were pleased to catch up with Angela and Isobel of Above and Beyond Tours. They spoke passionately about the tailor-made tours they offer of their home county.
Caithness is the ideal location to appreciate your surroundings, be in the moment and embrace the spectacular scenery, big skies, fresh air and unspoilt coasts
These tours are for small groups and take visitors off the beaten track to discover the hidden gems available to see in Caithness!
Q. Angela and Isobel – can you tell us a bit about yourselves and how Above and Beyond Tours began?
A. Angela: I ran a successful Bed and Breakfast in Caithness for over 17 years; Isobel runs an Air BnB in Thurso currently and she is a qualified Life Coach. Between us both we are very passionate about Caithness and we decided to launch Above and Beyond Tours this year.
Isobel: I had actually been away from Caithness for 30 years and when I returned I realised how much I missed the place! Angela and I were friends for many years but we never saw each other much. However, when I returned we started talking about setting up a tour company; first with a chat in January and then we launched our business in March!
Q. Why do you think Caithness is such a super destination for tourists?
A. Angela: Caithness is a unique year-round destination and ideal for exploring at a slower pace, it's very peaceful and allows you to escape from daily stresses in today's fast-paced culture.
Visiting Caithness is not about crossing off a tick list. Slow tourism is becoming very popular and we think that Caithness is the ideal location to appreciate your surroundings, be in the moment and embrace the spectacular scenery, big skies, fresh air and unspoilt coasts that our county has in abundance. It is an ideal destination and is still as yet, unexplored – we feel.
Isobel: We also have the fantastic Flow Country which people love as well as beaches and woodland walks.
Angela: People now are also keen to explore more of their own country and for anyone who's aware of their carbon footprint and less keen to get on a flight. We noticed through Air BnB that people are doing more 'stay 'cations. People are maybe considering travelling further afield within their own country.
Q. Do you think that the NC500 has something to do with the increased interest in Caithness?
A. Isobel: Absolutely and from the guests I have had staying in my Air BnB a lot of them have said we are doing NC500 however we wish we had longer. That's going back to what I said about the tick box, we are getting feedback from those people doing the NC500 who say they want to come back and explore more of Caithness and want to spend longer periods of time here, two to three days is sometimes not long enough.
Q. Can you tell us a bit about the tours you offer?
A. Isobel: Currently Above and Beyond offers three key tours. 'A Road Less Travelled' goes across Flow Country, which is a proposed World Heritage Site, en route visit the tranquil Westerdale Mill. This is a fantastic spot on the Thurso River and nearby Loch More is one of the most peaceful places you could go to (as well as wild, depending on the weather).
Our 'On the Edge' tour visits the UK's most northerly point at Dunnet head. Then we go to the Duncansby Stacks where we can see a vast array of birds and wildlife. In season we often see puffins, which our customers love!
Our third tour is 'Cairns to Coast' and this takes us over a remote and wild landscape to the Grey Cairns of Camster. This is a 5,000 year old Neolithic site steeped in history and atmosphere. Then we drive on to some of Caithness's many small picturesque harbours. This includes Lybster, which is beautiful, and we can also take people to the Whaligoe steps.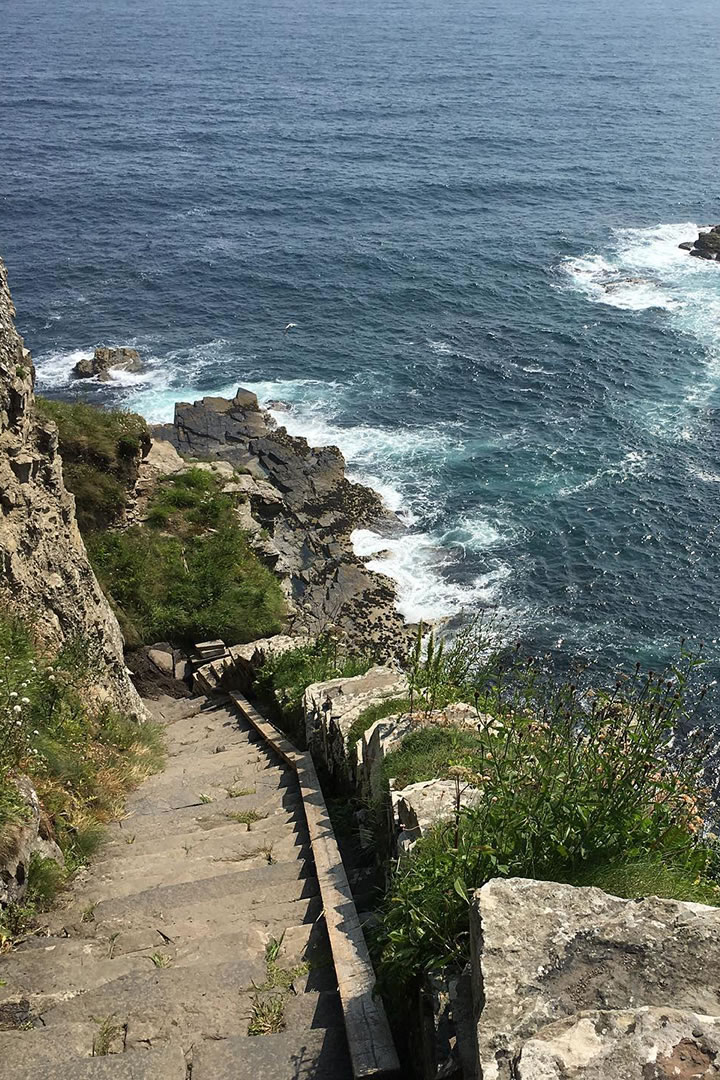 We like to incorporate mindfulness and wellbeing for our customers; the tour is for them, we are giving them three to four hours of our time, we want them to make the most of their day out.
Other popular requests have been to take people exploring to find their heritage. We've had a few Americans who have been keen to visit the Strathnaver Museum in Bettyhill to find out more about the Highland Clearances and Clan Mackay.
Angela: All our tours are flexible and can be adapted to create a unique, bespoke and personalised experience.
People tracing their family's history is a big thing at the moment. Visits to graveyards and to Clan Mackay/Gunn/Sinclair country have become a very popular request on our tours.
Q. Can these tours be taken throughout the year?
A. Angela: Yes, absolutely. We try to encourage it. It doesn't matter what the weather is doing as long as you get wrapped up warm. Actually some people find when the weather is wild that it can be totally different; invigorating and refreshing. There have been occasions where elderly people are quite happy to sit in the car and watch the weather. Or they might enjoy visiting a nice restaurant overlooking a wild beach – that can be an attraction.
Q. What would you recommend I take on an Above and Beyond tour?
A. Angela: We always take into consideration our customer's mobility when we first meet them and when we ask what they want from the tour. Then we customise the tour to their preference. Our advice is to take warm waterproof clothing as Caithness weather can be so unpredictable (but also invigorating!) We recommend good walking shoes, we provide binoculars but a camera is essential to capture the moment and create memories.
A couple of healthy snacks are worth taking in case you get hungry and some juice or water. However the main thing that we try to emphasise is to just take you.
Q. How many people might go on your tours, in terms of group size?
A. Angela: We want to keep it more personal so we do our tours in our cars. We don't want to hire a big van with logos saying that we're on tour. Our visitors really enjoy that more personal experience so we take up to four in a car but the ideal number is 2 or 3, depending on the length of the tour. We want people to be comfortable and have plenty of space, and hear what we are saying!
Q. What do you think might surprise people about Caithness when they take one of your tours?
A. Angela: Caithness is one of the last wildernesses; its' unexploited beauty make it a unique destination. The rugged coastline, big skies and views as far as the eye can see (without needing to climb to the top of a hill) are always appealing to our visitors. They have that feeling of being away from it all. People really enjoy that and "wow" is a familiar saying on our tours.
Q. Have you had any nice comments from those who have been on one of your tours?
A. Isobel: We get lovely reviews and hugs at the end because of the personalised nature of the tour! There have been some cases where people get out of the car and walk a few hundred metres and say "wow, this is amazing!" We've had great feedback and it makes it so worthwhile to hear how much our guests have enjoyed our tours.
What we also do is send an email to our customers afterwards. When they are on tour it's tricky to remember all the names of the places they have visited. So we send out an email reminder with all the place names we have visited on the tour and people really appreciate that. So far we've been getting five star TripAdvisor reviews which is great.
Angela: Yes, we've had many nice positive comments. However, we've also received lots of encouraging comments from the local community saying "what a great idea" and "well done on showcasing Caithness". It's really encouraging that local people are behind us too!
Q. What is your own favourite place in Caithness?
A. Isobel: There are too many to mention, but for me it has to be Loch More and Westerdale. This is close to my home village of Halkirk and there are many happy memories there. Going to Westerdale and walking by the river is just bliss. It doesn't matter if it's raining, if it's snowing, if it's brilliant sunshine; I just love being there. It has such a feeling of peace and tranquillity.
Angela: For me, my favourite, because I was brought up on the coast, are the rugged coastlines with pounding waves and quaint harbours, but there are so many beautiful places in Caithness like this; it's hard to pick out one. One of the most popular things to do while on our tours is Groatie Buckie hunting.
This allows our visitors to totally switch off and be lost in the moment. A Groatie Buckie is a shell, and you can find them on our quiet, pristine beaches, but they can be elusive!
When our guests find one, they are delighted. If they don't happen to find one, we will gift them one that we have found. It's such a simple pleasure; there's no cost. Our customers love finding a wee Groatie Buckie to take home and remind them of their holiday in Caithness.
Q. What do you enjoy most about running Above and Beyond Tours?
A. Isobel: One of the things I enjoy is working with local people. We have recently introduced experience days where we work in partnership with many local companies for example, Rock Rose Gin, Wolfburn Whisky, Coco Chocolatier, Inspired by Caithness, Lindsey Gallacher Jewellery, Braeside Retreats, Highland Haven and Haven House Art
The thing both Angela and I enjoy most though is meeting new people and showing off our beautiful county. Our guests are so enthusiastic. They are so delighted to be driven around by someone local. What we do now we love because it's so personal. It gives us great pride taking visitors around in all weathers, especially when they appreciate the county and what we've shown them. In Caithness there's always something special around the corner.
To find out more about Above and Beyond Tours and to book your own personalised guided tour of Caithness with Angela and Isobel, please visit https://www.aboveandbeyondtours.co.uk/
Pin it!