John o' Groats Brewery – fine ale from the far north
In the far north of Scotland, John o' Groats Brewery have been creating quality craft ales since 2015. Allan Farquhar, John Mainprize and Simon Cottam are the owners of this small artisan brewery and they use the best ingredients and pure highland waters to make delicious cask ales and bottled beers.
Probably the easier beer to try first would be the 'Golden Groat' which is the 4% bottled Golden Ale. When nicely chilled, it is a refreshing drink in which you can taste the malted barley and the biscuit flavours from the Amber malt that we use.
NorthLink Ferries spoke to John Mainprize to find out more!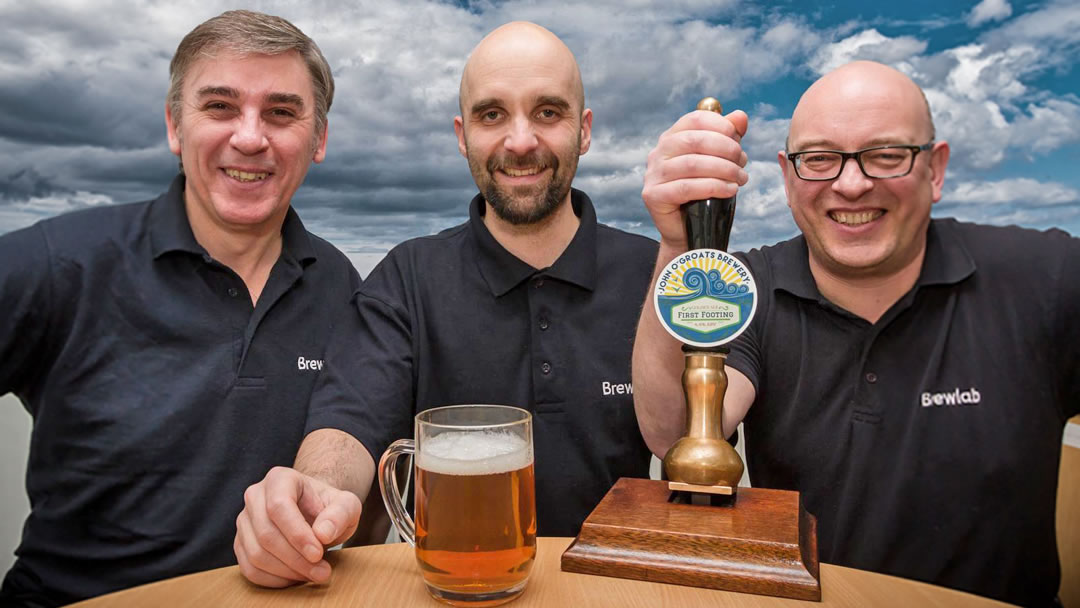 Q. What was it about the brewing industry that appealed to you?
A. I've been a home brewer for a number of years before the Brewery was set up, starting as many do with kit brewing using cans of malt extract. Then I moved on to all grain brewing, using a cooler box as the Mash Tun and a tea urn as a boiler!
My fellow brewers and I were lucky enough to be working at Dounreay, the nuclear site which is being decommissioned, when the 'Make the Right Connections' programme started. This offered retraining for people proposing ideas for future businesses.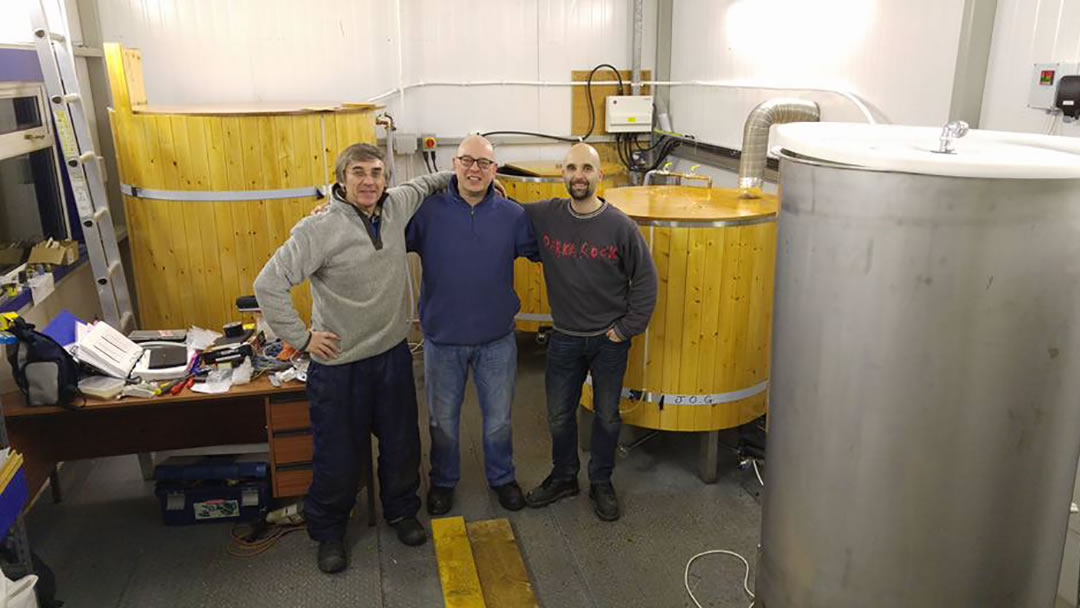 Our proposal for brewing training was accepted and we undertook this at Brewlab in Sunderland. We went through an introductory course and then a three-week residential course. These taught us a wide range of brewing and industry knowledge.
So I've always had an interest in brewing, from drinking when I was a young adult, through to home brewing, and then moving onto the brewery.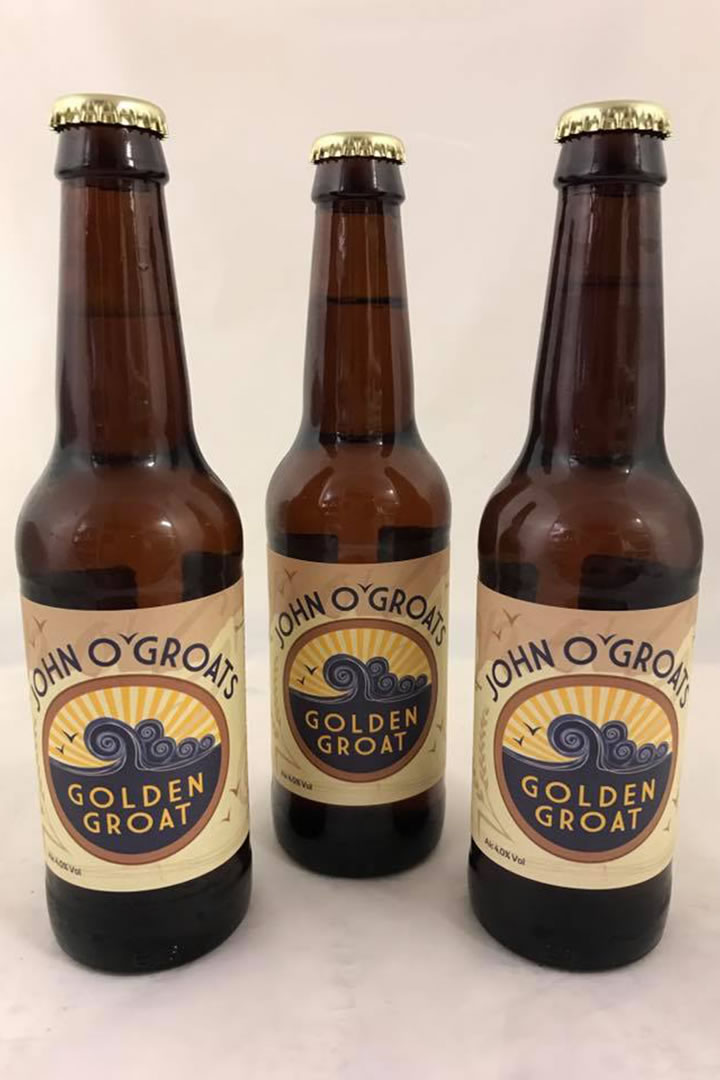 Q. What would you say was your most popular product at John o'Groats Brewery?
A. Well in terms of Cask Ale I think it's got to be 'Swelkie' which is a 4% Golden Ale. In terms of bottles, I reckon it would be the bottle version of 'Swelkie' which is called 'Golden Groat'. It's exactly the same recipe but uses different yeast. In terms of beer ratings I think it would probably be our 'Deep Groat Oatmeal Stoat' which is 4.8%. Incidentally, this recently won a bronze medal at the London Beer competition and is named in their '10 best Stoats to try'.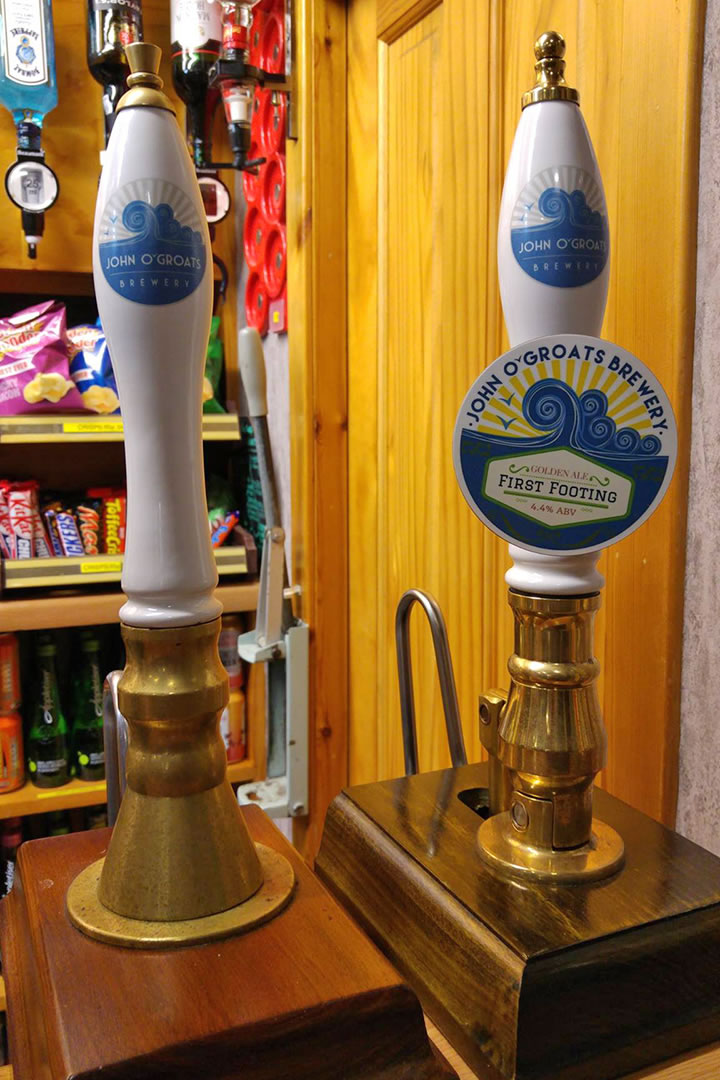 Q. Do you have a favourite drink from the selection at John o'Groats Brewery?
A. Well I guess because I'm a bit off a traditionalist in my brewing I'd probably have to say the Duncansby Cask Ale. This is a traditional 4.5% Pale Ale but it is amber in colour. Duncansby Cask Ale uses crystal malted barley which gives the beer its colour and its caramel toffee flavour. It uses Challenger and Bramling Cross hops in the brew, so it is a very traditional English Ale.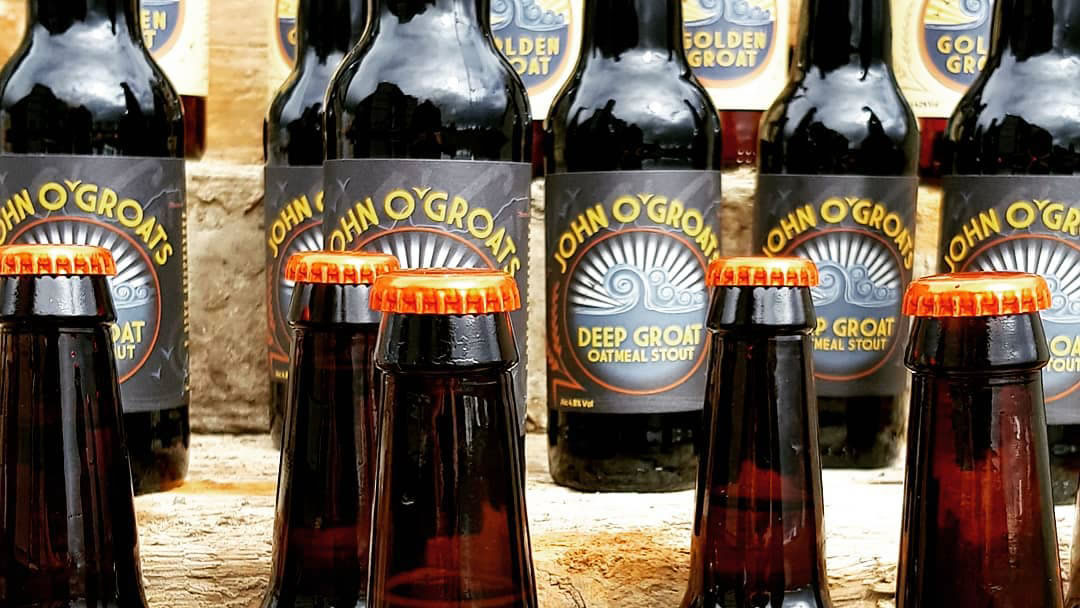 Q. For those who have never tried your drinks, what drink would you recommend they try first?
A. That's a good question! I've deliberately not followed the recent trend (particularly among new brewers) to brew very highly hopped beers. To a certain extent, that has been dictated by my taste but also I think that the market is saturated with highly hopped beers. There's still a demand for more balanced beers where the malted barley character can be tasted alongside the hops.
So in answer to your question I think our beers are approachable by everyone; beer drinkers and non -beer drinkers alike. Probably the easier beer to try first would be the 'Golden Groat' which is the 4% bottled Golden Ale. When nicely chilled, it is a refreshing drink in which you can taste the malted barley and the biscuit flavours from the Amber malt that we use, as well as the citrus hops from the American Cascade hops that are in the brew.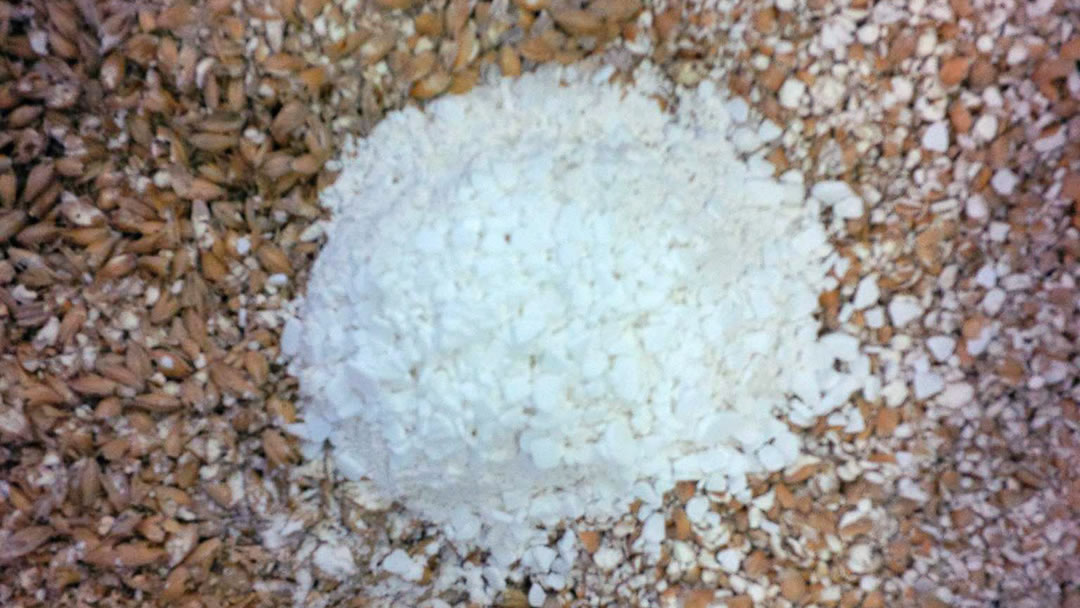 Q. Could you describe the brewing process?
A. Essentially we mix the grist, which is the malted Barley and other grains, with brewing salts. These are natural minerals that we use to change the water composition for the different types of beer. For our size of brewery we use about 110 to 120 kilos of malted barley and other grains in each batch of beer and that's mixed with water at around 74°C in the Mash Tun. It's left to sit there at around 66°C for an hour and that helps to release the sugars held in the grain.
After an hour the sugar solution, known as the wort, is transferred slowly to the boiler, also known as the kettle or the copper (boilers used to be made of copper). At the same time that we are doing the transfer we spray hot water on top of the mash to wash out any residual sugars. So that will all go into the boiler and that will take around one and a half to two hours to reach the boil. When it gets to a boil we then add the first batch of hops. The main purpose for those is for bittering otherwise it would be a very sweet drink and not palatable for most people; so the bittering hops actually make it much more pleasant to drink. During the boil other hops may also be added for aroma and flavour, and the boil is normally about an hour.
Once boiled, we will check the gravity of the work to determine whether it requires dilution with water or concentration by additional boiling. That gravity will then determine what that final strength is once it's fermented so it's important that we get that right.
Once we are happy with the gravity we will then transfer via heat exchange into the fermenter at around 20°C and then we add yeast at that point. That is when it can officially be called beer. It will take about 2 to 3 days for the fermentation process to complete.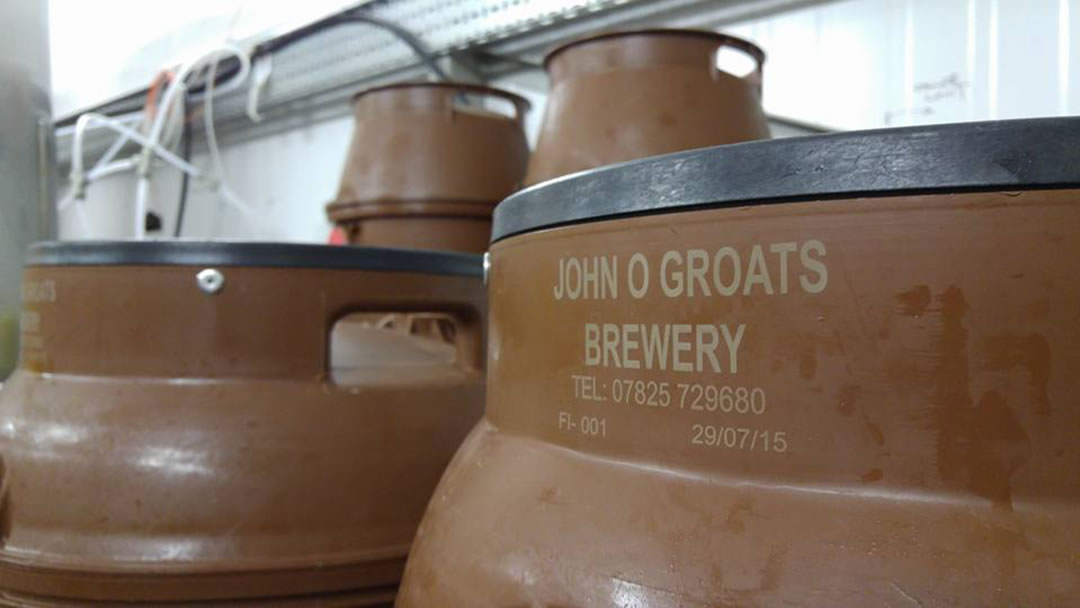 Once it's completed we then transfer to cask where it will sit for the first 3 weeks, conditioning, before it's ready to drink. If it's for bottling we will put it into an IBC and put it down to a bottler and they will hold it for 10 days to condition prior to bottling.
So that essentially is the process. It's a much quicker process then making wine or whisky. The brewing process for us takes about 3½ weeks. The brew day it is literally a day; it's about 8 hours in the brewery to make the brew and then you leave it in the fermenter for 2 to 3 days and then its ready. It goes for conditioning for 2 to 3 weeks. After 3½ weeks it's ready for drinking.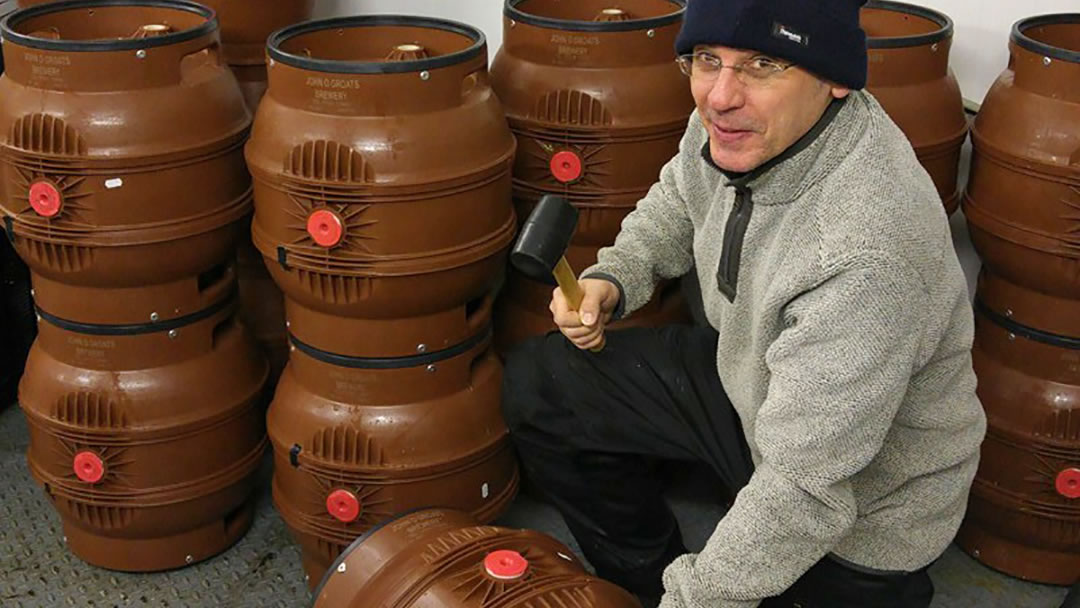 Q. How long did it take to discover the recipes for your products?
A. Some of the recipes were born out of my home brewing days and have been tweaked along the way, such as Swelkie and Duncansby cask ales which then became the 'Golden Groat' and the 'Amber Groat' in the bottles. Others such as the Stout and some of our seasonal cask ales have been developed over the last couple of years and with each batch we have to tweak it until we get it just right.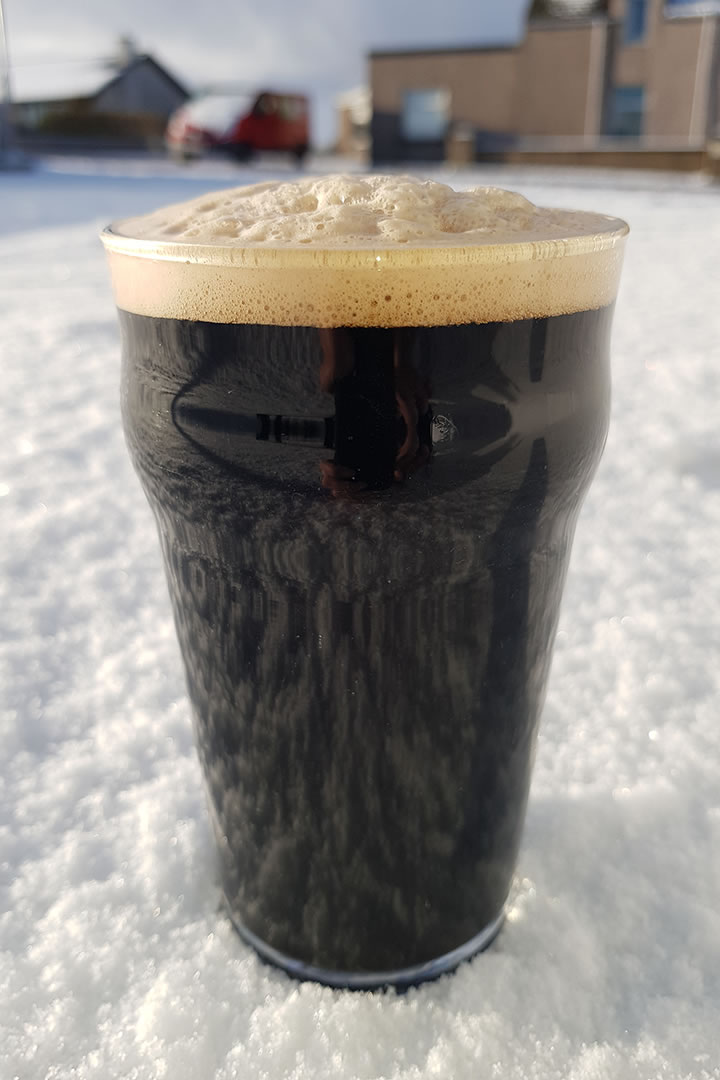 So we are finally getting to the position where, the Stout is pretty much in its final form, but some of the seasonal beers may still need a few tweaks and changes. Some of our seasonable beers use more unusual hops sometimes, and they aren't always available so you have to then find alternatives. Sometimes, purely by chance, you hit on a recipe by a lucky accident and it turns out to be good and very popular.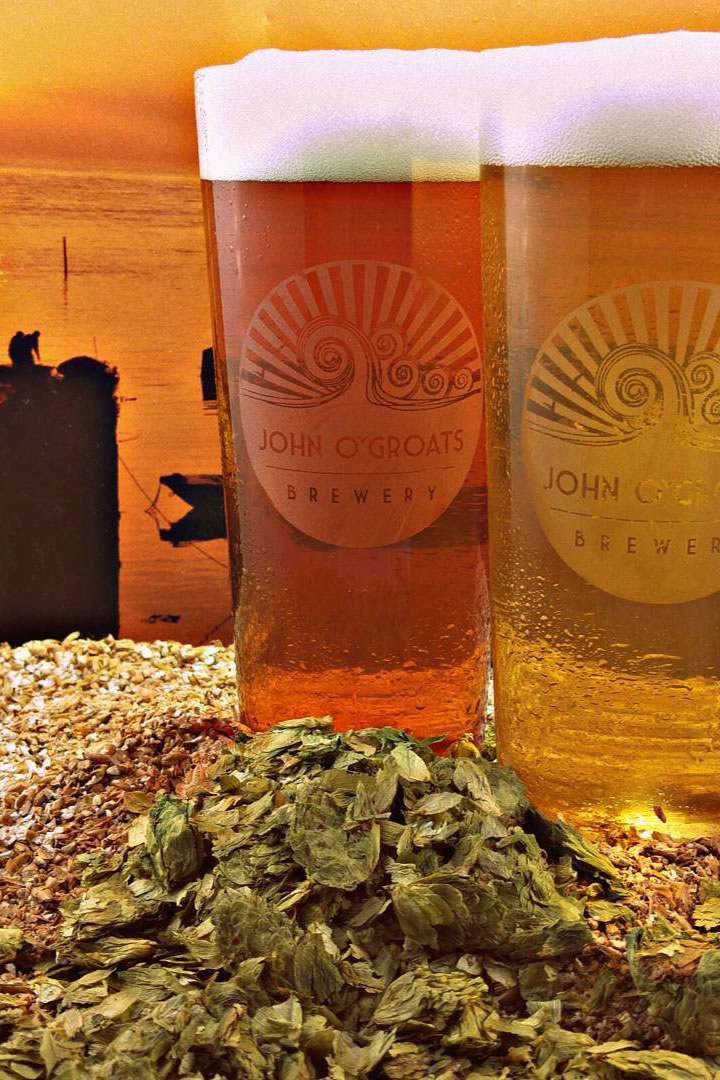 Q. Can we ask about the John o'Groats Brewery's most popular beer – the Golden Ale 'Swelkie'?
A. Well that was the first brew that I made with the home brew set up I had and then I made that with the bigger kit. It seemed logical to use a recipe that I knew was good and had proven to be as popular with others as it is with me. That's really why 'Swelkie' became our number one Ale.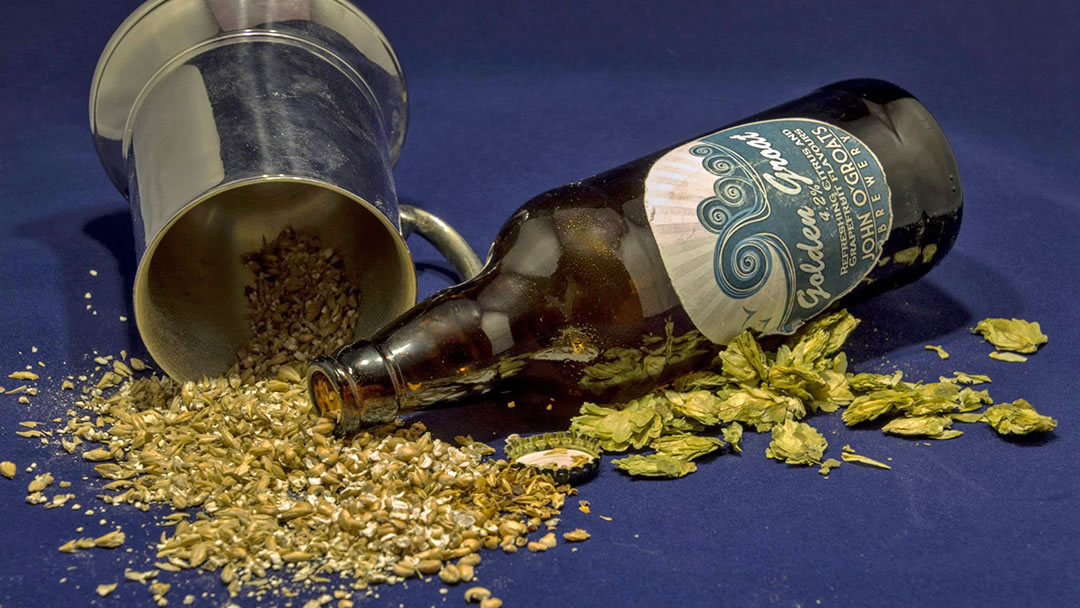 Q. Are some of the ingredients grown or sourced locally?
A. Not really at this time. However I do grow a dwarf hop variety in my poly tunnel at home which I have used in a seasonal cask brew before.
We have started to explore the possibility of using locally grown barley oats however it might be that we can only use those in certain brews. This is because the main beers use a brand or variety called Maris Otter which is a traditional brewing barley (as some other varieties such as Concerto barley) and I'm not sure that these can grow very well so far north!
However, it is certainly something we are looking at because it would be nice to be able to say that more of our ingredients are sourced locally. That said, we are lucky that our water source is the beautiful and fresh Loch Calder.
Q. Where are the best places to go to purchase your products?
A. Well, locally the cask ales are sold regularly been Seaview Hotel in John o'Groats, Mackay's hotel in Wick and the Holborn hotel in Thurso and occasionally in other places around Caithness and in Sutherland. The bottles can be purchased locally via off licence from the Seaview Hotel or J.A Mackay's shop in Thurso and the Nisa local shop in Thurso which is close to the supermarket and Bin Ends both in Thurso and Wick. Further afield our bottles are now available throughout the Highlands and as far down as The House of Bruar in Perthshire.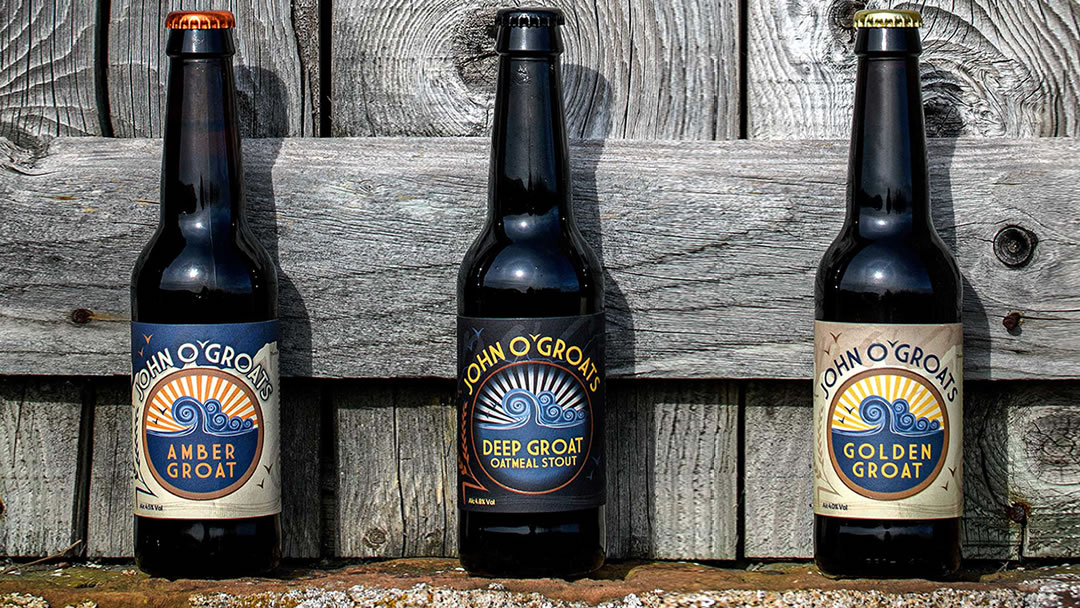 Q. Do you have a lot of visitors these days with the popularity of the North Coast 500?
A. Yes, we've definitely seen an increase in visitors to the brewery, although we are not quite ready for tours and tastings just yet! We did have a visit from Prince Charles, the Duke of Rothesay, who enjoyed a tour and tasting in 2017.
Q. Do you have any exciting projects or new products on the horizon?
A. Leading on from the previous question, we are on the verge of completing and signing a lease to open a John o'Groats Brewery Visitor's Centre and Shop in a prime location at John o'Groats. We are just waiting for the legal necessities to take place and we should have that all hopefully signed within the next few weeks and hopefully it will be ready for next year.
This will allow us to offer a professional tour and tasting experience for our cask ales as well as an outlet to sell our bottle beers and merchandise direct to the consumer. So that's really exciting!
We are also expecting to add 2 or 3 new varieties to our bottle range over the next 12 to 18 months. This will probably include a traditional IPA which is something I've wanted to do for a long time. So it promises to be an exciting 12 months for us and hopefully for our visitors too!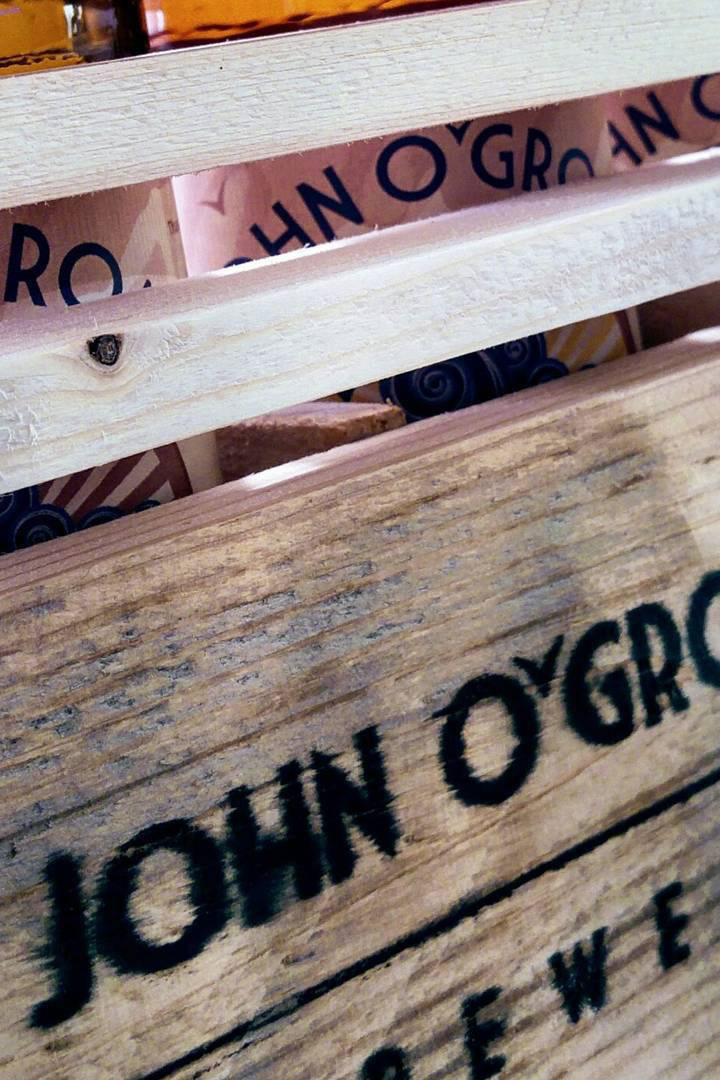 John o' Groats Brewery products can be purchased in the shops throughout Caithness and further afield. For a list of stockists, please visit https://www.johnogroatsbrewery.co.uk/

By
Hannah Richards
A University graduate from New Zealand with strong ties to Orkney and the East Coast of Scotland. Hannah enjoys discovering new places and is looking forward to travelling around Europe. She has great appreciation for history, music and art.
Pin it!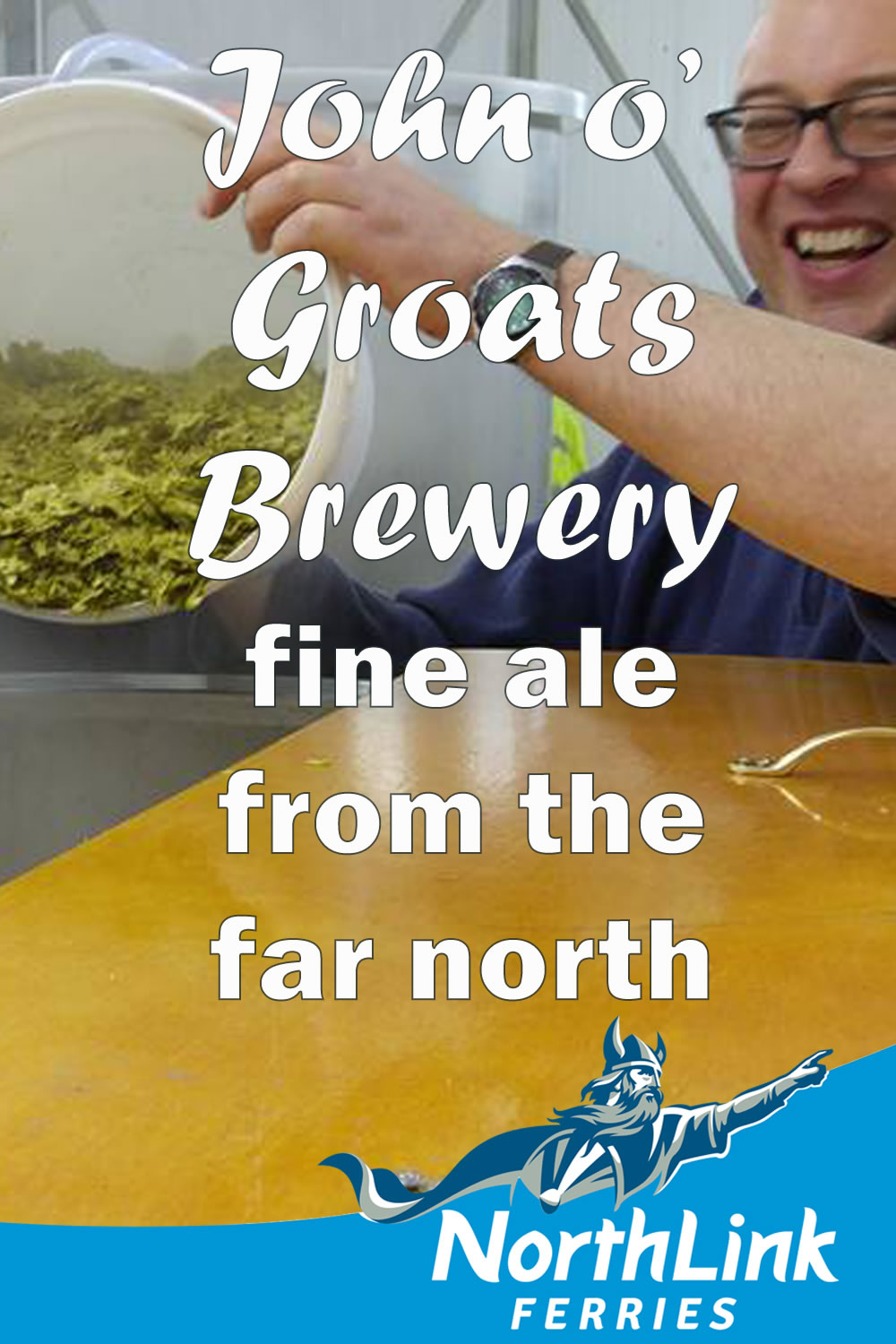 Header image: Adding ingredients to the brew at the John o'Groats Brewery photo © Copyright John o'Groats Brewery