Rock Rose Gin – a drink to celebrate Caithness!
Located above the beautiful sandy arc of Dunnet bay in Caithness is the Dunnet Bay Distillery, run by Martin and Claire Murray. They use a unique handmade copper still to create small batches of hand-crafted spirits – including Rock Rose Gin – and started the business to be closer to their young family.
We loved the fact that we could use local ingredients from the forest and from our garden; that it could really reflect a bit of Caithness.
With a taste unique to Caithness and a beautiful bottle, Rock Rose Gin is one of the most exciting Scottish drink brands of recent years. NorthLink were pleased to speak to Martin, who spoke passionately about distilling and the story of Dunnet Bay Distillery so far.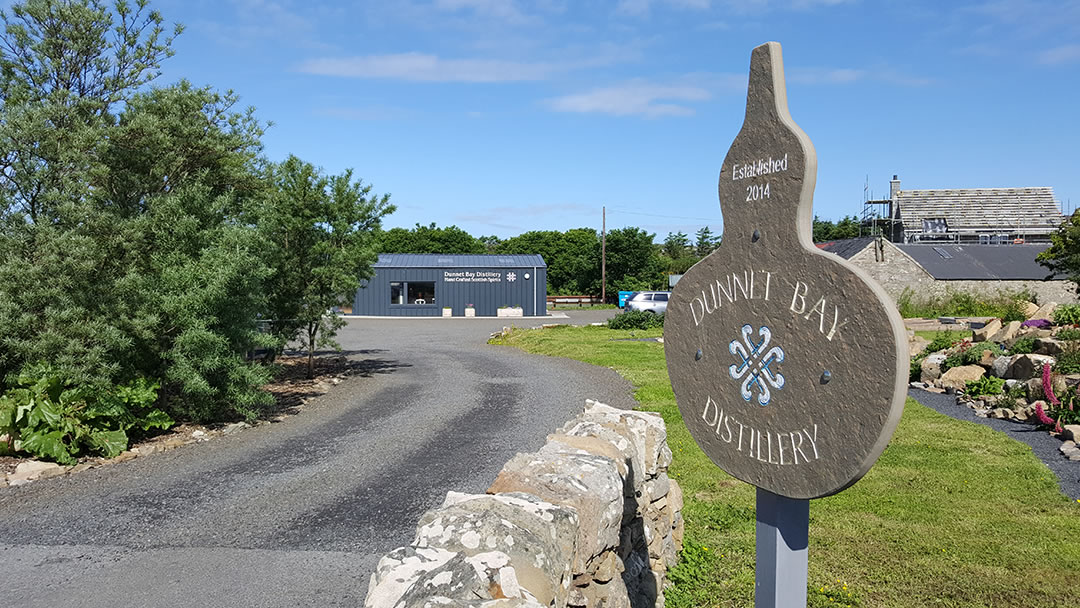 Q. When and how did you set up Dunnet Bay Distillers?
A. In my younger days, when I was at University, I wanted to do a master's degree in brewing and distilling but there were no jobs at that time in that sector. So I decided to go with oil and gas instead and that's where I worked for 11 years.
However, my wife Claire and I had a young family and I wanted to move home to be with the children and have a more normal routine. To do so, I decided to go back to what I was passionate about: making beer and spirits. I started to study distillation at Heriot Watt and then we gave it a go!
I was working offshore whilst we were trying to build the distillery business up slowly. I would work away for two weeks and then come home and work on this. It worked really well – the gin took off and it surprised us how popular it was.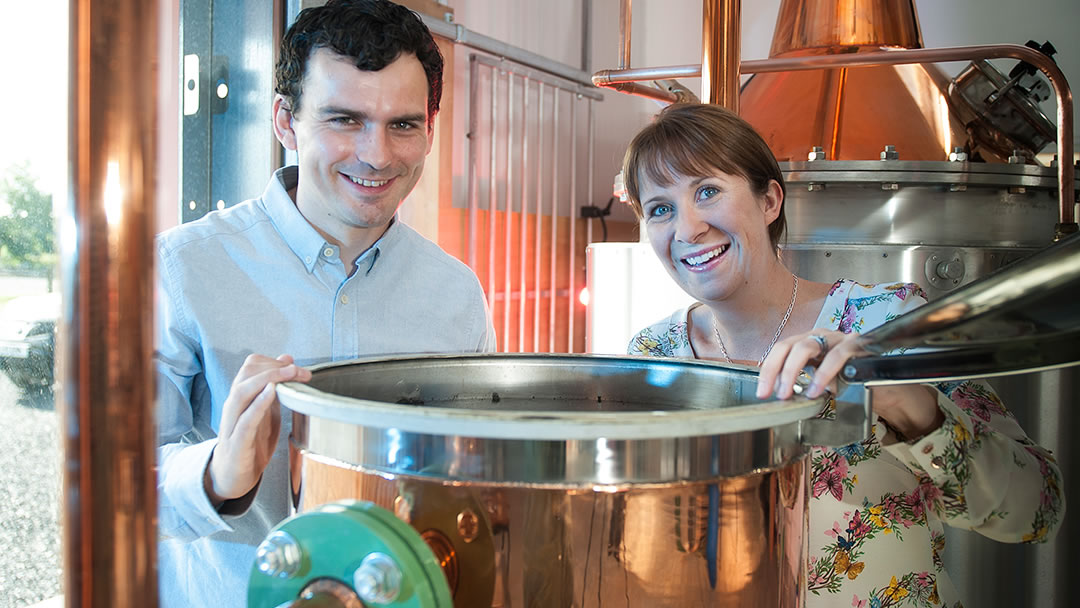 Q. That must have been quite exhausting!
A. It was exhausting, but it was exciting as well. Looking back on it; I can't quite believe that we managed to do both! It was a hard time, but I'm really glad we did it that way. We were planning to carry on like that for three years but I was able to stop and work full time in the Distillery after just six months. So we launched in August 2014 and I moved home in March 2015! It was an exciting time and great fun too.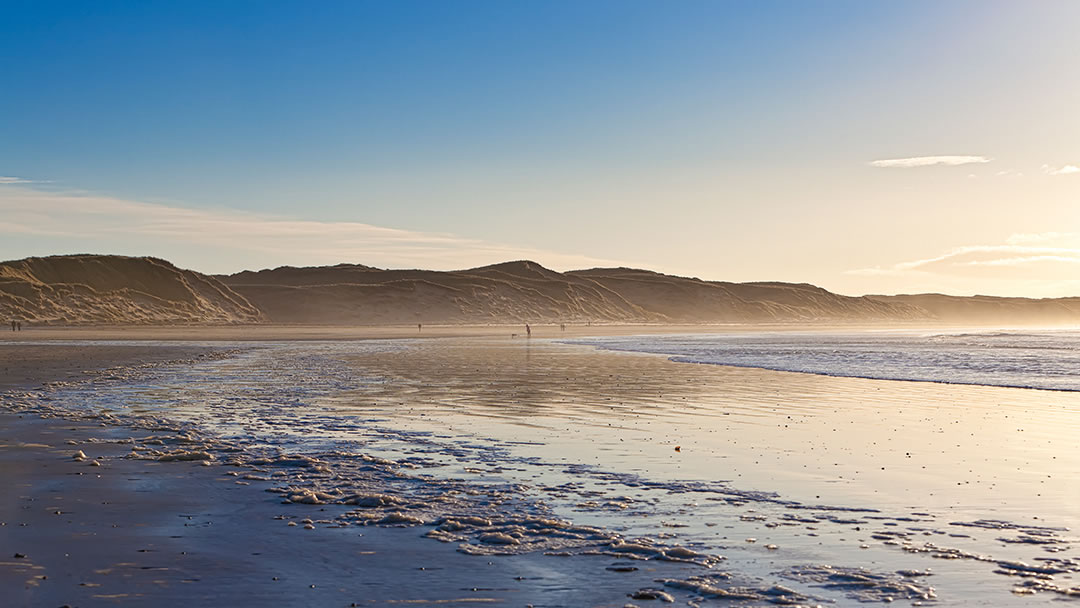 Q. Are you originally from Caithness and the Dunnet Bay area?
A. Yes, that's right. We're originally from Dunnet village. Caithness is a beautiful place, with wide-open spaces, lovely beaches and a stunning coastline. It's also a great place to bring up children!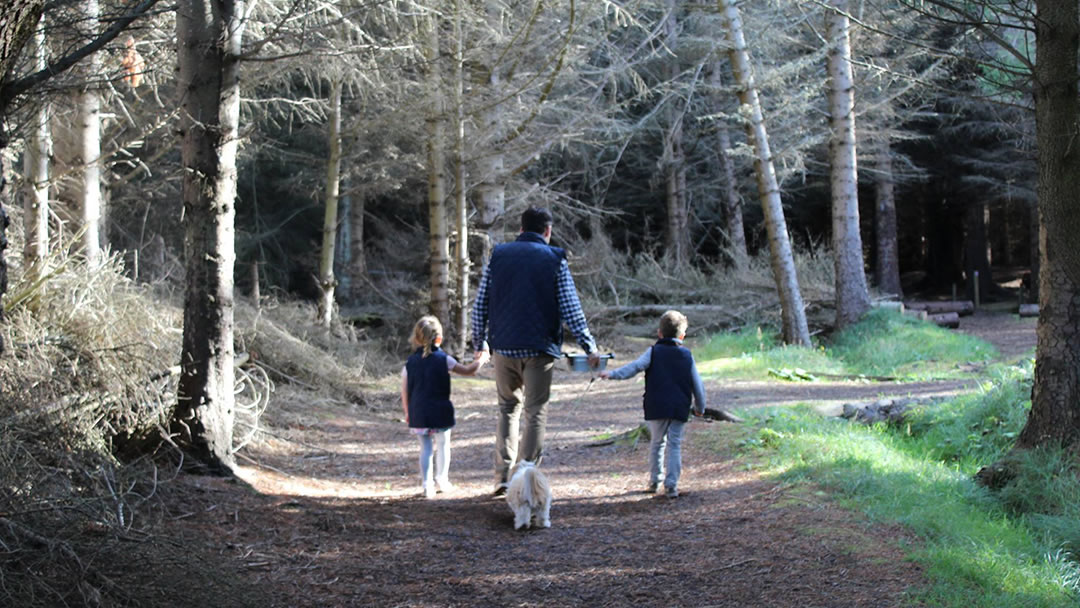 Q. Why was distilling so interesting to you?
A. Scotland is steeped in brilliant breweries and brilliant distilleries and it seemed like a very exciting industry to work in. I started learning about distilling at University – part of our Chemical Engineering modules covered that. I also started to make home brew; it was really great fun to make something at home that you enjoyed!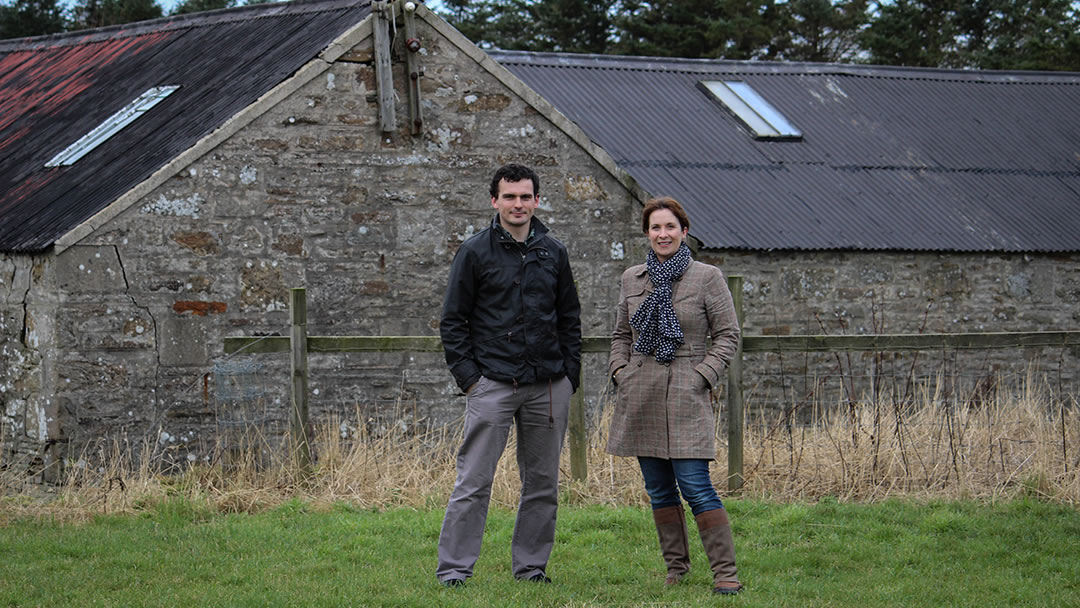 Q. When did you decide to try your hand at gin?
A. We initially began flavouring vodka, but then we turned to crafting gin when we got the license here at the distillery. We decided to do it in a small still while we waited for the big still to come home. It took about 3 months to finalise, though we did a lot of work in the background.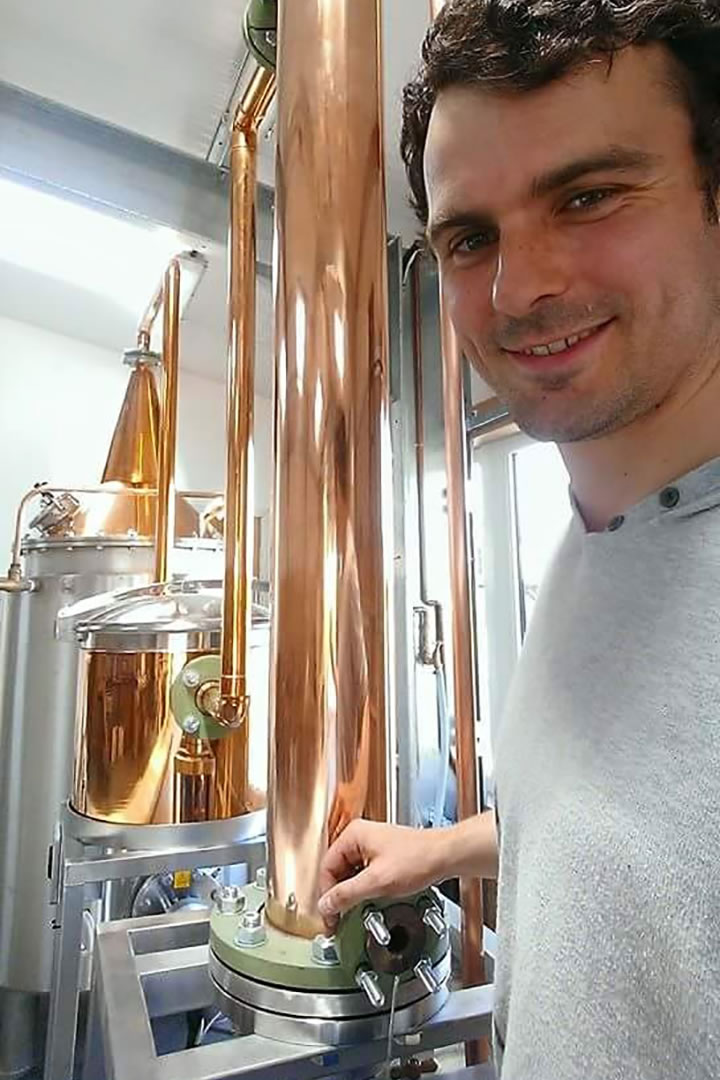 Q. So how long did it take to discover the recipe for Rock Rose Gin?
A. It would have been a year in total to come up with the final recipe for Rock Rose Gin – there were 55 recipes in total – and all the research and trials took longer.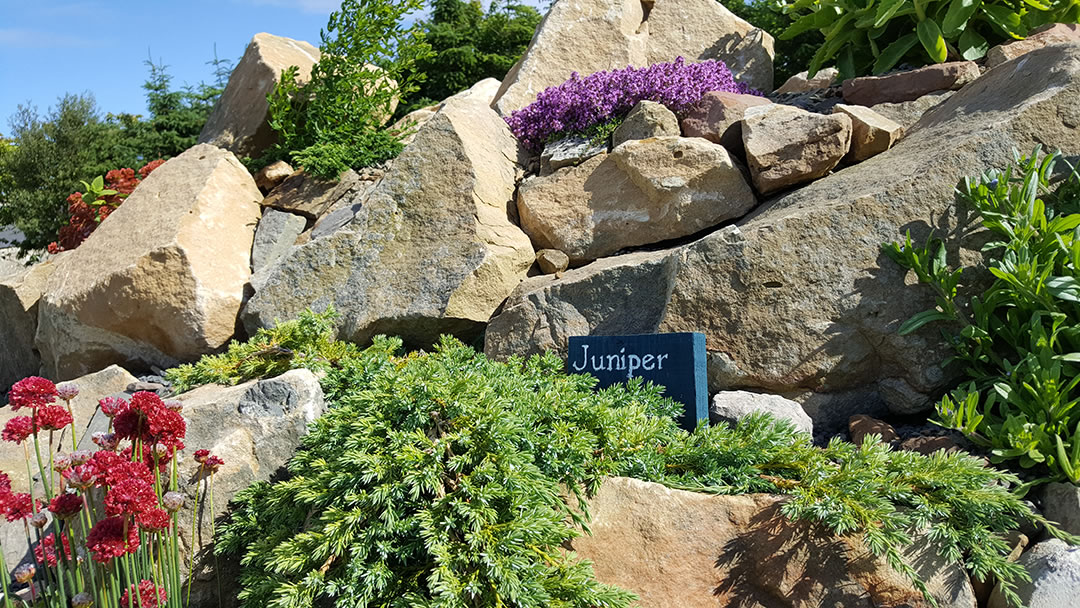 Q. What were your reasons for deciding to make gin?
A. My wife was a gin drinker and I really wanted to make a spirit. I felt that gin was something we could put a local twist on. We loved the fact that we could use local ingredients from the forest and from our garden; that it could really reflect a bit of Caithness.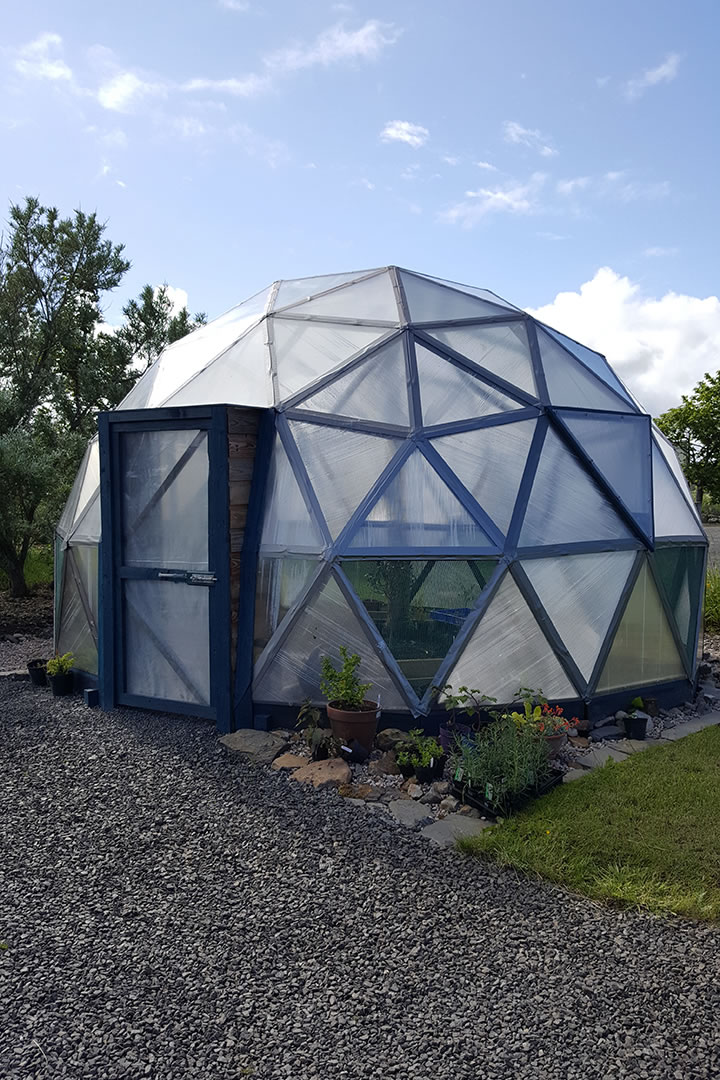 Q. So some of the ingredients are grown locally?
A. Some are. We use ingredients from all around the world, but there are five things that we source locally. Amongst these is rhodiola rosea, a root that grows in the rock surrounding the local area and rowan berries and sea buckthorn which are found across the nearby cliffs and forests. So there's a real mixture between the exotic ingredients and the local ingredients. It's a traditional gin with a local twist.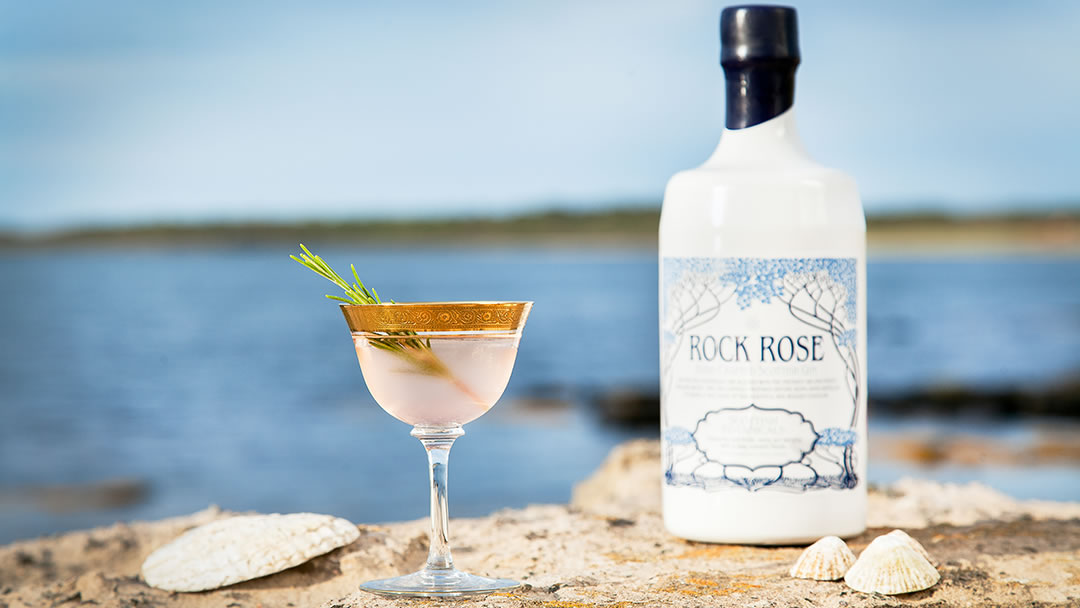 Q. The bottle design for Rock Rose Gin is quite striking – who came up with the design?
A. That was my wife and our design team, Pocket Rocket. Claire went through a number of designs, but this was the one that really caught our eye – we loved it! It actually went against some of the market research that said it wasn't a suitable bottle for gin because it wasn't a coloured glass bottle. However, we decided to go with our hearts and stuck with the design that we loved and we're really glad we did! The bottle has a great shelf presence – pub owners want it behind their bars – and it has a great tactile design to it as well – people can feel the print – the bottle is stunning and is a big part of our success.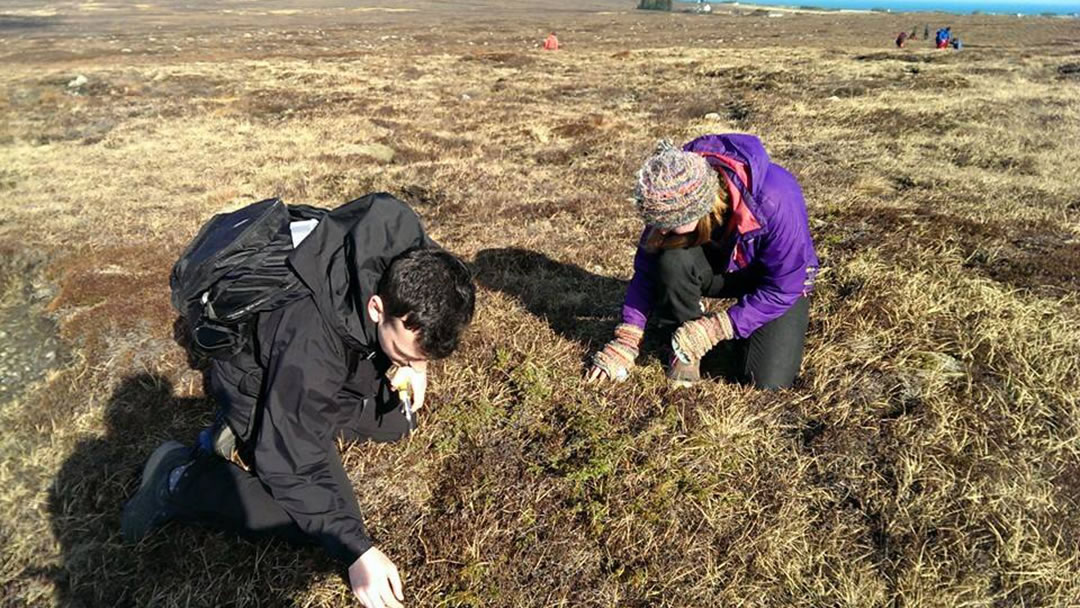 Q. If you were to describe the taste of Rock Rose Gin; how does it stand out from other gins?
A. Rock Rose Gin is similar to other gins in some respects because it does have a predominant juniper flavour and it has all the traditional ingredients you would expect. However it also has some really interesting ingredients like rowan berries and blaeberries which bring a really nice jam taste to the middle of the drink, then you've got Verbena and Bulgarian juniper which bring a nice lemon sherbet finish to the drink, within that you've got the nose which comes from the Rhodiola rosea which is a real earthy rose – we think it's really really nice! Each year we create a new vintage as our local botanicals may vary slightly in taste due to the year's weather conditions.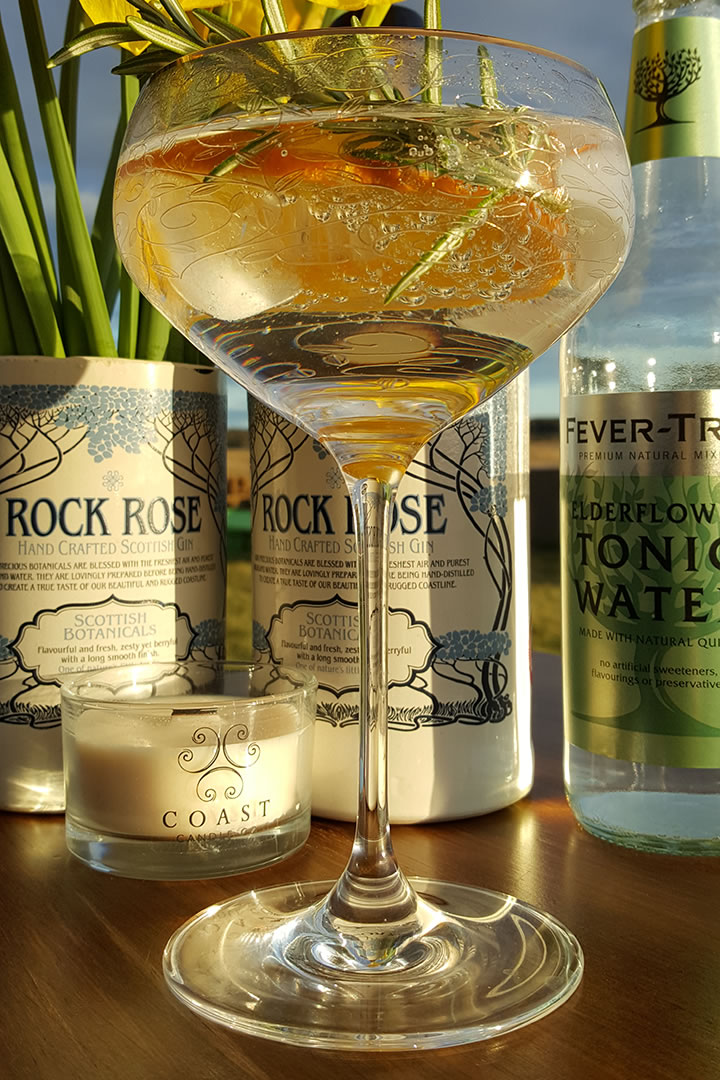 Q. How would you recommend serving Rock Rose Gin?
A. I would serve it with a good tonic such as Fever Tree or for a Scottish G&T try Walter Gregor's tonic. Add either a wee curl of orange or a sprig of rosemary. If you are unsure, we suggest trying both garnishes as Claire enjoys it with orange and I prefer it with rosemary. In fact I actually toast my rosemary lightly before putting it into the glass – it smells amazing!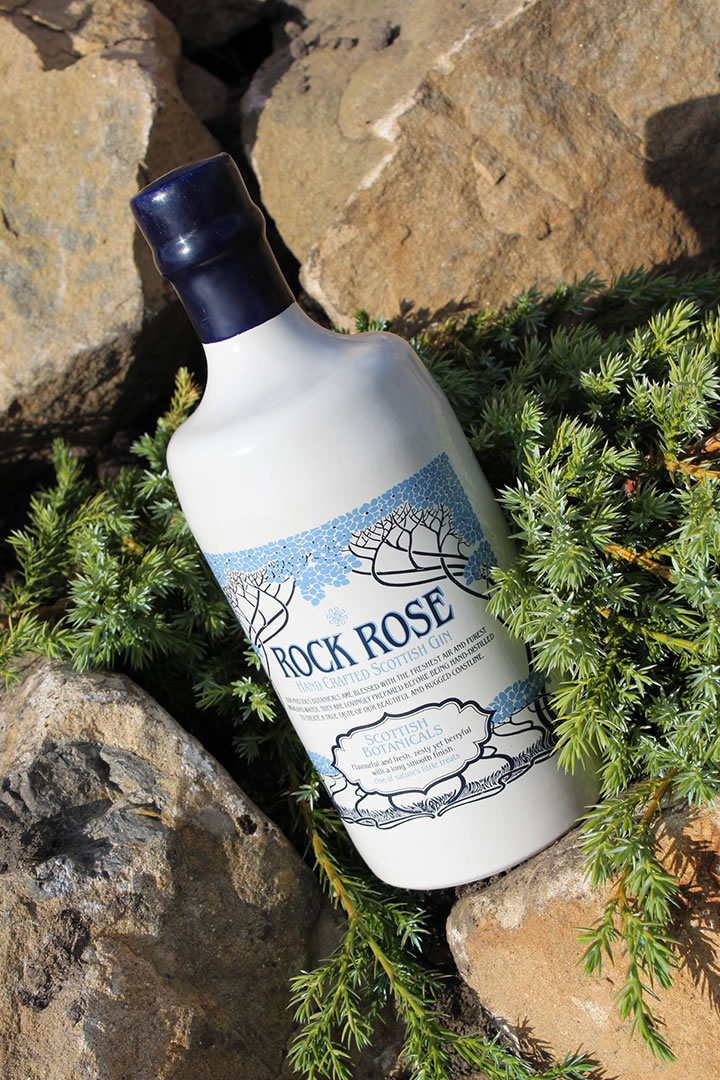 Q. Gin is currently a very trendy drink – did you see this coming?
A. Not at all! We thought it would be three years before we had built up enough sales to make a full time go of it but we managed to do so after 6 months. The success of Rock Rose Gin has just completely thrown us, it's just incredible and even today; every month is a surprise. We worry that our bubble will burst – perhaps a new gin on the scene will take our sales – but it's not happened. Our sales continue to grow and we couldn't be happier with how it has gone.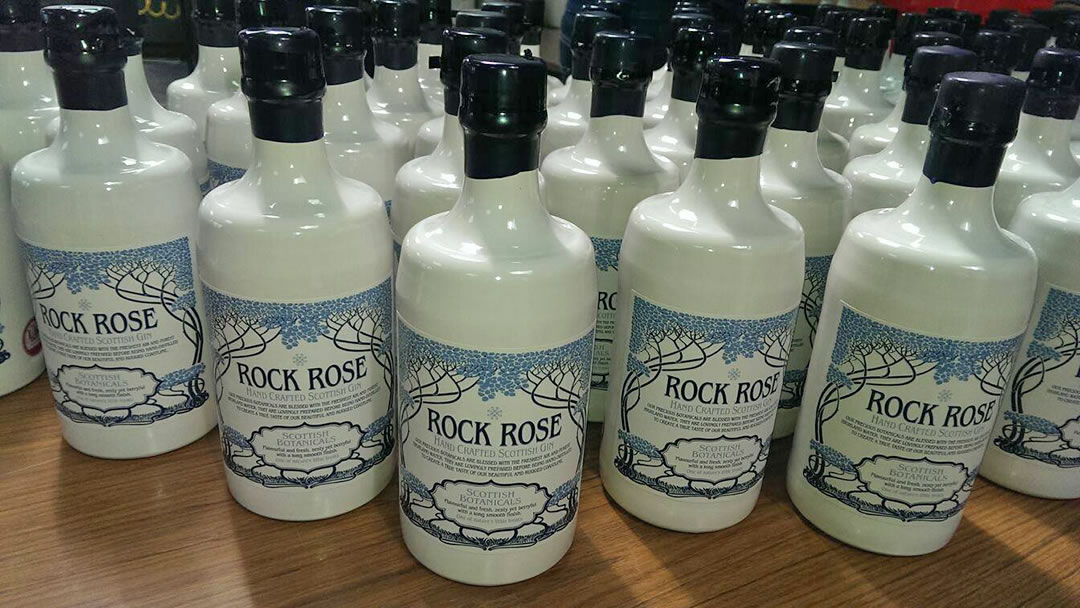 Q. So how did a Caithness gin like Rock Rose Gin become popular in London bars?
A. It's really interesting – you know the big brands have brand ambassadors and these are people that they pay to go and help sell their gin. When we first started we didn't have any money for that kind of thing – we didn't even know that brand ambassadors existed.
What we did have were a lot of friends and family; people who came from Caithness who shouted about our gin. They took it on their holidays, they took it to the cities that they worked in and they asked for it in the bars that they frequented. So we had effectively thousands of brand ambassadors who all belong to Caithness.
I think that you long for home the further away you are – people are proud to come from Caithness and drinking Rock Rose Gin is a part of that. We saw photos of a bottle of Rock Rose Gin in Australia within our first month of business – it was just incredible!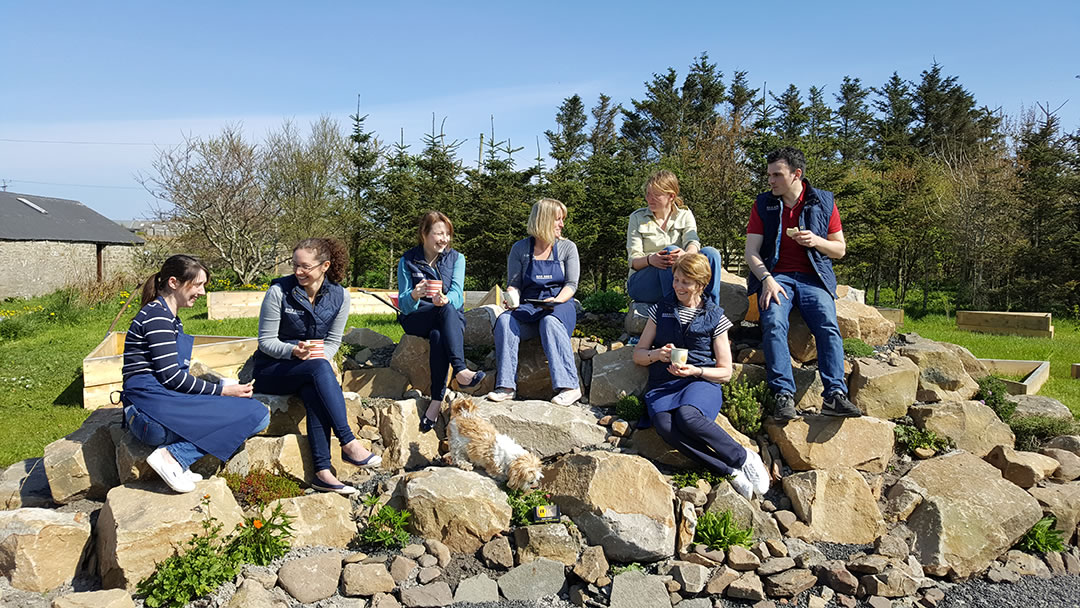 Q. I believe there are a lot of projects for Dunnet Bay Distillers this year?
A. Yes – 2017 is a really exciting year – we've got the extension just about finished, we're building the visitors centre and shop and we have new products coming out – we've had a fun start to the year already.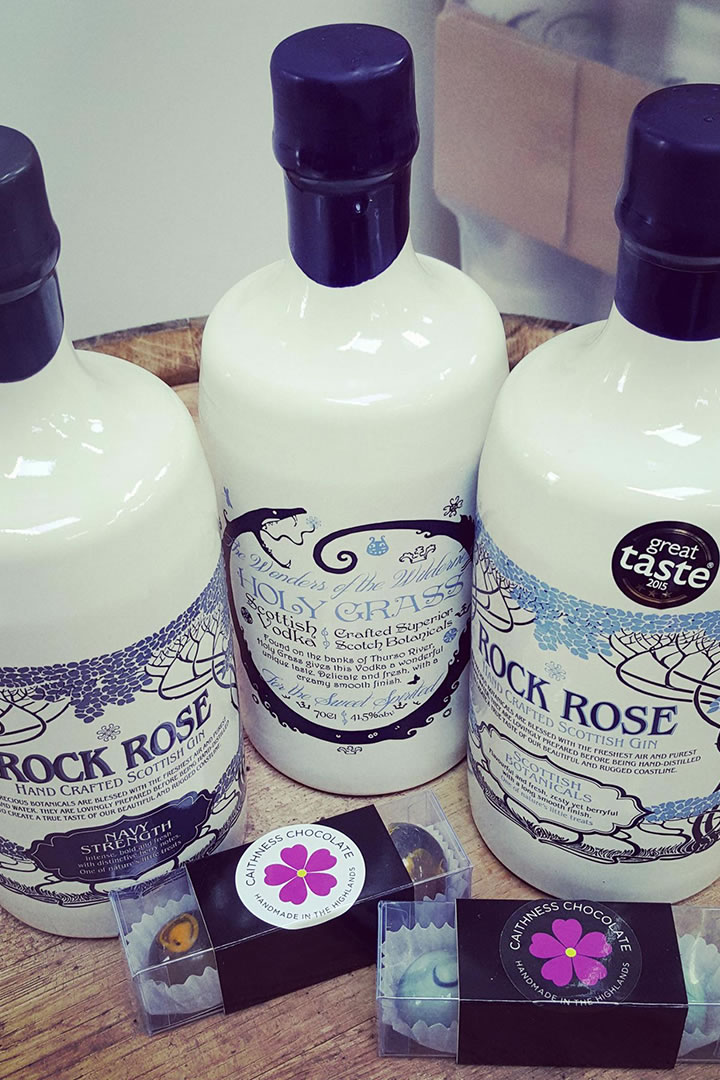 Q. When visitors come to your visitors centre, what will they expect to find?
A. We are looking to create a really unusual visitors centre where we are going to showcase the illicit distilleries of the past in Caithness and talk about distilling very much from a local perspective; what people did in Caithness and in the Highlands; what kind of characters existed and what kind of antics they got up to.
Caithness has a really interesting history concerning distilling; there was a prohibition in Wick. This was really unusual – the prohibition took place in Wick and nowhere else. So you then had people making alcohol on the side and supplying it to folk. We really want to bring those stories, those characters and the past to life in the visitors centre.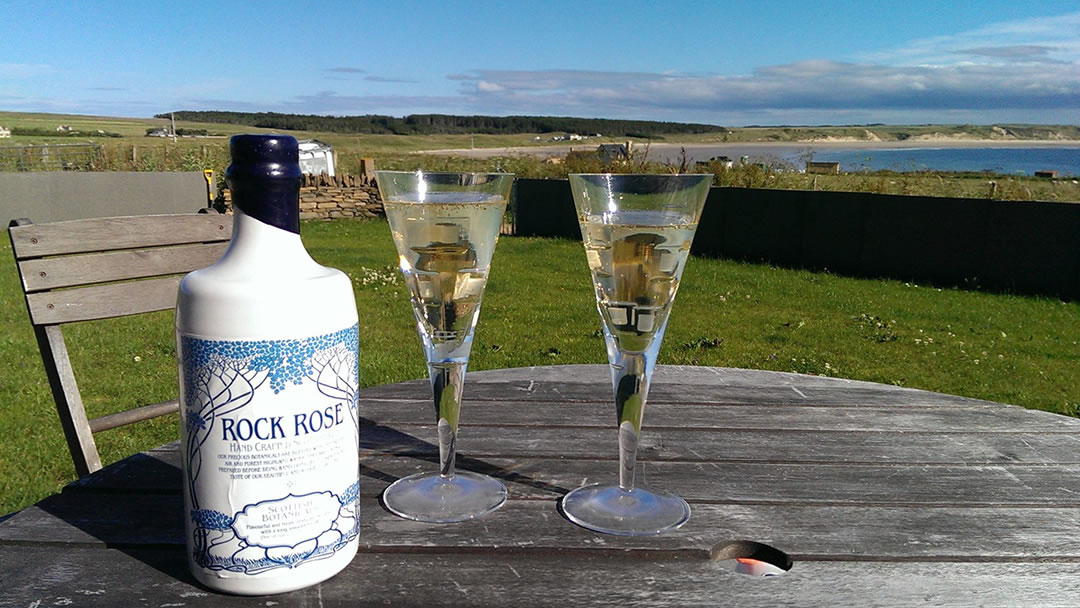 Q. Do you have a lot more visitors these days with the popularity of the North Coast 500?
A. The North Coast 500 has been unbelievable for us – it's such a success story – and we have seen visitors increase from 20 a week to 100 a week during the summer! Along the way we have had a lot of luck with our timing and our location! We built this distillery here in Dunnet for other reasons, but it just so happens that we're right on the North Coast 500. We really did strike it lucky with that!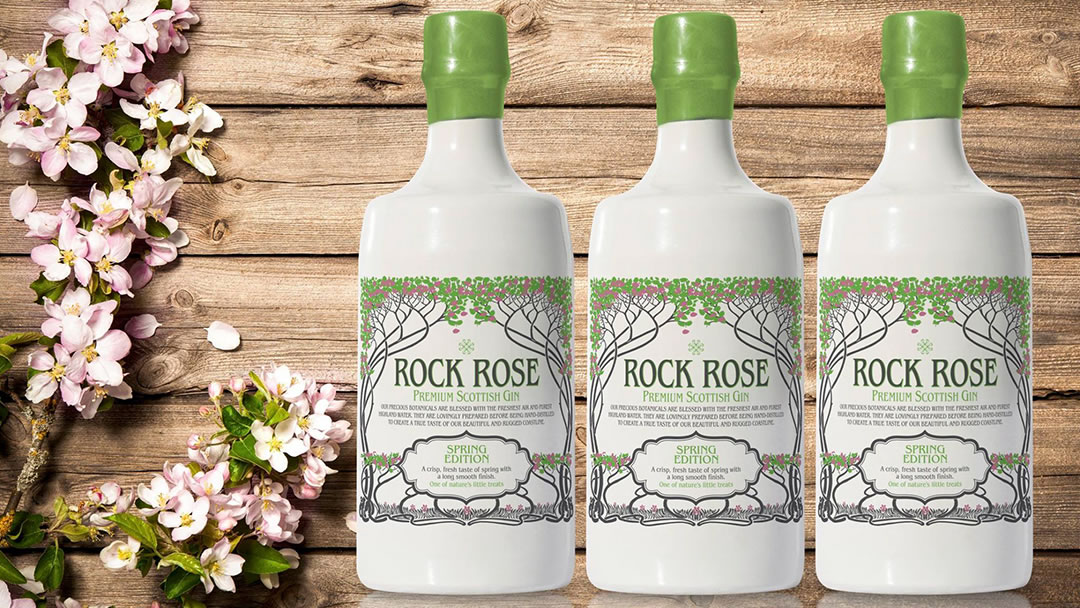 Q. You mentioned new products coming out this year – what can we expect from Dunnet Bay Distillers?
A. Yes – we have a spring edition that's been changed slightly to fit in with the different botanicals that we can now distil. We have better equipment now than we did last year so we have quite an exciting spring edition this year. We are also going to be doing more garden editions that you will only be able to buy from our shop. These will be small batches of gin made from ingredients that we grow in our garden.
Our Holy Grass Vodka is starting to take off now as well – it's making really good progress down in London and the rest of the country. The botanical Holy Grass that we use for the vodka was discovered on the banks of the nearby Thurso River by the botanist Robert Dick. It was used for basket weaving and also on church floors to give a sweet, vanilla smell when walked over. We also use juice from Highland apples and it gives the vodka a delicate and fresh taste with a creamy smooth finish. It's great and it's a product we really wanted to create because the flavour and the story surrounding it is so unique to Caithness.
It's great – there's quite a few things happening at Dunnet Bay Distillery this year – watch this space!
Dunnet Bay Distillery drinks can be purchased on board NorthLink ships and in the Dunnet Bay Distillery in Caithness. Spirits from Dunnet Bay Distillery can also be bought in shops throughout Scotland. They can also be bought online at https://www.dunnetbaydistillers.co.uk

By
Magnus Dixon
Orkney and Shetland enthusiast, family man, loves walks, likes animals, terrible at sports, dire taste in music, adores audiobooks and films, eats a little too much for his own good.
Pin it!