Exploring the Grey Cairns of Camster
It was a cold but clear morning in January when I visited the Grey Cairns of Camster for the first time. I drove from Thurso to Wick, turning right after the village of Watten onto a lonely heathery moorland road and continuing for seven miles.
I drove away thoroughly impressed with these mysterious monuments in such a lonely place. Knowing that I was probably the only person who would explore them that day made the experience all the more impressive – like it was my own archaeological discovery.
It was very atmospheric; on my left stood a few dozen slowly-turning wind turbines and on my right, a deep pine forest. Snowy highland hills were visible in the distance, and I encountered a crew of protesting sheep, blocking the road.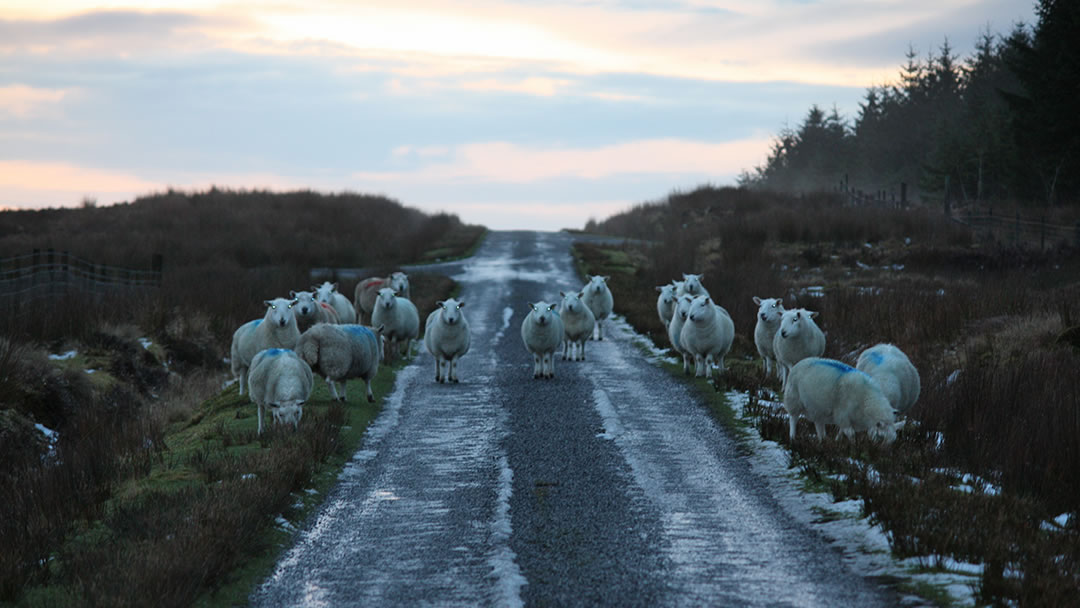 My car passed a few small hillocks and then suddenly the Grey Cairns of Camster were there – stark white against a peaty backdrop, and much bigger than I had imagined. I'd read a bit about them before arriving and knew that they were two of the best preserved chambered cairns in Britain. One of the cairns is round and 18m in diameter. The other is rectangular; 70m long, with one end being 10m wide and the other 20m wide, with points making it resemble an insect from above. They were built around 3500 B.C. during the Neolithic era, and stand about 180 m apart.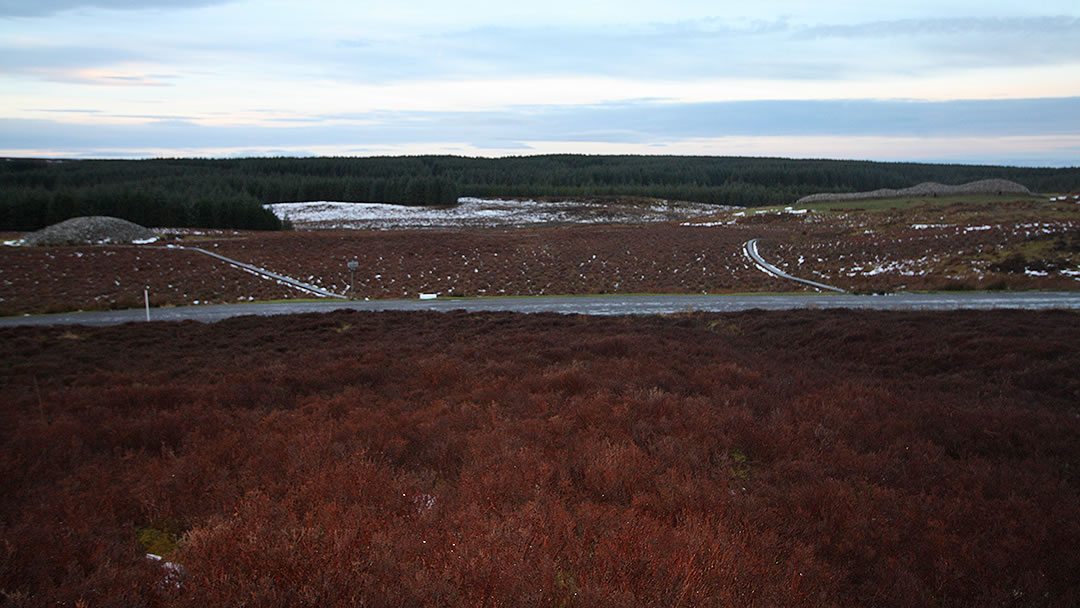 There's a car park at the Grey Cairns of Camster, which is really just an extended layby, and from here you can walk via boardwalks to either cairn. Once at each cairn there's another boardwalk connecting the two – the surrounding land is quite boggy. I walked down to the Round Cairn first of all – here and there the surrounding land was covered in melting snow. Unlike other grass covered cairns I've visited before, this one was bare; a rock pile of sharp grey stones with a low central entrance.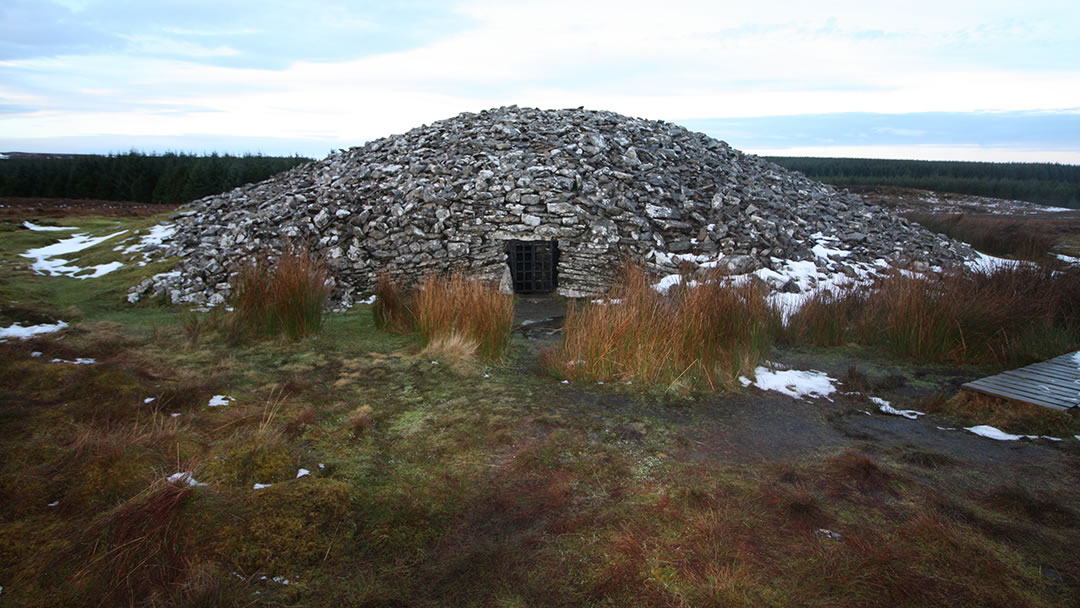 I looked at the entrance, which is covered by a small black gate, and then read the nearby information board. On it there was a story about a Victorian lady getting stuck in the passageway inside! Not being the slimmest person around, I started to panic a little. However on inspection the passage, though narrow and dark, was passable. I crawled inside, glad that I remembered to take my waterproofs trousers and torch, and stood up in a beautifully built (with overlapping stones) and dimly lit (via a skylight) inner chamber.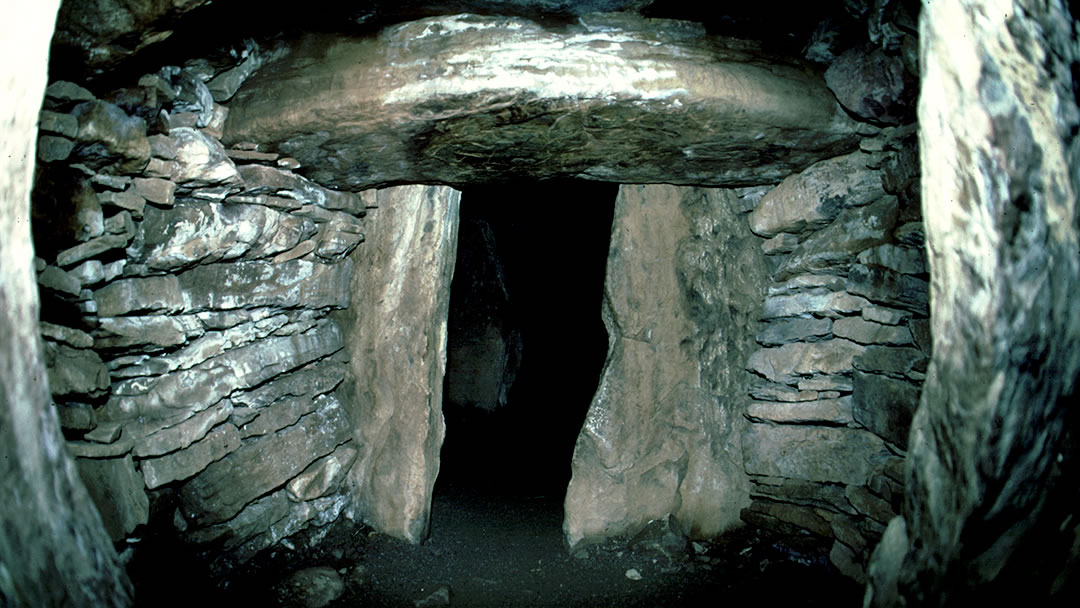 The Round Cairn has a particularly grisly history. It was thought that the Neolithic people put their dead here – and when the Round Cairn was excavated human and animal bones were discovered inside. Two skeletons were found in the passage, oddly missing their leg bones. Either their legs had been removed or had rotted off before the bodies were deposited inside. Also discovered inside was evidence of burning in the central chamber and burnt human bones, pottery, flint knives and tools. What rituals were performed here? What significance did their dead ancestors have to the Neolithic people?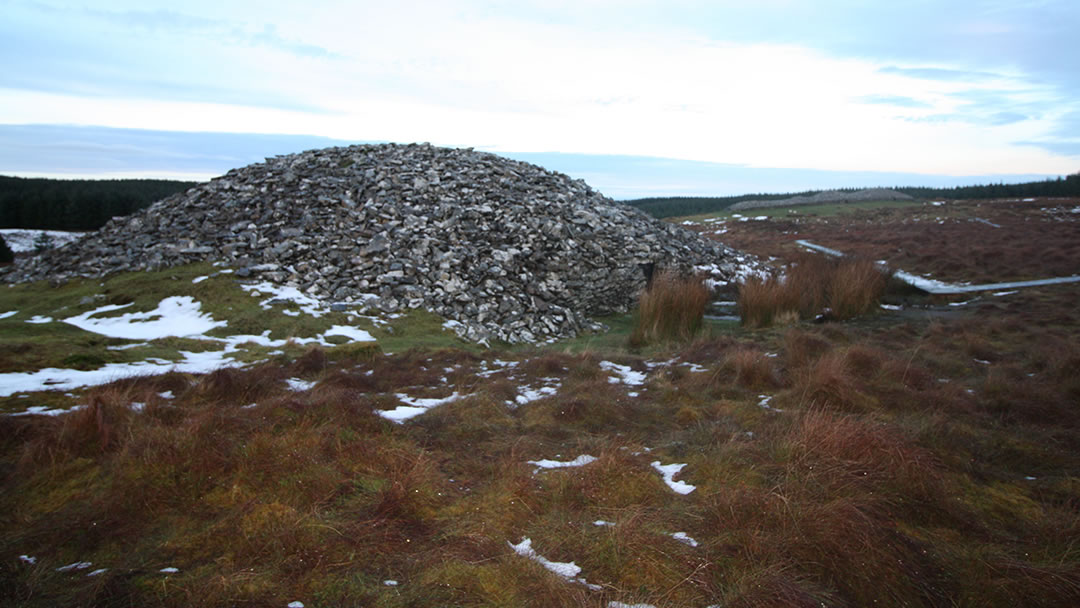 I crawled outside again, back into the bright January sunlight as the sun was rising and walked uphill to the Long Cairn. It is quite considerably bigger and could perhaps be two or three cairns like the Round Cairn, joined together. Two entrances to unconnected inner chambers are visible, each with a small black gate to keep the sheep out. As I reached the Long Cairn I was greeted by a spectacular sunrise. Was it a coincidence that both Cairns of Camster had entrances that faced the rising sun?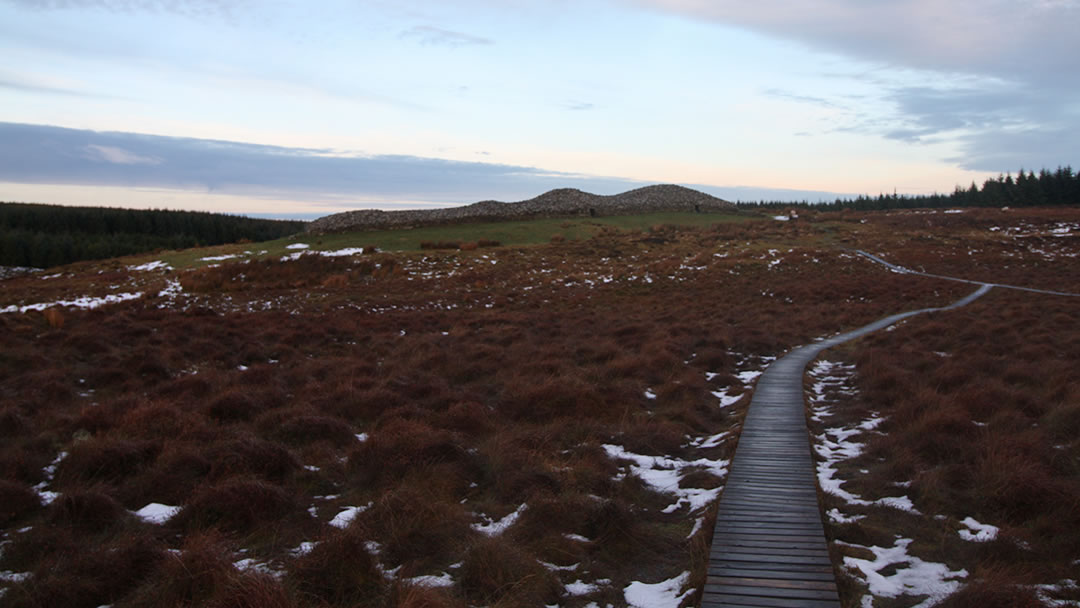 Both the Round Cairn and the Long Cairn are reconstructed – the Long Cairn suffered a particularly destructive excavation in the 1800s. It is thought that nomadic hunters camped here before the Grey Cairns of Camster were built – they lit fires and made flint tools in the ground buried by the Long Cairn's construction. The Long Cairn however needed a more organised people to be built – perhaps crofting folk who grew crops and herded cattle and sheep.
When both Cairns were built the climate was warmer and wetter than today and the land was not boggy but covered in scrub. However, why did the Neolithic people build these Cairns – did they gather here to connect with the spirits of their ancestors whose remains were housed inside?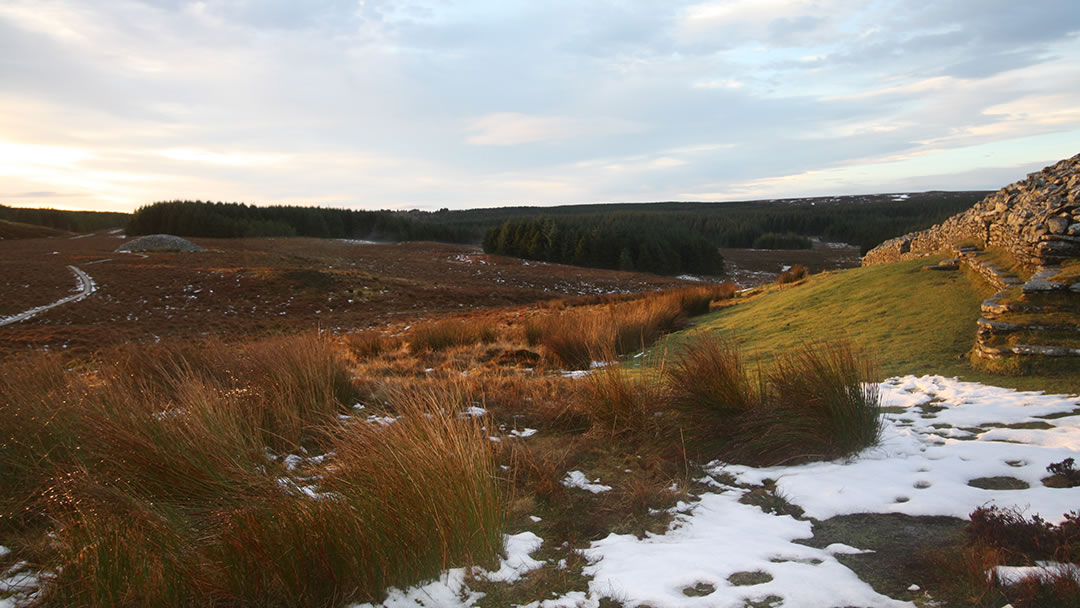 I made my way inside the Long Cairn, crawling through narrow passages and I was again highly impressed by the stone craftsmanship. Some light came from outside but I inspected it with my torch. I went out and tried the second passageway – this was a much drier affair than the first. Looking at the brickwork I saw massive rock pillars which resembled standing stones making up part of the structure and helping to redistribute the weight of the stone. On my way out again I bumped my head which was quite sore! I didn't appreciate the stonework at this point!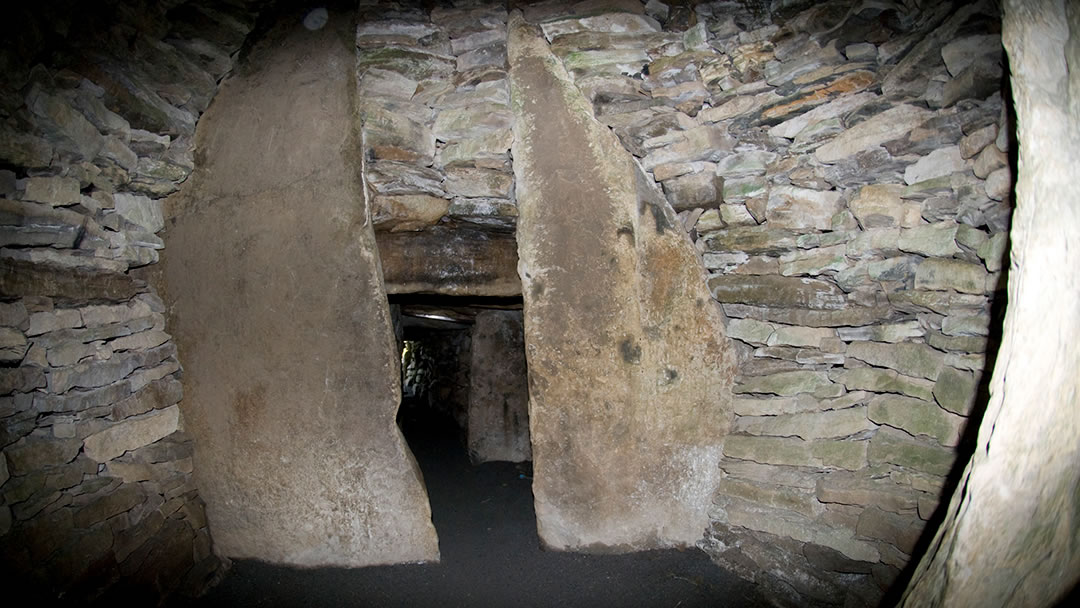 Once outside, I walked around the Long Cairn admiring this massive structure and the haunting surroundings – the forest and the heathery flow country. There are no settlements in sight and it is thought that that is why the Grey Cairns of Camster stayed reasonably intact – few stones were plundered for other buildings. The Grey Cairns of Camster are carefully located in a hollow in the landscape with no views of the sea or hills. With other burial places to the south it seemed that this hollow was significant in some way.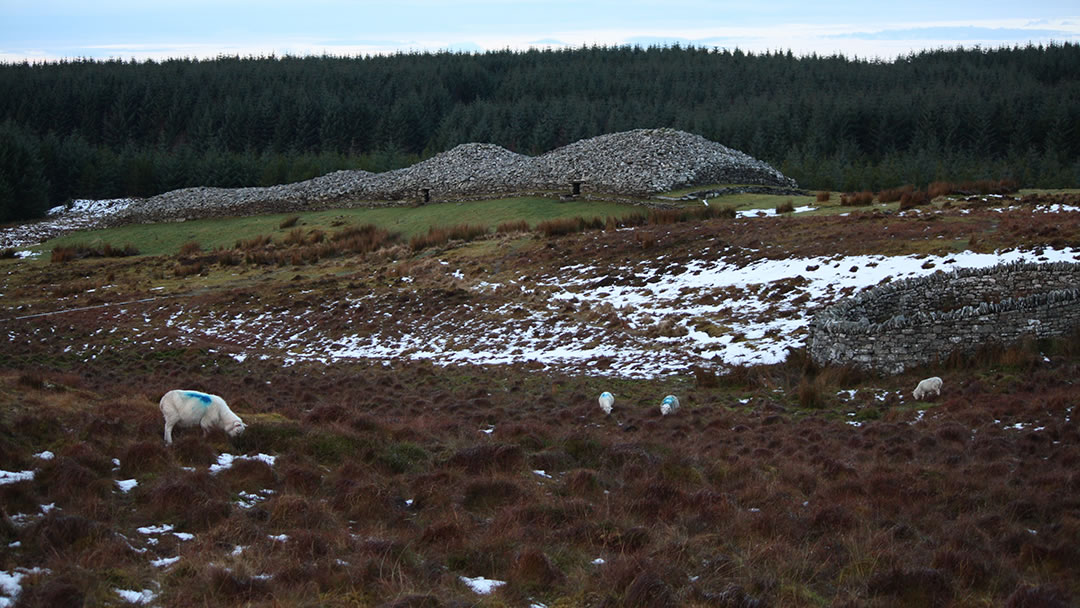 I drove away thoroughly impressed with these mysterious monuments in such a lonely place. Knowing that I was probably the only person who would explore them that day made the experience all the more impressive – like it was my own archaeological discovery – and I can't recommend a visit enough!

By
Magnus Dixon
Orkney and Shetland enthusiast, family man, loves walks, likes animals, terrible at sports, dire taste in music, adores audiobooks and films, eats a little too much for his own good.
Pin it!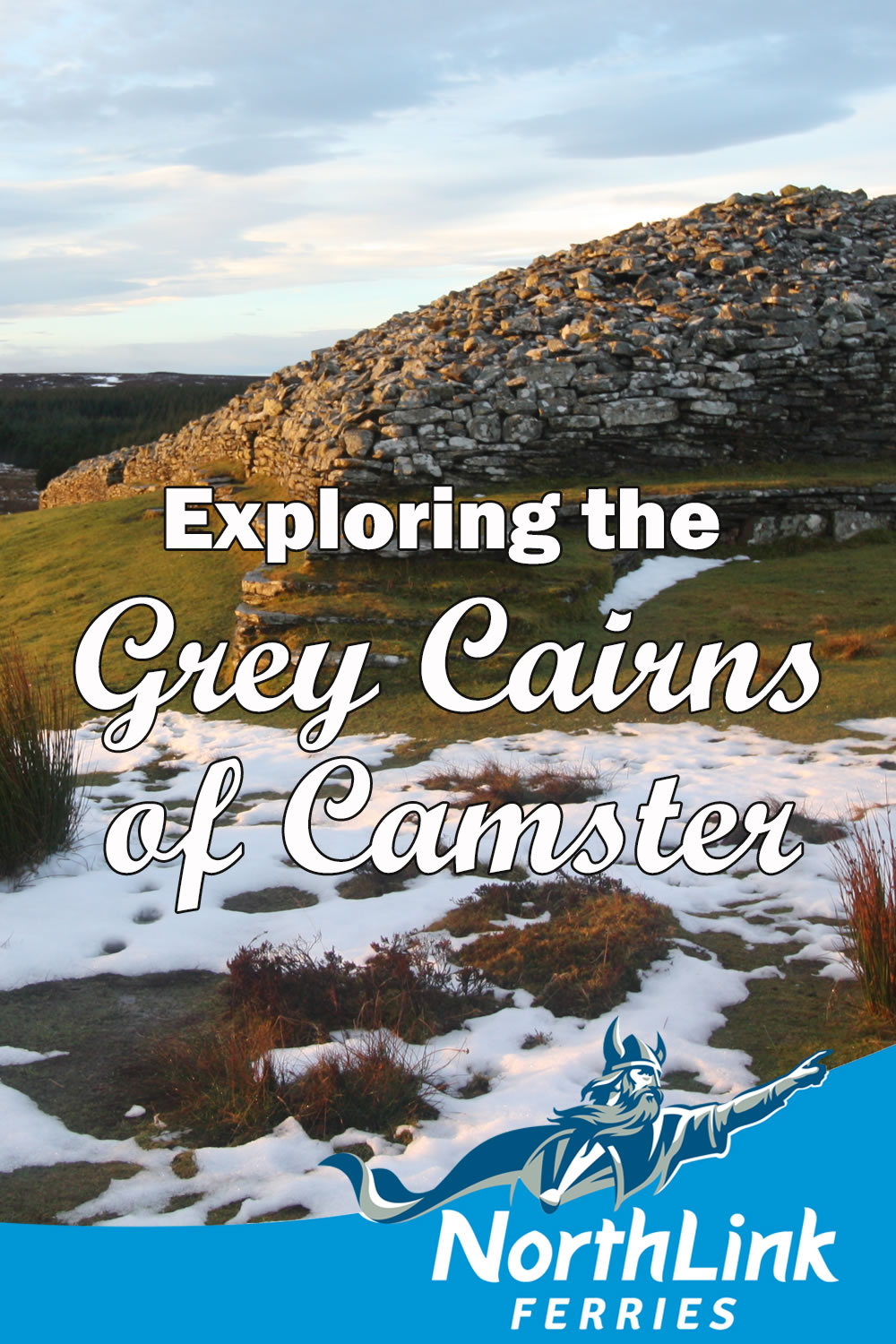 Header image: Winter dawn at the Grey Cairns of Camster in Caithness photo © Copyright Magnus Dixon