Three brochs to visit in Caithness
Brochs are huge round thick-walled towers which were built in the Iron Age, 2,000 years ago. In Caithness there are more brochs than anywhere else in Scotland. There are around 200 of these impressive buildings, which are thought to have been a status symbols at the time.
The Yarrows archaeological trail is one of the gems of the North Highlands in Scotland because it's absolutely littered with history. It's a really fantastic place to visit and often you'll be the only person there. This gives you a real sense of what the landscape might have been like 3,000 years ago.
The Caithness Broch Project is a charity dedicated to promoting brochs and the amazing archaeological landscape of Caithness. As well as organising community excavations, outreach programs at schools and conservation packages, their ultimate aim is to build a replica broch! This would serve as a dry stone dyking workshop and a new major tourist attraction in Caithness. Kenneth McElroy is a director of Caithness Broch Project and NorthLink asked him about some of the great brochs to visit in the area.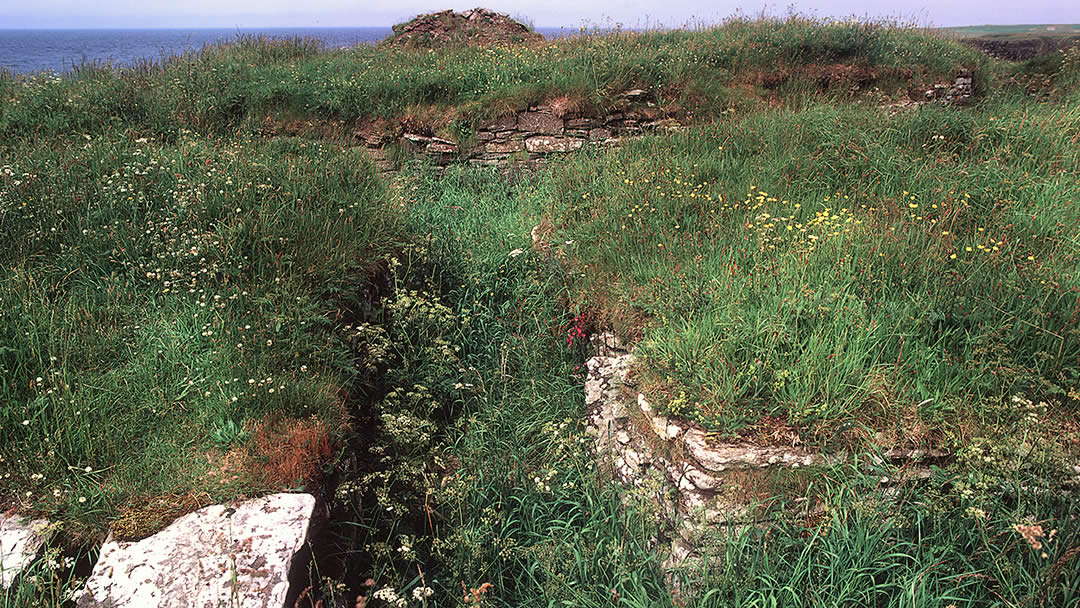 Nybster Broch
Nybster Broch is located on the east coast of Caithness, signposted off the A99 at Nybster, half way between Wick and John O' Groats. It is easy to reach and is maybe the premier broch attraction in Caithness, however Nybster doesn't have many broch features. There don't appear to be any cells or staircases and you would expect to find these in a broch. However, it is definitely a broch and there is a lovely cliffside walk to it with a nice view out to sea; it stands out on a promontory and is a very dramatic place to be.
The broch has an internal diameter of 7m and a wall thickness of roughly 4m! It was in use during the Iron Age, and possibly afterwards. There are many interlinked outbuildings surrounding the broch which were built before and after the broch. Some of the outbuildings have been lost to coastal erosion. These days the broch walls left are only 1.5m high.
Nearby there's the Caithness Broch Centre, and the stone tools, metal objects and pottery found at Nybster is there. You can also learn about the several excavations of Nybster Broch through the years at the Caithness Broch Centre. During the late 19th century there was an excavation by Sir Frances Tress Barry and this is one of the most interesting aspects of this broch.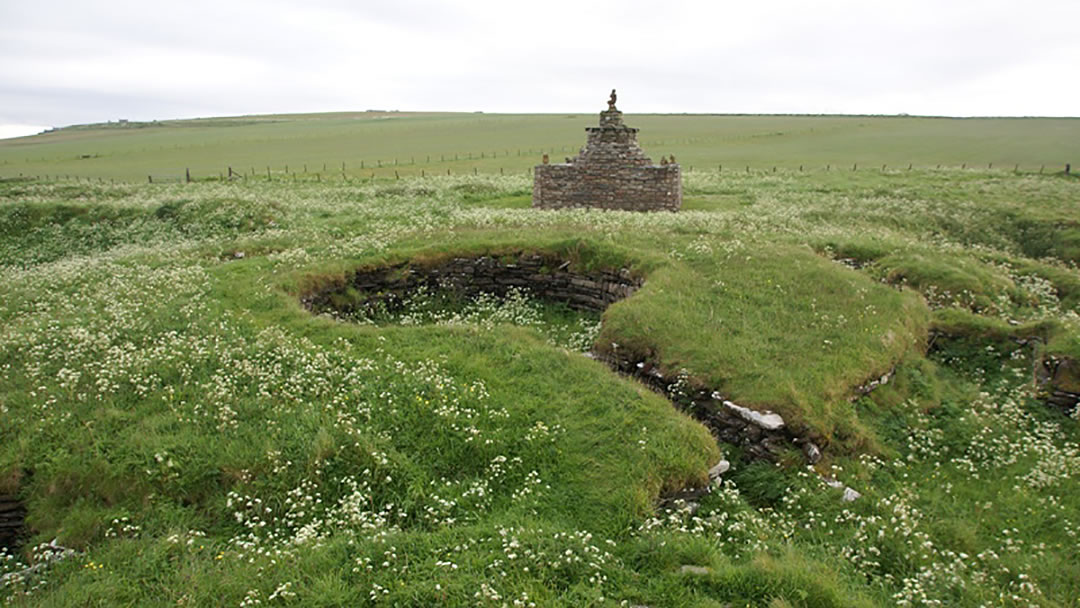 Sir Frances Tress Barry was an ex MP who lived at Keiss castle. Back then if you were wealthy and owned a lot of land then a popular thing to do was to be an archaeologist. However this was not archaeology as we would know it. Martin Carruthers has been excavating one broch for 10 years, whereas Tress Barry excavated 14 Brochs in 14 years! Archaeology then was a bit clandestine, we would call it antiquarianism today, and it involved looking for skeletons and gold and things like that.
John Nicolson accompanied Sir Frances Tress Barry to a number of his excavations. He was a local farmer who lived just opposite where the Broch centre stands today. Unusually, as well as being a farmer, Nicolson did watercolour painting and carving. His carvings can be seen throughout the east coast of Caithness. At Nybster broch you will find a very bizarre looking monument called Mervyn's Tower (pictured above). This is possibly a dedication to Tress Barry's nephew Mervyn. This tells you quite a lot about Tress Barry, who took stones excavated from the broch and made his own monument out of it. This would be frowned upon today.
Nybster is a really great place to not only learn about brochs but also about the local characters and the history of archaeology in the area. I think that makes Nybster one of the top brochs to visit in Caithness.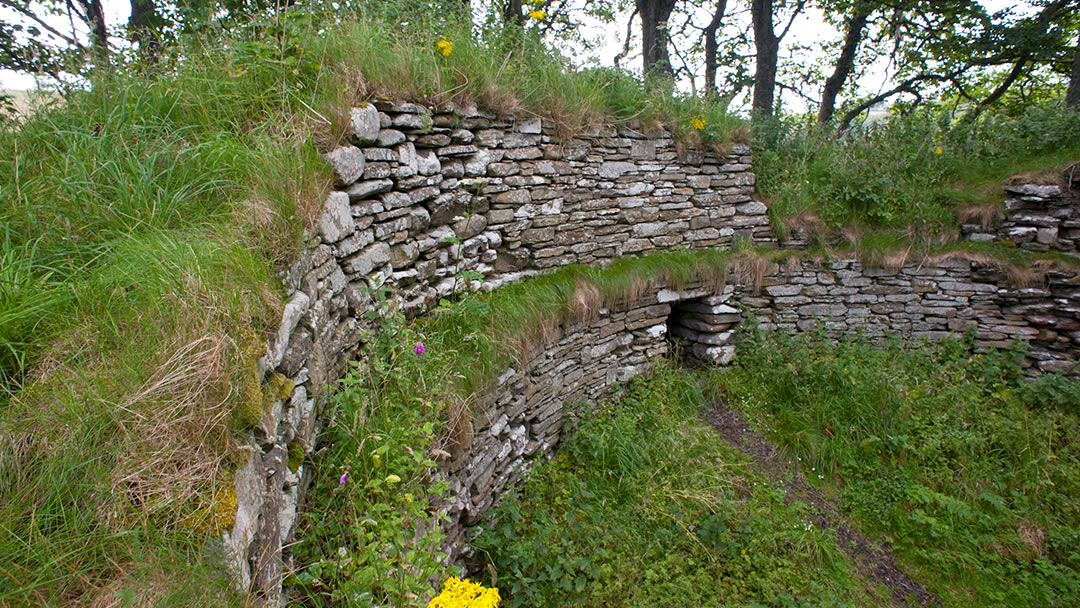 Dunbeath Broch
In the south of Caithness, Dunbeath broch is one of the best surviving examples of a broch in the area. Compared to Nybster, Dunbeath is a much more of a broch in the traditional sense. Surrounded by trees and a wall, Dunbeath Broch is over 3m high on the west side. The entrance has a guard cell and there is a corbelled cell in the opposite wall. The Broch also has a scarcement ledge; which is evidence of another floor.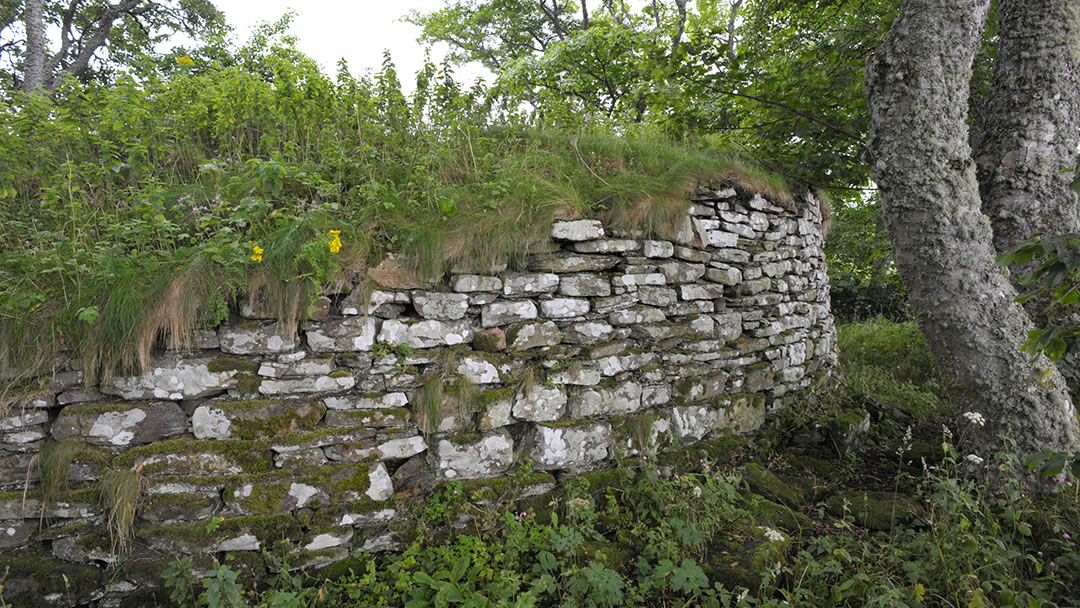 Dunbeath Broch is a great broch, hidden within the Dunbeath Strath; a Strath is a river valley. There's a really lovely walk to it which is part of the Dunbeath Strath Heritage Trail. This starts at the car park beside the Meal Mill and follows the river upstream, passing many interesting sites including prehistoric cairns, a drovers inn, standing stones and fantastic geology. Dunbeath Broch is a quarter of a mile from the car park but you could easily go on a four to six mile hike here!
The area inspired Caithness's famous writer Neil N Gunn who was born in Dunbeath. Although Caithness appears to many of us as a flat landscape, Neil M Gunn's descriptions infuse the landscape with a sense of real understated beauty, and I think that the Dunbeath Strath Heritage Trail is a fantastic example of this.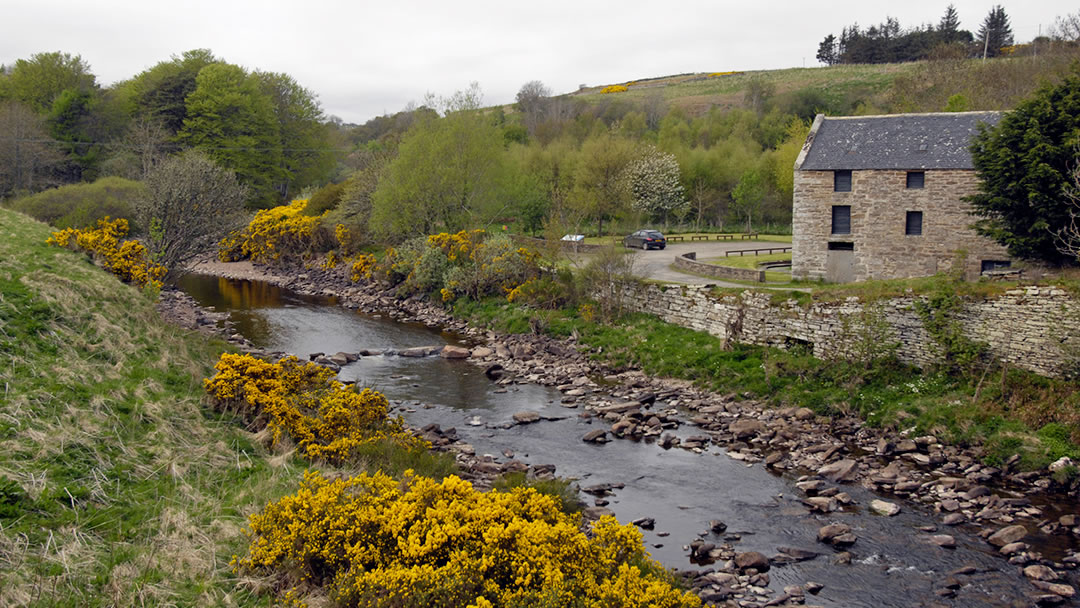 The Strath is a lovely river and in summer it is absolutely gorgeous, with lots of gorse and flowers in bloom. There are excellent views over the Strath from the Broch. It's amazing that there is so much to see in terms of animals, and examples of prehistoric settlements within the space of a few miles.
Make sure you also visit the fantastic Dunbeath Heritage Museum, especially if it is too wet to explore the strath!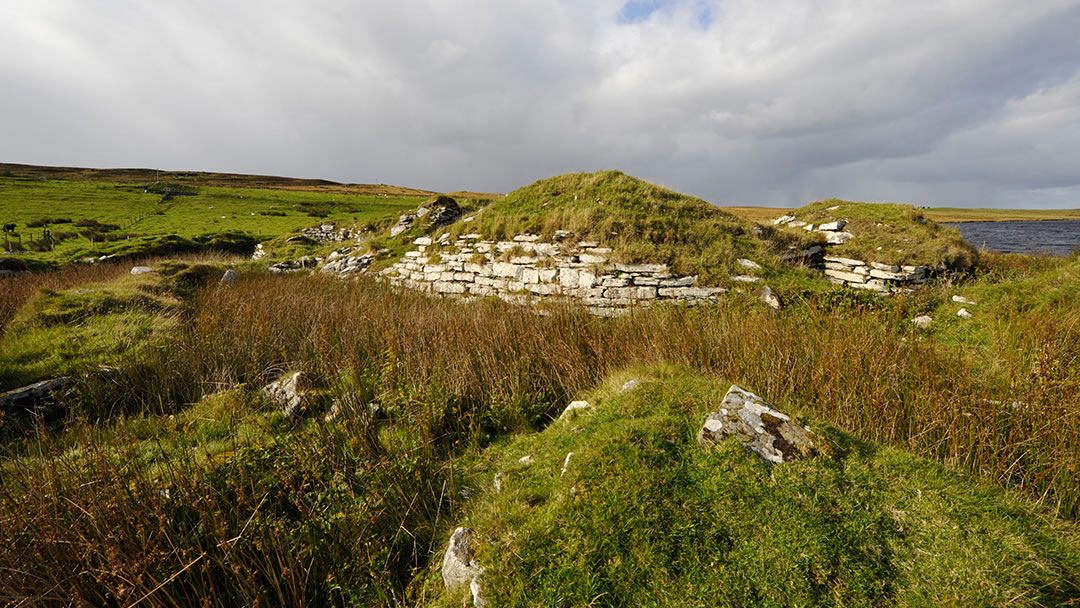 The Broch of South Yarrows
Part of the Yarrows archaeological trail (signposted off the A99 in Thrumster), the Broch of South Yarrows is a really nice example of a Broch. It is really picturesque, but as it is situated on the banks of the Loch of Yarrows, it is quite often waterlogged! Some of the wall in The Broch of South Yarrows are over 2m high, and the stairs and the passages within the broch are still visible. The entrance to the broch has a guard cell and lintel in place, and a carved stone ball was discovered nearby. It was unfortunately lost or mislaid sometime since its discovery in 1932, but a reproduction of it was made in 2017 by Orkney archaeologist Chris Gee.
Make sure you wear sensible clothing and be careful when visiting; as part of the wider trail, a visit here makes for a fantastic day out.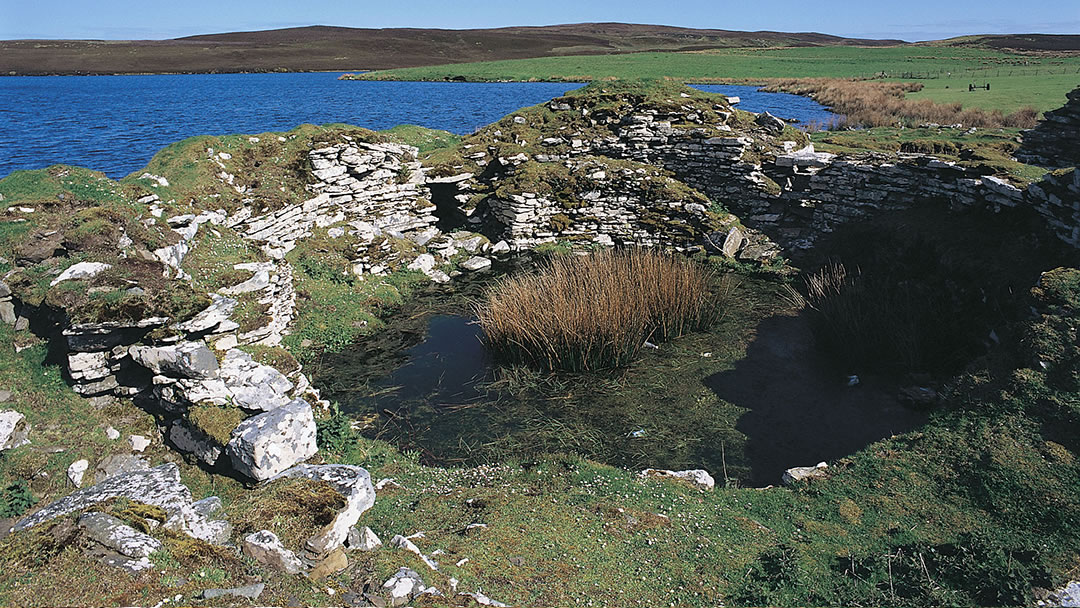 The Yarrows archaeological trail is one of the gems of the North Highlands in Scotland because it's absolutely littered with 3,000 years of history. Along the trail there are three long and two round Neolithic chambered cairns, several bronze age house, standing stones, and possibly a crannog. A crannog is an artificial island, which has been formed in prehistoric or medieval times, by dumping timber, earth and stones into a loch, wetland or estuary.
It's a really fantastic place to visit and often you'll be the only person there. This gives you a real sense of what the landscape might have been like 3,000 years ago!
To find out more about how the Caithness Broch Project promote and preserve to ensure a lasting legacy for the archaeology of Caithness, please visit www.thebrochproject.co.uk

By
Victoria Dixon
Orkney and Shetland fanatic, likes to capture life through a lens, loves creating, eclectic taste in music, enjoys being a Mum; would secretly love to be a star of the West End!
Pin it!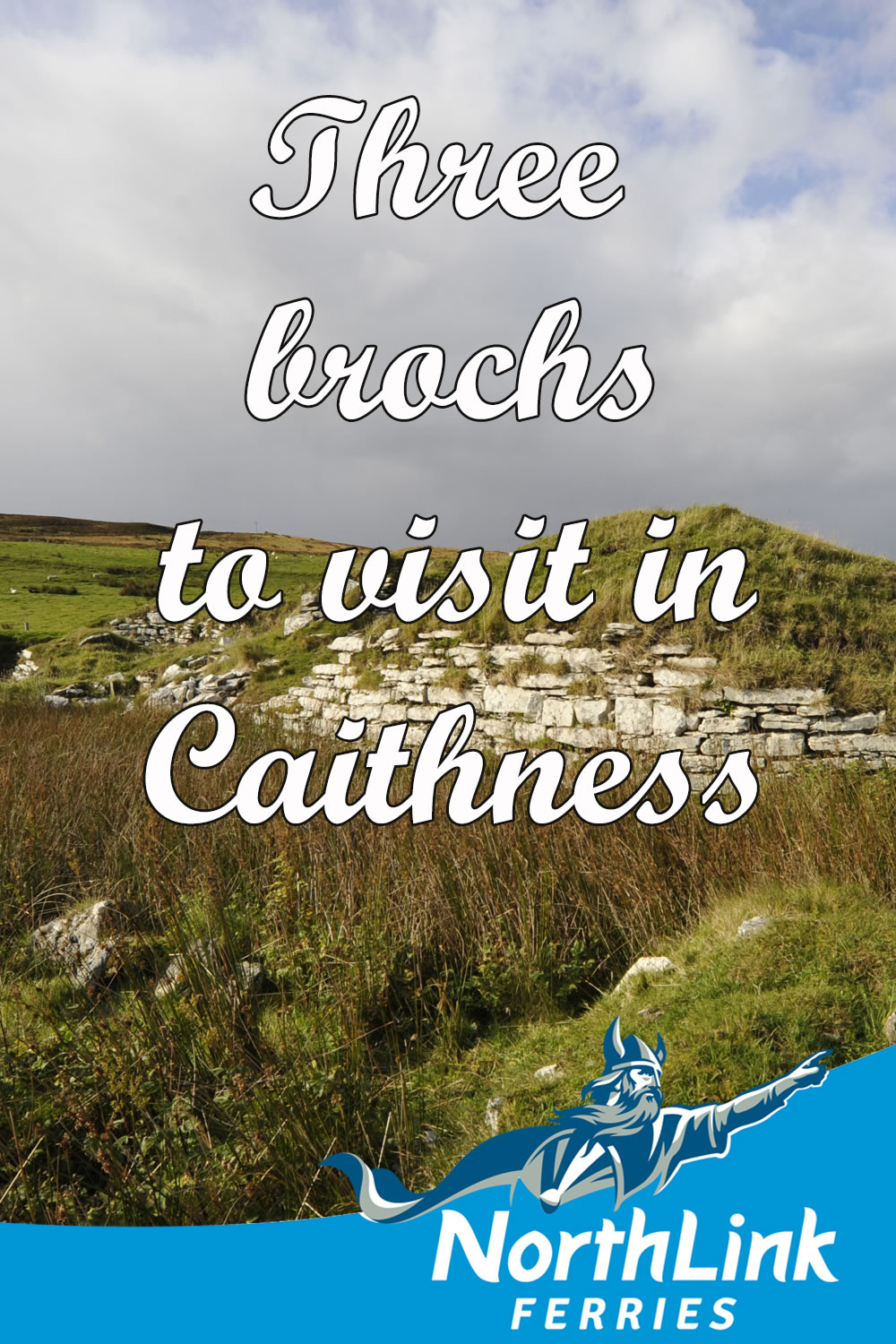 Header image: Dunbeath broch in Caithness photo © Copyright Charles Tait