Archaeological Artefacts Returned to Shetland
Tuesday 30th June 2015
Over 100,000 archaeological artefacts have been returned to Shetland for inclusion in the Recognised Archaeology Collection of Shetland Museum and Archives, thanks to the assistance of Serco NorthLink Ferries.
Artefacts from several sites around the Dunrossness area, including West Voe and Old Scatness make up the vast and impressive collection of items, contained in over 2000 boxes. NorthLink Ferries also assisted with travel to allow Jenny Murray, Curator of Collections, and Laurie Goodlad, Collections Assistant, to visit Bradford University to oversee the packaging and loading of the materials for their journey back to Shetland.
Iron Age Shetlanders would have had a significantly more difficult journey north, sailing in skin boats, rather than the safe and regular crossings we now enjoy on a daily basis with the North Boats. Indeed, the South End, being the first point of land would have been the destination for our ancestors, rather than the more comfortable arrival in Lerwick.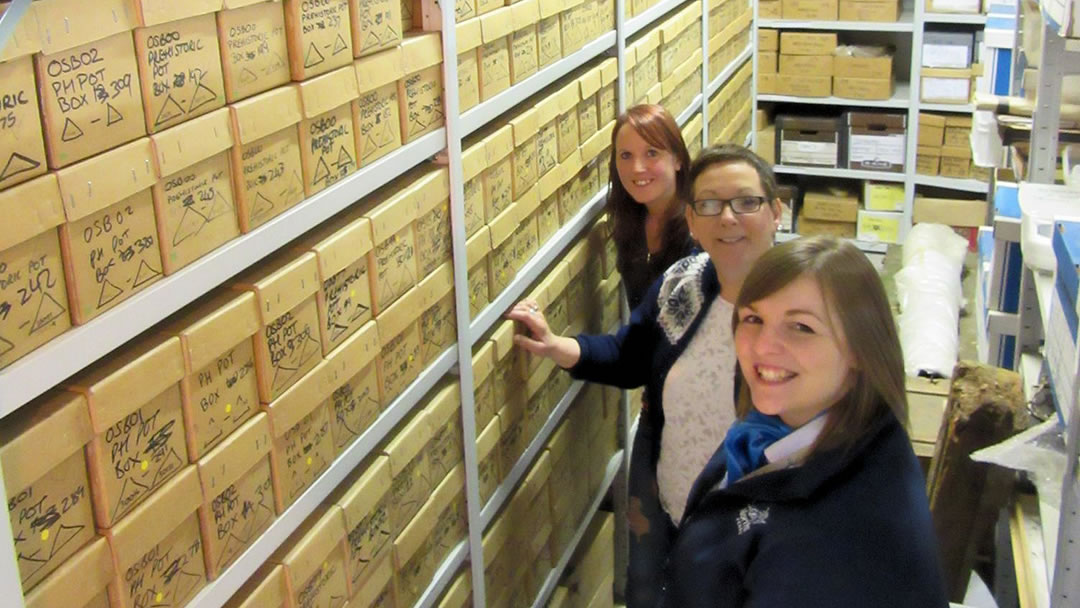 Artefacts returned from two shell middens on the West Voe site include shards of the earliest pottery ever found in Shetland. The Shetland Clay pottery and other finds from this area are around 6000 years old and are the earliest reported evidence of human civilisation in in the isles.
Old Scatness excavations between 1995 and 2006 uncovered a diverse range of items including animal and fish bones, stone tools, painted pebbles, carved stones (including the Scatness Bear, and the Grice), pottery, coins, beads and even Roman glass.
Dating on a barley grain and a bone from under the Broch, confirmed dates of between 400 – 200BC for the Broch construction. Five Pictish buildings were later added above the Broch village. This multi-age site is the most intensively excavated location in Shetland, yielding 40,000 small finds and over 55,000 pieces of pottery.
When funding is granted for excavation work, this includes the process of cataloguing, photographing, dating and reporting on every single item found. All this must to reported to the Treasure Trove, who ensure that significant objects are preserved for public benefit.
Institutions can make a bid to the Treasure Trove to hold the artefacts in their collection, provided there is a clear connection and suitable arrangements in place for care and presentation of the items. Having just received Recognised status for the Archaeology Collection, the timing is perfect for this assemblage to come home to Shetland under the care of Shetland Museum and Archives.
Curator of Collections, Jenny Murray, said "We're just delighted to have this material back in our care. Now that it's all here, we can make it accessible for Shetland students, and those visiting, to use in research project and studies. We've got a big job to unpack it all and formally catalogue it into our collection, but then we'll be working on a highlights display of some of the best bits for later in the year. It wouldn't have been possible without the help of NorthLink Ferries covering the costs of the transport for such a lot of material, and we would really like to express our sincere thanks to the company"
Stuart Garrett, Managing Director of Serco NorthLink Ferries said: "Shetland has some of the most fascinating and oldest archaeological finds in Europe. Supporting the team at Shetland Museum and Archives to bring these artefacts back to the isles is something that NorthLink Ferries was definitely keen to support. We hope that their new home in Lerwick will encourage both islanders and visitors to come and discover more of Shetland's past."