August 2022 NorthLink news round-up
Thursday 1st September 2022
Monday 8th August
We would like to say a huge well done to the Crew of the M.V Hjaltland and friends for taking part in an Annual Sponsored Walk from Lerwick to Scalloway on Saturday, raising money for Clan Cancer Support.
They have raised the magnificent sum of over £2k and would like to thank all those who have sponsored them. Well done!
Saturday 13th August
NorthLink Ferries are proud to sponsor Jarl Liam Summers and the 2020 squad – who are currently in Orkney for the County Show. They are pictured here presenting Cheryl Kelday (our Marketing Officer) with a shield for thanks for sponsorship.
Monday 15th August
Today, NorthLink Ferries welcomed current and former coastguards, volunteers, staff and family from the north-east of Scotland, on board the MV Hjaltland whilst she was docked in the Port of Aberdeen today. This event was organised to mark the major milestone of Her Majesty's Coastguard's two hundredth anniversary!
It was an opportunity to share stories, discuss the changing times and reflect on two centuries of keeping people safe across the north-east of Scotland.
We would like to congratulate them all on a very special Anniversary, and we were proud to be a part of their celebrations.
Tuesday 16th August
This month, NorthLink Ferries had a very exciting guest sail with us. The staff of the MV Hamnavoe welcomed Guy Martin – a British former motorcycle racer and heavy vehicle mechanic who later became a television presenter – on board recently.
From left to right, is pictured Chris Tait (Master), Guy Martin, Brian Pottinger (Mate/Master), Stevie Macleod (Chief Officer) and Neil Lyon (ETO).
We hope Guy enjoyed his sailing with us and had a smooth journey!
Wednesday 17th August
NorthLink Ferries are delighted and proud to continue our partnership with Shetland Football Association – which runs Scotland's most northerly amateur leagues – providing new kits for its women's and junior teams.
The strips were made in partnership with a local sports shop, INTERSPORT Shetland, and created by Shetland-born designer, Helen Laurenson. They boast a sweeping wave design to complement the NorthLink logo and are adorned with the Latin phrase 'simul nos ludere', which means 'we play together', in Shetland royal blue.
Pictured below from left to right is Jane Leask (Lerwick Service Manager), Allan Scott (Master of the Hrossey), Jessica Irvine (Lerwick Customer Service Supervisor) and Dawn Anderson (Manager of Intersport Shetland) with the Shetland Junior Football team.
Thursday 18th August
This month, NorthLink Ferries have released a new short film called 'Onward, Voyager to the Shetland Islands' with Steve Mercer Productions.
This magnificent video showcases the beautiful scenery to explore, wildlife to spot and archaeological sites to discover in the Shetland islands.
We are very pleased to share this video and you can watch it here!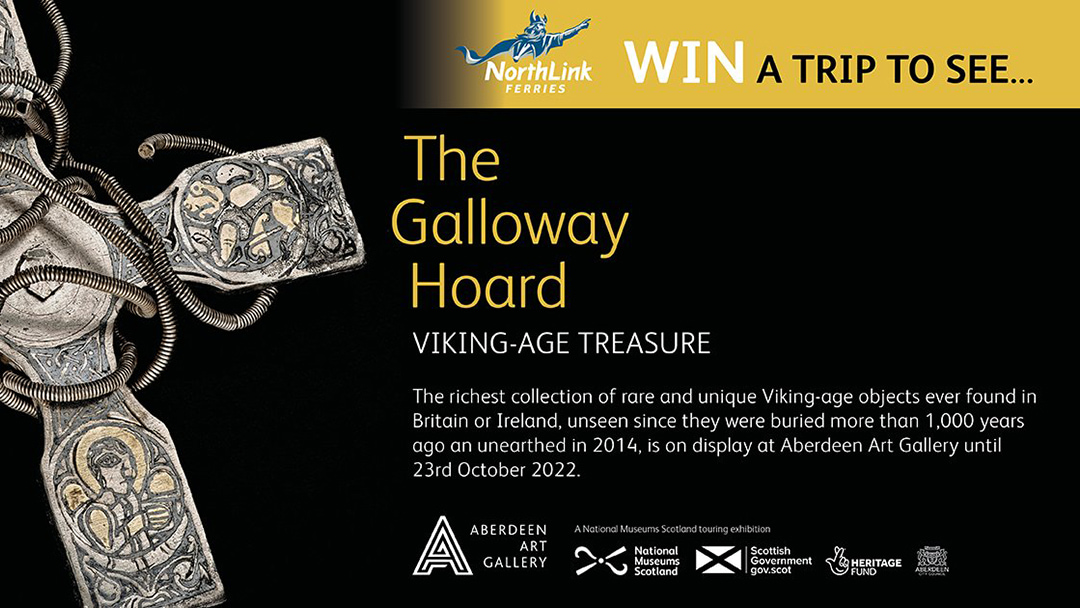 Monday 22nd August
We rounded up the busy month of August with a fantastic giveaway for our customers.
NorthLink Ferries and Aberdeen Art Gallery are offering you the chance to win a return trip from Orkney or Shetland to Aberdeen, for four in a standard cabin. The lucky winner will also be given a guided tour of the exhibition at Aberdeen Art Gallery, where you will see over 100 diverse and unique Viking-age objects!
The Galloway Hoard is a collection of Viking-age treasure which can be seen at Aberdeen Art Gallery from 30th July to 23rd October 2022.
Good luck to everyone who entered, and we will reveal the lucky winner very soon!