NorthLink ports gear up for extra cycle space
Monday 4th November 2019
Serco NorthLink Ferries is now even more cycle-friendly with a new suite of storage facilities at nearly every port in its network.
Work has been completed at four ports to provide capacity for 34 bikes.
Kirkwall: curved shelter for 6 cycles outside terminal building.
Scrabster: one curved shelter and bike rack for 11 cycles at end of pier next to transit building.
Lerwick: bike rack with capacity for 11 cycles outside terminal building.
Aberdeen: curved shelter for 6 cycles outside terminal building.
Facilities at Stromness are to be installed as part of a joint project between Orkney Islands Council and HITRANS (Highlands and Islands Transport Partnership). This is expected early in 2020 and will provide capacity for up to a further 20 bikes.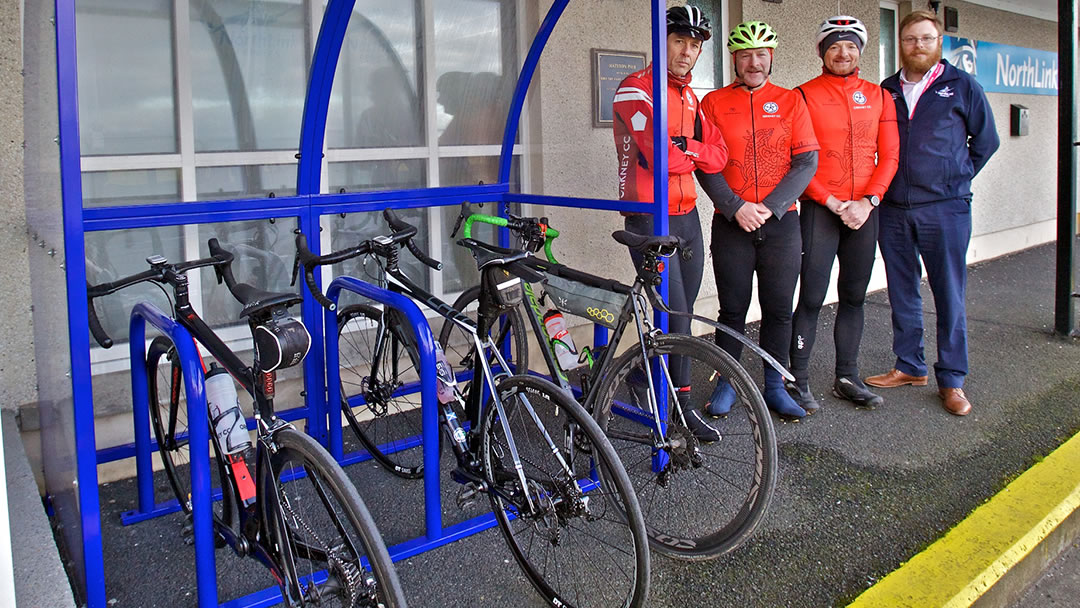 John Strathearn, Operations Director for Serco NorthLink Ferries, said: "The Northern Isles are great places to cycle and we already take bikes on board. The next step was then to make it easier for people to use their cycles when going to and from our onshore facilities. We hope the safe storage points are well used and encourage more active travel in our operating areas."
Photos © Colin Keldie. Pictured: Pete Bentley, Davey Malcolm and David Hamilton from the Orkney Cycling Club with Alex Lebert, Customer Services Manager, Serco NorthLink Ferries.