NorthLink Ferries Join the Squad
Wednesday 14th August 2013
This Saturday's annual County Show in Kirkwall saw all the usual sights; cattle, sheep, horses, goats, dogs and poultry as well as an action packed entertainment programme and over 90 trade stands highlighting the quality of produce and crafts we are fortunate to experience here in Orkney.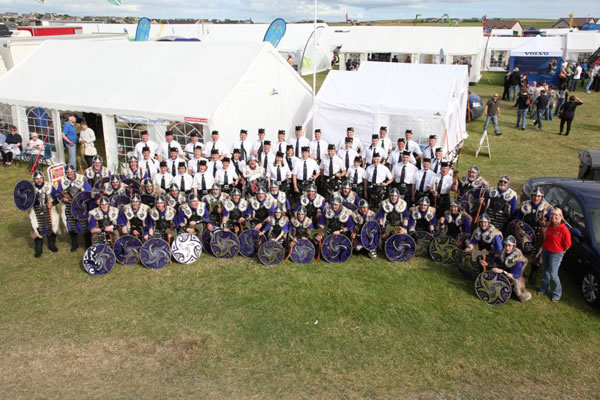 However, what spectators might not have bargained for was Viking invasion from Shetland. Stevie Grant's Lerwick Jarl Squad had been invited to parade with the Kirkwall City Pipe Band following the pipe band's trip to Shetland in January to play with the Jarl Squad during Up Helly Aa.
The Jarl Squad have been fantastic ambassadors for the Northern Isles flying the flag to promote Shetland and all that the Islands have to offer. Earlier this year they were invited to parade in the annual Tartan Day celebrations down New York's 6th avenue organised by the American Scottish Foundation and they have been working to build business, cultural and tourism links across the Atlantic.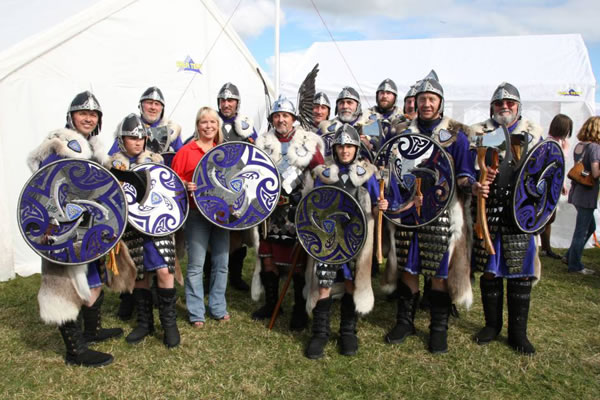 However, without the support of NorthLink Ferries' sponsorship the Squad travel would not have been so easy. Stevie Grant, Guizer Jarl, is very thankful for the support that the staff leant to making sure trips both near and far went without a hitch.
Stevie said: "The support that Jane Leask in Lerwick and Fiona Anderson in Aberdeen and their teams provided me and the boys with was just fantastic. They did a lot of work behind the scenes to ensure that our specially made cases containing kirtles, boots, helmets, axe, shield, wristlets and reindeer skin were all safely transported on board and on their way allowing us to relax and enjoy the journey."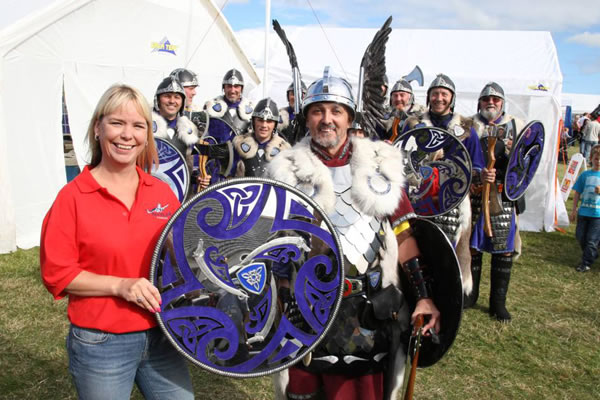 As a mark of their gratitude they presented Cheryl Fox, NorthLink's customer service director, with a full sized shield from Jarl Squad 2013 in recognition of their support.
Ms Fox said: "NorthLink's 2013 marketing campaign is all about encouraging tourism to the Northern Isles and what better way to promote Shetland than by sponsoring our famous Jarl Squad as they travelled the globe to promote Scotland on the international stage.
"The shield is going to take pride of place in the ferry terminal at Aberdeen and we hope that it will prompt travellers to ask about our Viking heritage of which we're so proud here at NorthLink."