Orkney Nature Festival 2015 Round-Up
Monday 18th May 2015
Orkney's third Nature Festival attracts wildlife-lovers from near and far
The third Orkney Nature Festival delighted more than 600 people last week [13-17 May], with participants visiting from as far afield as the Netherlands and the USA.
Coordinated by RSPB Scotland, the spectacular variety of events on offer was a collaborative effort from individuals, community groups, organisations and businesses around Orkney, all keen to share the county's inspirational natural heritage with locals and visitors alike.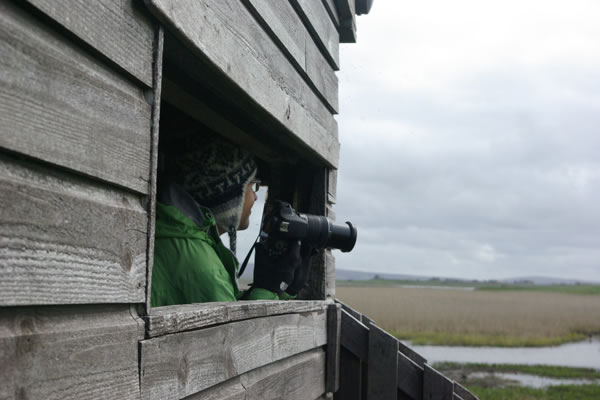 RSPB Scotland's Alison Nimmo, who coordinated the Nature Festival this year, said "Hearing how much people have enjoyed this year's events has made all the hard work worthwhile."
"The Festival is about sharing and celebrating what a magical place Orkney is for wildlife and so both the range of events that we were able to offer, and the range of people who came to enjoy them, was fantastic! Seeing Orkney's wildlife through someone else's eyes or experiencing it in a new way like kayaking really reminds you what a special place we live in."
"It's also striking that events brought together people from all over the country and even further afield. The trip to Westray alone welcomed people from Orkney, Aberdeenshire, Nottingham, Portsmouth, the Isle of Lewis, North Wales, the Netherlands, Australia and the USA. It's a testament to Orkney's status as an internationally important haven for wildlife and the wonderful experiences that it offers."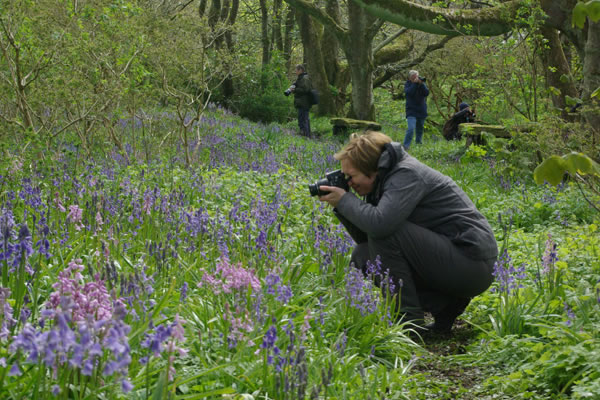 The Festival kicked off on Wednesday 13 May with a day-long nature photography workshop led by travel writer and photographer Charles Tait, who opened participants' eyes to some of West Mainland's wild highlights, from the sea of bluebells in the grounds of Woodwick House to Yesnaby's ancient stromatolite fossils.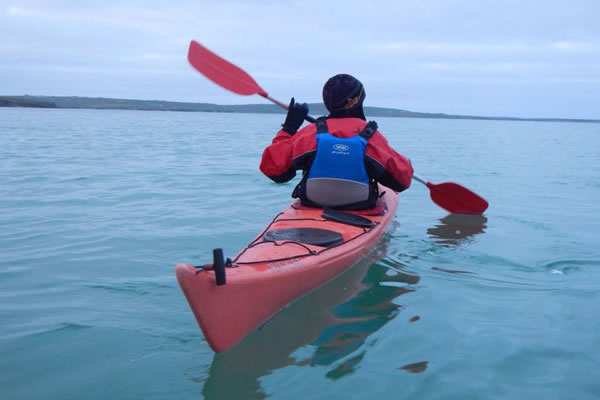 The Kirkwall Kayak Club treated a lucky group to a magical evening in the shelter of the second and third Churchill Barriers, where Arctic terns cried overhead and the calls of eiders and long-tailed ducks floated across the water. Fulmars skimmed past while a great northern diver fished nearby and a curious seal came close to find out what was going on.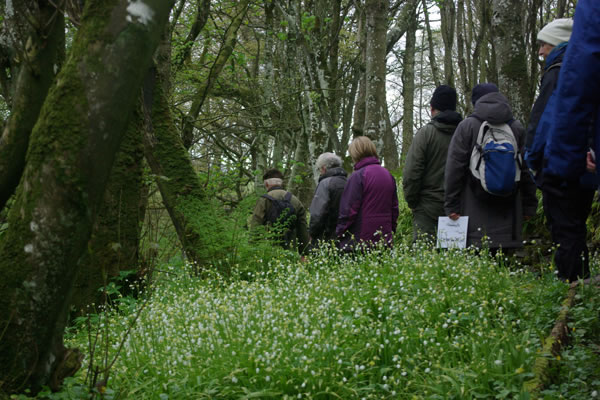 Professor Peter Slater led not one but two wonderful 'not-quite-dawn' chorus walks in Binscarth Wood – the second arranged to satisfy an eager waiting list – during which he offered fascinating insights into the songs of chaffinches, wrens, song thrushes and blackbirds amongst others. Surrounded by bluebells and the rich aroma of wild garlic, it was a delight for more than just the ears.
The Orkney Field Club shared their expertise generously with participants on an exploration of little-known Russadale, where the group examined mosses, lichens, wildflowers, willows and the area's birdlife, as well as hearing a cuckoo, to everyone's delight.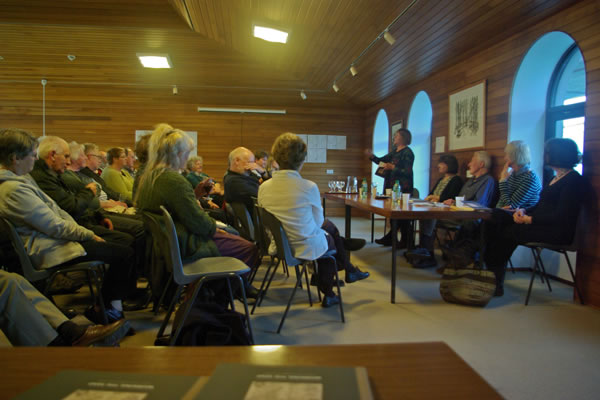 Many gathered on Thursday evening for the launch of a new work created by John and Fiona Cumming and Morag MacInnes, entitled Working the Map. The book is a unique collection of recollections, poetry and other writings examining the relationship between islanders and the isles they inhabit, and is available to buy from Stromness Books and Prints and the Orcadian Bookshop in Kirkwall.
'Wild Westray', led Graham Maben of Westraak Tours, lived up to its title with a magnificent range of wildlife – and a fair variety of weather! The group was wowed by Westray's wealth of natural and cultural heritage, from the clamorous seabird colony at RSPB Scotland's Noup Cliffs nature reserve to the fascinating Links of Noltland archaeological dig.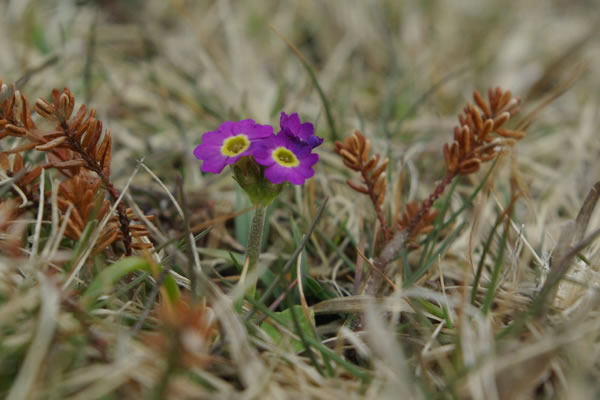 Deteriorating weather and sea conditions sadly required the cancellation of some of the weekend's more adventurous outdoor trips, but locals and visitors alike flocked to Stromness Museum's open day on Sunday, fascinated by hands-on bone workshops led by archaeologists Dr Ingrid Mainland and Dr Jen Harland as well as the museum's summer 'Art and artefacts from the Ness of Brodgar dig' exhibition. With lucky timing families even enjoyed some sunshine during a rockpooling session at the Brough of Birsay.
The museum's newly launched 'Great Orkney Bird Shoot', a photography competition challenging participants to bring the museum's bird collections to life, will run from the Festival until October when it will be judged by Raymond Besant.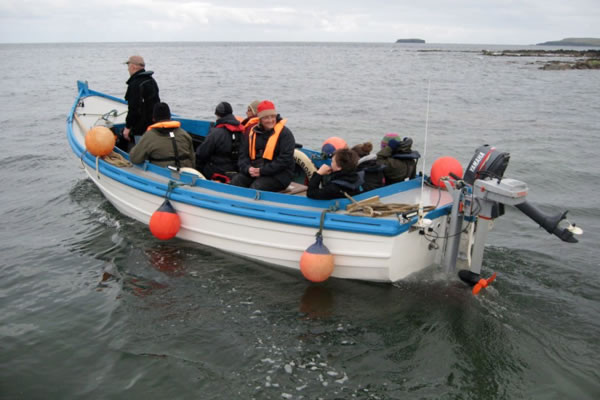 The RSPB Local Group's small boat trips throughout the Festival were as popular as ever, with the 'Into the Gloup' trips exploring Deerness' magnificent open-roofed sea cave faring best for weather this year. One of the scheduled trips on the Dawn Star II on Scapa Flow was able to go ahead and offered great views of seals as well as birdlife.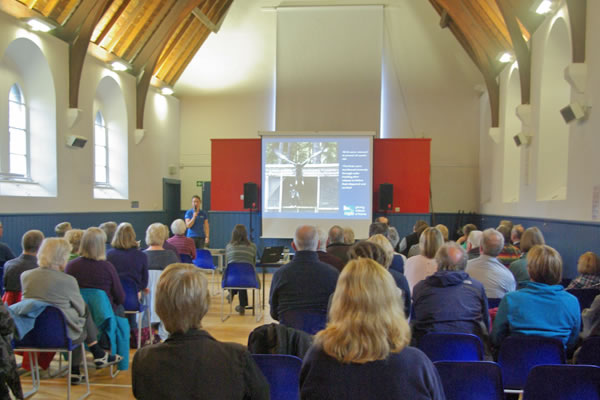 Reverend Fraser MacNaughton's Sunday morning Nature Festival service in St Magnus Cathedral was both heart-lifting and thought-provoking, considering our relationship to nature and its wonders, while to close the Festival this year the RSPB and Tomb of the Eagles teamed up to celebrate Orkney's recent exciting news of breeding sea eagles on Hoy. RSPB Scotland's Sea Eagle Officer Rhian Evans gave an evening talk in the St Magnus Centre on the dramatic story of these birds, from their ancient history in Orkney to their national extinction last century and ongoing reintroduction programmes. Listeners were thrilled to handle Neolithic sea eagle talons from the famous tomb on South Ronaldsay, with bones and a skull also on display.
Alison Nimmo concluded, "For the third year running the Nature Festival has been an inspiring week for so many people, and as always it wouldn't have happened without everyone involved in running events, providing venues and so generously sharing their expertise and enthusiasm. Thank you – you know who you are!"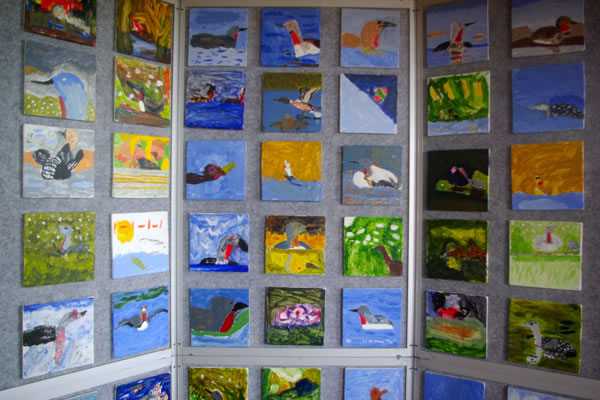 The Nature Festival was set up in 2013 through RSPB Scotland's recently concluded Enjoy Wild Orkney project, funded by the Heritage Lottery Fund, the European Regional Development Fund and the RSPB.