Shetland Football scores sponsorship from NorthLink
Tuesday 16th August 2022
Amateur football stars across Northern Scotland have scored fresh new strips thanks to a continued sponsorship deal from Serco NorthLink Ferries.
NorthLink has announced it would be continuing its partnership with Shetland Football which runs Scotland's most northerly amateur leagues, providing new kits for its women's and junior teams.
Shetland Women's Football Association (SWFA) and Shetland Junior Football Association (SJFA) teams – including the under 11s to under 18s boys', and under 13 to under 16 girls' groups – will step out in the distinctive new kits for competitions both on and off the Northern Isles.
The strips were made in partnership with local sports shop, Intersport, and created by Shetland-born designer, Helen Laurenson. They boast a sweeping wave design to complement the NorthLink logo and are adorned with the Latin phrase 'simul nos ludere', which means 'we play together', in Shetland royal blue.
NorthLink has supported various sports clubs in Shetland in recent years, having worked with Shetland Football since 2015. Women's football has experienced rapid growth during this time, with more than 130 girls and 30 women now registered to play in the Isles. Junior football is also on the rise, with membership having grown by almost 30 per cent since 2018.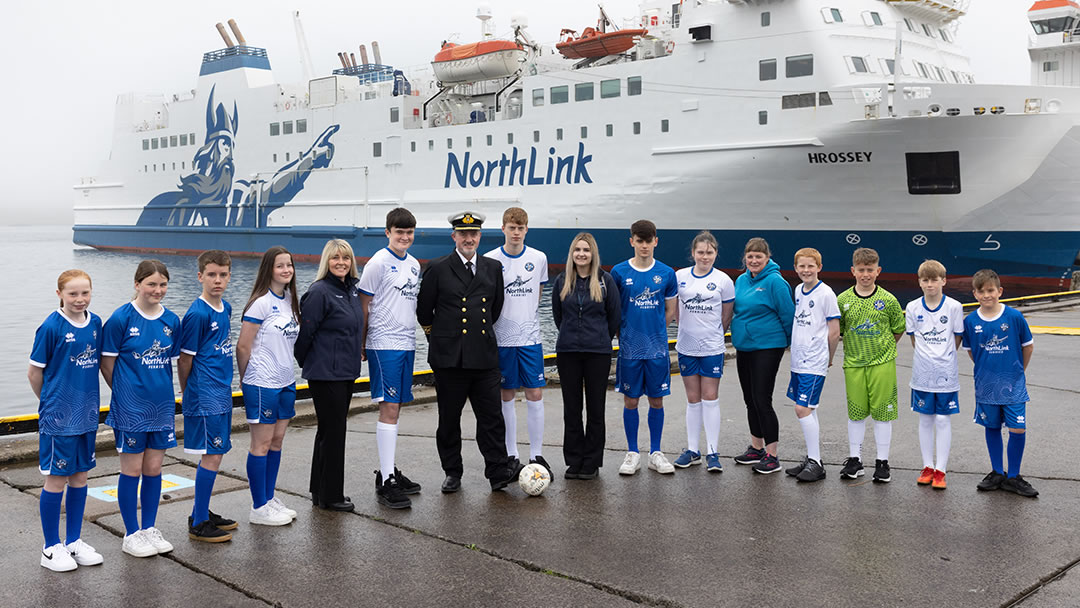 Stuart Garrett, Managing Director of Serco NorthLink Ferries says NorthLink is delighted to support the clubs during this period of rapid growth and expansion for football in Shetland.
He said: "We are thrilled to support Shetland Women's Football Association and Shetland Junior Football Association during what is a very exciting time for sports in the Isles.
"We're delighted to be continuing our partnership, and it was great to work with Shetland business, Intersport to design the strips. Working in partnership with the communities and companies we serve is always a high priority for NorthLink.
"We hope that the players are happy with their new kits, and we look forward to cheering them on in future games."
Jimmy Mercer, Treasurer of the SJFA, added: "We would like to thank NorthLink for its continued support over the years. It's great to see local businesses champion sports in the Isles, and I know our teams are excited to play in their new strips as they represent Shetland at home and away."
The new football strips launched officially on 30 June 2022 and are available to purchase in store at Intersport, 167 Commercial St, Lerwick, Shetland ZE1 0HX
Header image: NorthLink sponsor the Shetland Junior and Shetland Women's Football strips photo © Copyright John Coutts