NorthLink Ferries achieve Taste Our Best Award on every vessel
Wednesday 10th June 2015
NorthLink Ferries has received a special award from VisitScotland in recognition of its locally-sourced food and drink.
Each ship in the NorthLink fleet has recently been visited by VisitScotland to gauge the extent of the use of local food and drink on its menus. The company was then successfully awarded the Taste Our Best award.
Taste Our Best is a joint initiative between VisitScotland and the Scottish Government. Launched in 2013, the scheme is designed to recognise businesses including hotels, restaurants, cafes, takeaways, visitor attractions and B&Bs that not only offer a quality food and drink experience, but include and promote Scottish produce on their menus, to give consumers choice.
2015 is Scotland's Year of Food and Drink, and NorthLink Ferries has pledged to continue its local food and drink sourcing strategy, to maximise its use of produce from Orkney, Shetland and the North East of Scotland, in particular from sustainable, ethical and traceable sources.
NorthLink's local suppliers include Inverurie-based Ola Oils and haddock sourced from Sustainable Seafoods in Peterhead – both in Aberdeenshire. A total of 86% of NorthLink's passenger services' suppliers – including food and drink, furniture and laundry – are within 50 miles of each port.
NorthLink Ferries is increasing the visibility of Scottish produce and products to help showcase and celebrate the seasonal variety and quality of its food and drink for the benefit of visitors from home and abroad. In so doing, NorthLink Ferries will provide healthy and affordable options that celebrate the local origins of food, and its contribution to health and the economy of the Northern Isles and the North East of Scotland.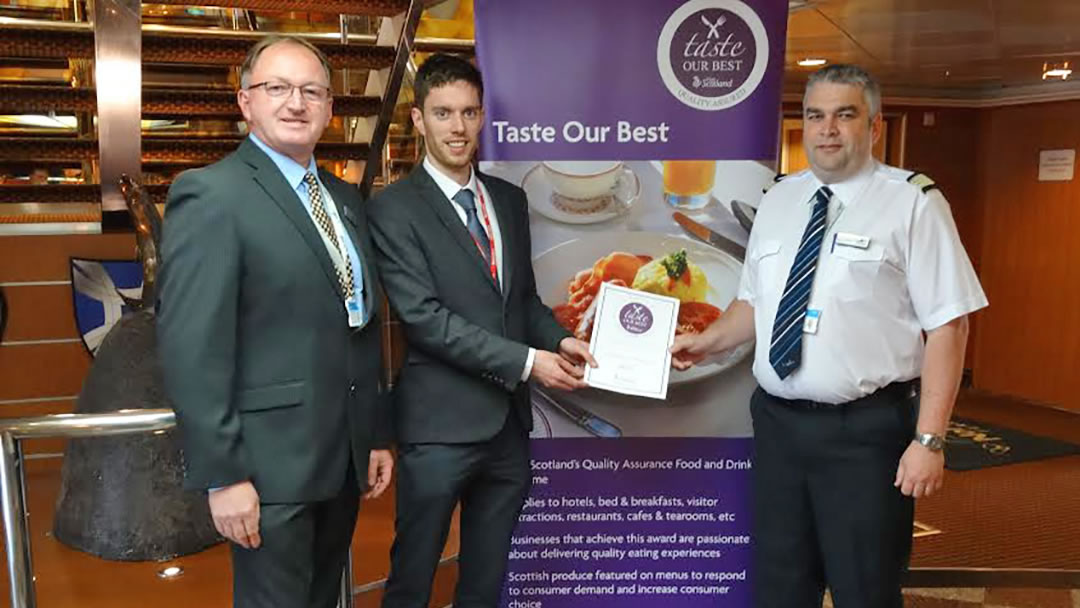 Peter Hutchinson, Senior Manager, Vessel Support Services at NorthLink, said they were delighted to announce that all of the NorthLink Ferries passenger vessels had achieved the Taste Our Best award.
Mr Hutchinson said:
"I am absolutely delighted that our ships the Hamnavoe, Hjaltland and Hrossey have all achieved recognition for their hard work in showcasing the fantastic food and drink available in Orkney, Shetland and the North East of Scotland, at the same time as delivering superb customer service.
"NorthLink Ferries are fully supporting the Year of Food and Drink in Scotland and will continue to work closely with local food and drink producers in the production of our future menus".
Philip Smith, VisitScotland Regional Director, said:
"I would like to congratulate Peter and the staff at NorthLink Ferries on receiving this award, but it comes as no surprise, as the scope of locally-sourced food featured on their menu really is commendable.
"We know that visitors love authentic, quality Scottish food and drink and Taste Our Best is all about taking this knowledge to the next level and really encouraging the tourism industry and businesses to recognise the real benefits of sourcing, using and promoting local and Scottish produce. We have such a rich natural larder in North East Scotland and the Northern Isles, with some of the best products in the world right on our doorstep.
"2015 is the Year of Scotland's Food and Drink and we hope that all the visitors to our shores this year who are experiencing the range of exciting events across the country will also get to taste the best of Scotland."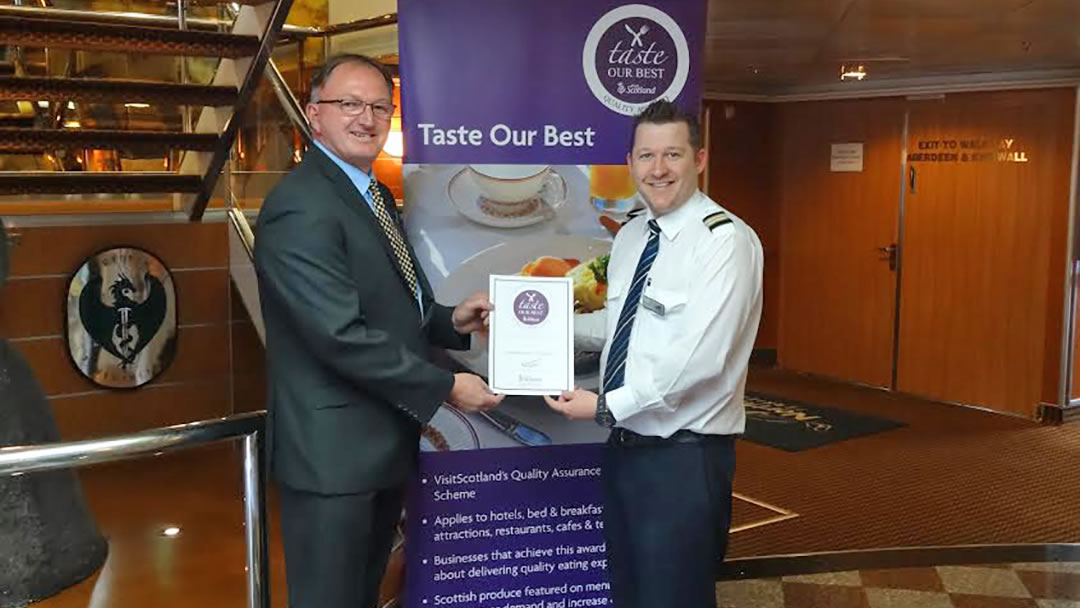 Funded by the Scottish Government (£450K over three years) and VisitScotland (£470K in kind) with support from Scotland Food and Drink, the Taste Our Best initiative brings together the tourism and food and drink industries.
Research has shown that visitors are willing to pay up to 15% more for food that is of Scottish or regional origin and businesses that provide local food can typically enjoy higher level sales of up to 20% per year. It's estimated that Scotland's food and drink tourism industry is worth £2.5 million per day to the economy with sampling traditional dishes and local produce among the top activity undertaken by visitors to Scotland.
The Taste Our Best scheme is the latest addition to VisitScotland's Quality Assurance (QA) Schemes, which aim to drive up quality in tourism products across the country. Taste Our Best will provide businesses with an assessment of their food provision and their menu by qualified assessors, with those meeting the necessary criteria gaining the award.
For accommodation providers and visitor attractions, the assessment will take place at the same time as the main VisitScotland Quality Assurance grading, meaning that many tourism businesses that already participate in the QA Scheme will no longer have to apply and pay for a separate food and drink assessment.
Taste Our Best replaced the EatScotland food and drink QA scheme, which is being phased out. Further details can be found at: https://www.visitscotland.com/see-do/food-drink/taste-our-best/