Ten reasons to travel with NorthLink Ferries
Monday 2nd March 2015
At NorthLink Ferries we're really proud of our ships and our friendly staff – if you're visiting Orkney or Shetland here are ten reasons to travel with NorthLink Ferries!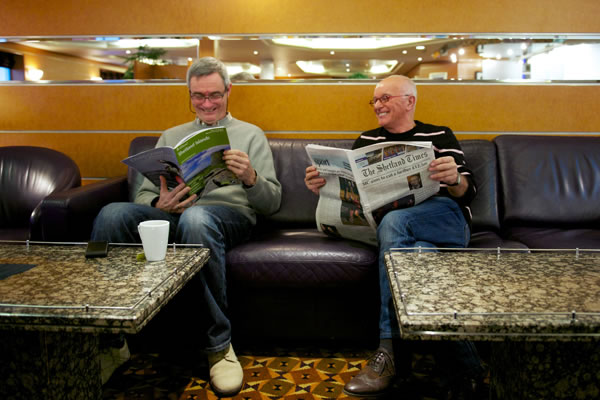 1. Comfortable travel
Our vessels MV Hamnavoe, MV Hjaltland and MV Hrossey have been built with the highest standards of comfort and safety in mind. They have been purpose built for the North Sea and Pentland Firth routes to cruise ship quality. Take a look onboard with Google Streetview here.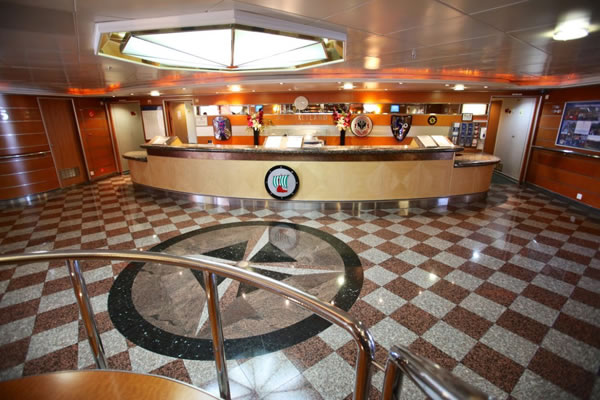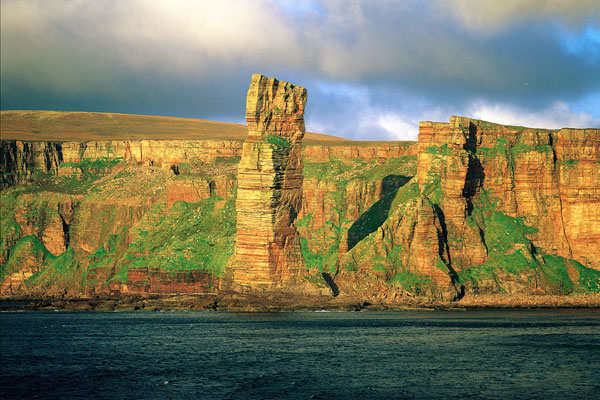 2. Amazing sights
There are some great sights to see as you travel; at NorthLink Ferries we are proud that MV Hamnavoe is the only ferry to orkney which passes the Old Man of Hoy (pictured above). This iconic sea stack, which is also Britain's tallest at 449 ft, lies off the west coast of the island of Hoy. There are other great sights to see on our routes – St John's Head, Slains Castle, Fair Isle Lighthouse, Sumburgh Head, and Mousa.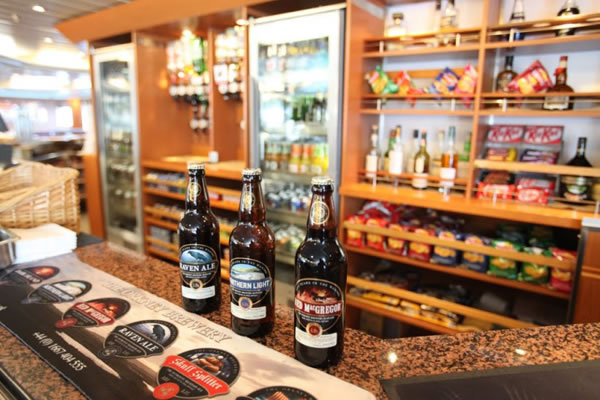 3. Local Food and Drink
At NorthLink Ferries we believe your Orkney or Shetland holiday starts as soon as you board. In our Feast restaurant you'll find delicious meals using the fresh local produce including Cheese, Beef and Ice Cream from Orkney. You can wash all this down with delicious beer (pictured above) and spirits from the Orkney and Shetland Islands!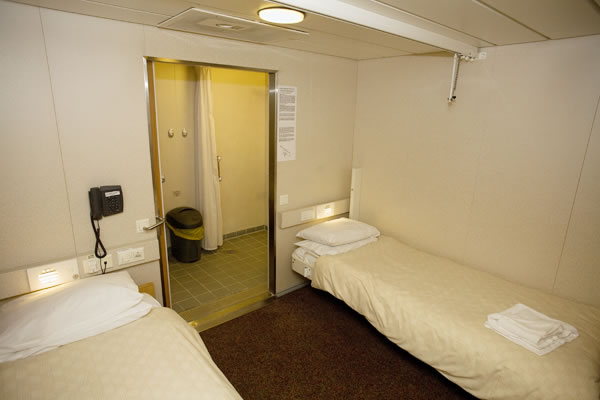 4. Accessible travel
NorthLink vessels and ports have been built with accessible travel in mind. To board our ferries, there are lifts and level walkways – ideal for wheelchair users. There's even a lift on board which operates between the car deck and the two passenger decks. Our reception desks all have hearing loops, there are four cabins per ship designed for disabled users (pictured above), and our staff are delighted to help all passengers travelling.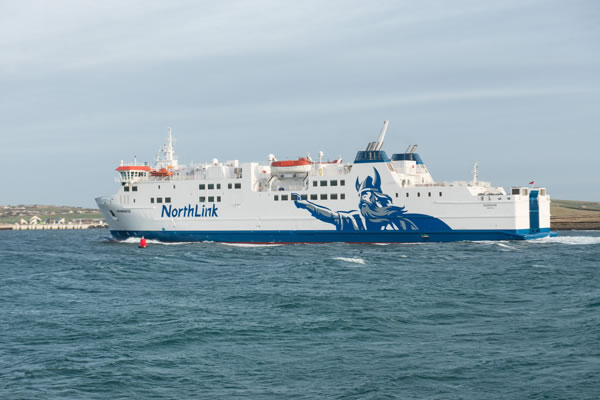 5. Ease of booking
At NorthLink Ferries we have Call Centre manned by friendly and knowledgable local staff who will be pleased to help you make your booking between 8am and 8pm. We've also recently upgraded our online booking system, which is open 24 hours a day, and is more user-friendly than ever before! If you're a Northlink Customer with an ID, you can easily request a reminder by visiting the log in page and clicking on the Forgotten ID or Password? link.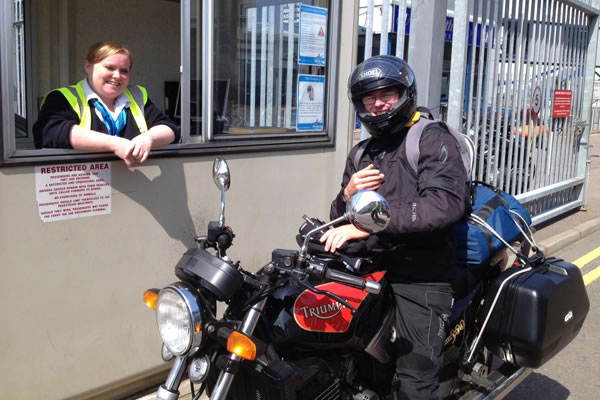 6. Take your car, motorhome, bike or motorbike
If you wish to properly explore the Orkney or Shetland islands it's a great idea to take your own transport, and we have a large car deck available for you! Make sure you book ahead to avoid disappointment, and if you're nervous about driving on board a ship we even have a valet service available. Bicycles travel for free!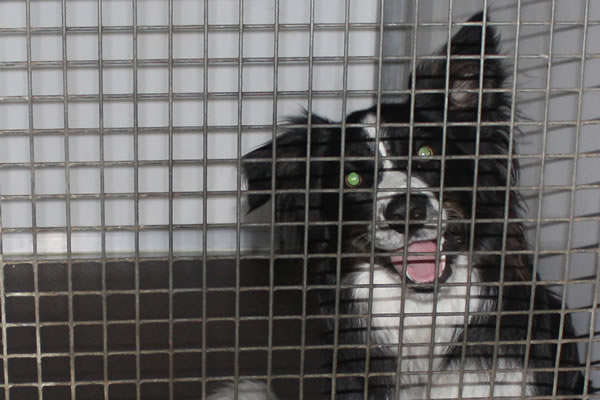 7. Take your pets
The Orkney and Shetland Islands are wild open spaces that your dogs (and other pets) will love. On the shorter MV Hamnavoe crossing you're welcome to take your dog onto the aft-deck and enjoy the scenery, or your dog can stay in the car. On the longer MV Hrossey and MV Hjaltland sailings we have kennels available (pictured above). Alternatively, your dog can stay in the familiar surroundings of your car, and you can visit the car deck (accompanied by a member of staff) to stretch his or her legs!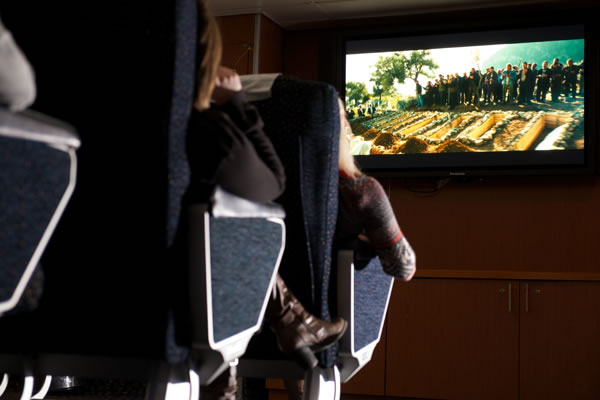 8. Watch the latest cinema releases
At NorthLink Ferries we're proud of the onboard cinema on our Aberdeen – Kirkwall – Lerwick ships. These show the latest cinema releases in high quality blu-ray format – watching a movie is a great way to spend a journey to Orkney or Shetland. Keep track of movies showing by visiting the NorthLink Ferries cinema webpage.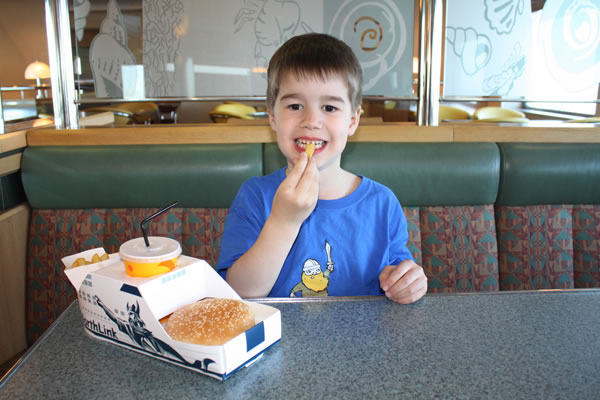 9. Perfect for children
Getting on a ferry is a grand adventure for all ages – and at NorthLink Ferries we have plenty to occupy our youngest passengers. The first film shown in the cinema is child-friendly, there are dedicated children's play areas called the Vikling's Den, and children's meals come is their own special cardboard meal boat (pictured above)! In school holidays we often run art or treasure hunt competitions – ask at reception for more details!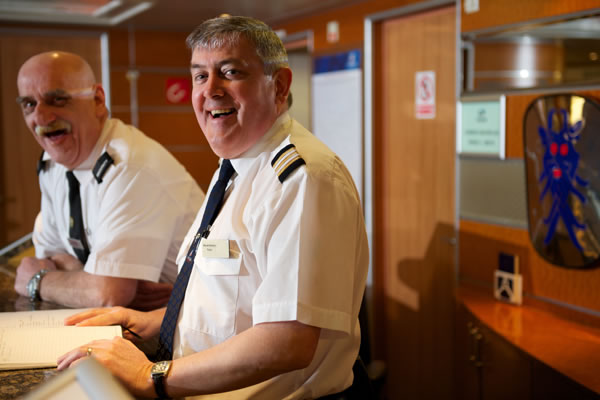 10. Friendly crews
Finally we're delighted to say that at NorthLink Ferries you'll find friendly crews and port staff who are always pleased to go the extra mile to help. Please just ask and we'll see what we can do to make your journey as comfortable as possible!

By
Magnus Dixon
Orkney and Shetland enthusiast, family man, loves walks, likes animals, terrible at sports, dire taste in music, adores audiobooks and films, eats a little too much for his own good.